Thank you JaM Cellars for sponsoring this post. Looking for JaM Cabernet and Butter Chardonnay near you? Check out their easy-to-use Store Locator! Just pop in your zip code and the wines will be waiting!
Oh summer time! The days are warm and what seems like endless. It's the perfect time to try out all kinds of new things, which is why I decided to be proactive and create myself a summer bucket list. I wanted to enjoy every last day of summer without any regrets and boy did I knock a lot off my list! Work your way through some of the items on this list and create your own list unique to yourself to enjoy your fleeting days of summer.
REWARD YOURSELF – SPLURGE
This summer, I did a big splurge in a way. My husband and I bought our very first house! This was a huge bucket list item. Now for you, a splurge could be a new purse, a fancy dinner out, or even a bottle of your favorite JaM Cabernet. However, treating yourself every so often is so important and when you save up for that splurge, it feels pretty good when you can finally make it happen. After finally buying our house, my fingers were itching to make it my own by decorating.
BE CREATIVE
As I said, my fingers were itching to get to work on my new home this summer. The item first on my list, but last on my husbands, was my patio! I hunted for the perfect bistro style set because I wanted a romantic feel to my outdoor space where I could enjoy an afternoon, or evening having a glass of JaM Cabernet, or Butter Chardonnay with my best friends. I finally was able to get it all together before the end of summer and can now enjoy my last days of summer sipping on blackberries, black plums, black currant, cassis and more. I'm definitely more of a JaM girl, but my friend Sasha is a Butter girl because she loves a creamy wine that just melts in your mouth. "Everything's better with Butter"…yes I'm punny like that.
VISIT SOMEWHERE NEW
I got the opportunity this summer to go somewhere on my life long bucket list, Italy! I had the trip of a lifetime thanks to my husband and in-laws. I had never been anywhere outside of the US, except to Mexico on a cruise, so this was definitely an amazing experience. I learned a lot about vino while I was there of course, which made me really appreciate all the creamy deliciousness of my favorite Butter Chardonnay. Aged in a unique blend of oak, baked-lemon notes and long vanilla finish leaves each sip melting in your mouth. When I swirl a glass of JaM Cab, I feel my mind transported to a vineyard full of grapes being harvested at perfect ripeness. If you love lush berries, then you will love a glass of JaM which also carries a touch of vanilla in the finish. Visiting a new place doesn't have to be as extravagant as going across the ocean like I did, it could be as simple as exploring somewhere in your own backyard that you have never been before. Be creative with it, or if you are able to, explore a city/country on that bucket list of yours, the world is your oyster.
MAKE MEMORIES WITH LOVED ONES
I'll tell you right now, my hubby really knows how to Butter me up. When he proposed getting married during our trip to Italy this summer, I was over the moon. This was a memory I will never forget and that we will be able to celebrate year after year. Not only did I get to make wonderful memories with him, but I made memories with my family and friends that I will cherish forever. Looking back on those moments make me feel like summer will never end and I don't want it to. Whether it's having a soulful conversation with a best friend over a glass of JaM, or doing something thrilling and exciting with a family member. Make memories this summer that you will cherish for a lifetime.
JAM OUT IN THE SUN
I had a great time this summer poolside with my friends. We laughed and chatted about our adventures and also just chilled out and relaxed. I even made a great poolside playlist to enjoy with my girlfriends this summer. Whether you hit the beach, or the pool, I really suggest some time soaking up the last days of summer rays. Sip on a glass of Butter while your at it, and contemplate your next year's summer bucket list.
I'm curious what would you do with your summer? Maybe have a glass of Butter to figure it out, since, "Everything's better with Butter."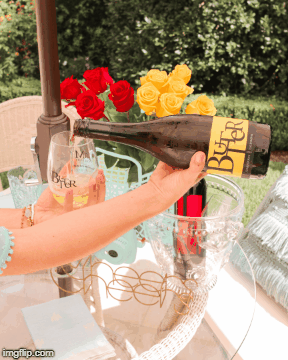 Xoxo, Nikki
I was selected for this opportunity as a member of CLEVER and the content and opinions expressed here are all my own.