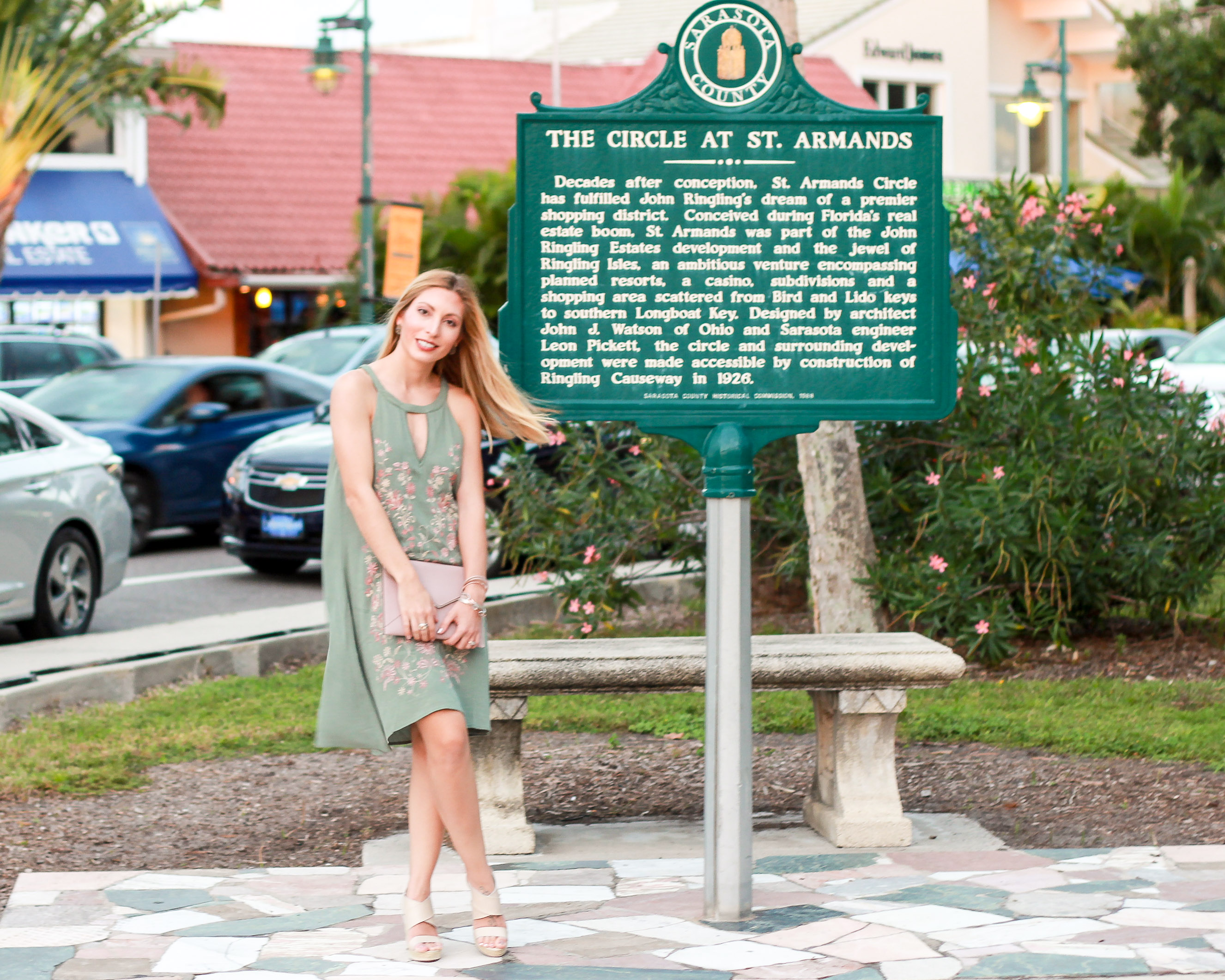 I'm not sure what it is about flowers, but whenever I see a floral print I feel like it speaks to me. This green floral dress is the kind of fabric that even if it wrinkles it looks like it's meant too which means it's great for travel!! I wore this look a while back before we experienced our brief version of winter here in Florida. I thought it made sense to show off some green fashion when discussing ways to save your green. I also got this dress on a random trip to Francesca's and it was on the sale rack for about $12. I hate to pay full price haha. I don't really buy into the whole need to purchase an item right when it comes out, or that sale items are so last season. I look for styles that I know are still on trend, or are classic pieces. A shift dress is a staple closet piece.
I wore this dress on our visit to Siesta Key and Longboat Key. One of the top places to visit while in Siesta Key is St. Armand's Circle. It is the destination hot spot for shopping, people watching, and restaurants. We did quite a few things during our visit to St. Armand's. The first spot we visited was Columbia for dinner. The restaurant is a fancy chain around Florida, but the food and sangria are divine. Then we walked around touring the different boutiques and shops. We decided to be adventurous and do a palm reading at Pyschic Boutique. Finally after the kids went back with my in-laws, we went dancing above the restaurant 15 South. On certain nights they have Latin dancing with a live band and it's only a $5 cover. The circle was very safe too and was great for an evening stroll. We finished the evening with a daiquiri at the Daiquiri Deck and it was a great time.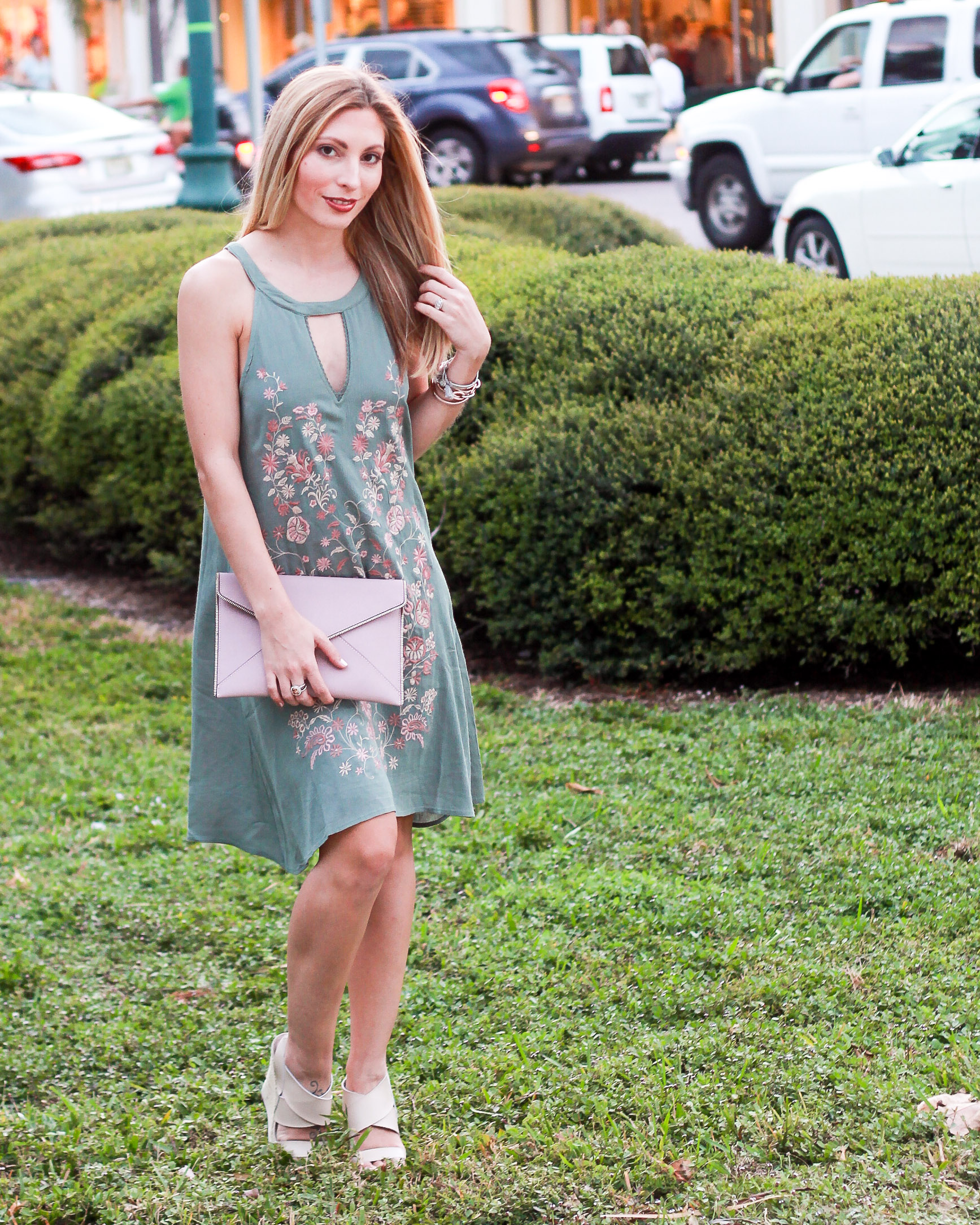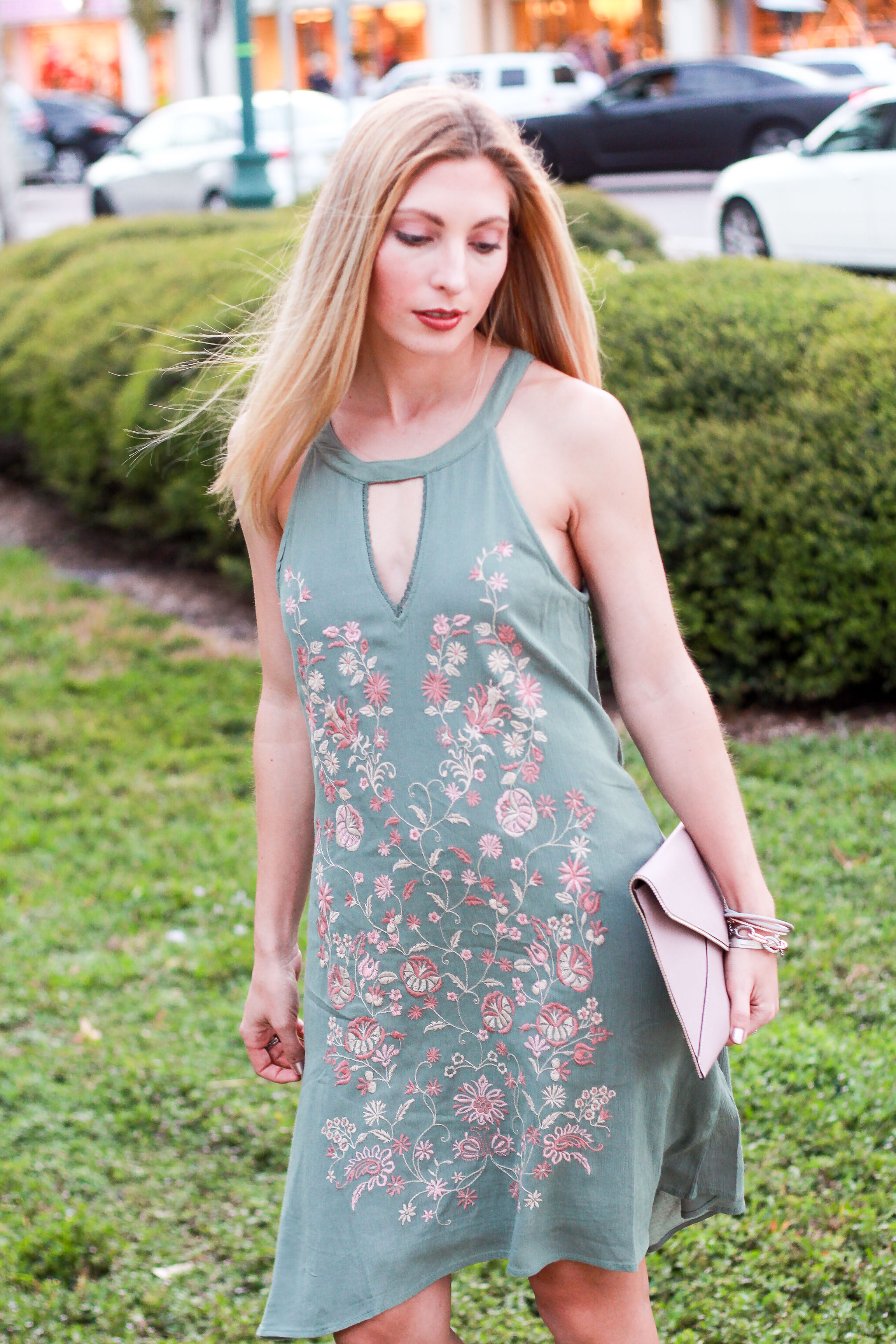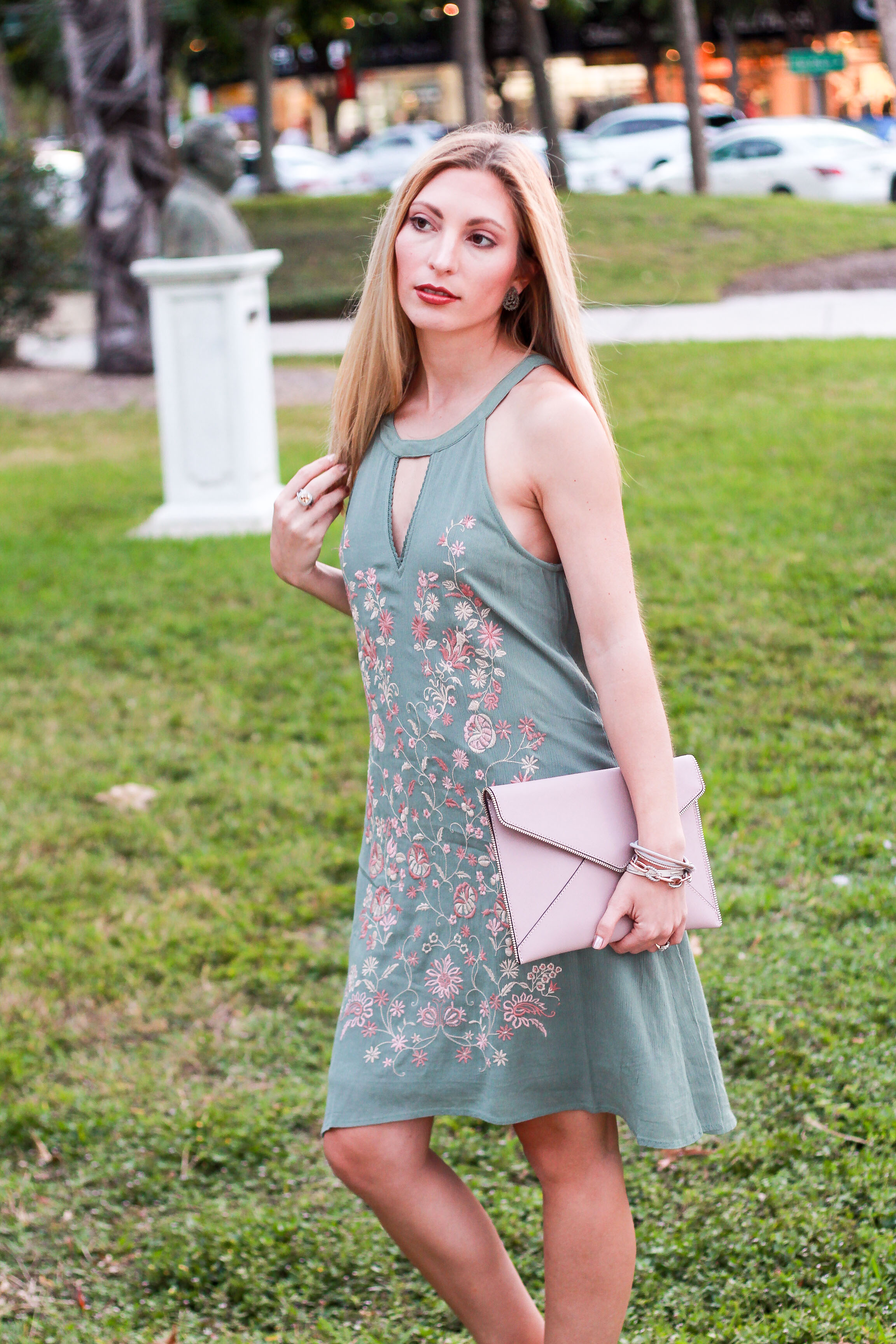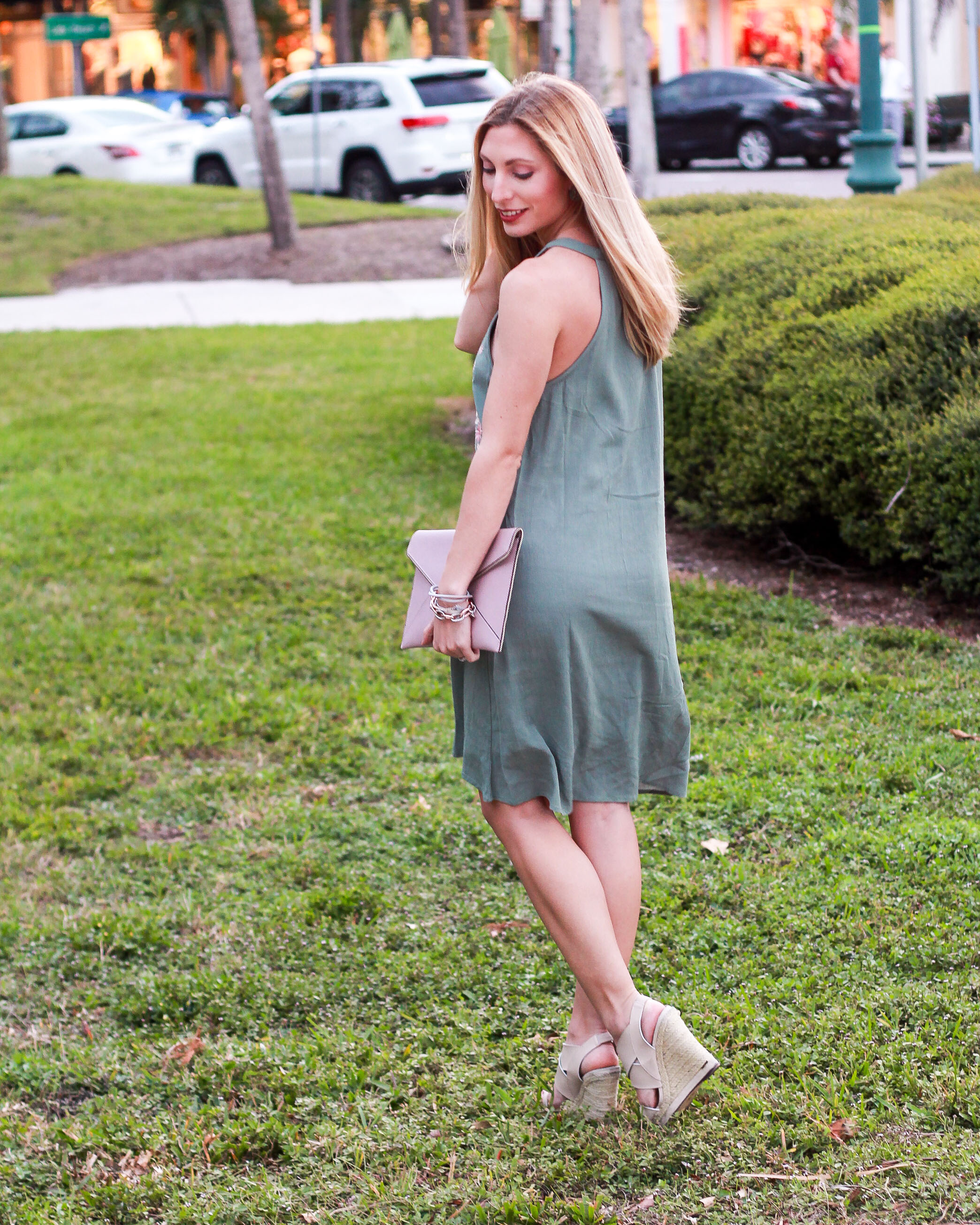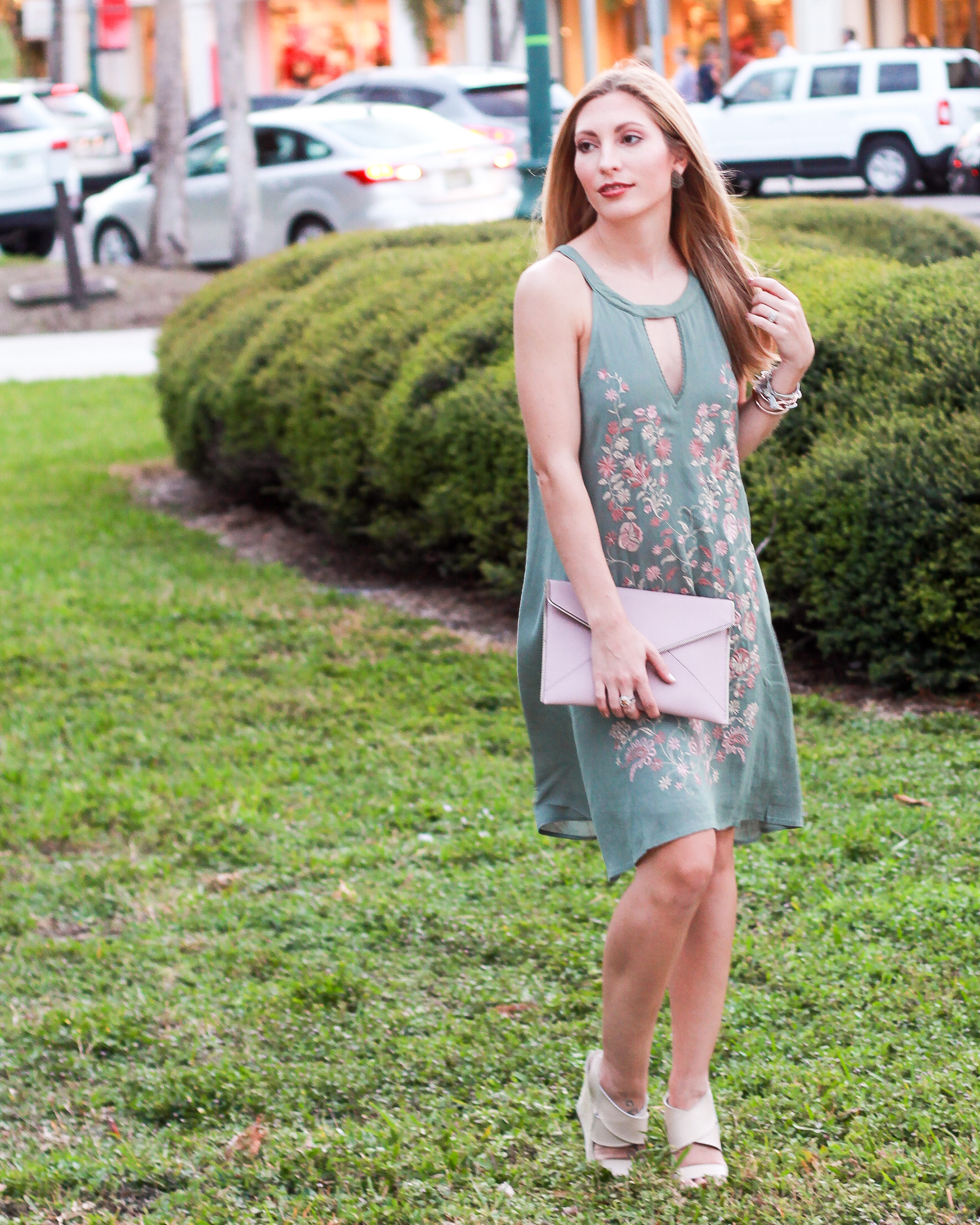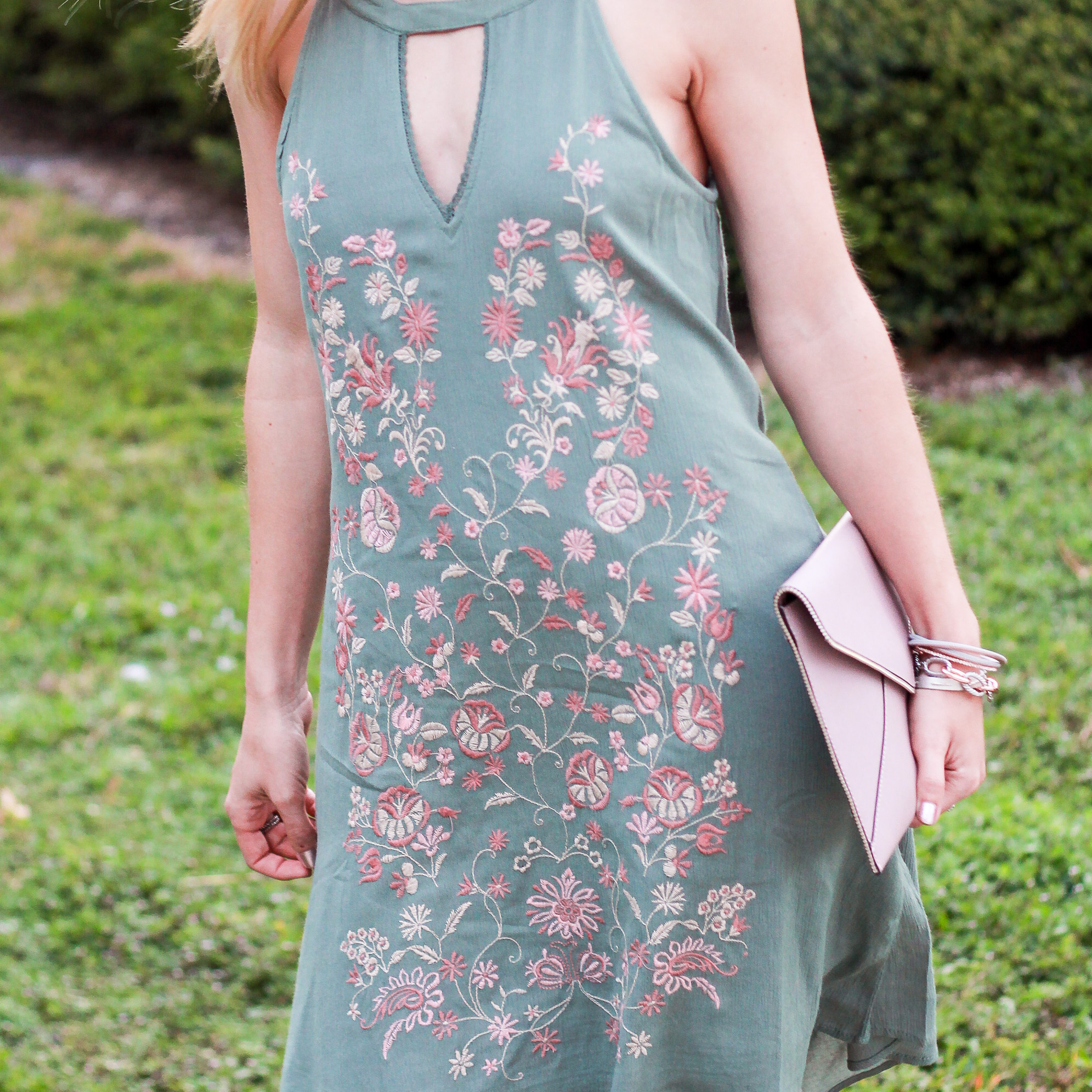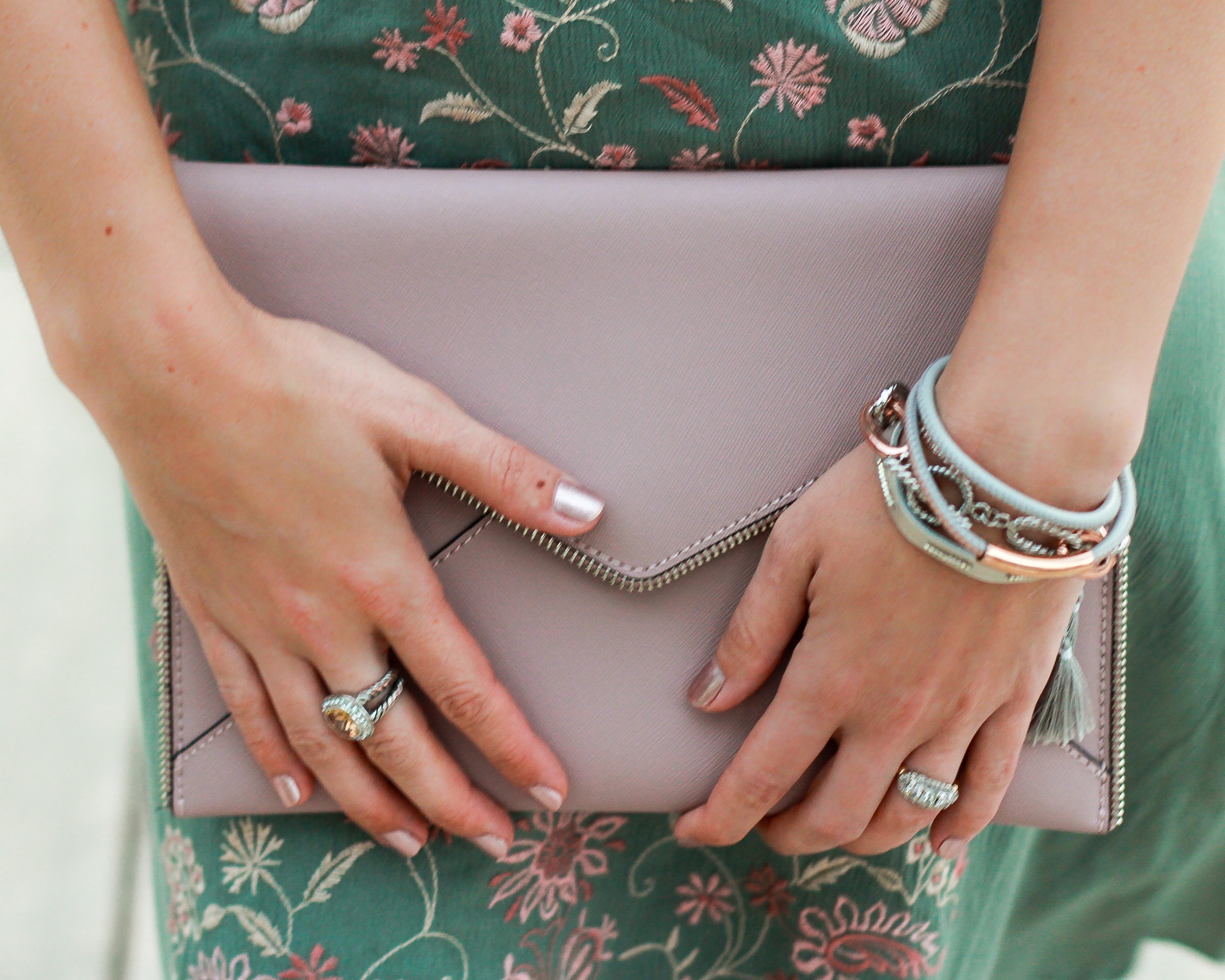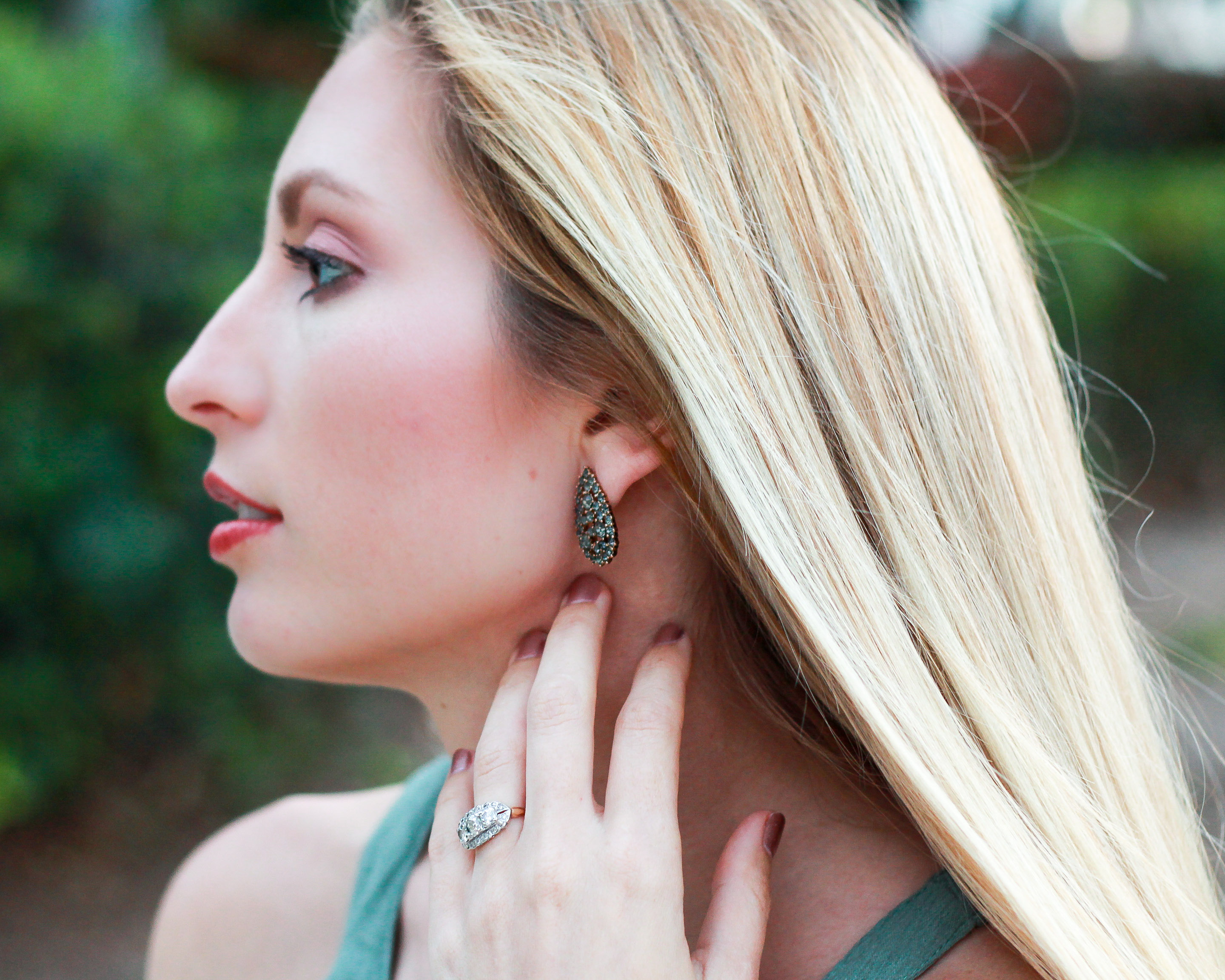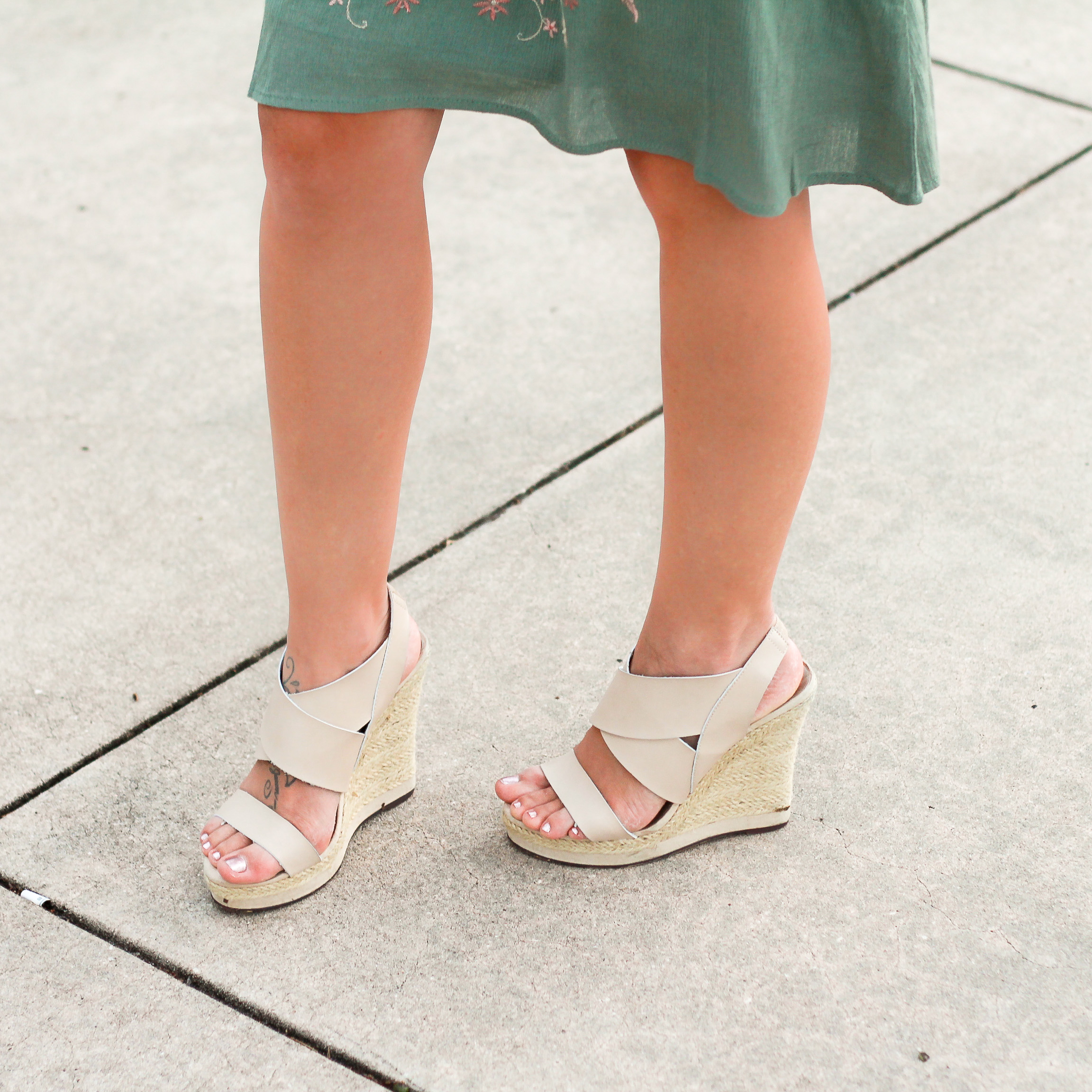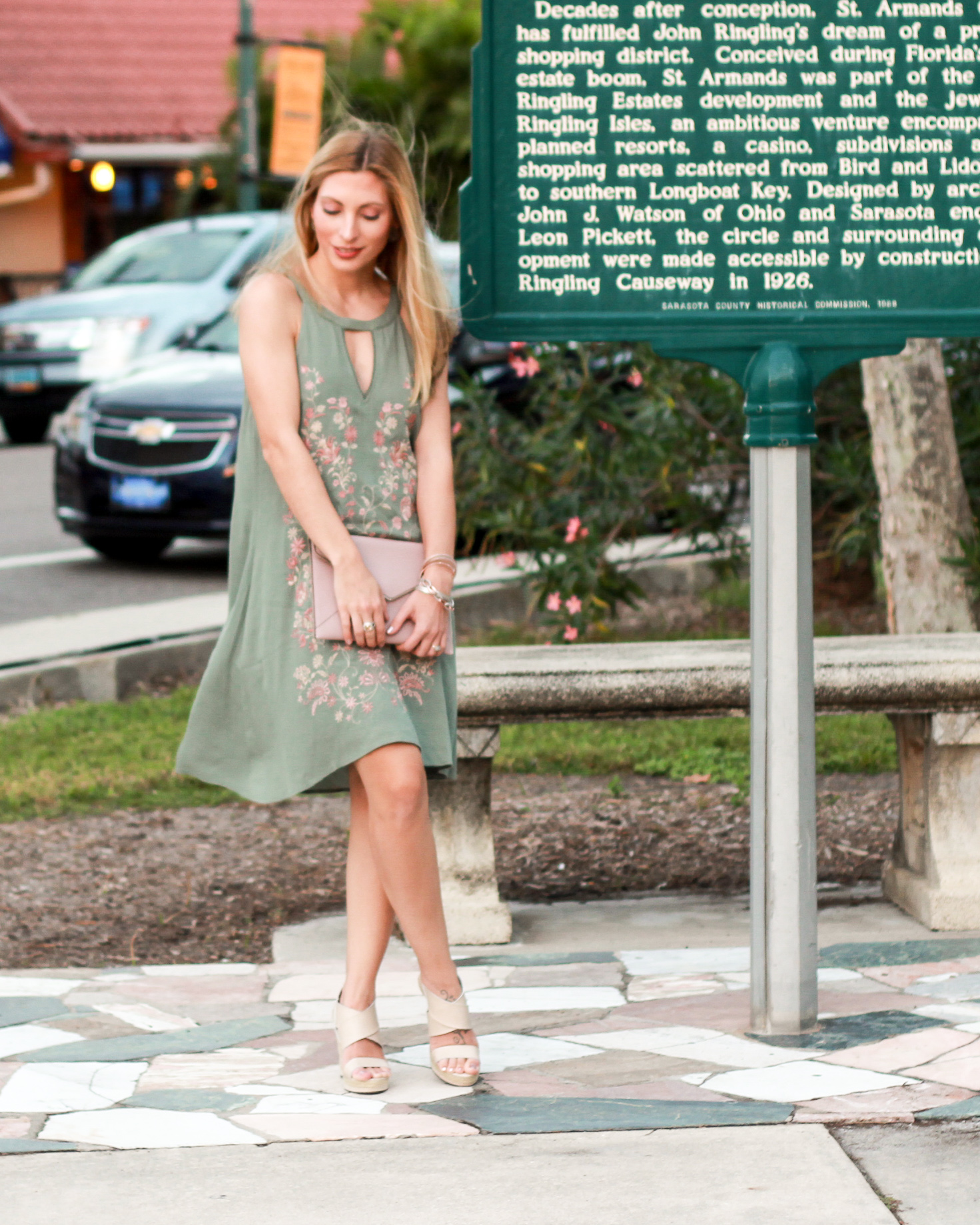 Francesca's Floral Dress (Similar & Similar)
Wedges (Less than $30)/ Clutch / Earrings / DY Bracelet / DY Ring
Boho Betty Bracelets use the code THEFASHIONABLEACCOUNTANT to get 20% off.
Angel Fish Double Wrap Bracelet / Masai Mara Leather Bangle
Lipstick – YSL #003 Ultimate Beige
Nail Polish – Trust Fund Beauty Champagne Socialite
I really love Francesca's for chic finds at great prices. Check out their awesome sale that just started yesterday!
"Have the courage to follow your heart and intuition. They somehow know what you want to truly become."
– Steve Jobs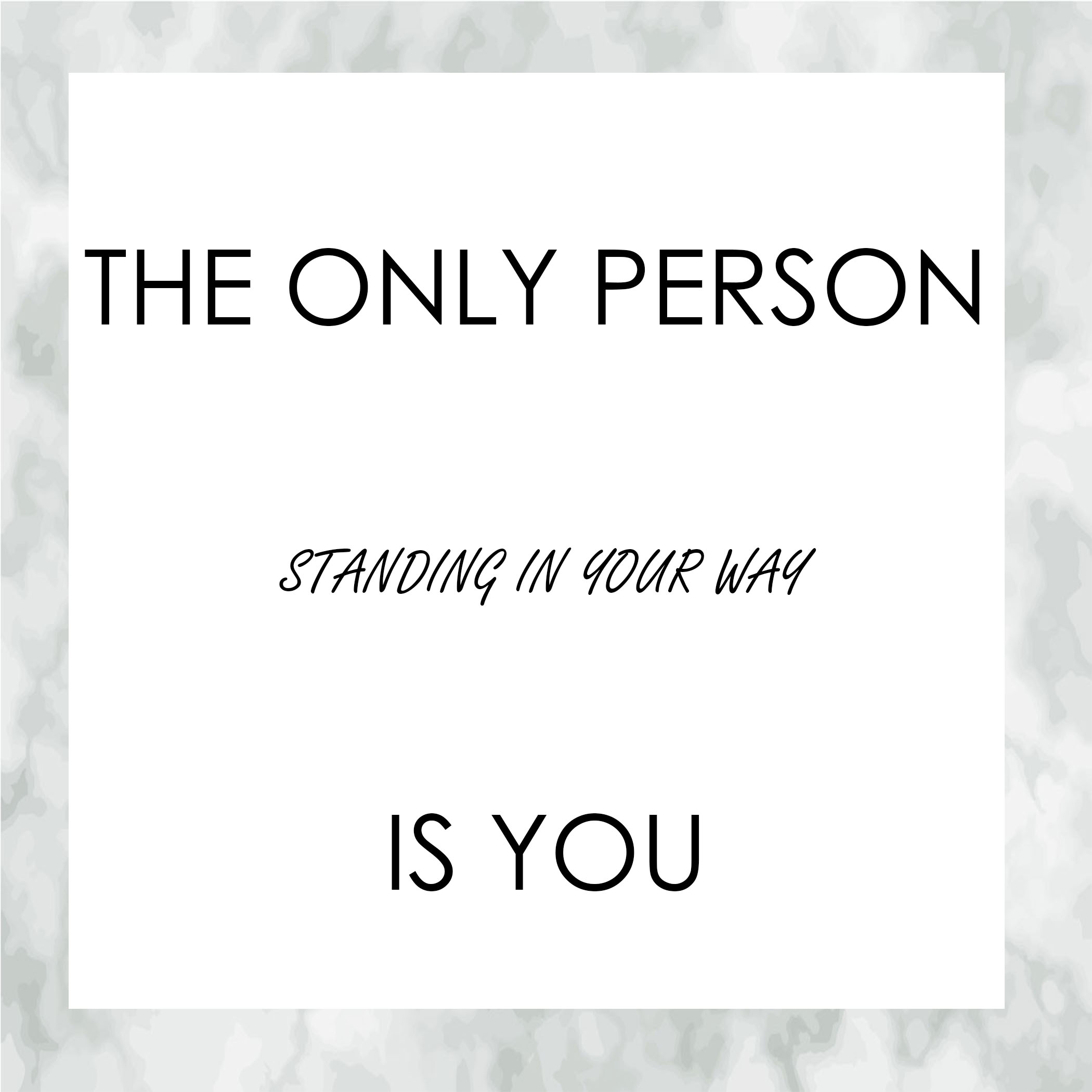 In today's financial tip at the bottom I wanted to help out some fellow fashion bloggers by listing a few ways we can save money, since it can be quite an expensive hobby!!
It's the end of the week and this is the time we tend to jump for joy! I have an exercise for you though… What if you had no weekend. What if your 9-5 was all day every day. Would you still be happy? I want you to challenge yourself to think about what you truly want to do with your life. Are you living the plan that you envisioned for yourself? If you are and you are then that's great!! Not everyone is as lucky as you. If you aren't where you thought you would be, then think about what steps you can take to get yourself there. You can do whatever you put your mind to.
7 FINANCIAL TIPS TO HELP FASHION BLOGGERS SAVE
Buy your lenses used. For fashion bloggers, your biggest money maker is your photography. People love to see beautiful, high quality photos. However, even if your camera isn't too expensive, the lenses can really add up. I purchase all of my lenses used off KEH. This is a great site and I have never had a problem with a lens. If you would like to see a post more about what lenses I use and how to use a camera a bit better to take blog photos, then leave a comment below.
If you don't want to pay for Lightroom, or Photoshop, then use PicMonkey. I have Photoshop and Lightroom through the creative cloud, which I think is reasonably priced at $10 a month. Before I purchased those though, I was using PicMonkey. Depending on what computer I am on at the time, I actually still use it. They also have an upgraded version, which I ended up purchasing which has a lot of neat extra options and it's much less than Photoshop at under $40 for the whole year.
Purchase items when the season is over and they go on sale. As fashion bloggers we are always trying to stay ahead, or at least on trend. This doesn't mean you can't shop last season's sales though. In fact there are a lot of items that stay on trend throughout the years, or are classic staples. Look for these items during the end of the season because a lot of times you can get items over 50% off. Also, make sure to shop the biggest sale of the year, the Nordstrom Annual sale. This is where you can shop ahead of the season and most items are at least 33% off.
Poshmark the items you are no longer wearing. So many people from all over the U.S. are on Poshmark. This is a great way to showcase your closet and make some money off the items you haven't worn and don't want to just drop off to goodwill. This is also a great way for fashion bloggers to introduce more people to you and your blog.
Swap items with friends to make the most of your closet. My girlfriends and I are always borrowing clothes from each other. If you and your friends are very good at taking care of clothing, shoes, and accessories, then this could be a great way to broaden your outfit options without having to spend any extra money.
Before buying an item research to see if you can DIY it for a lesser price. I am all about DIY projects. I just always thoroughly research an item and how I would create it before I decide whether I should make it myself, or not. Just because you can make something yourself does not mean that is the least expensive way to go, if you can find something used, or from an inexpensive site. Currently though I am going to be creating a vanity mirror for less than $60 when the cheapest one I could find similar to what I want was well over $200. That's a good DIY project.  Keep an eye out; I will post how to make one on the blog when I'm finished.
Reach out to stores and even places you plan on traveling and ask about free products to review, or discounts for bloggers. Many brands will reach out to fashion bloggers and offer free products in trade for social shout outs, or a blog post review. This gives them free advertisement and you free products, plus hopefully advertisement via their social channels. However, I feel like a lot of people don't take the time to reach out to the companies they want to work with. If there is something you want to showcase on your blog, then pitch the company and create a strong media kit to back yourself up. Also, don't forget that when you travel each place you visit is an opportunity as well. Ask about blogger rates at hotels, or even at restaurants before you go. This way you can plan your trip out ahead of time and work things into your budget. Make sure you are only taking sponsored opportunities that work for you and your brand though. You want to always stay true to yourself and what makes you unique.
Happy Friday!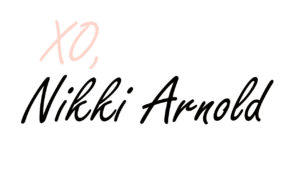 SHOP THE POST: