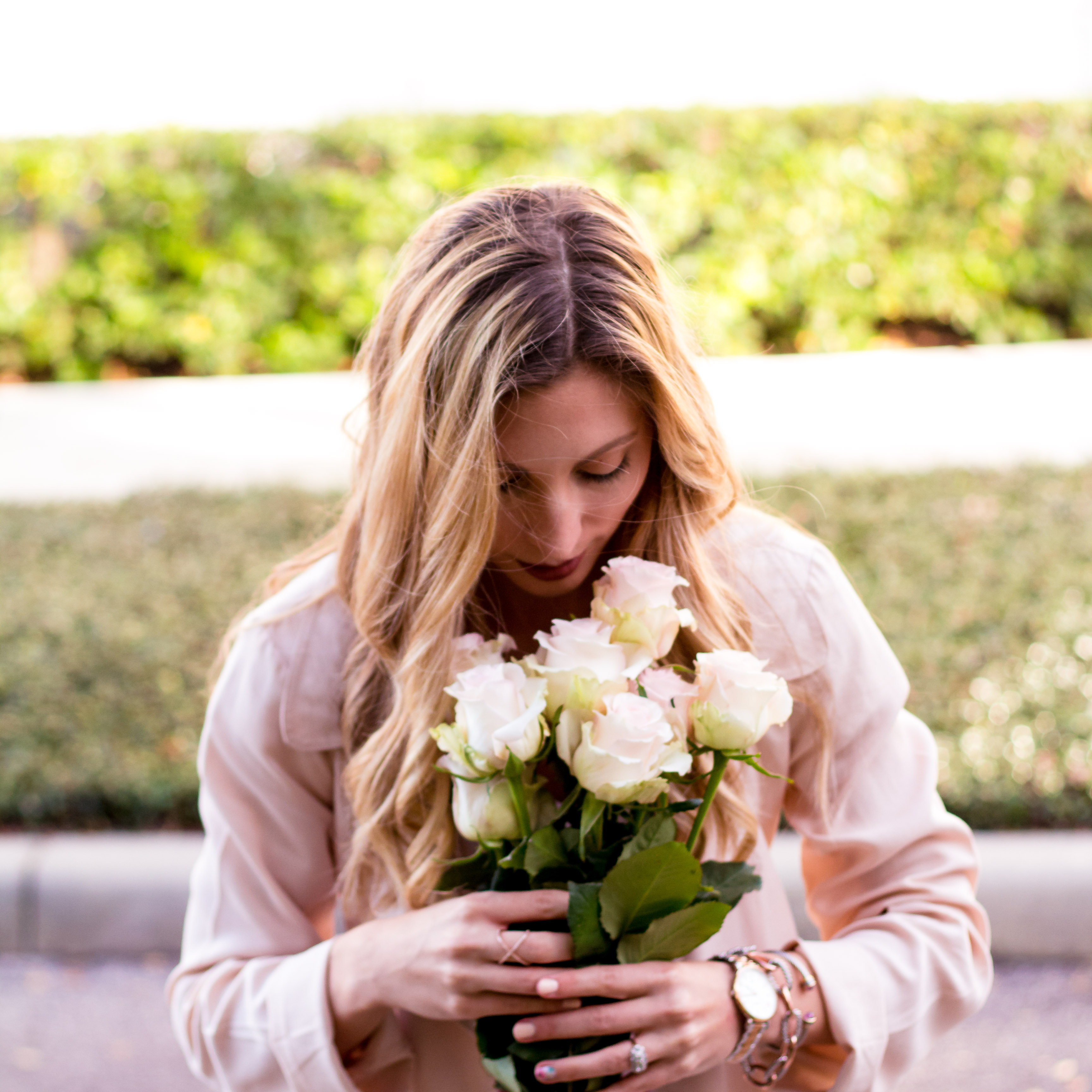 Spring is in the air and its the perfect time to start going through your wardrobe and getting it organized. With these 8 tips you can get your closet prepared for spring and make you less likely to spend unnecessary money shopping.
Organize by Category
I hang up most of my clothes and have taken up three closets in the house haha. One day when my kids are older I will re-do my home layout and get my room size dream closet. However, my favorite way to organize my closet is to start by category. This way I know that t-shirts are on the left and skirts are on the bottom rack, ect. It makes it so much easier when looking for something to wear.
Organize by Color
Next I take each category and organize it by color. This really helps when I have an idea of what I want in my head, or a color combination that I want and I can find matching items in a pinch! Plus it just makes the closet look so pretty!!
Display Jewelry
I have a huge jewelry box that I like to keep all of my jewelry organized in. However, I have some necklace and bracelet stands that are really great for displaying colorful statement pieces, or just the items that I'm currently keeping on rotation so I can quickly see them to grab and go. This also give a  bit of sparkle to your dresser display.
Highlight Fave Pieces
I like to hang up either on a clothes rack, or in the front of my closet a few favorite pieces that i am keeping on repeat. This makes it easy to grab a favorite piece I know looks great on me and then think of something different to pair it with in order to try a new look.
Promote a Few Old Items
Go through your closet and find a few neat items that you haven't worn in 6 months and move those to the front of your closet, or the clothes rack where you have your current fave pieces. If your eye catches a few pieces you haven't worn lately then perhaps you can work something old back into your current style. This will help you change things up.
Display Shoes & Handbags
I purchased a great open shelf unit from Ikea recently that I will be doing a tutorial with turning it into a gold/marble shelf unit! I love to use this to display my purses and a few pairs of favorite shoes that I wear often because it makes my room look more fun and fashioney (no that's not a word, but it should be haha). You can also then see which bag and shoes you may easily want to grab and wear with your look.
Store Non-Seasonal Items
I love using totes to store away sweaters and bulky coats. I actually have a whole closet for coats and boots, so I don't have to put too much away, but I push the winter type coats to the back of the closet and move some items out of my main closet and put them into bins in my laundry room. This frees up space for me to see more of the spring items that will be on current rotation.
Purge
Ok, now I'm not the best at this, but I try. Recently I did a huge purge and then I realized I got rid of something I wanted to wear ugh that really sucks. If there are items in your closet though that you haven't worn in a year and you don't see yourself wearing them soon then it's time to donate. Obviously this would not be any specialty gowns, or coveted designer items that are for special occasions. Also, if you have items that need to be fixed and you don't see yourself taking them to be repaired, then you might as well toss those too.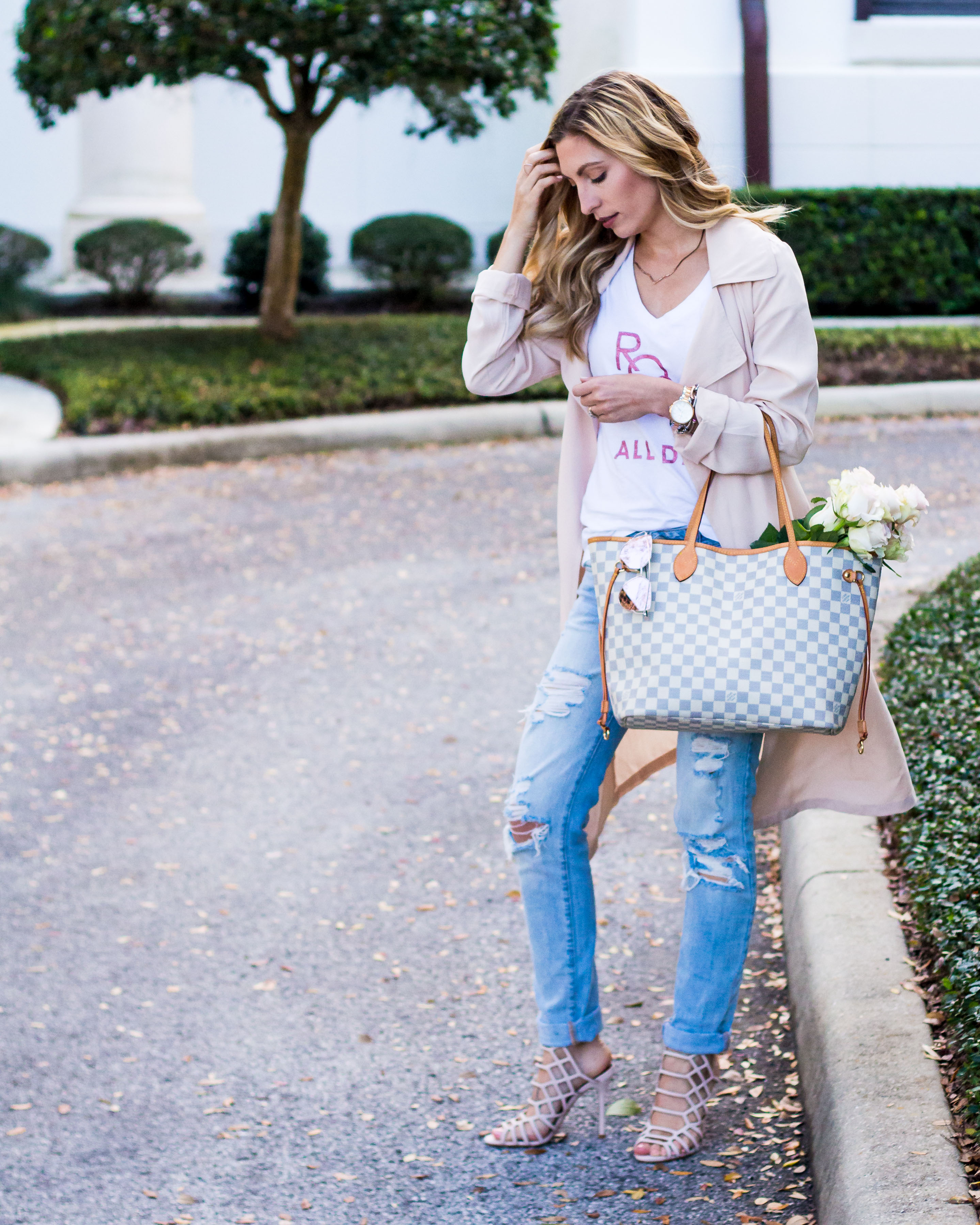 I used a few of these tips and that's how this blush trench coat became a staple piece for me recently. Right now we are in that in-between weather state. It's chilly then warm, dry, then damp, and sometimes this is all in one day. This trench is light weight and the perfect color for the spring season, though I wear blush year round. I kept it casual with this fun Tee from T & J Designs and a pair of destroyed denim. These strappy blush heels spice it up a bit.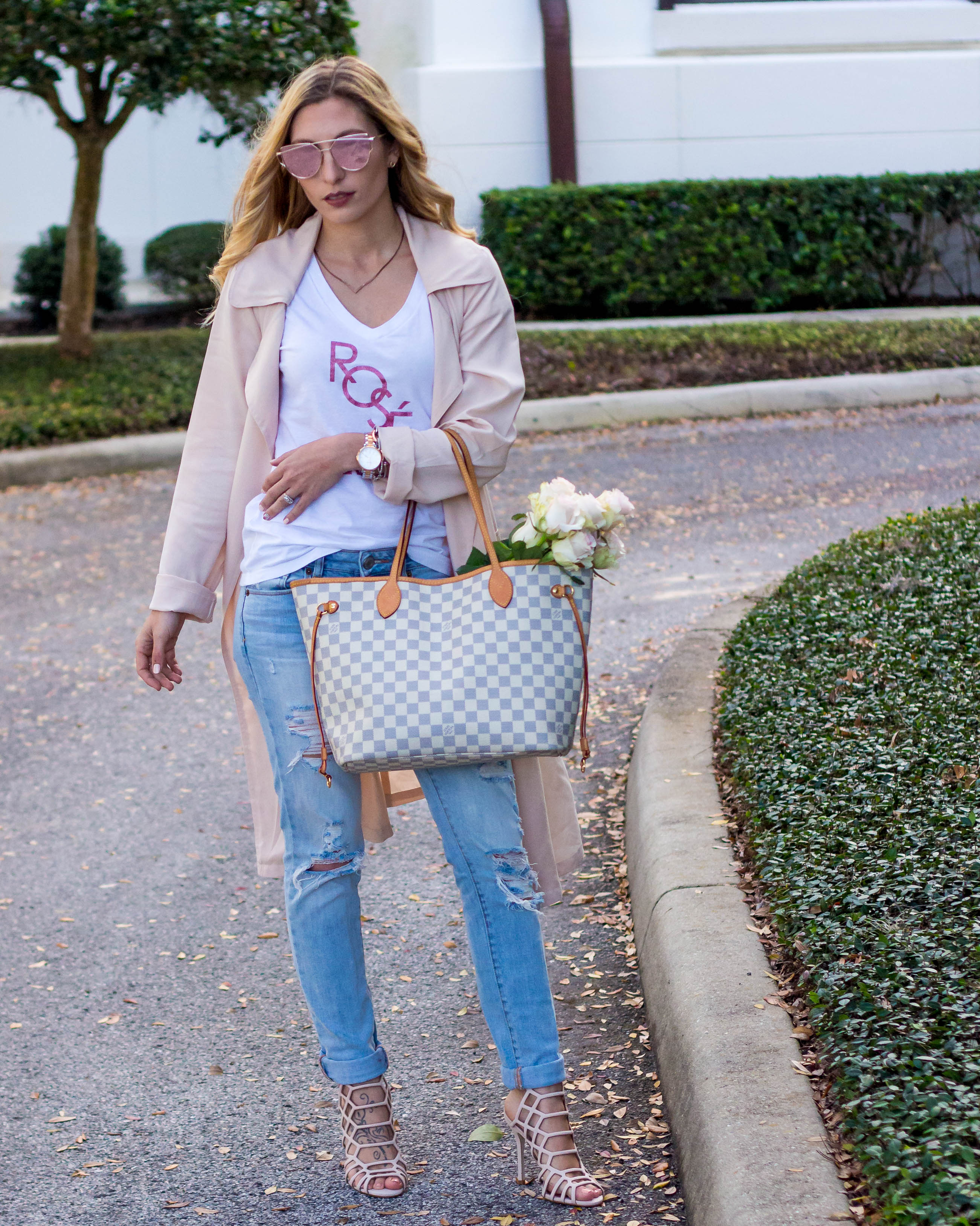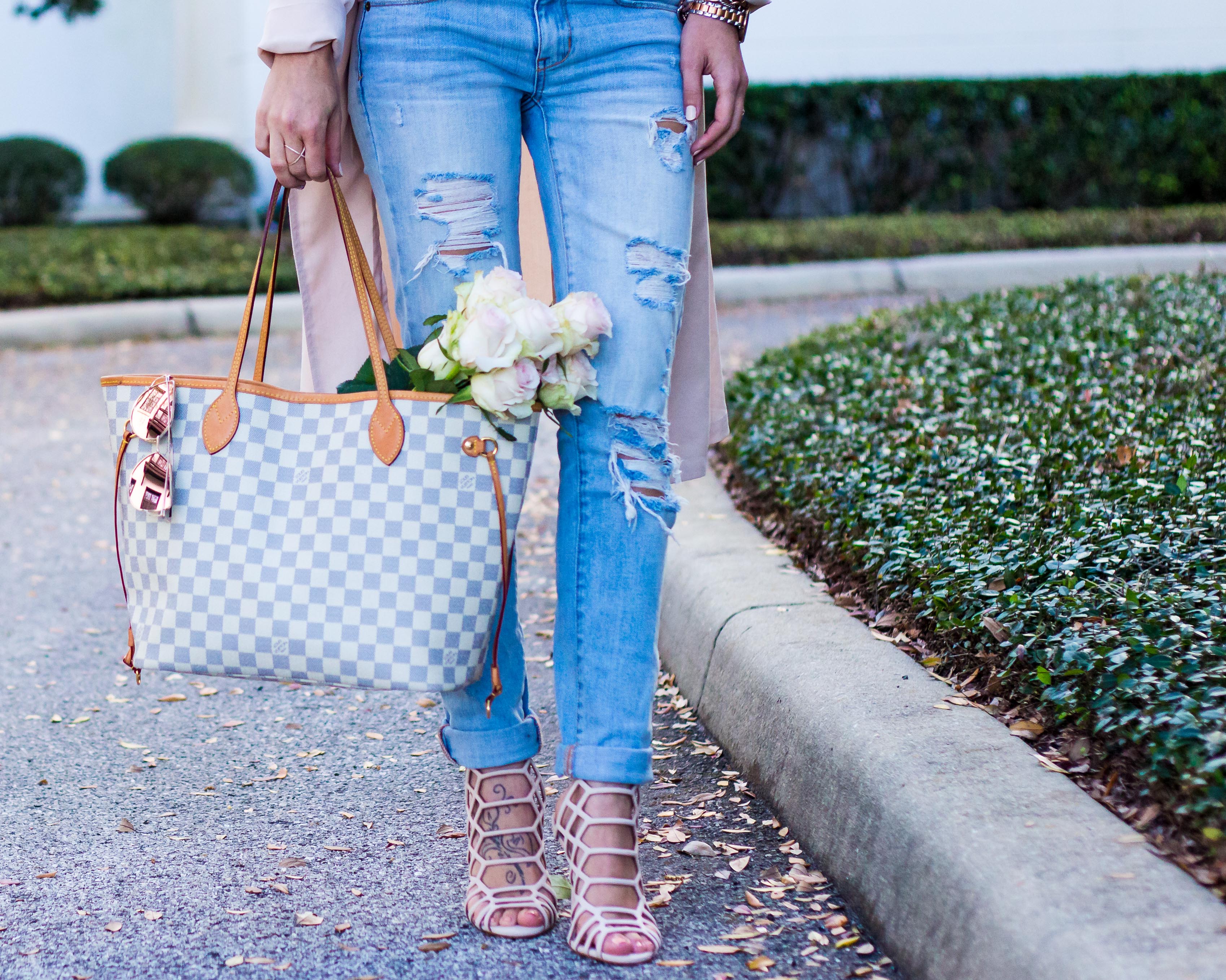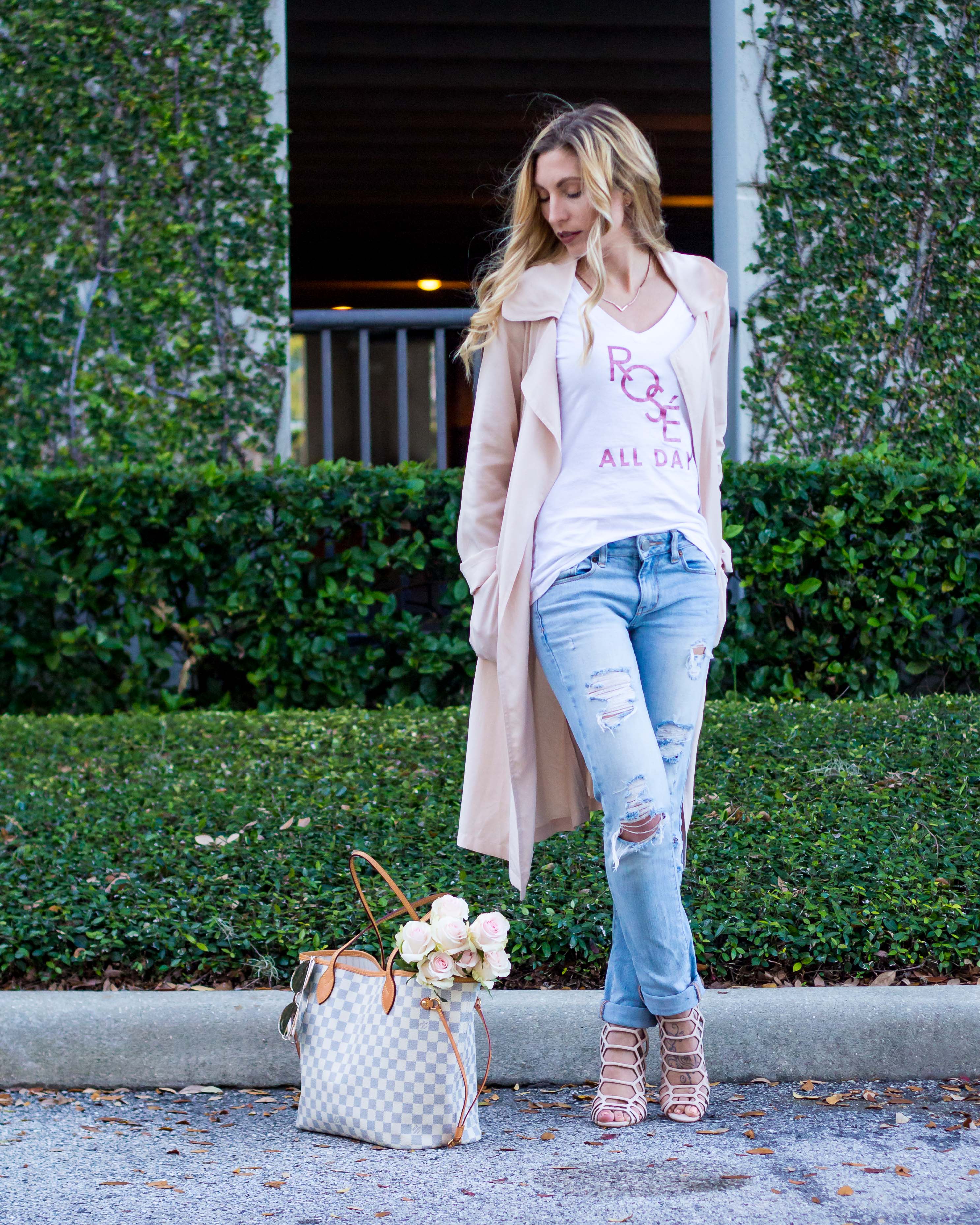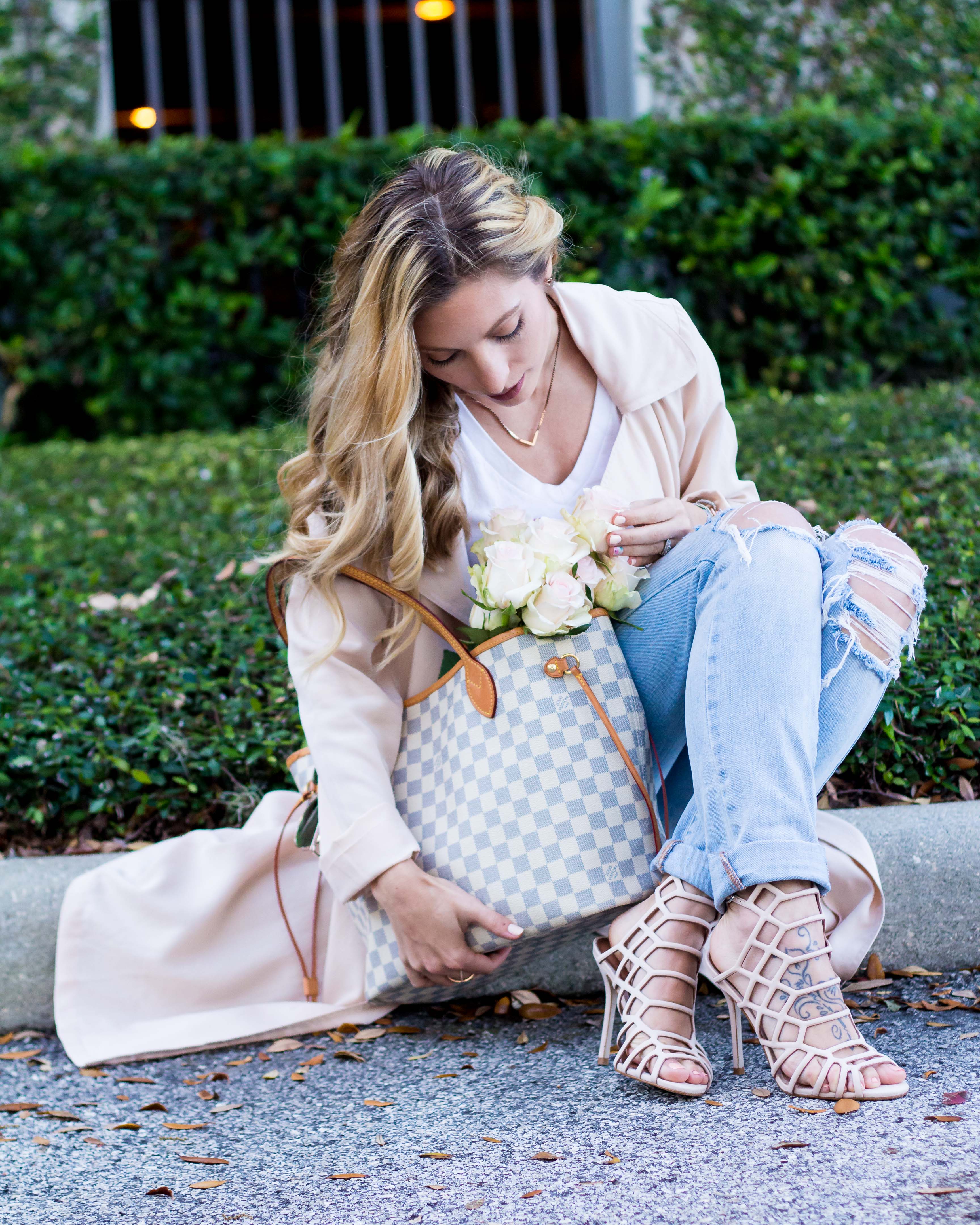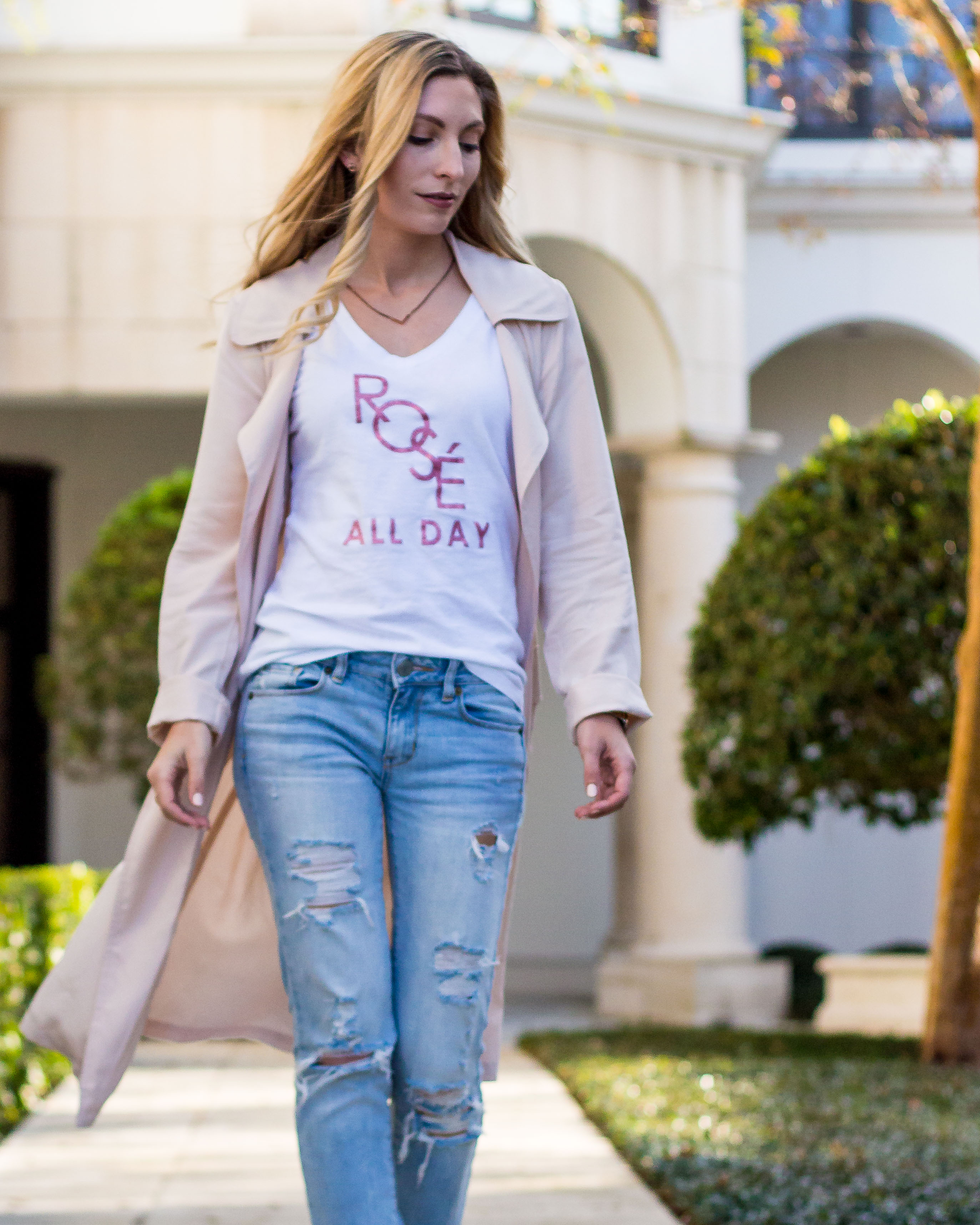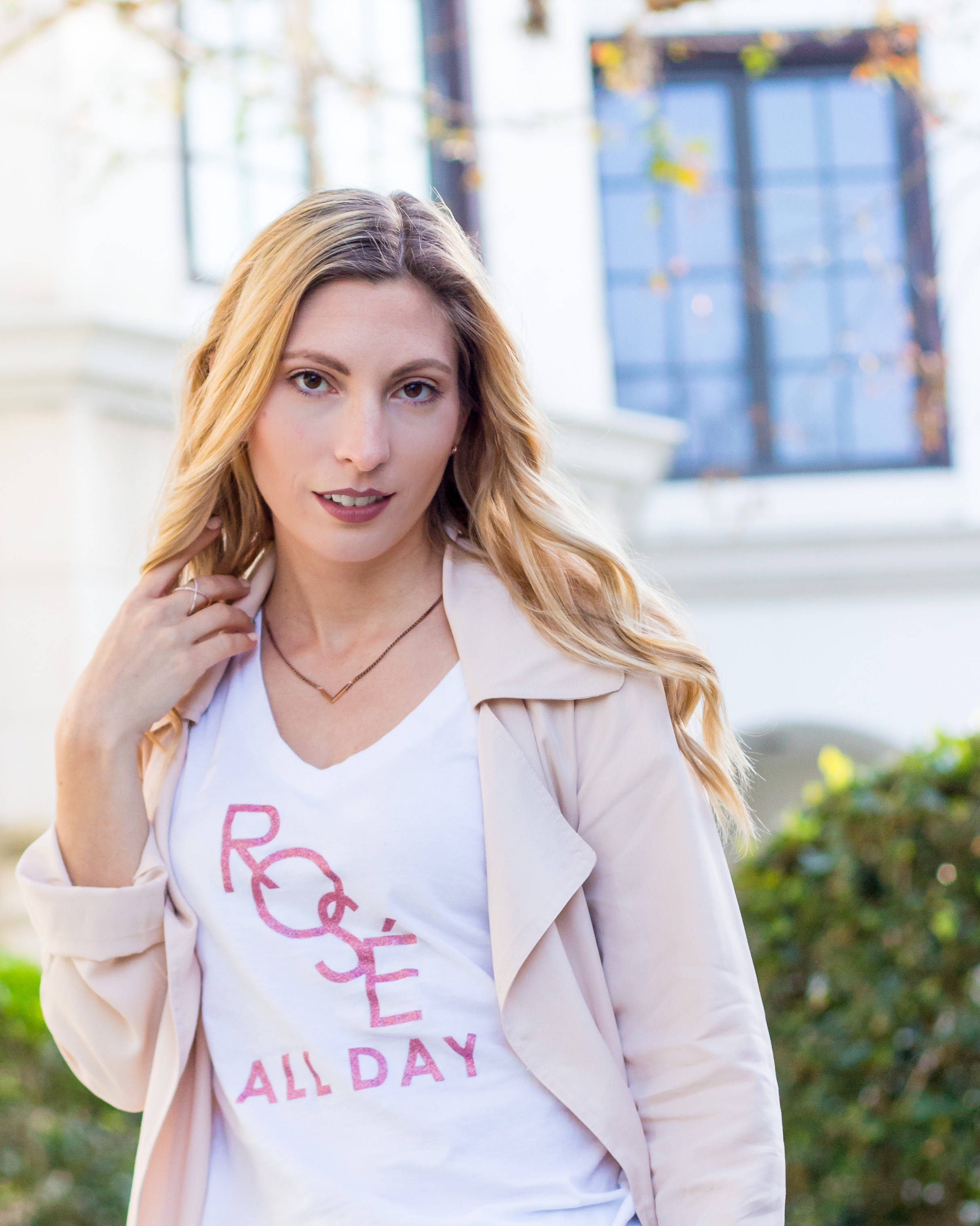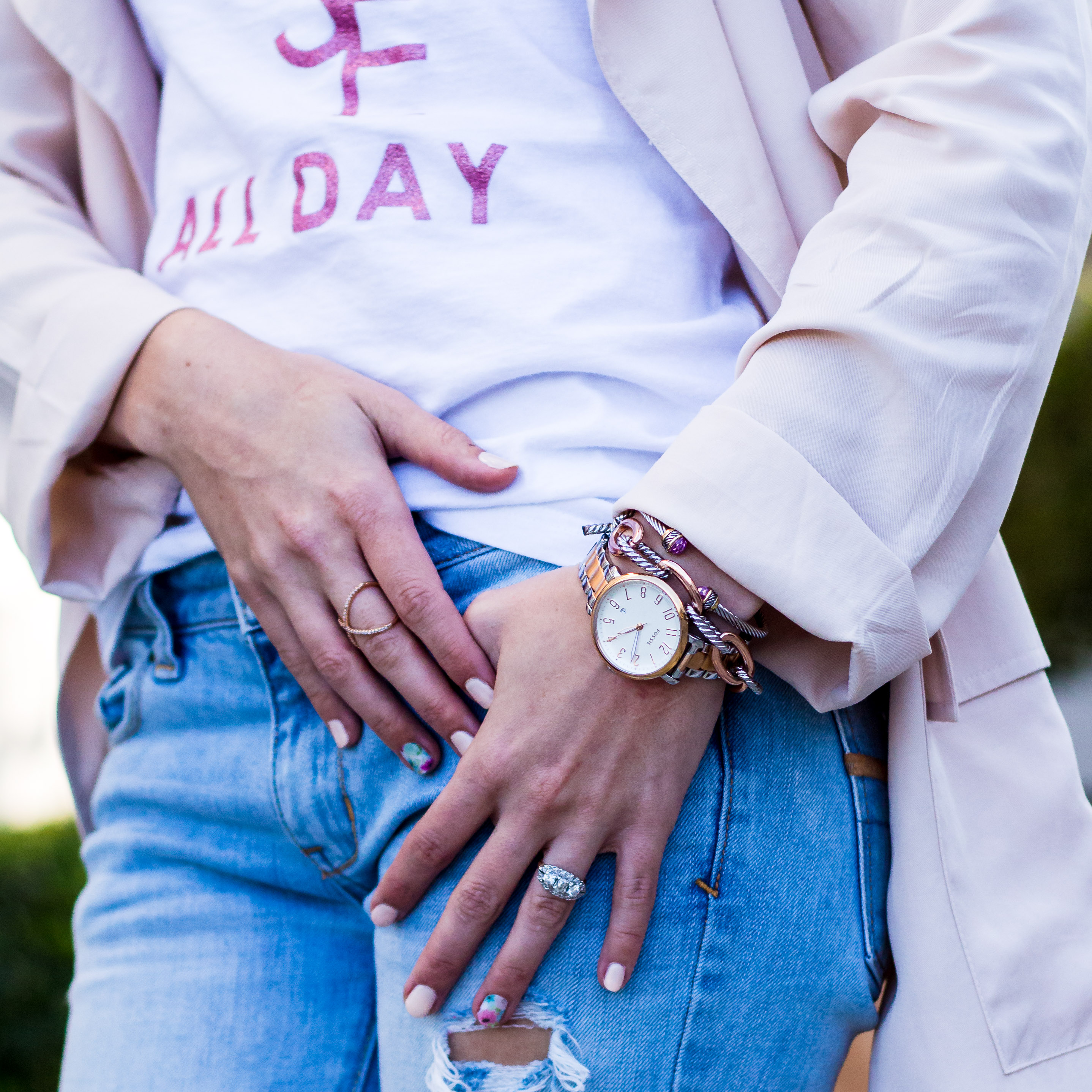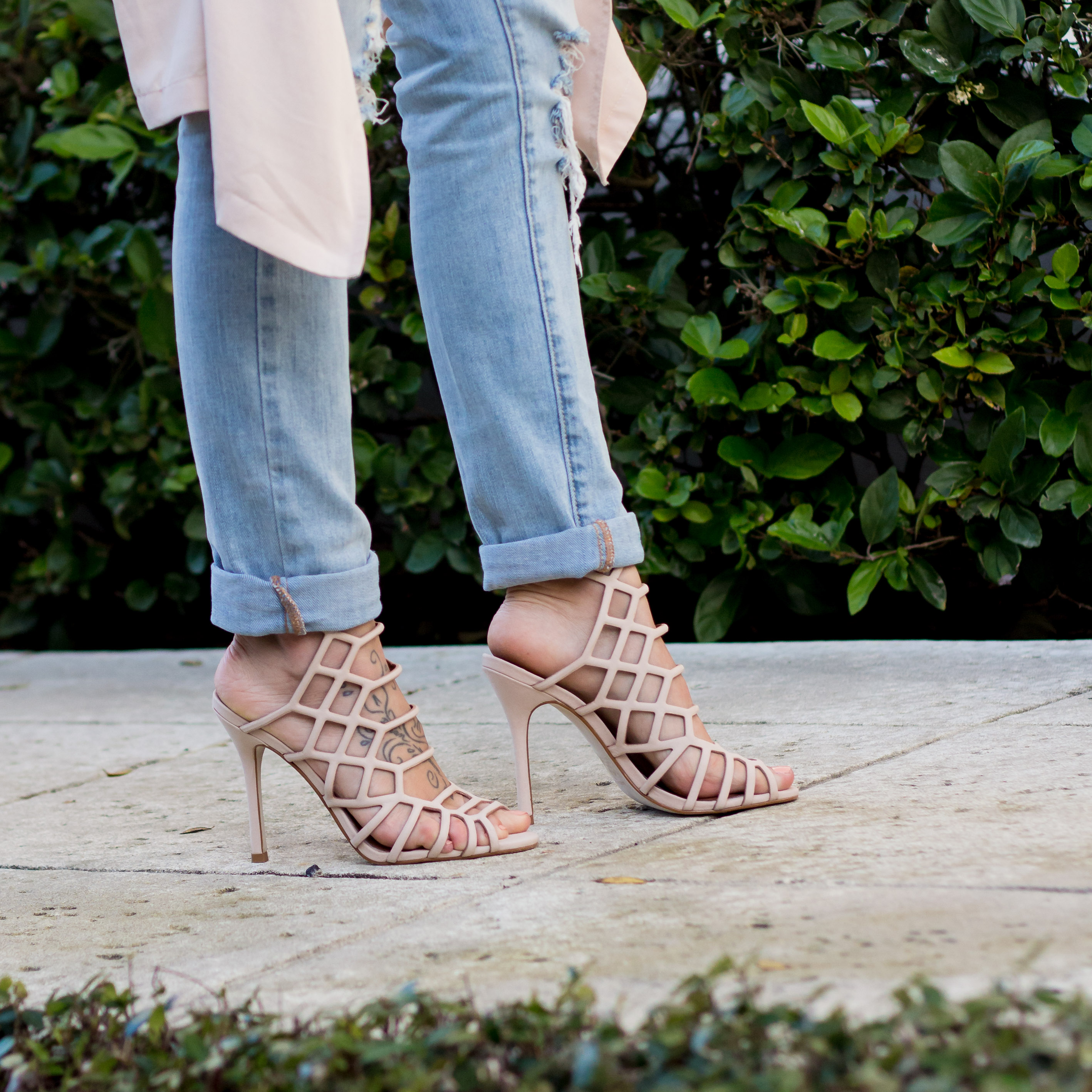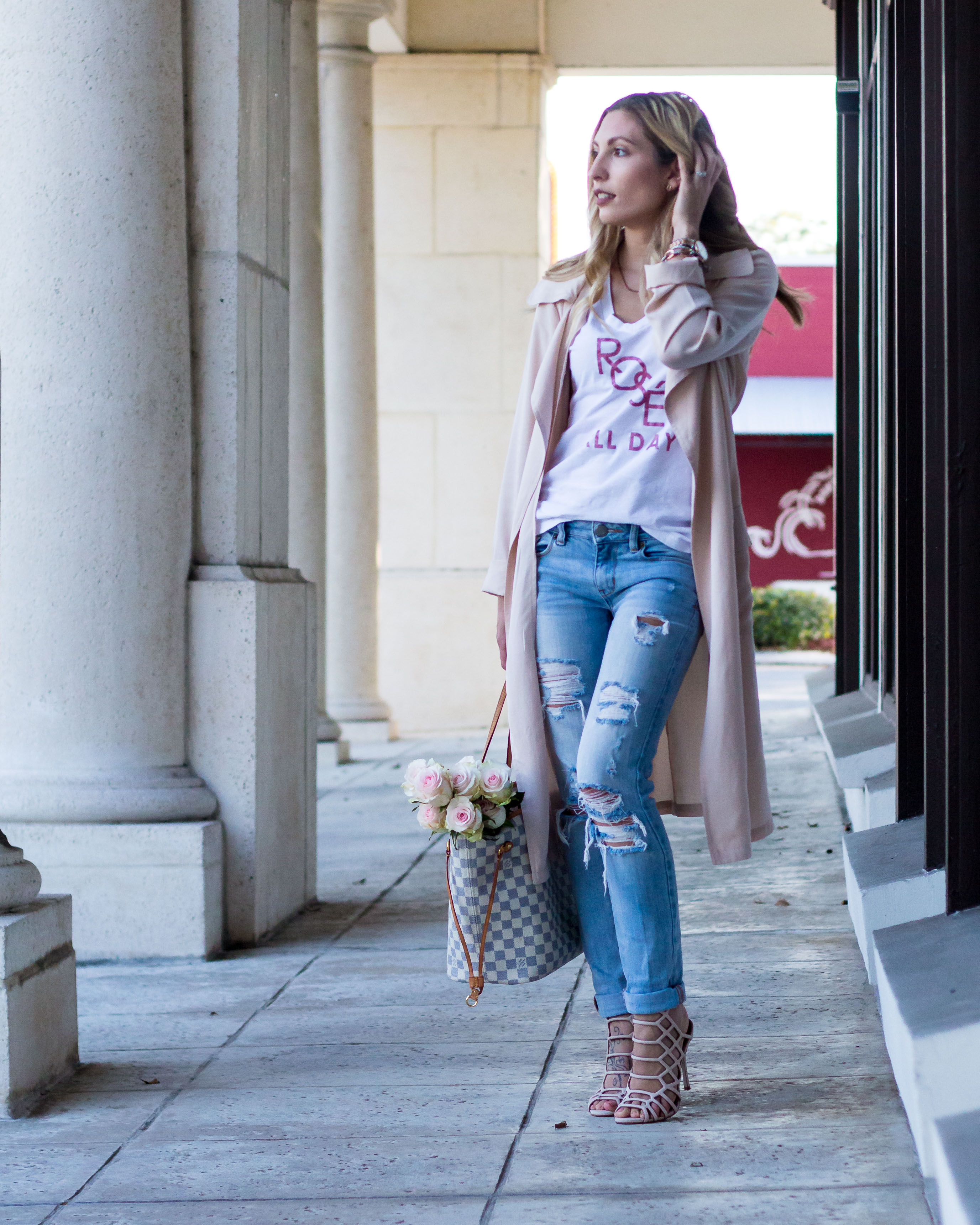 Blush Trench / T & J Designs T-Shirt / Jeans Similar
Heels / Purse – LV Neverfull / Similar Purse / Sunglasses (on sale less than $30)
Earrings / Necklace Similar / Watch / Bracelet / Bracelet / Ring
Lipstick – ColourPop Times Square
Nail Polish – Jamberry Trushine We're Blushing
FINANCIAL TIP 
Spring Cleaning Your Financial Closet
Cash Flow – Have you set a goal for your savings and are you keeping on track? If the answer is yes then that is awesome, I'm super proud of you! If not, then you are like most people including myself haha. You should take a peek at where you are spending most of your money and where you can cut back. Remember to pay yourself first and put a portion of every paycheck into your savings.
Risk Management – With this I mean emergency funds and any types of insurance. Do you have a nest egg in case of an emergency? If not you really should have 6 months of bill money saved in case, of medical leave, or layoffs. Also, check your insurance premiums and do a quick shop around to make sure you are getting the best deal. If you are making more money and you aren't a risk, then you really no longer need those low deductibles and could be saving more on your premiums.
Retirement Plans – Keep track of how your 401(k) is being invested and allocated. Also, if you are able to maximize your contributions, or at least increase them by 1% then make sure to do so. Remember even a small increase now will provide well for your future.
Investment Strategies – Check your investments and make sure your money is being used wisely. Also, review any investments you may be looking into. You want to make sure you aren't making any spur of the moment decisions and that you are putting funds into the best place for you and your future.
Estate Planning – One of the smartest things to do is to make sure that all your financial and legal documents are in order. Do you have your Will drawn up, or a Power of Attorney in place? These are all items to think about when you are young because you never know what the future holds. If there is an emergency you want to make sure your wishes are carried out. If you have put this item off then you are one of the majority, but if you have children then I would get this taken care of immediately. If something happens to you then your state would decide what happens with your estate and your children and that is most likely not a good thing.
Do you have any special spring cleaning tips for your wardrobe, or for finances?
Happy Friday!! Xoxo
SHOP THE POST: