Fridays are my favorite!! It's the day that I put up my weekly Fashion & Finance post and it means I'm one step closer to the weekend for plenty of fun!! Today's outfit is a mix of white and grey with a bit of western flair. I adore these western booties by Sam Edelman that I picked up on sale during the fall from DSW for less than $100. I'm always trying to stick to a budget when it comes to my clothing shopping that way I don't have any buyer's remorse, or guilt afterwards. Have you ever felt like you had to hide your shopping bags from your husband?!? Haha that was me eeek. I love telling him though when I pick up an item that's a great deal. Who doesn't love to save?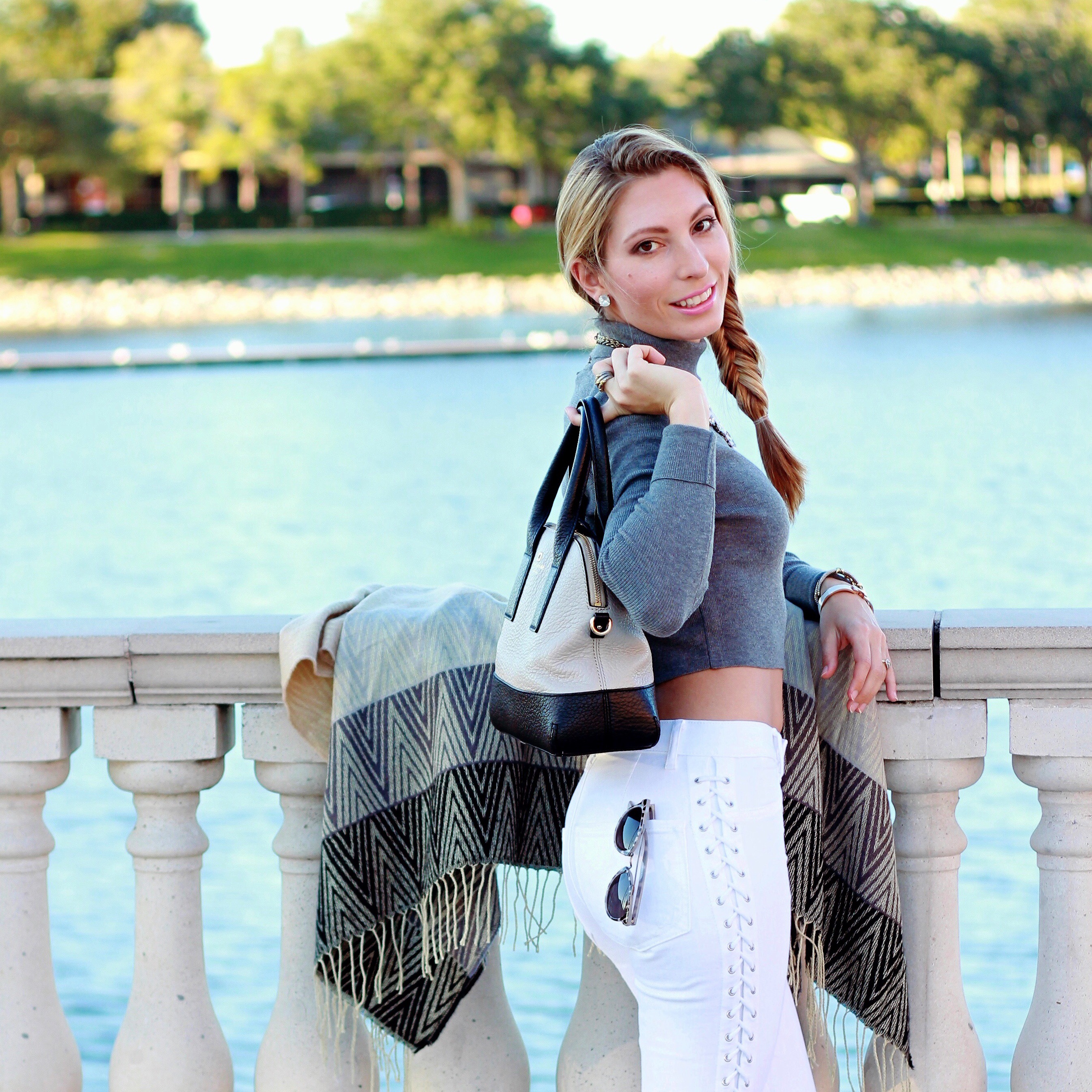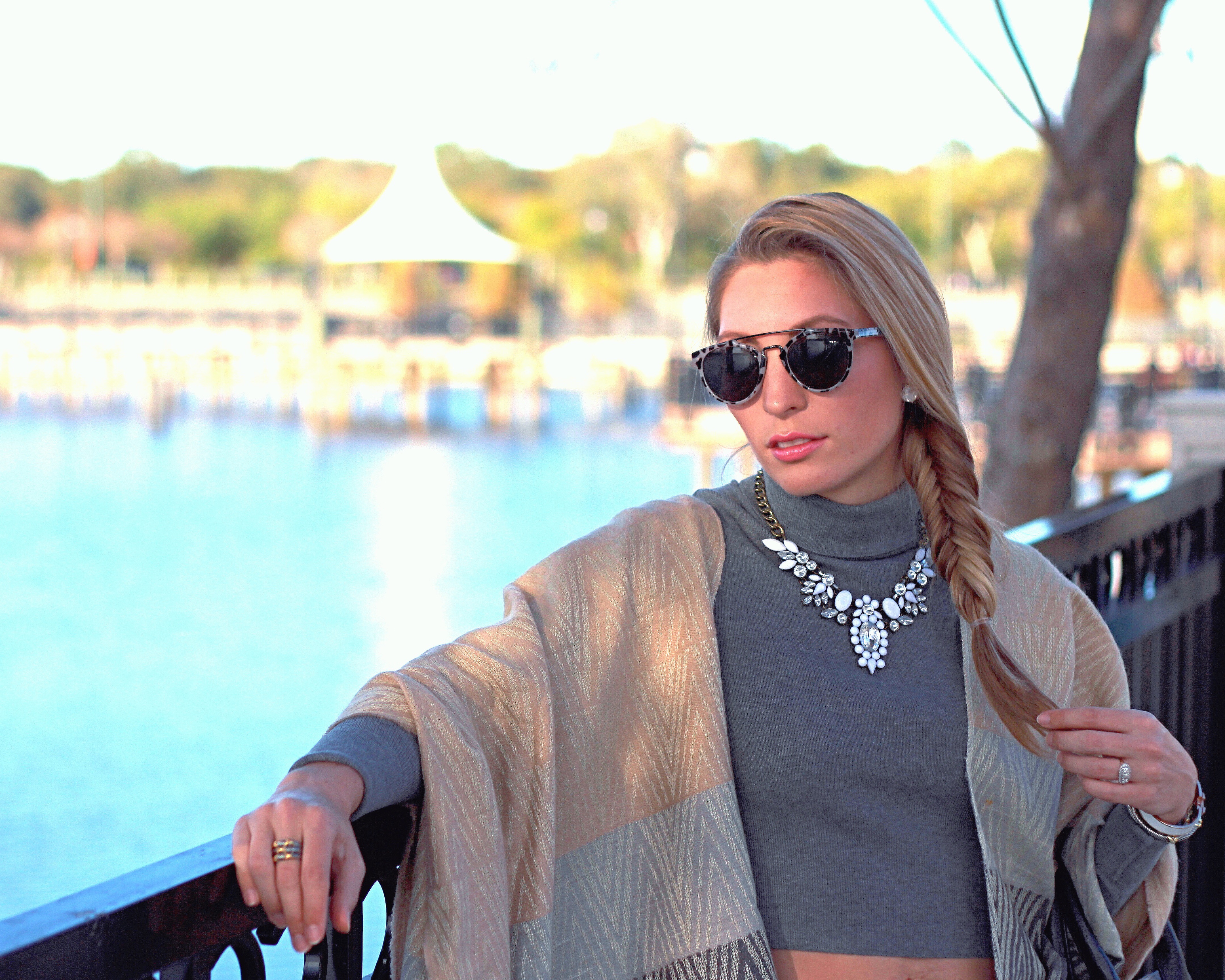 This really cute fishtail braid was so easy to create and is a perfect way to wear 2 or even 3 day old hair. I wash my hair 3x a week max otherwise it gets way too dry. How I created this side braid was I brushed all my hair over to one side and then twisted the back a bit and bobby pinned it so that it would stay nicely and not fall out of the braid. Then I put the hair in a small clear elastic and separated into two sections to start my fishtail braid. If you don't know how to fishtail then HERE is a great video to teach you. Once I finished the braid I tied it off with a small clear elastic and snipped off the clear elastic at the top of the braid by my neck. I just pancaked it a bit to give some volume, sprayed with my Living Proof hairspray and I was good to go!!
Similar Poncho / Top / Similar Jeans (Express Jeans Sold Out)
Booties / Necklace / Earrings / Sunglasses
Hermes Bracelet Dupe / DY Bracelet 1 / DY Bracelet 2
Lips – Nyx Lipstick Narcissus & Lip-gloss Do the Hustle
Eyes – Urban Decay Smoky Eyes Palette
FINANCIAL TIP 
So earlier I was talking about budgeting for clothing purchases, but it's really great to budget for your daily life. When I track my income coming in and my expenses going out I feel a huge weight lifted off my shoulders. I know how much I have to save and how much I have to splurge if I so choose. I also can decide if there are items I am spending too much money on and should cut my spending back in certain areas. My weaknesses are shopping and eating out haha.
The first step when creating a budget is to calculate your income and expenses. Next you need to determine what your financial goals are that way you can implement a plan to reach them. Most people budget on a monthly basis because that's the schedule that your bills will follow. Planning and monitoring your budget will help you identify wasteful expenditures and let you decide whether you can afford to stop and grab that bite to eat, or if you should just wait to warm up something from home. You may be surprised when you list out all your expenses how the little things really add up. With a budget you can live a bit more stress free because there won't be any surprises. Budgeting will give you a sense of financial clarity that everyone needs throughout life.
I created this budget template that you can download for FREE and use to your heart's content to help you get started in order to reach your financial goals!! Leave a comment below with what some of your goals are! 🙂

SHOP THE POST: