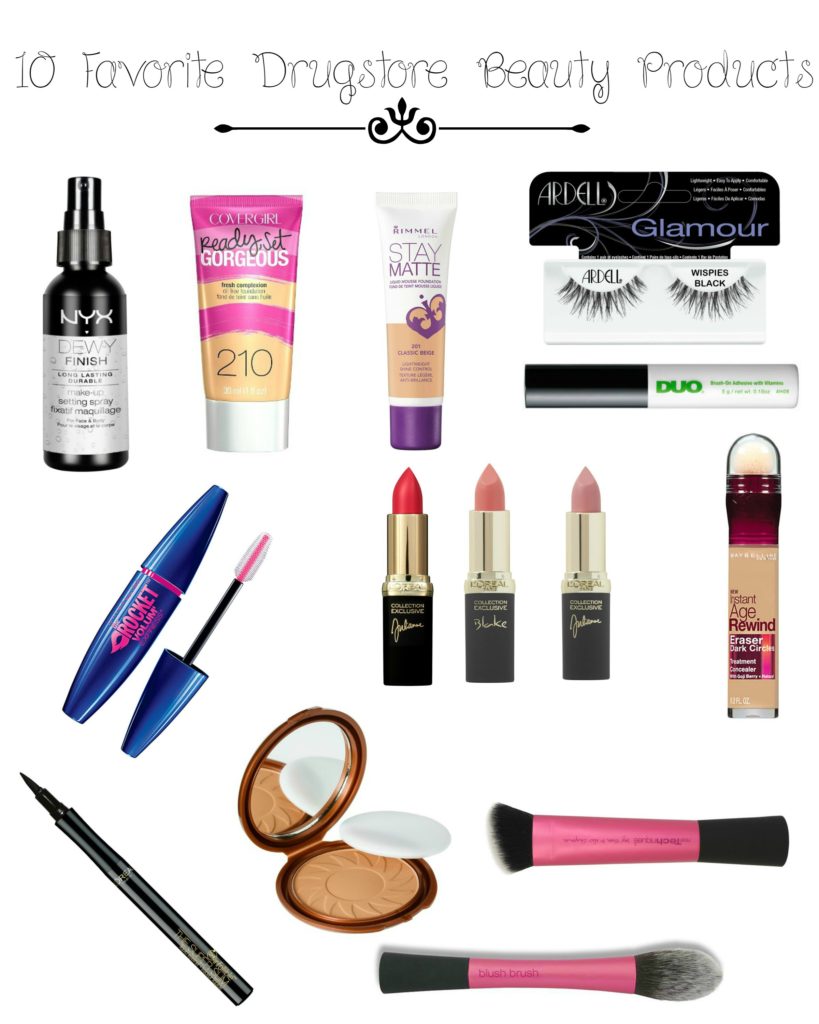 I use a mix of many different beauty products some high end and some drugstore. However, I can completely understand not wanting to spend $17 on a lipstick, or $28 on a mascara. (I rarely spent that on makeup until recently.) I am also a lipstick hoarder, so it would get pretty expensive always buying Urban Decay lipsticks haha. So here are 10 of my FAVORITE beauty products. These are all drugstore items, and best of all they are all under $10. Woohoo; you could buy all these products (both brushes pictured, both foundations, and 3 lipstick shades) for actually under $90, because Ulta is having an awesome sale and pretty much all these products are buy 1 get one 50% off!!!!
Nyx Dewy Finish Setting Spray – This stuff is awesome! It really keeps your makeup in place all day and feels very light and leaves you still looking like you are glowing. I prefer this over the Urban Decay Setting Spray.
Foundations: (Covergirl Ready Set Gorgeous & Rimmel Stay Matte) – The reason I put both of these is because I actually mix them! I use equal amounts of both products, blend them on the back of my hand a bit and then apply and blend out with a beauty blender. The Stay Matte is thicker and the combination of the two really gives a great coverage with a flawless smooth finish.
Ardell Lashes Wispies – I love these lashes! The Wispies, I feel can be worn for an every day look, or when you are going Glam. They hold up for several wears and are a great dupe for the House of Lashes Bambi.
Duo Brush-on Lash Glue – A lot of people swear by the House of Lashes Glue, which don't get me wrong it's great. However, I like to save a couple bucks and buy this one from any drugstore. It dries clear and holds really well and I love the brush applicator. This tube has lasted me quite a while, just make sure you keep it clean!
Maybelline Rocket Mascara – I really like Maybelline mascaras. They have waterproof options and I think they all give great volume and coverage. I use this one a lot because I think its a perfect dupe for the Benefit Roller Lash.
L'Oreal Colour Riche Lipsticks (Pinks, Reds, Nudes) – I love these lipsticks and think that they give excellent coverage that is equal to the coverage with the Urban Decay Comfort Mattes. In the red I own the Blake color which is a perfect dupe for Urban Decay – Bad Blood. In the pink I also own the Blake color and in the nude I really like the J-Lo. They have three categories of lipsticks in this collection pinks, reds, and nudes and within each category they have different shades for different skin tones which are the different celebrities they are named after and are a great way to pick your shade!
Maybelline Concealer – I have been using this concealer for a while and once in a while I will use a yellow concealer by Nyx under my eyes, but this applies so easily and brightens your under eyes so well. My everyday makeup always includes this product.
L'Oreal Liquid Eyeliner Pen – I have both this and the Stila Liquid Eyeliner. I think this one is a perfect dupe for the Stila at less than half the price. It applies very well and you can make your line thin, or thick with it. It also goes on nice and dark.
NYC Bronzer Sunny – This bronzer I found because I was hemming and hawing about purchasing the Hoola Bronzer. I was like $15 for a mini $30 for a full size?!? Psh I don't use it that much I told myself. Well, now I have purchased the Hoola Bronzer haha and I do love it, but I go back to this bronzer a lot, because guess what guys it's an exact dupe in my opinion.
Real Techniques Brushes: (Sculpting Brush & Blush Brush) – If you are looking for brushes Real Techniques is the way to go. Pretty much all their brushes are under $10 and the quality is amazing. I think I own pretty much everyone of their brushes and I use at least these two every time I do my makeup.
I hope this helps anyone looking for some great drugstore products! Xoxo