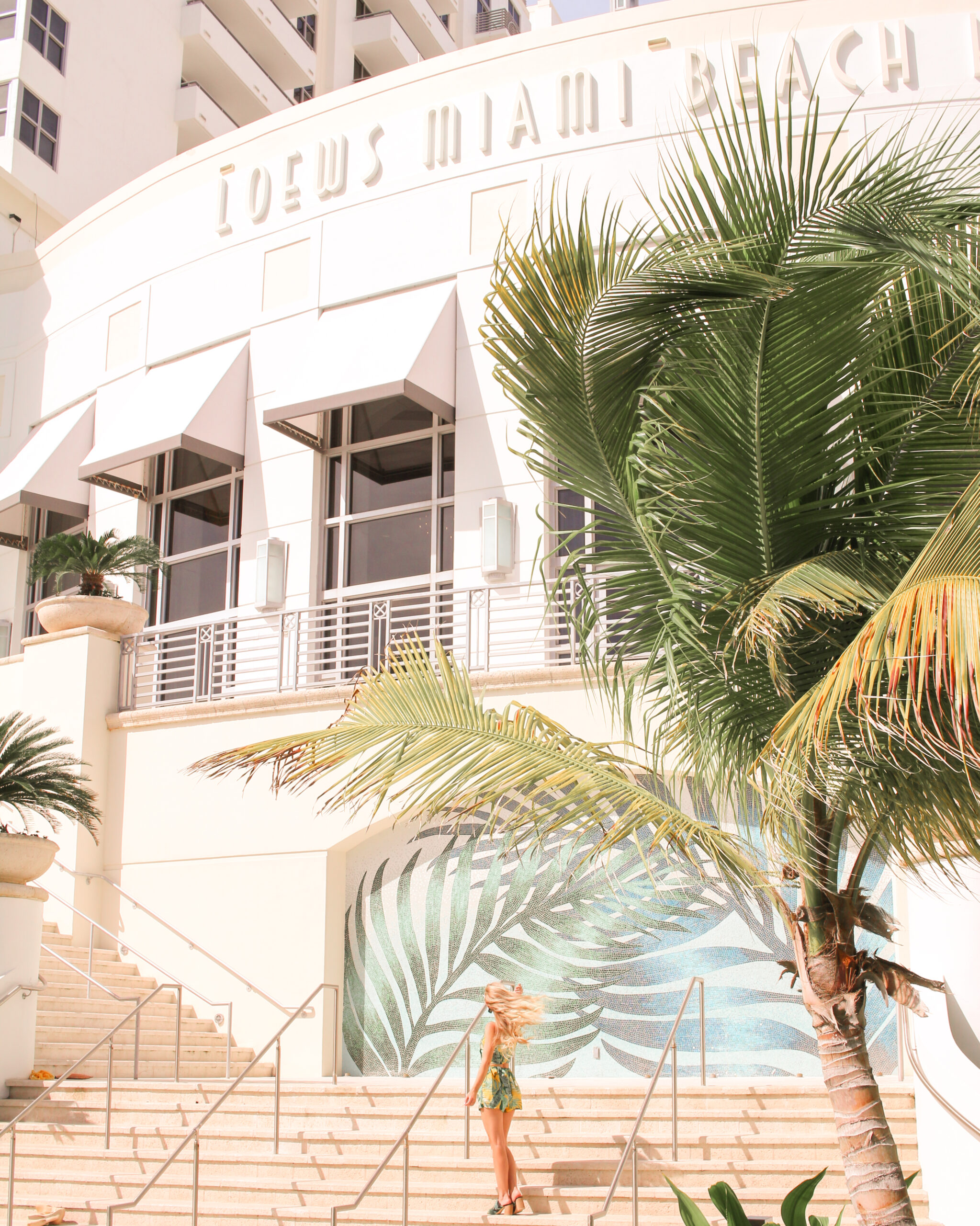 This post is sponsored by Loews Miami Beach, however all opinions are 100% my own.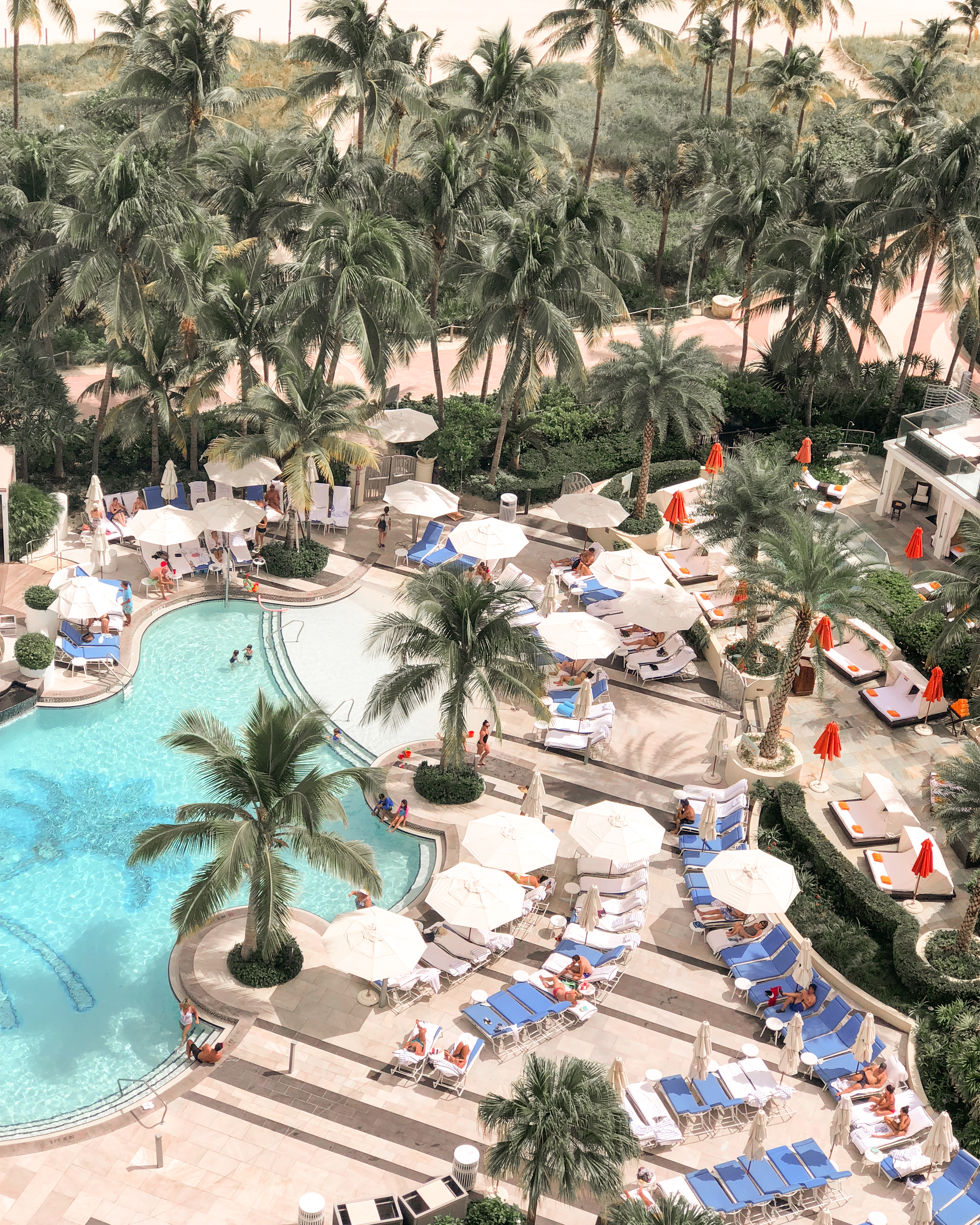 Party in the city where the heat is on, all night, on the beach till the break of dawn. "Welcome to Miami", "Bienvenidos a Miami." (Will Smith Lyrics) This is what  I always have going through my head when I think about Miami and It never ceases to disappoint. I recently visited Miami for the first time and it quickly became one of my favorite cities. It's only a 4 hour drive from Orlando, but completely different vibes, so I feel like I have gone much further away from home. I was able to go back last weekend and experience one of the most beautiful hotels in South Beach. I had driven past The Loews Miami Beach and I knew I wanted to stay, but being on property and experiencing it all first hand is truly amazing. It's not an "all inclusive hotel", but with all of the included amenities, you really feel like you are at one.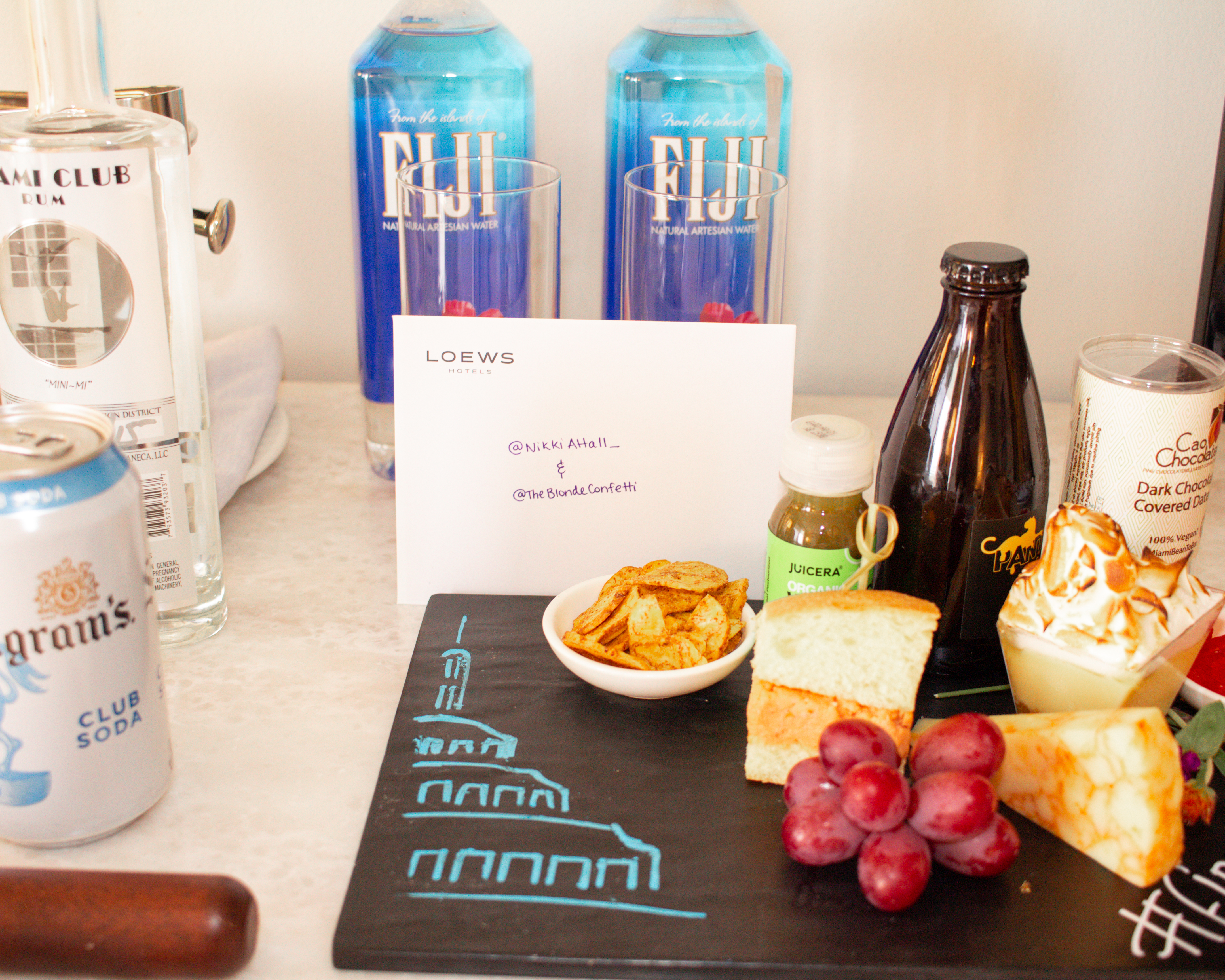 We traveled down to Miami in our 2018 Ford Expedition, which Southern Ford let us borrow for the trip. We really needed the huge SUV because Sasha and I packed our whole closets I think haha. It's really amazing how two women going somewhere for less than 3 days means a fully packed SUV. Thank goodness for 3rd row seating and so many automated features, otherwise we would not have survived the 4 hour drive to Loews Miami and the super late drive home, since we wanted to get as much vacay time as possible.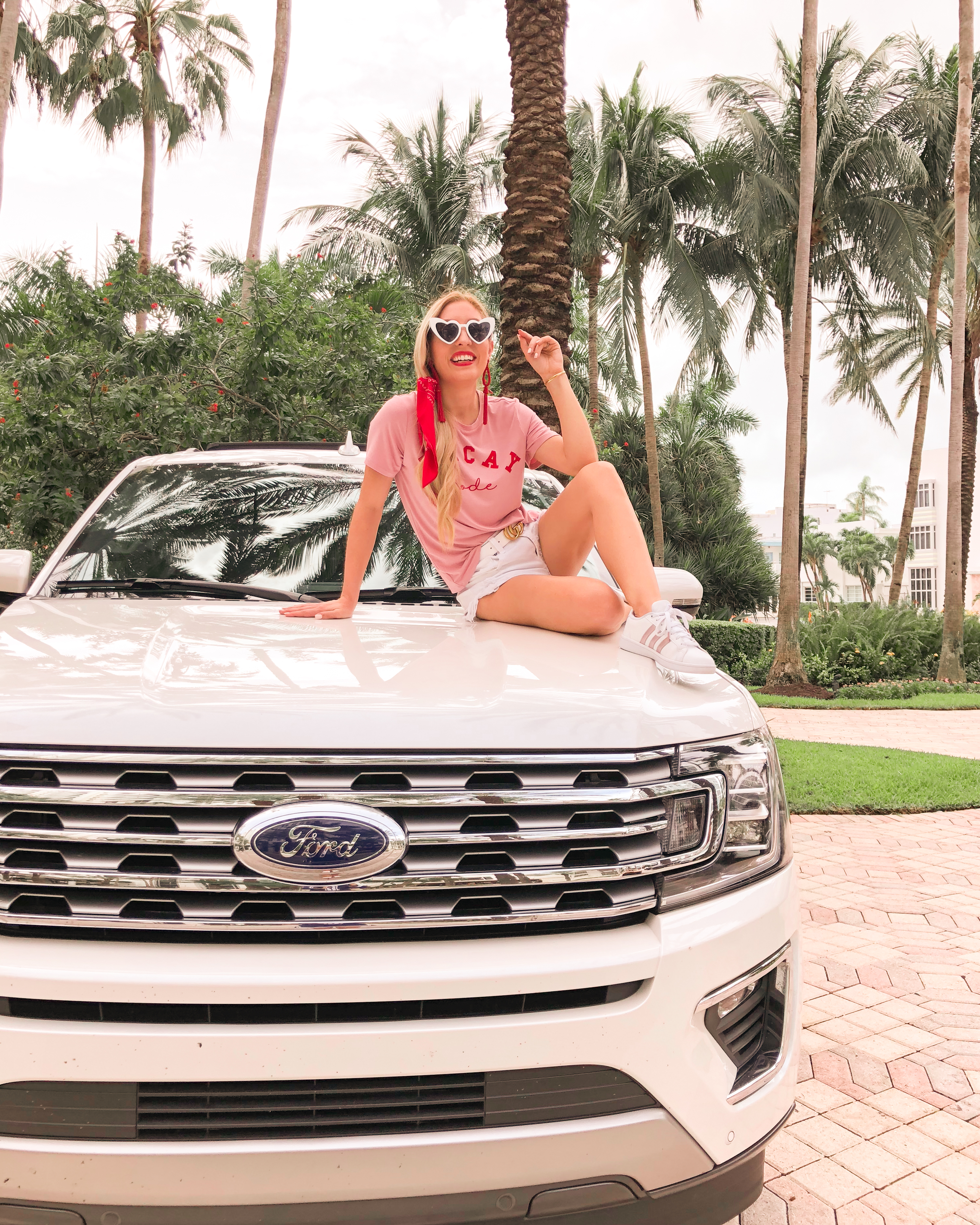 DAY 1
The first day we had a happy hour dinner over at Lure Fish Bar which is in the same building as the spa at Loews Miami. They have a daily happy hour from 5 to 8 pm and it's so amazing. $1 Oysters, $8 small plates and a diverse list of $8 cocktails and wines. Since drinks are normally twice that in South Beach it's an amazing deal. Sasha and I ordered one of every small plate, 3 oysters and 2 drinks; our tab with tip was only $75 and this is the fine dining restaurant on site. I really recommend getting dressed up and going to happy hour when you stay at Loews Miami.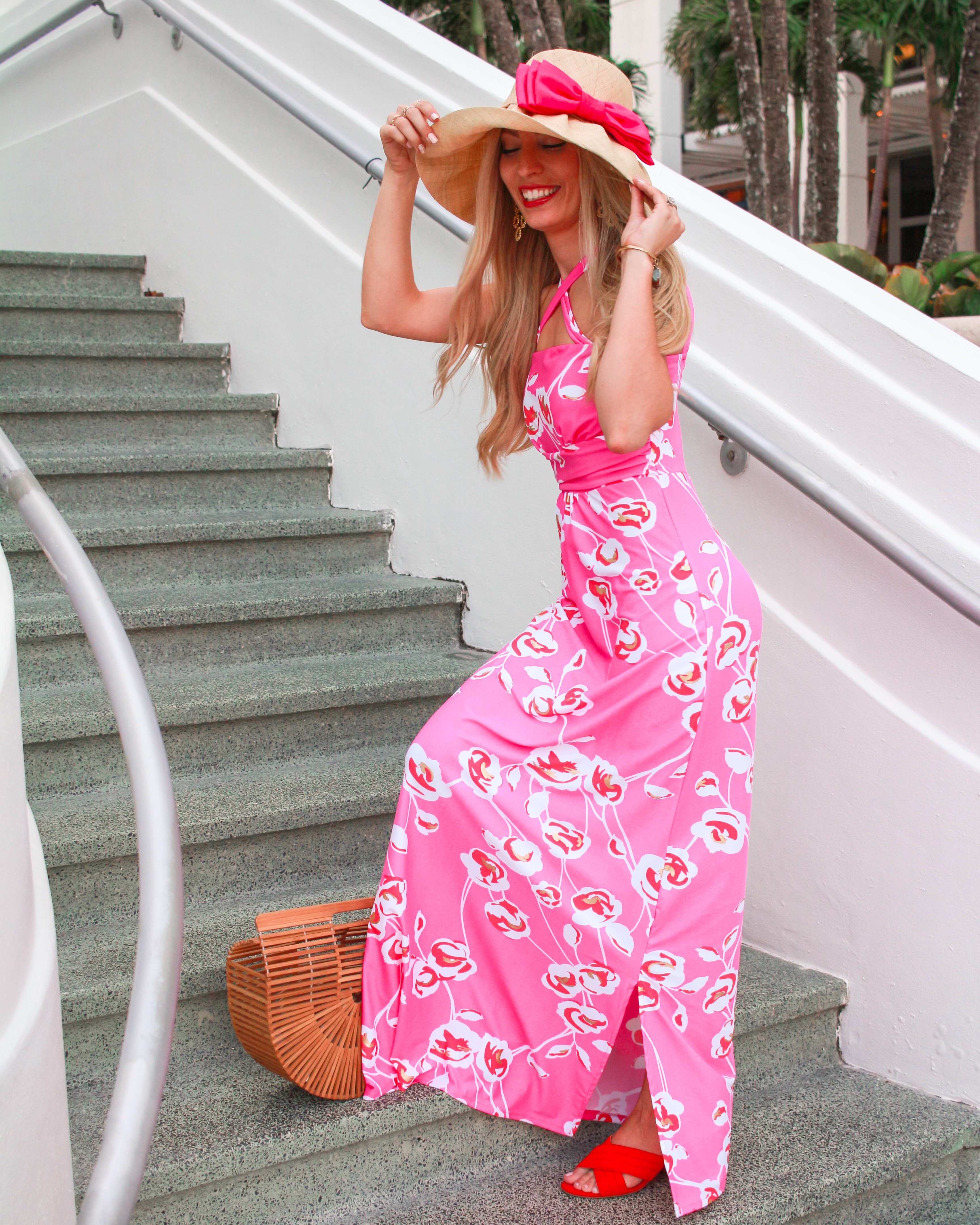 Hat: Dress for Cocktails Dress: Gingy's Earrings: Lisi Lerch
One of the really cool included amenities during your stay at Loews Miami, is that you receive a complimentary 15 minute photo shoot from JPEGS with 4 backdrops on property. One photo is included free, but you can purchase additional images and it's very affordable. This is a great deal for families, couples, and bachelor/bachelorette parties!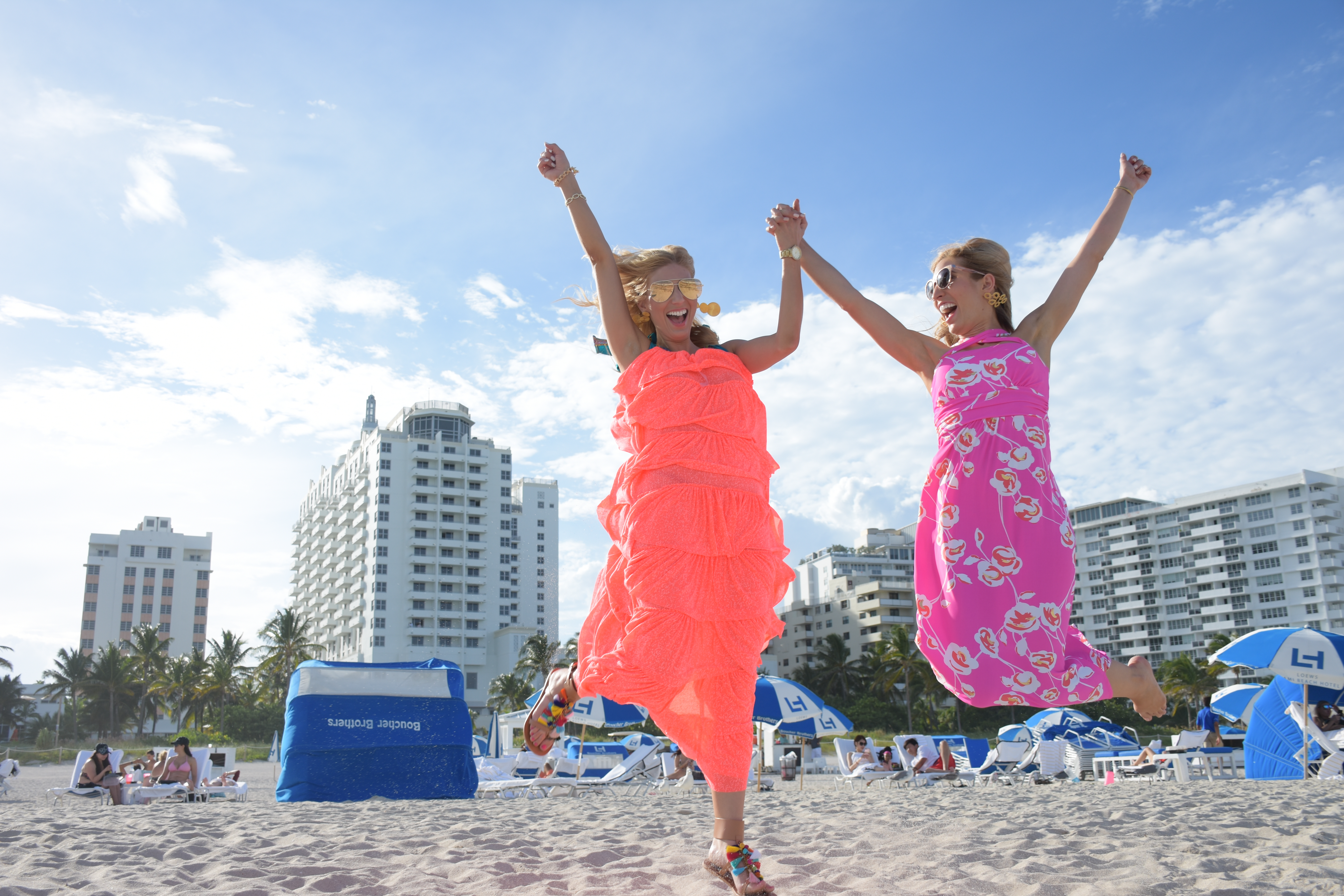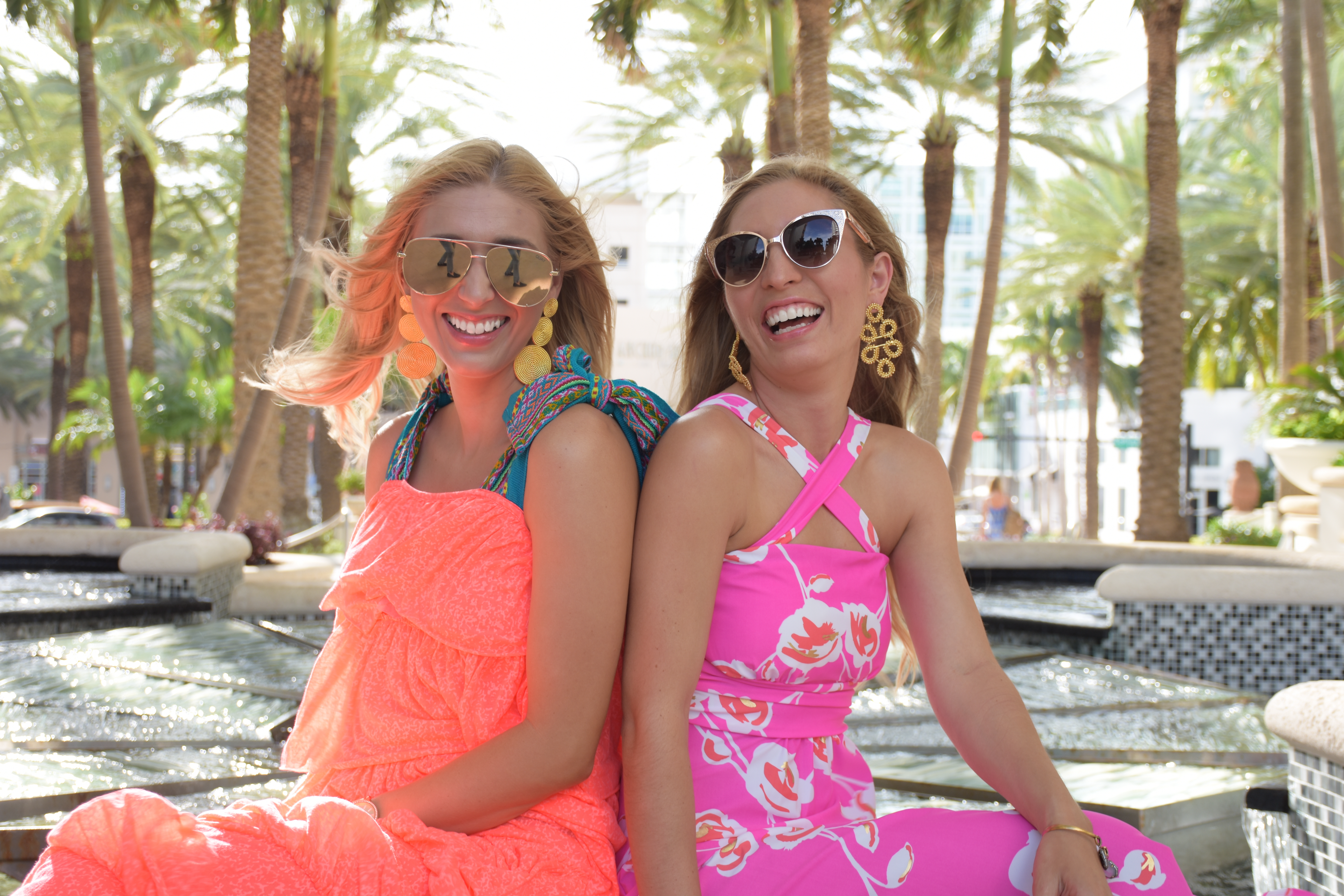 DAY 2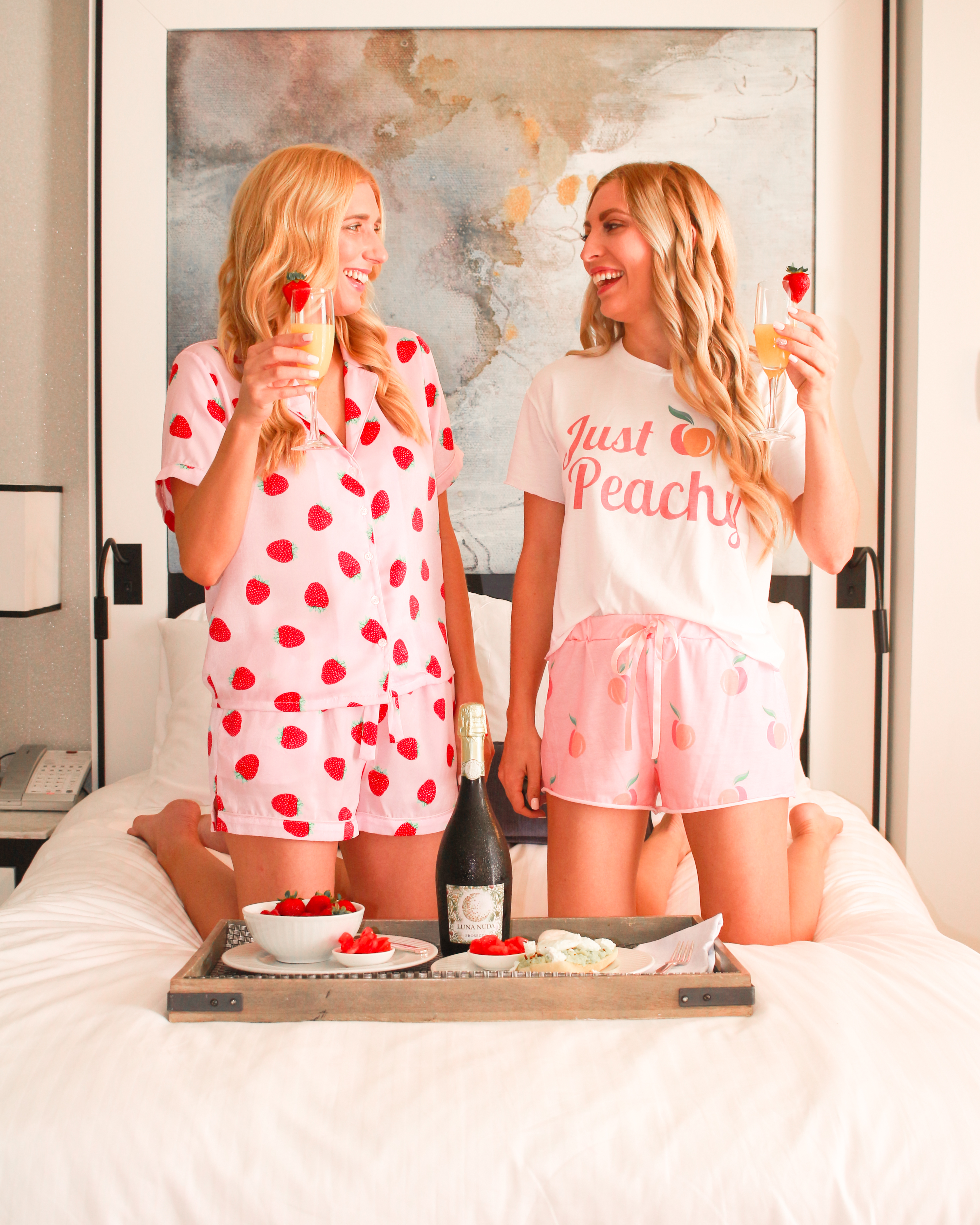 PJ's: Forever 21 PJ's: SheIn
The second day we decided to have breakfast and bed and go over to the Exhale spa to do a meditation class on the terrace. We never made it to meditation, but it is a great free spa class whenever you are staying at the hotel. Breakfast in bed was amazing. We got to lounge in our PJ's look at the beautiful view from our balcony, eat some Zak the Baker avocado toast and cheers with some morning mimosas. After breakfast we went off to explore the property a bit. We found a gorgeous palm mosaic wall and walked around the pool area.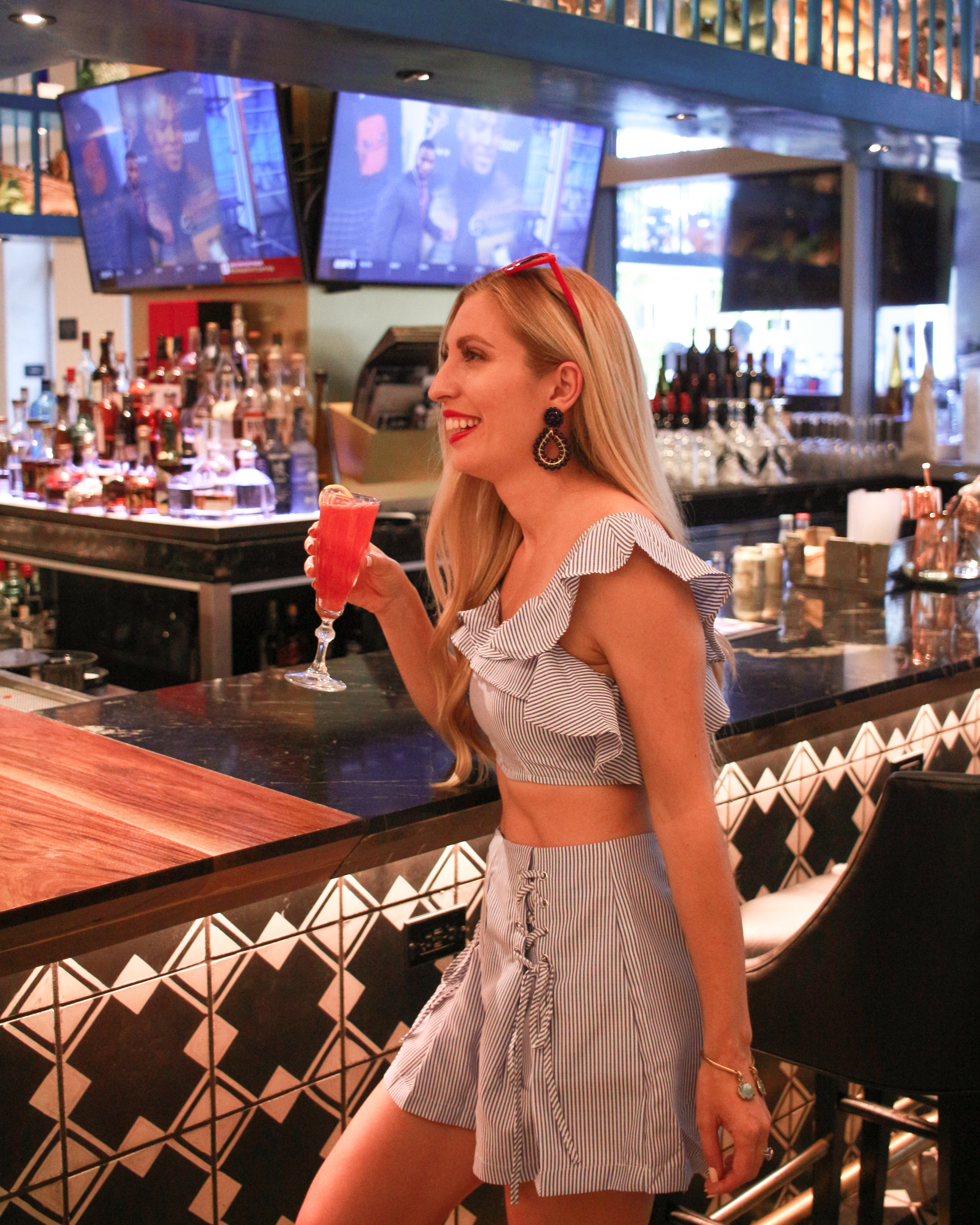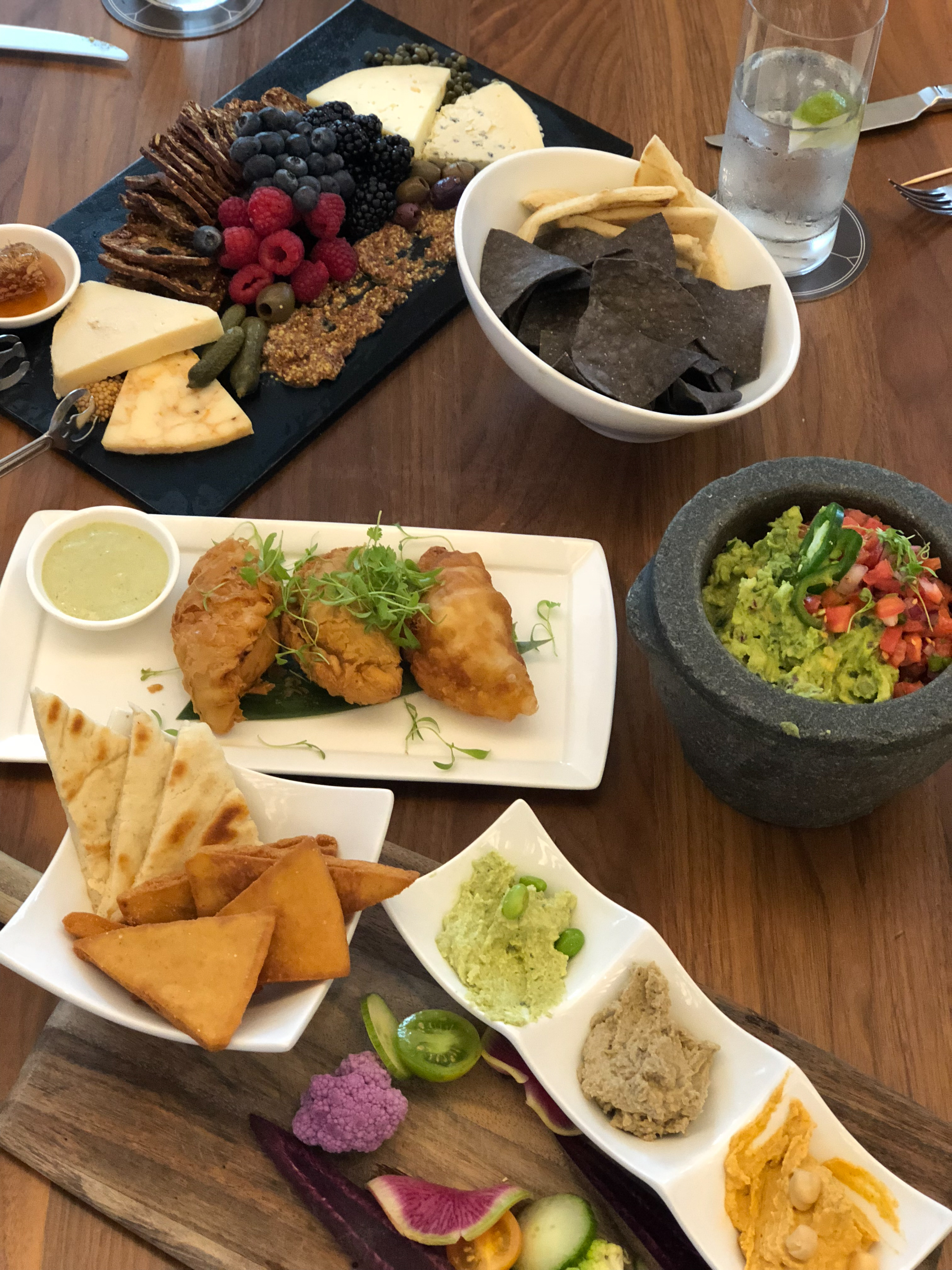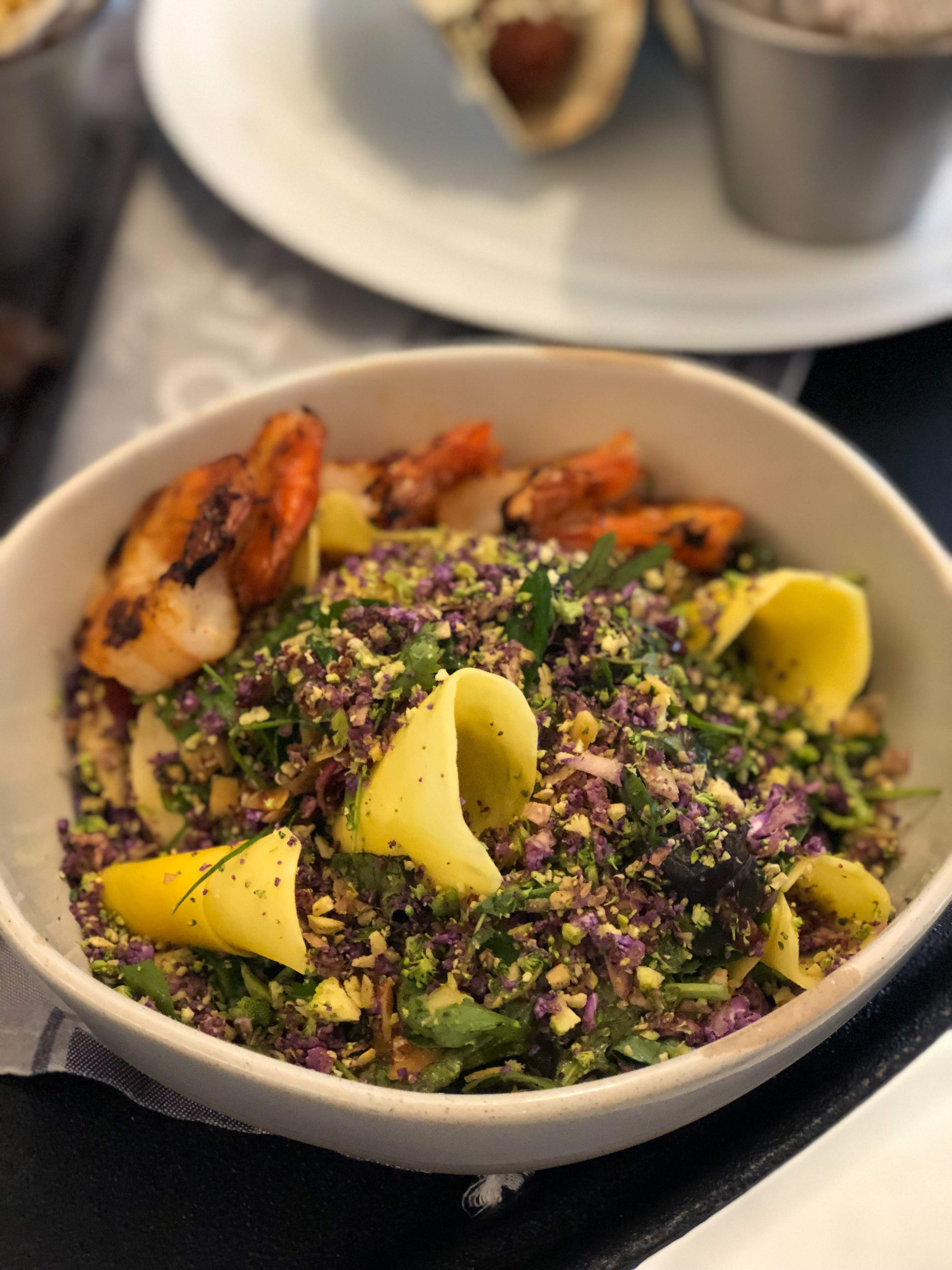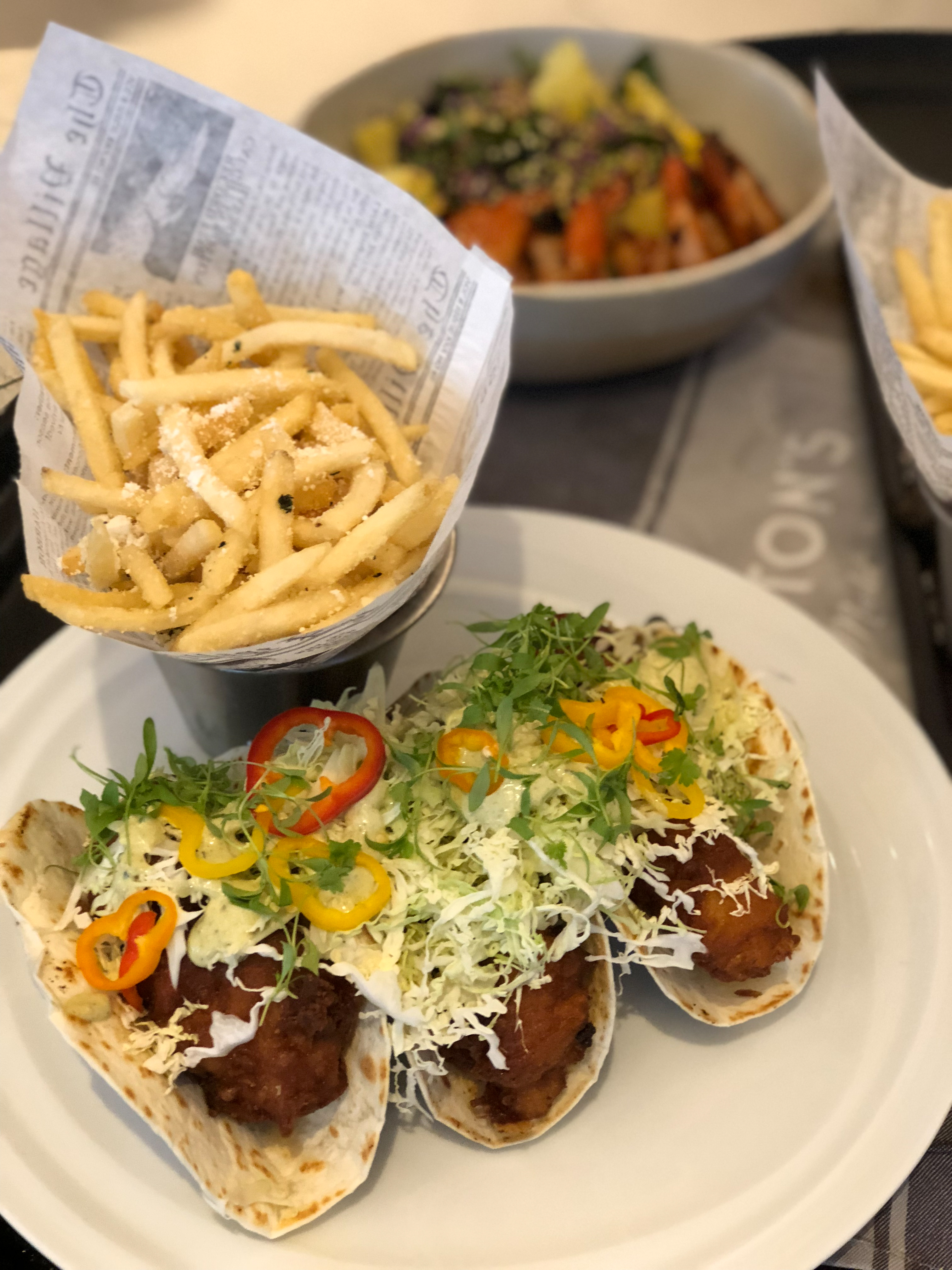 Then we went over to Bar Collins to meet the marketing manager for lunch. She was super sweet to arrange a tasting for us, so we could try some of the best dishes with locally sourced ingredients, or collaborations from some amazing local chefs and businesses. We tried the hummus trio, guacamole, empanadas, and a fresh cheese plate to start. Then we had fish tacos, and a type of quinoa salad with shrimp for our main courses. The food portions were huge we really could have shared with two more people. The cocktails were to die for as well. I had a Flamingo Mojito of course, a total Nikki drink if I do say so myself. Sasha is a Tito's & bubbles kind of girl, so lucky for her they had a Raspberry 75 which has both in it!! Then our amazing server Paola made us some delicious coffee. She makes a bad ass sweet espresso type drink and really good iced coffee as well.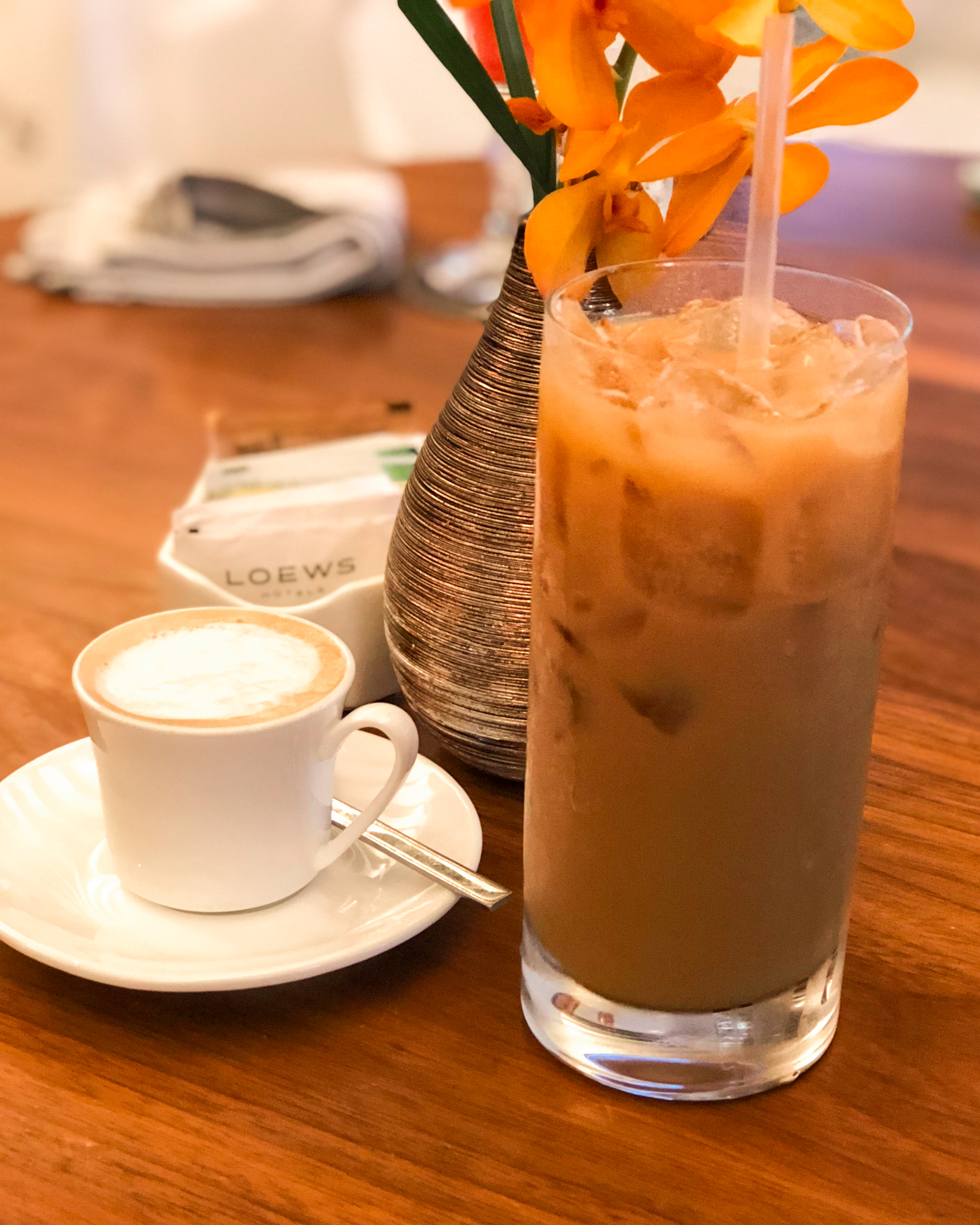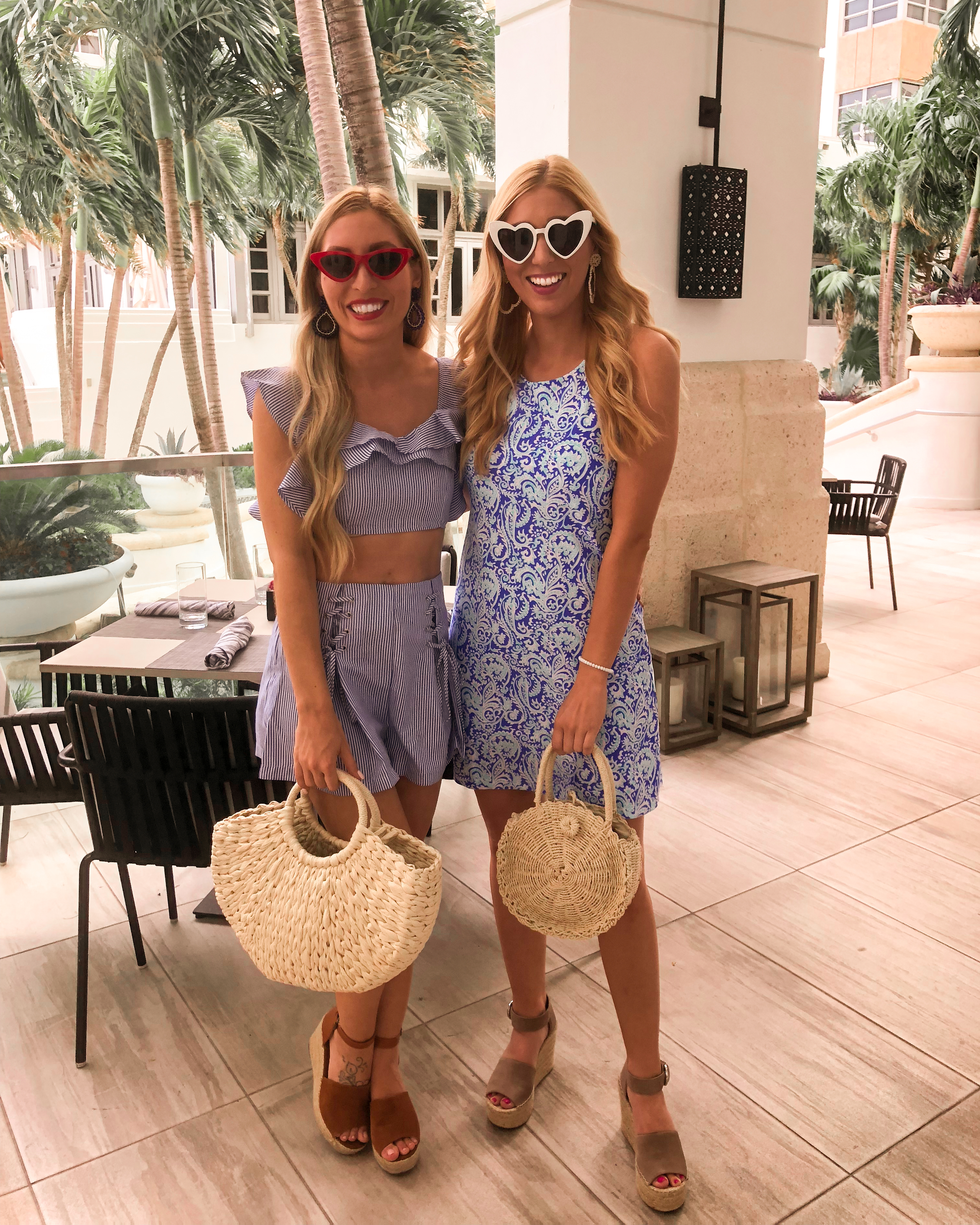 Two Piece: SheIn Dress: Gingy's
DAY 3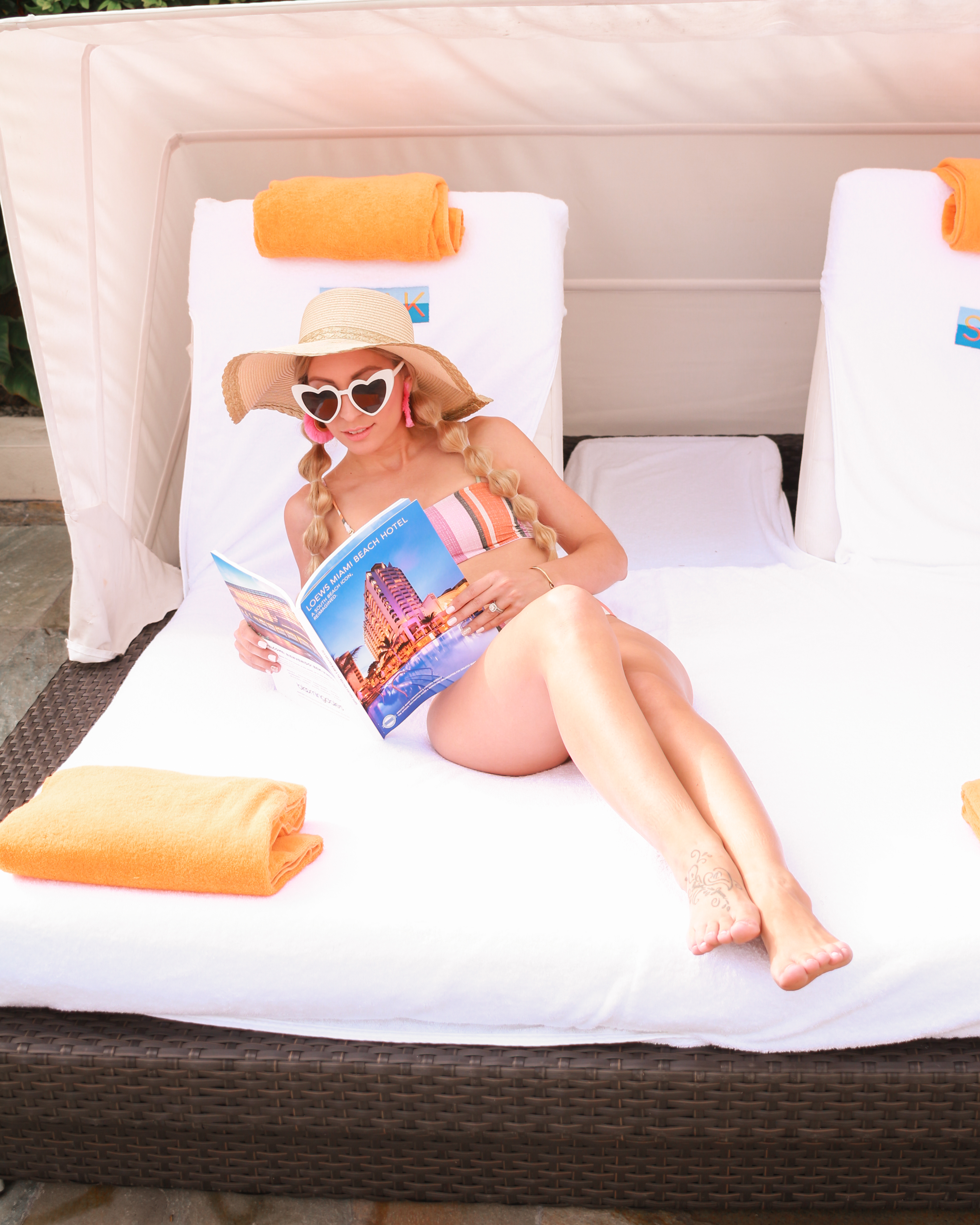 On the third day we ate a quick breakfast so that we could get down to the pool early and enjoy some pampering since we had a cabana for the day. A day at the Soak cabanas is just heavenly!! We made good friends with Jacqueline who works the cabanas and took care of us for the day. She and the pool managers made our day so incredible.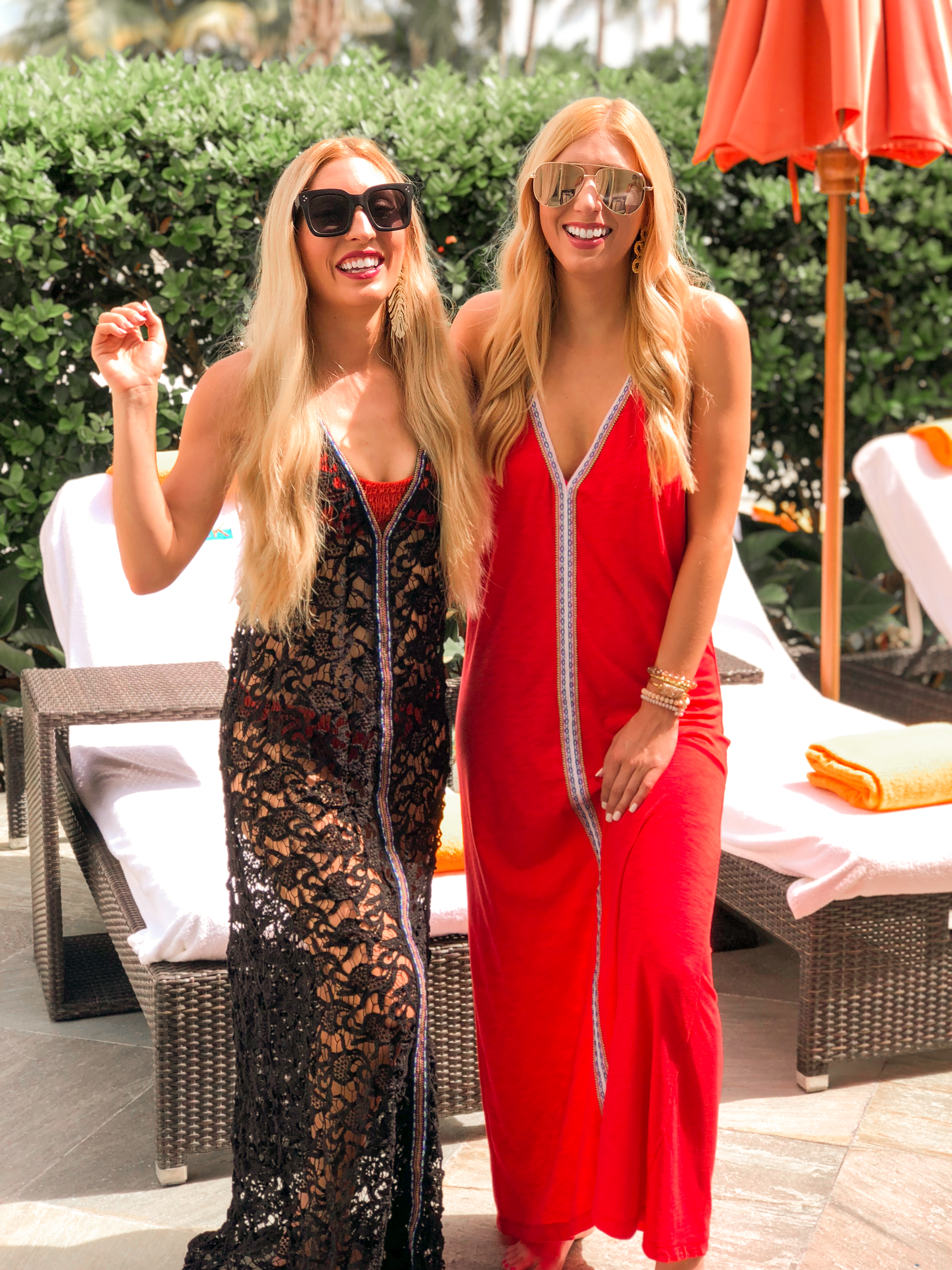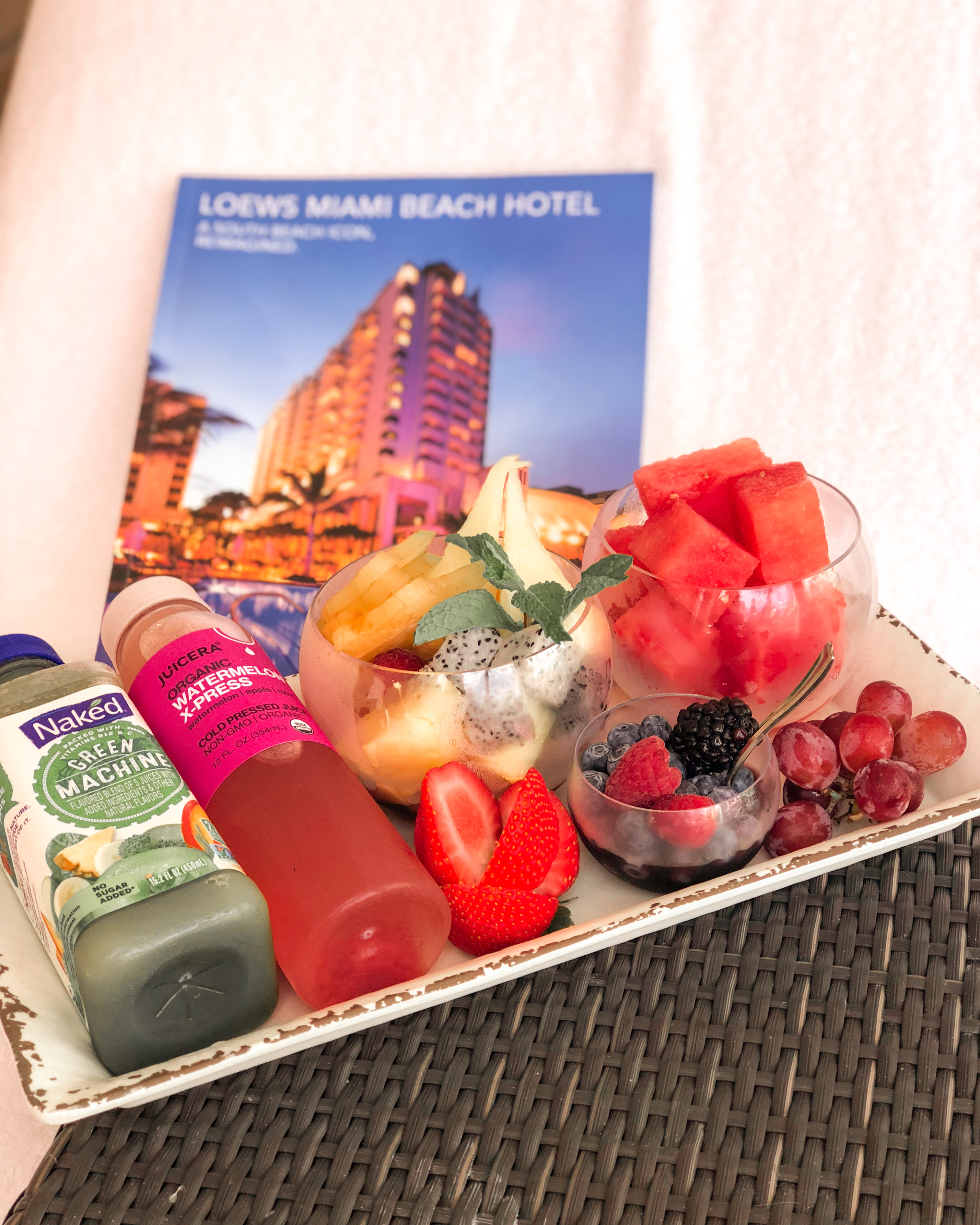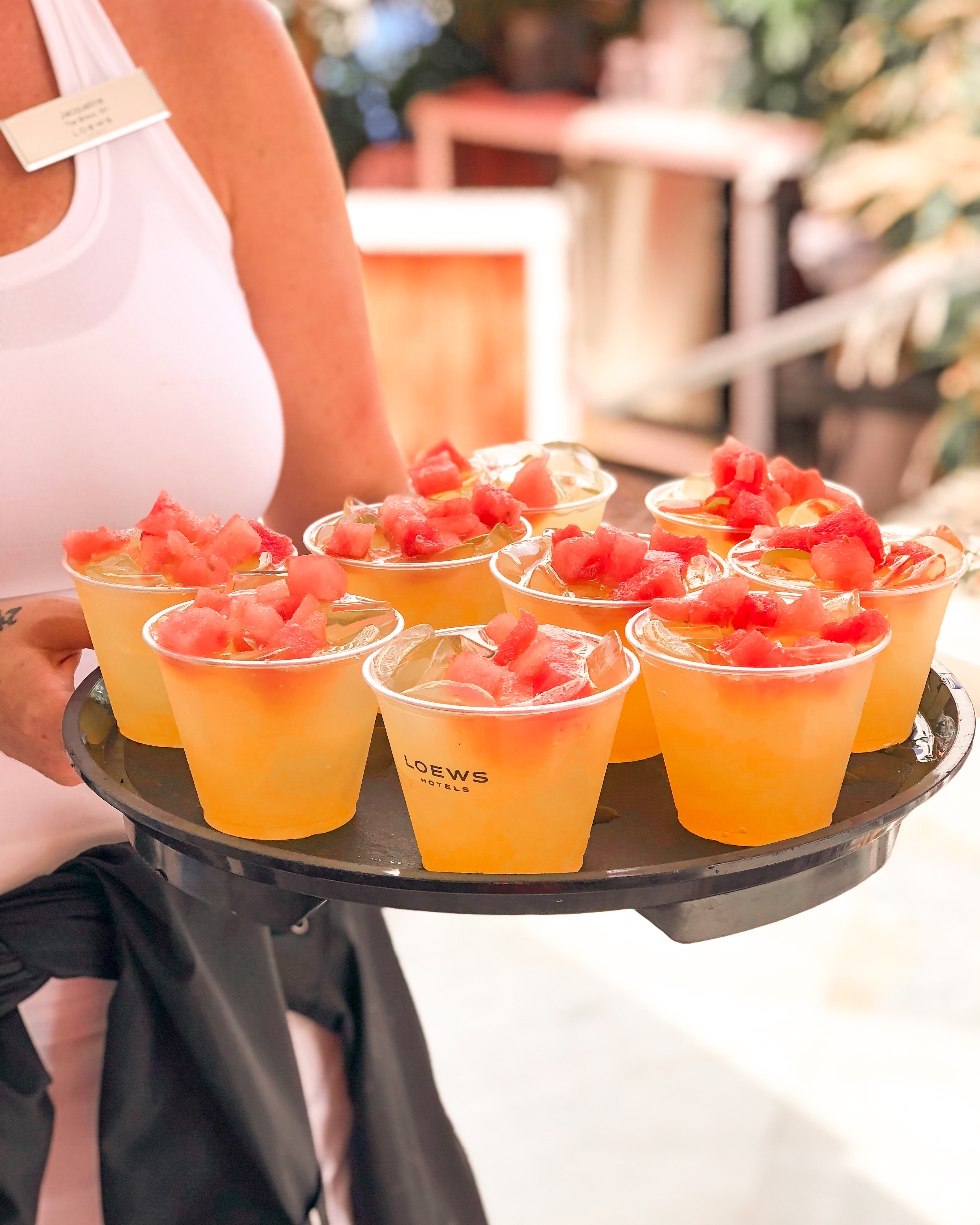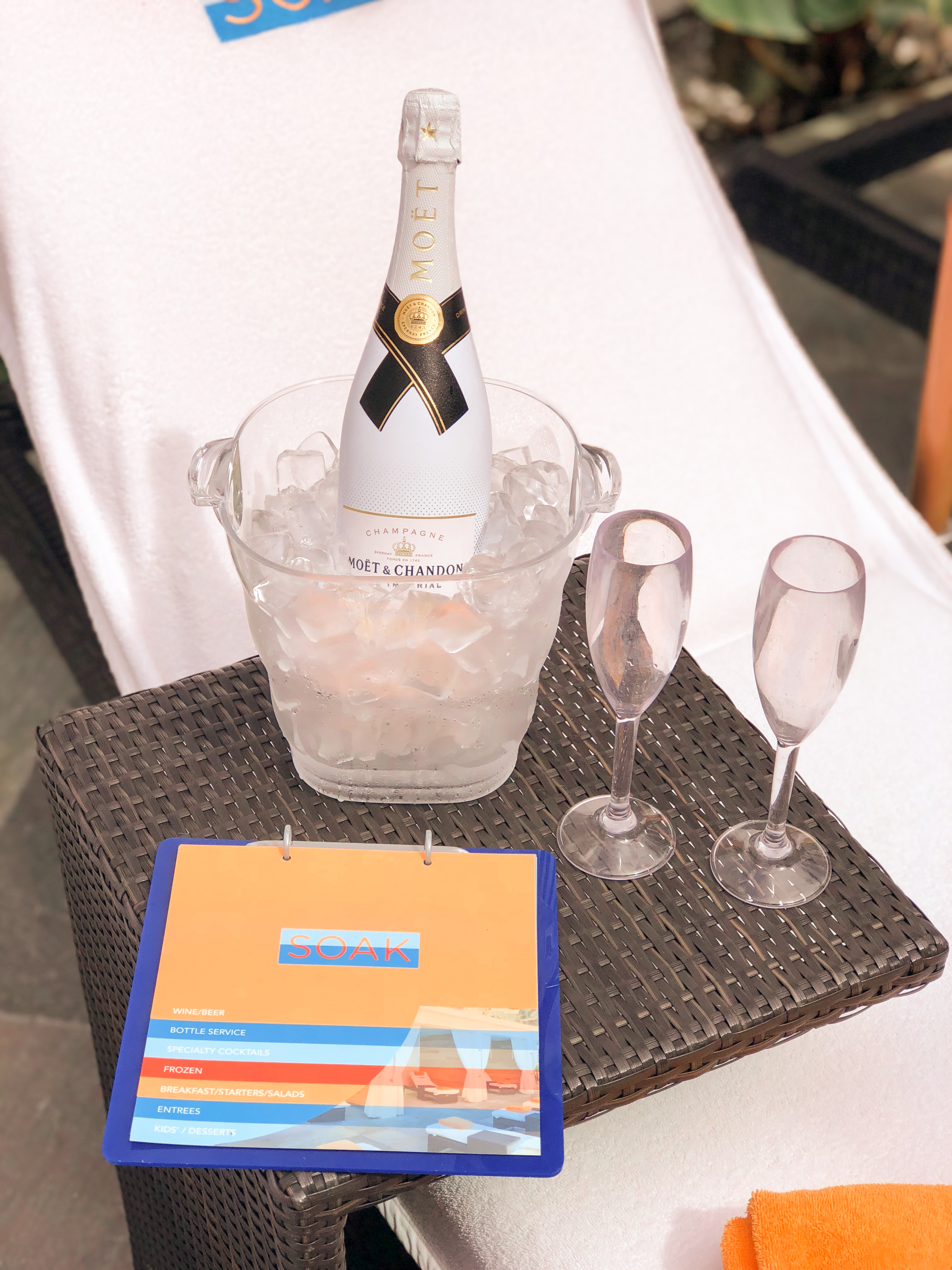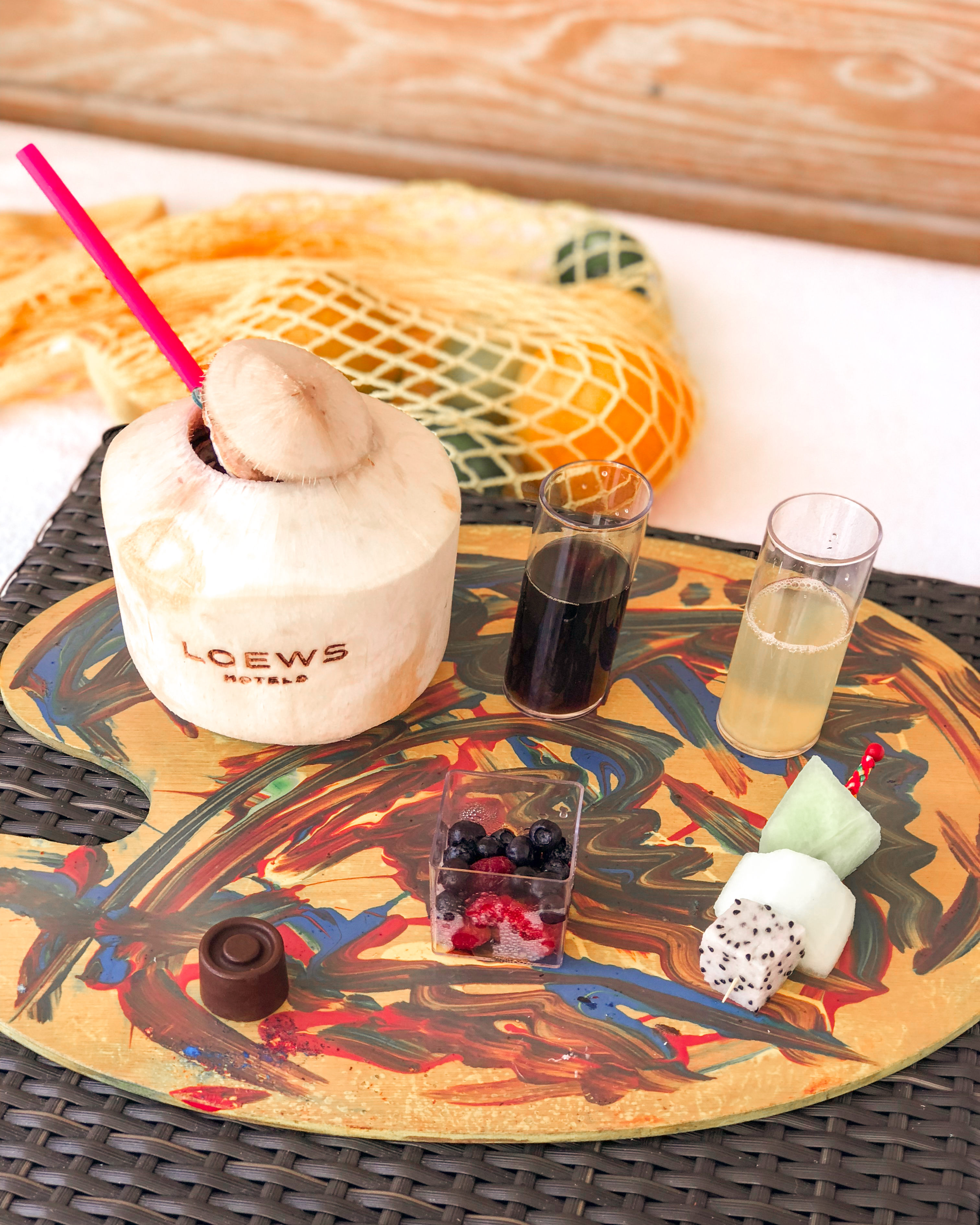 From bringing us fresh coconuts to drink, delicious snacks, and a bottle of champagne…the day couldn't have been any better. We enjoyed our time in and out of the pool and the ambiance was so gorgeous for taking a ton of swimwear and resort wear pictures. I literally want to go back just to sit at a cabana for a few days haha. We didn't really go down to the beach this time because there was so much to do at the resort and the pool area. However, included in your stay is two beach loungers and there is food and beverage service down there as well. I really suggest making sure you have enough time to have a full pool day and a full beach day when you visit.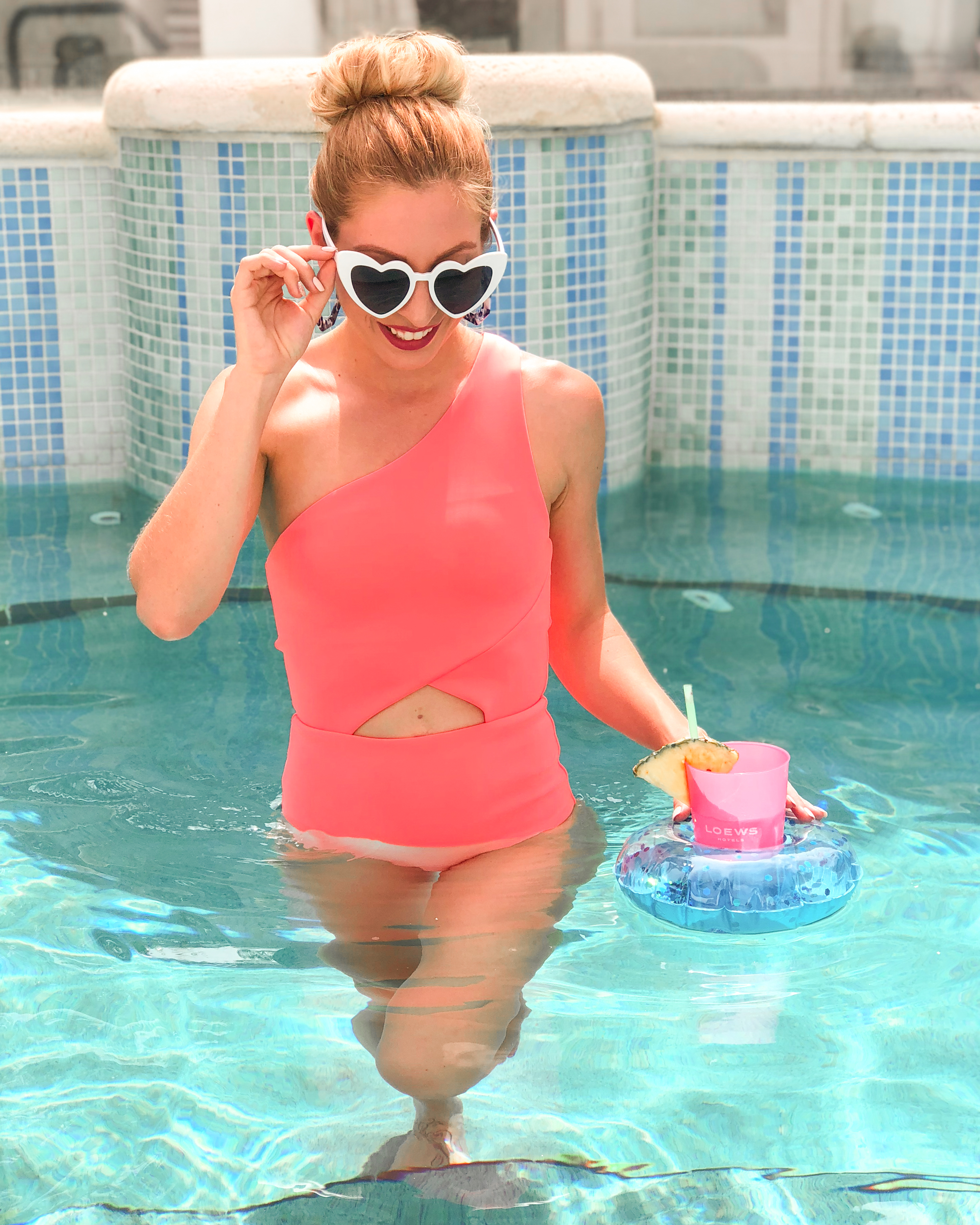 Swimsuit: Wet Swimwear
Right now is a great time to go stay at Loews Miami because there are so many amazing offers! One of them which is great if you are in Florida, or Georgia is the resident offer. There are also so many others which include parking, breakfast, resort credits, or nights free! Check out all the amazing offers at Loews Miami Beach!
So, when do you plan on booking your trip to visit Miami and the Loews Miami Beach?! Have you visited Miami before?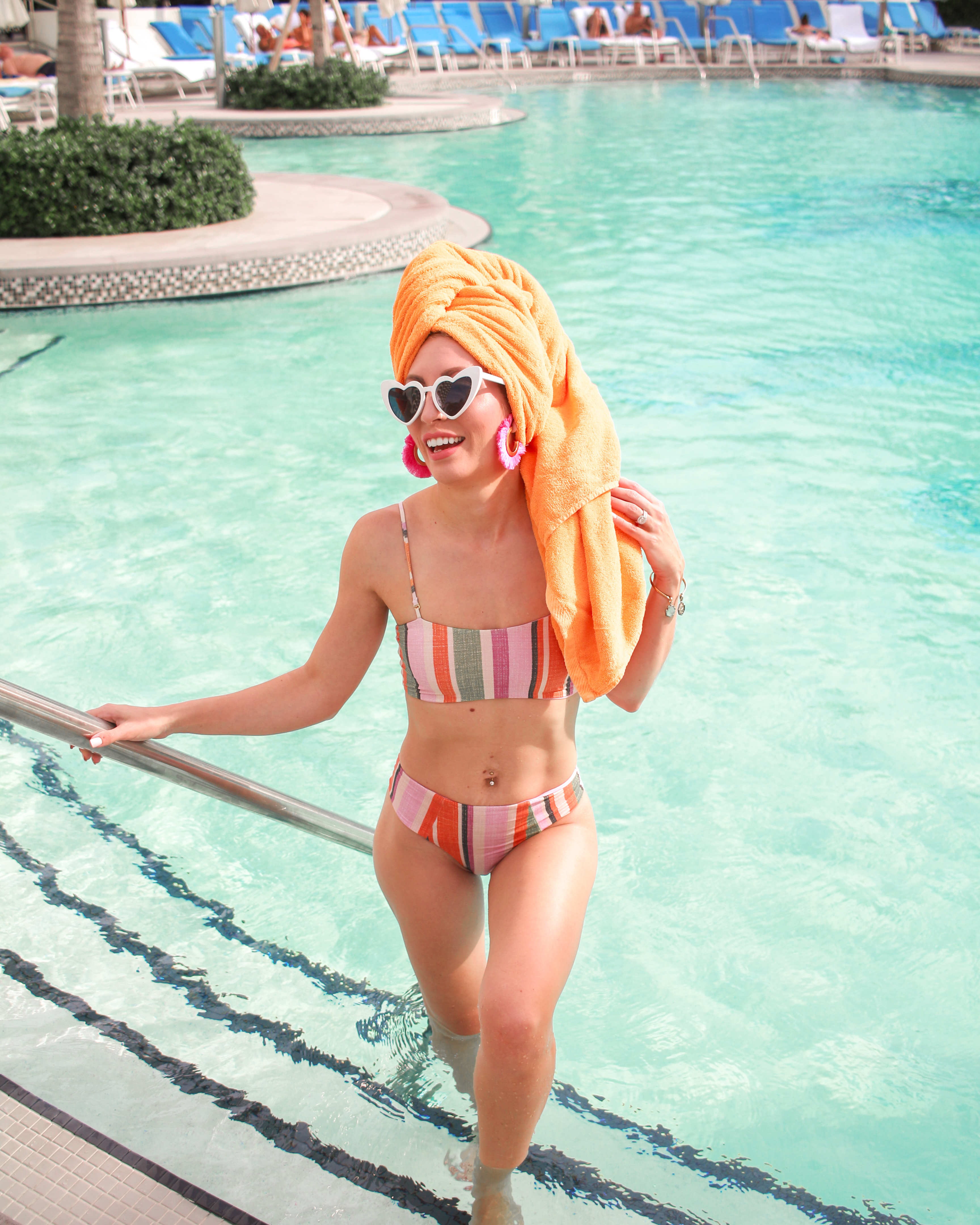 Swimsuit: Shore Brand
SHOP THE POST:

Xoxo, Nikki