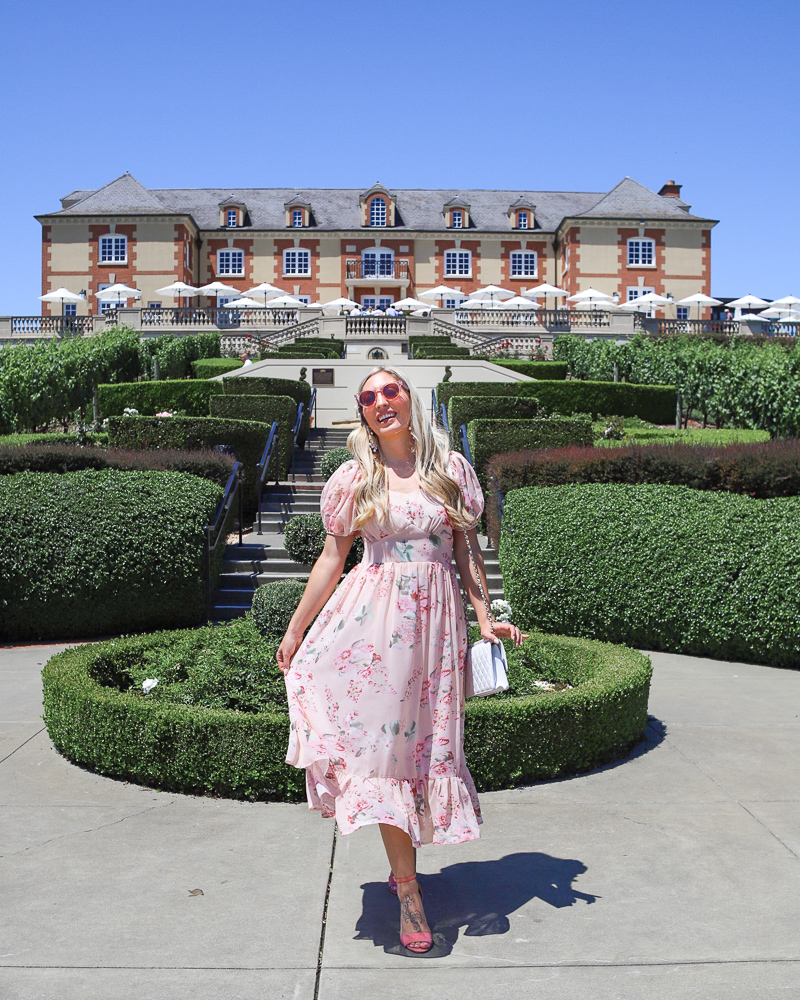 I love a good glass of wine at the end of the day and after going to Italy last summer, Napa has been on my list next. When planning our family summer travels, we chose San Francisco because there were so many things to do for adults and kids. Napa is only an hour drive away, so luckily we had my in-laws with us to help with the kids and my husband and I took a day to ourselves. After spending only 8 hours in Napa, I realized there is so much to do there and now I need a whole week there at least. However, I wanted to share what I did in just one day, in case you are also limited on time during your visit.
The first thing I did is find a driver/tour that would pick us up at our hotel and bring us around. One, we didn't know our way around, we didn't have a car rented while we were in San Fran, and with a day of drinking it's not a good idea to drive. I found a really great deal on ViaTour. For an 8 hour day it was only $399 for a private car to take us around up to 5 wineries. Our driver picked us up at our hotel (The Fairmont) in San Francisco and his first stop before we left the city was the Palace of Fine Arts. I didn't even know this existed and I'm so happy our driver Seamus took us there. He popped a bottle of champagne for us to enjoy on our drive, we took some photos and then we were off.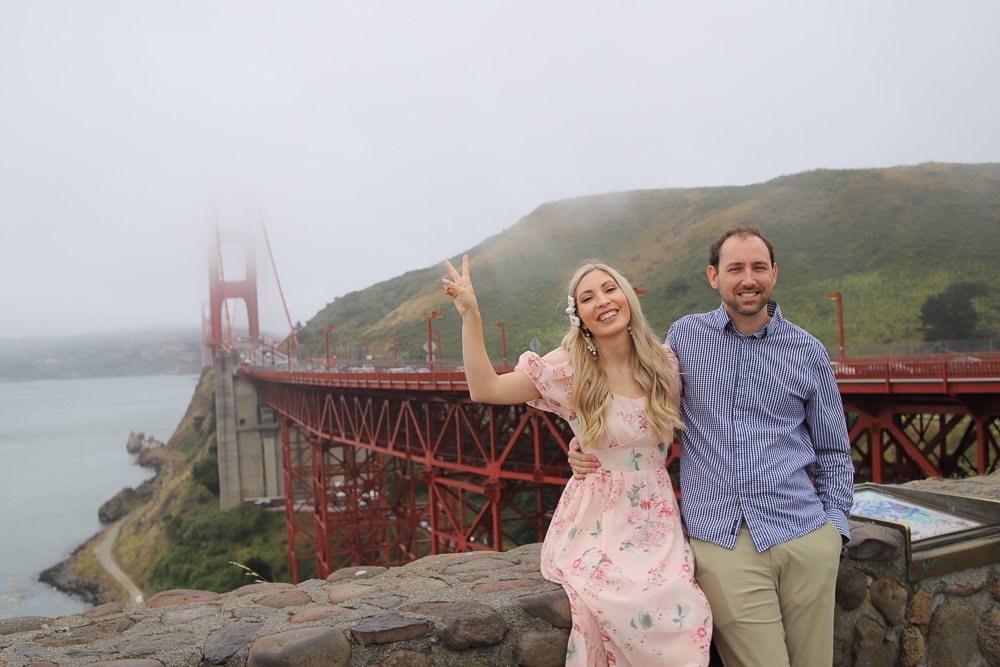 Next we stopped to have our photo opp at the Golden Gate Bridge. It was pretty foggy, but it was still very pretty to see the bay and the bridge. Heading to Napa we drive through Sausalito on the other side of the bay and there were some cool houses and restaurants over there. I want to go to dinner on that side next time we are in that area.
NAPA WINERY #1 DOMAINE CARNEROS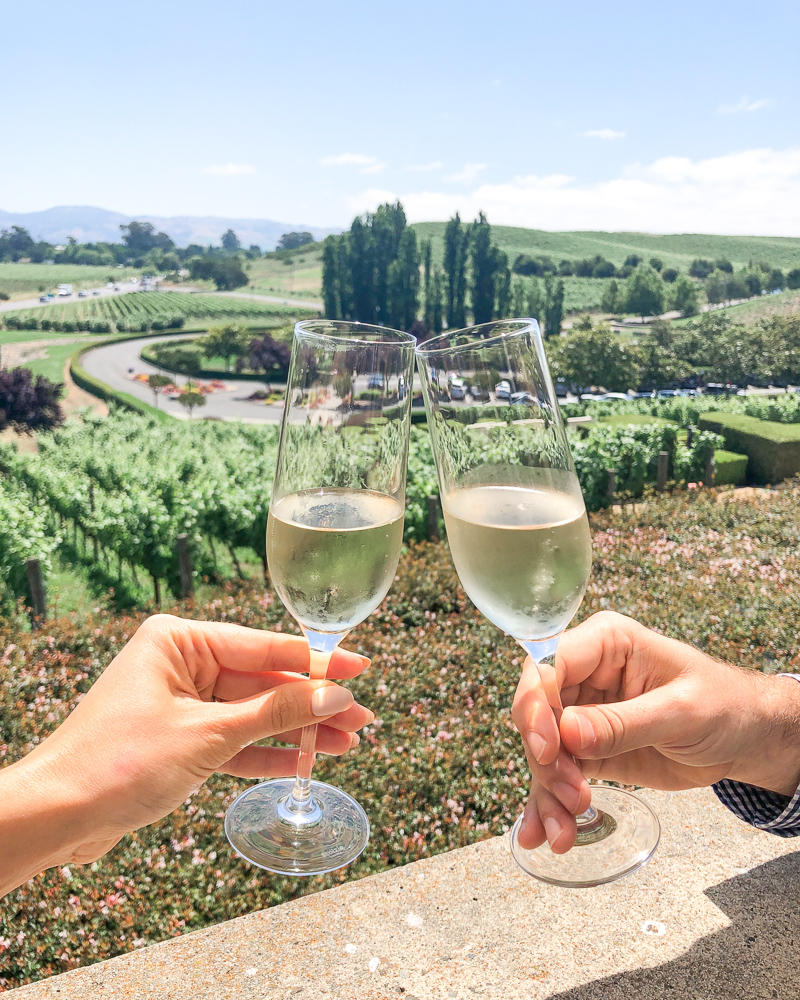 This winery was on the top of my list. I really love a crisp glass of bubbles and since Domaine Carneros is known for their sparkling wine and Pinot Noir (for my hubby), we headed here to start our day. The building looks like a gorgeous french chateau and the gardens are lovely to view from the terrace. My husband did the red wine tasting and I did the sparkling tasting. We also did the caviar tasting along with it, which was a nice treat to splurge on in such a lovely setting.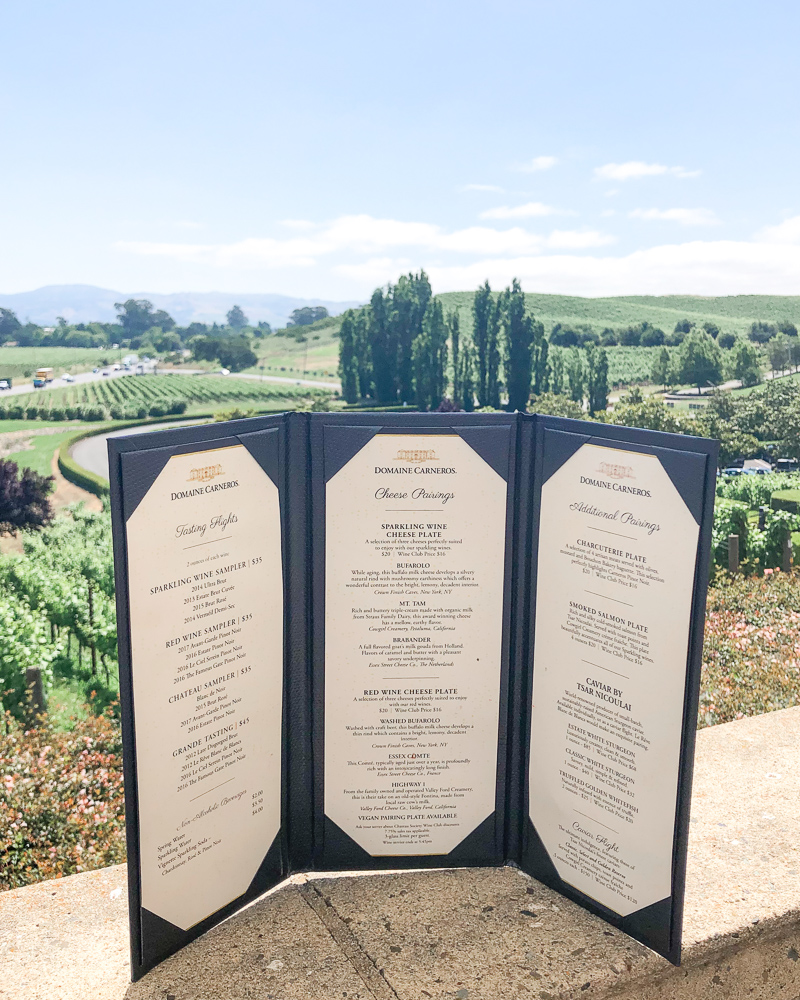 Tasting Fees: Pinot Noir $45, Grand Sparkling $45, Caviar Tasting $150 
NAPA WINERY #2 V. SATTUI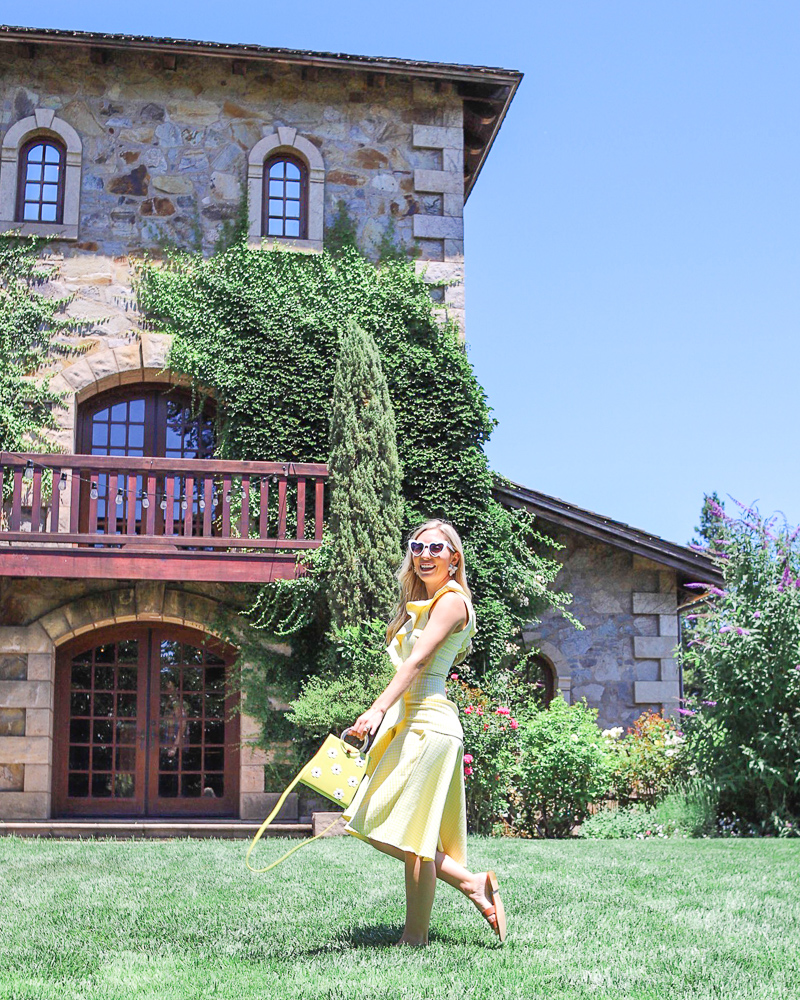 V. Sattui is owned by the same people that own the castle winery which was stop number 3. However, I really loved this casual deli spot way more. We decided to stop here second since it was about lunch time and most wineries do not have food unless you get a small charcuterie with your tasting. The deli selection is huge at V. Sattui, we didn't want to wait in line to build a sandwich, so instead we chose from the pre-portioned deli salads and snacks to share. We snagged a bottle of red that we enjoyed during our tasting and found a spot outside to picnic.
Tasting Fees: $20
NAPA WINERY #3 CASTILLO DE AMAROSA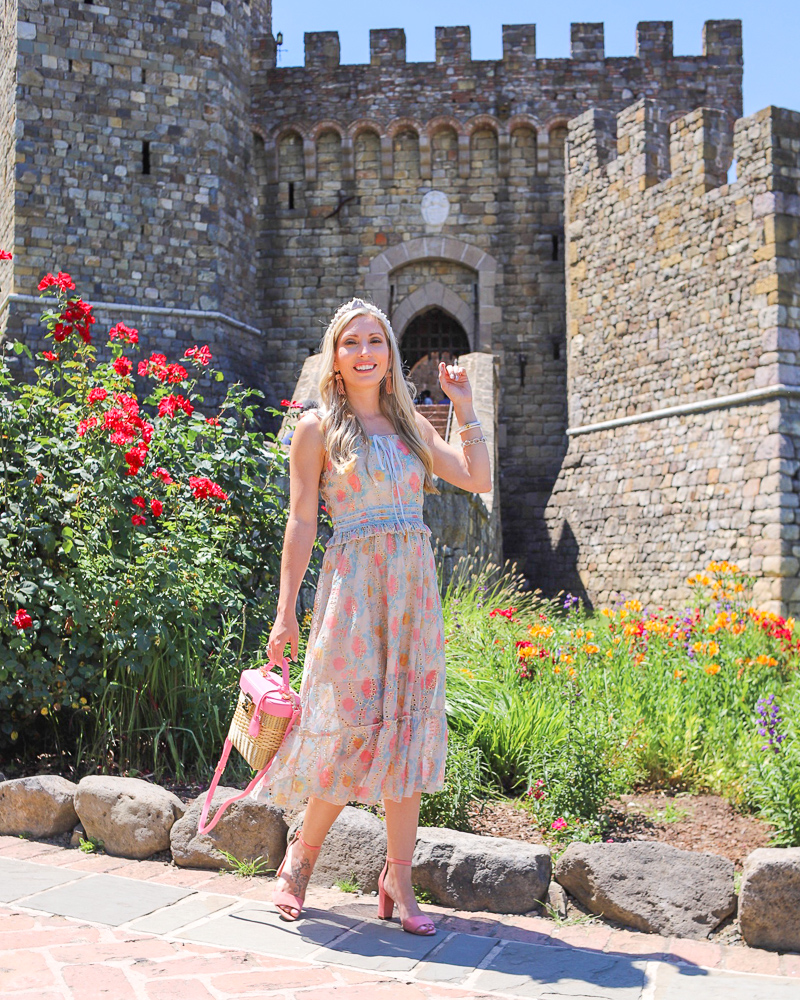 I was very, very excited to go visit this replica of a Tuscan castle after visiting Italy last summer. Perhaps if we had a different person help us with our tasting, my experience would have been better. The Italian guy that took care of us though barely looked at me when he spoke to me, and could care less to really explain about the wine to us, or even try to get us to order something better. We were interested to try many things there, but with his attitude I actually didn't finish the tasting and was ready to leave the castle early. It's a really good photo opp though if you are there during good lighting. Since we didn't spend much time there, our driver took us to another winery close by which was really cute and if we had planned ahead there is a great outdoor area by reservation only to relax and enjoy food/wine.
Tasting Fees: $30 for the basic self guided tour
NAPA WINERY #4 FRANK FAMILY VINEYARDS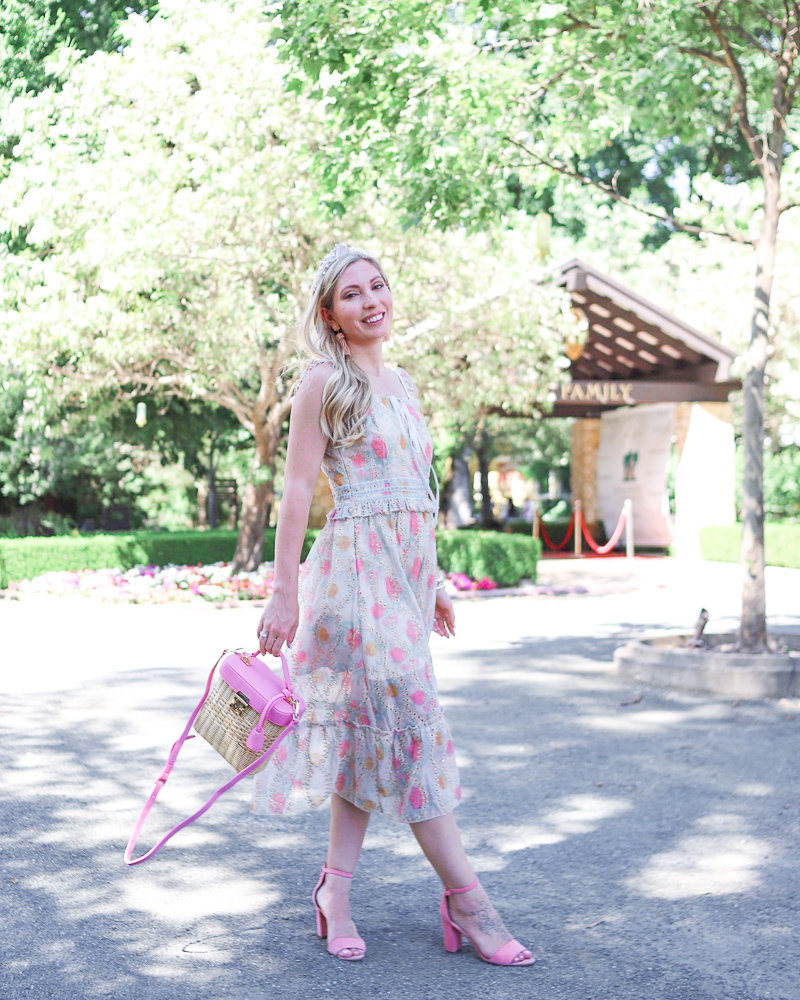 Last stop was Frank Family Vineyards. We got to walk through and see the vineyards here which was really nice. There were a lot of places to walk around here, but it was later on in the day and most wineries close between 5 and 6 pm. We decided to just have a tasting at the bar since the outside area was all booked up. There was a lot of entertainment memorabilia inside as decor and it turns out the owner is in the entertainment industry. The vineyard was started by Rich Frank in honor of his father who was a WWII veteran and a hard worker who put him through university. My favorite here was the Cabernet and had a really good full body to it.
Tasting Fees: $40 – $50 for the lower end
There is a really cute downtown area in Napa too that we passed through on our way home and we had some ice cream. It was a really wonderful 8 hours and we purchased wine from two wineries to send home, some sparkling and some family red. I really suggest asking about when wineries ship their wine and how if you are looking to receive during the warmer months. Both of the wineries we ordered from shipped with cold packs and we also made sure that the shipping company held the bottles so that they weren't in the truck all day while they were making deliveries.
I hope you enjoy your travels whenever you go to Napa, feel free to ask me any questions in the comments below!
Xoxo, Nikki