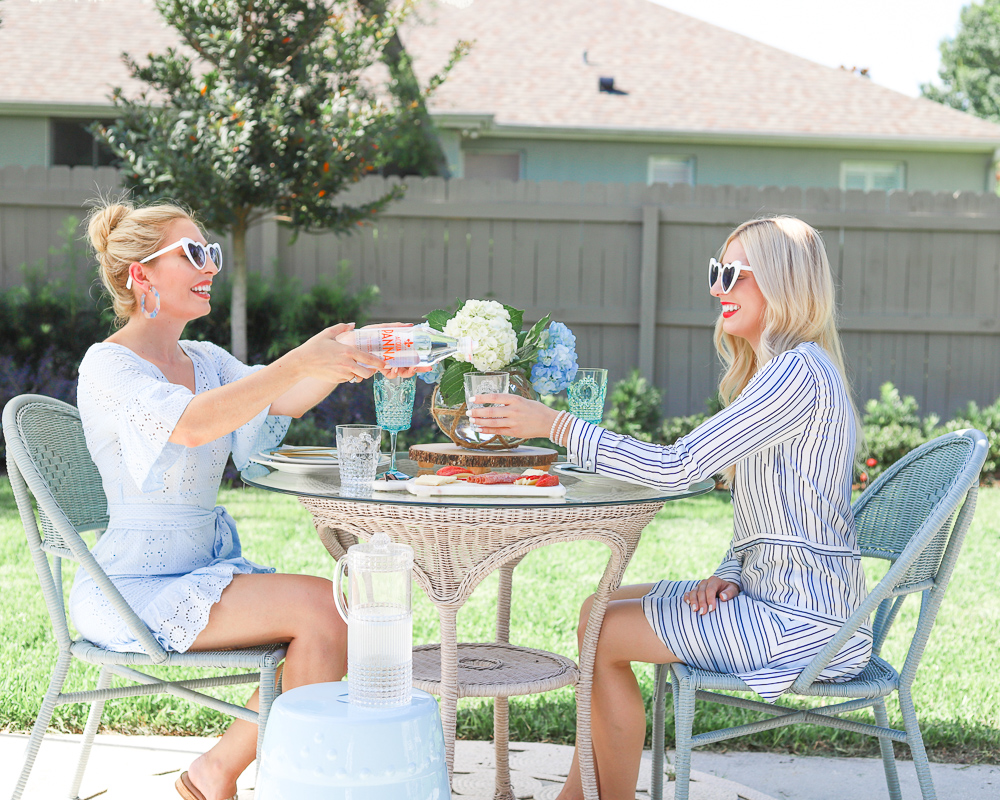 This shop has been compensated by Collective Bias, Inc. and its advertiser. All opinions are mine alone. #MeetAcquaPanna #CollectiveBias
Last summer I had the trip of a lifetime when I went to Tuscany with family and got married. After being there and absorbing all the culture and decor, it inspired me to create my own piece of Tuscany in my backyard. I love being outdoors and getting the chance to entertain for family and friends, so I created a taste of Tuscany in my backyard with our Florence style landscaping and my white and blue patio set. I even brought back dishes and linens from Italy that I use for my summer gatherings. Here are my tips for adding your own bit of Italian feel to your summer entertaining.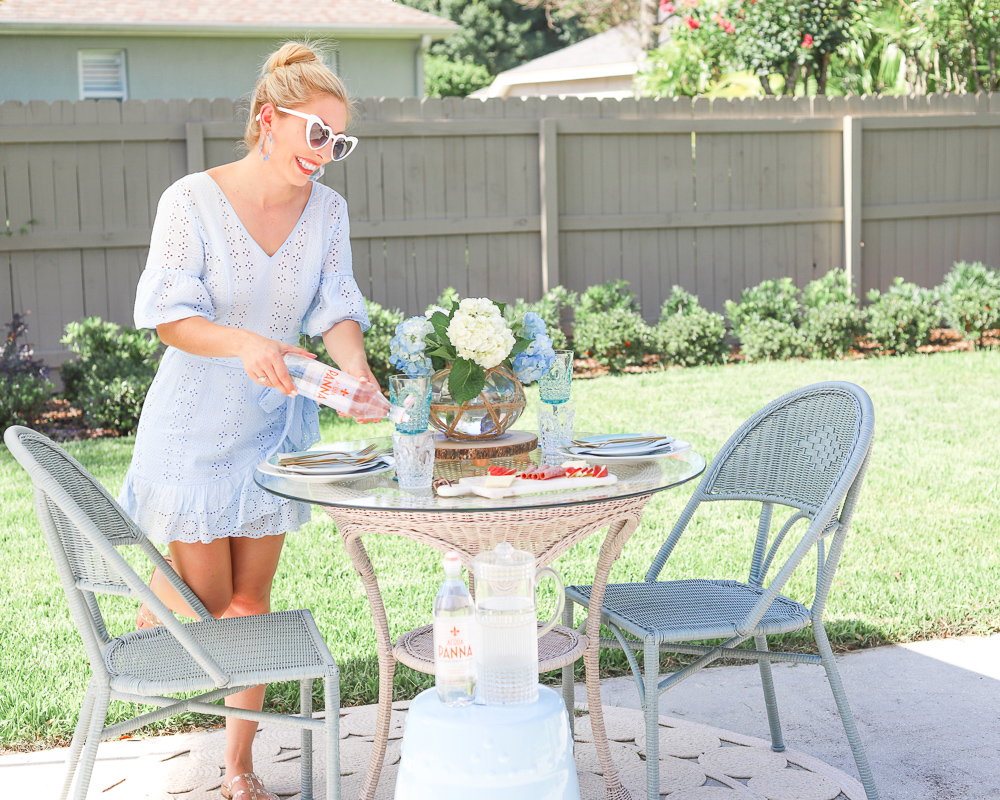 1. SET THE TABLE, THEN RELAX
talians may love to live by their motto of "La dolce vita", but you will notice at an Italian affair that they have prepped well before your arrival, so that you all can really enjoy the event together. I make sure to keep it simple and have everything ready before my guests arrive. I also learned the important tradition of having a bottle of fresh water on the table to keep everyone hydrated. I was very excited to learn that my favorite water I drank at every dinner in Tuscany was also available at home via walmart.com. Acqua Panna Natural Spring Water flows through the beautiful sun-drenched hills of Tuscany. Each drop is naturally filtered and perfected by time on its 14 year journey to the spring, obtaining a special mineral balance for the smoothest taste.
Hover over the image below to start shopping for your summer gathering!
2. CHANNEL TUSCANY WITH YOUR TABLEWARE
Think simple and light colors. In Italy setting the table is an almost ritualistic part of creating a mood. I like to mix two different colors and rustic textures into the table scene. My personal favorite seen through a lot of Tuscany is white and blue. I mixed melamine dishes for the outdoors along with acrylic glasses, gold flatware, and some wood and marble. Fresh flowers are a must as well, since Italians love the beauty of the outdoors.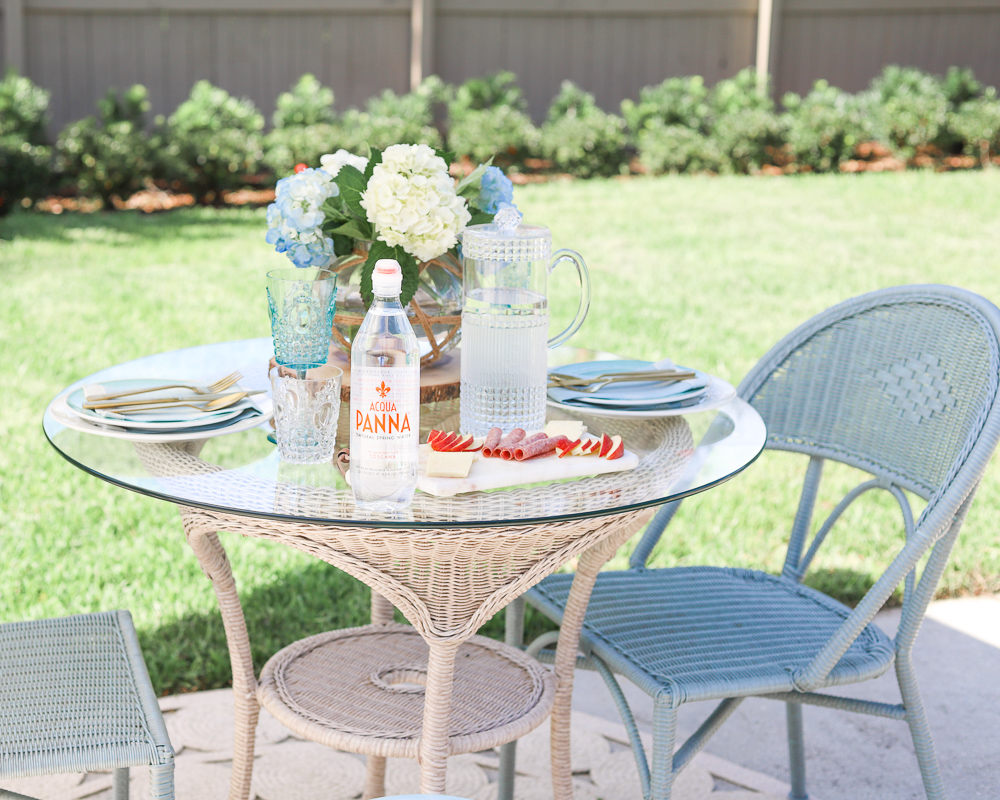 3. FOCUS ON THE QUALITY, NOT THE QUANTITY
Italians may live a good life, but they don't feel the need for an overly complicated one. You will notice that Tuscan food is delicious, yet simple. They focus on quality ingredients in multiple courses to fill you up over time and to savor each moment. I like to pick the freshest items possible that will lend the air of an elegant table, but also won't require too much prep work. This is again where I choose to pick Acqua Panna Natural Spring Water for it's smooth alkaline taste – it has a natural pH of 8.0 or higher. It's also an established leader in fine dining, but also available in this new on the go design.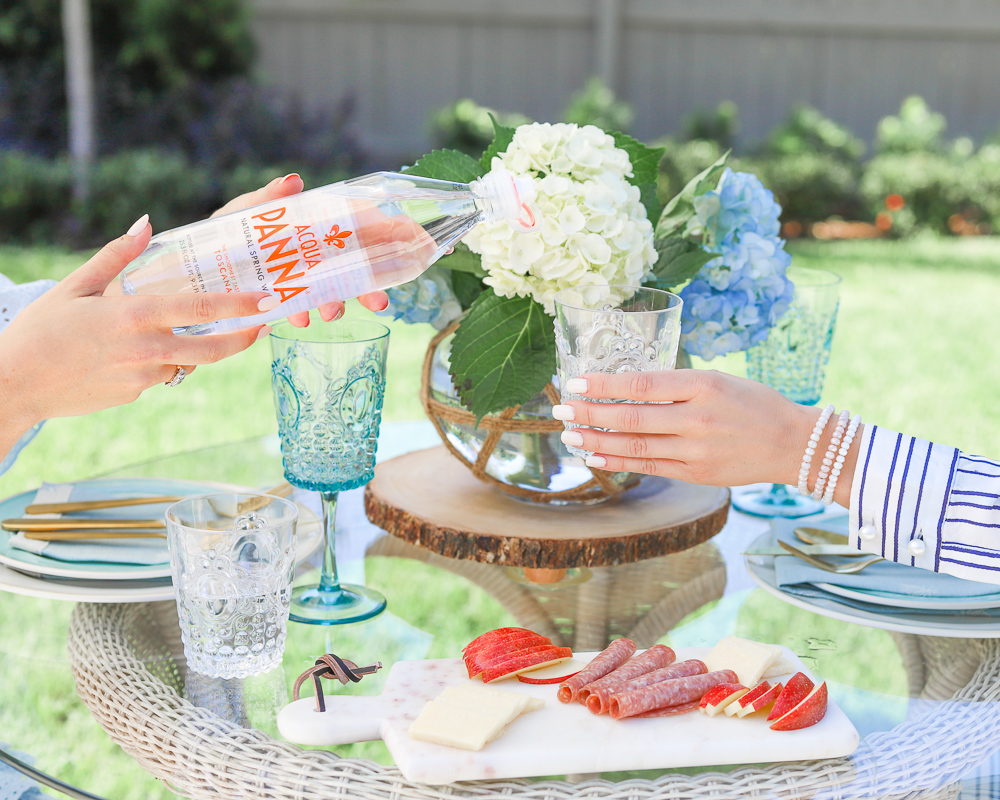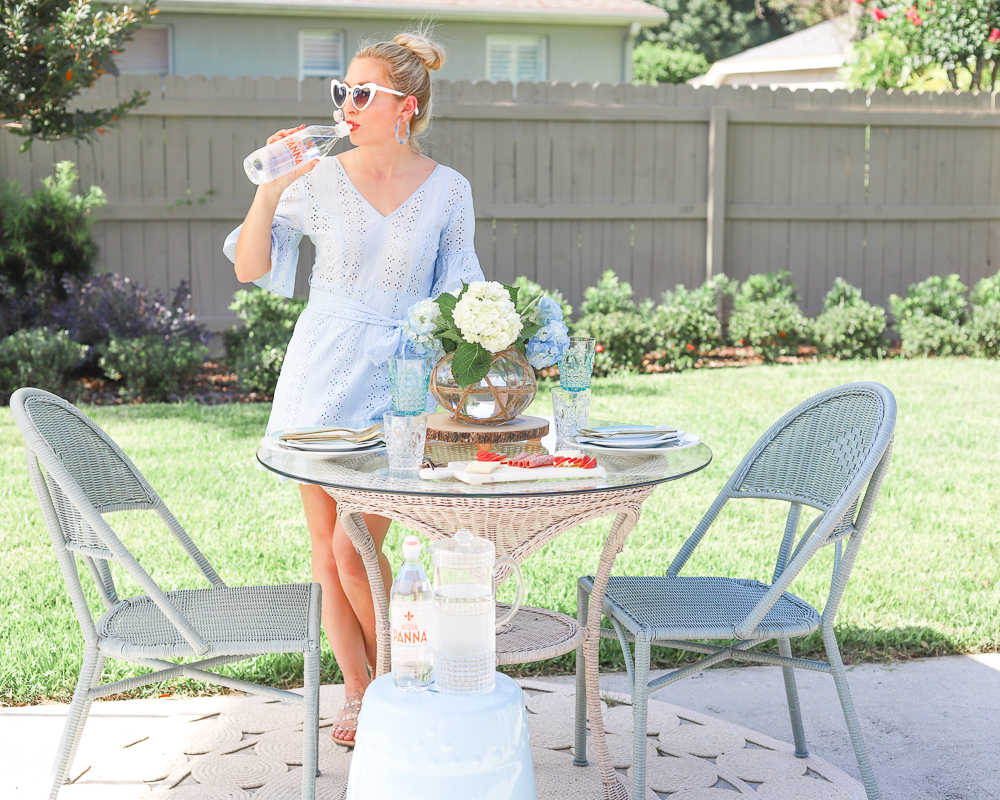 If you are looking for where you can purchase my favorite Acqua Panna Natural Spring Water to try at your next gathering, it's super easy and affordable. It's available for purchase on walmart.com and you can have it shipped directly to your house with free two day shipping (like I did), or you can have it shipped to store for pickup.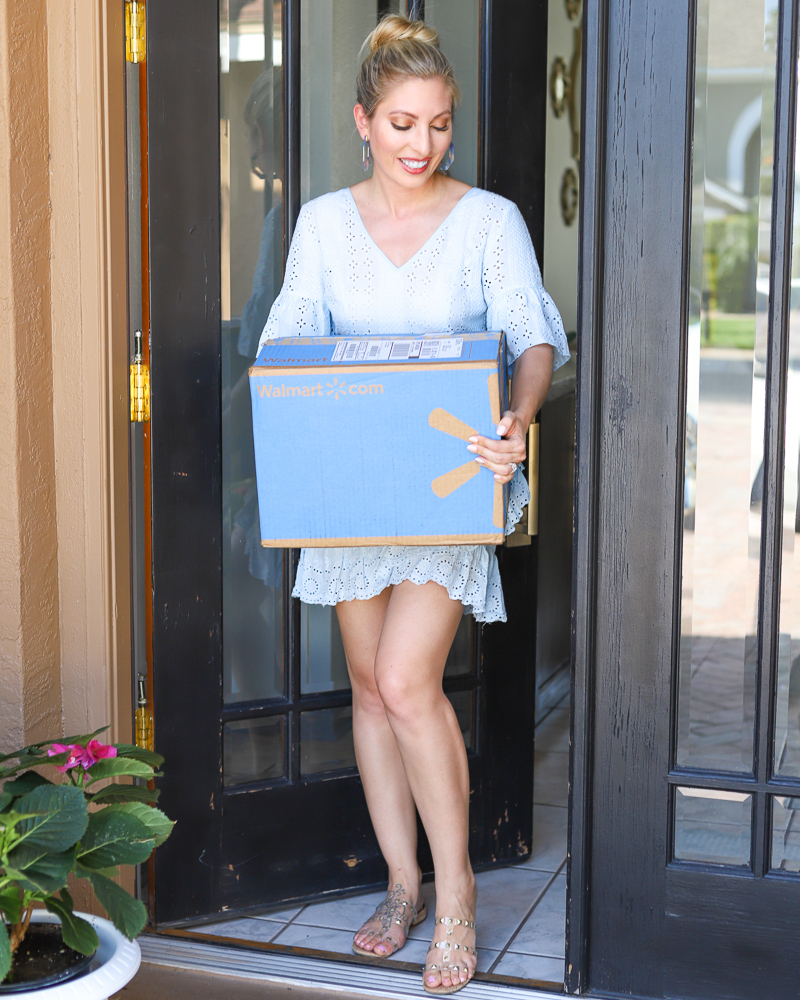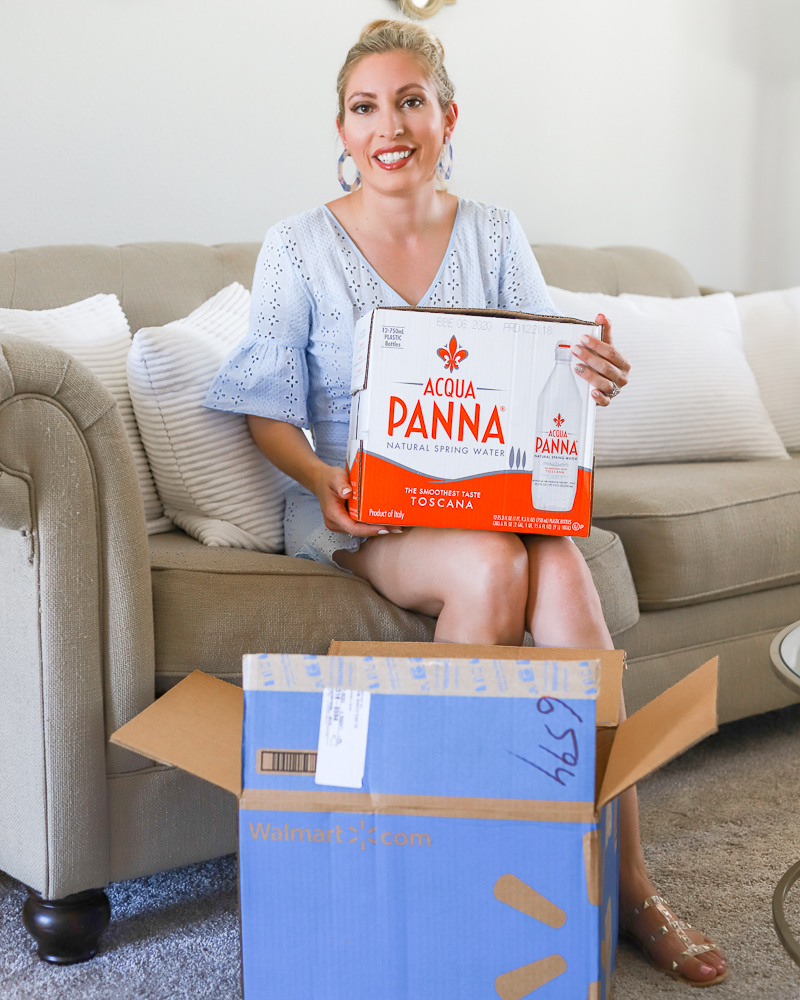 I hope this inspires to create your own taste of Tuscany at home this summer. Don't forget your Acqua Panna water!
Xoxo, Nikki