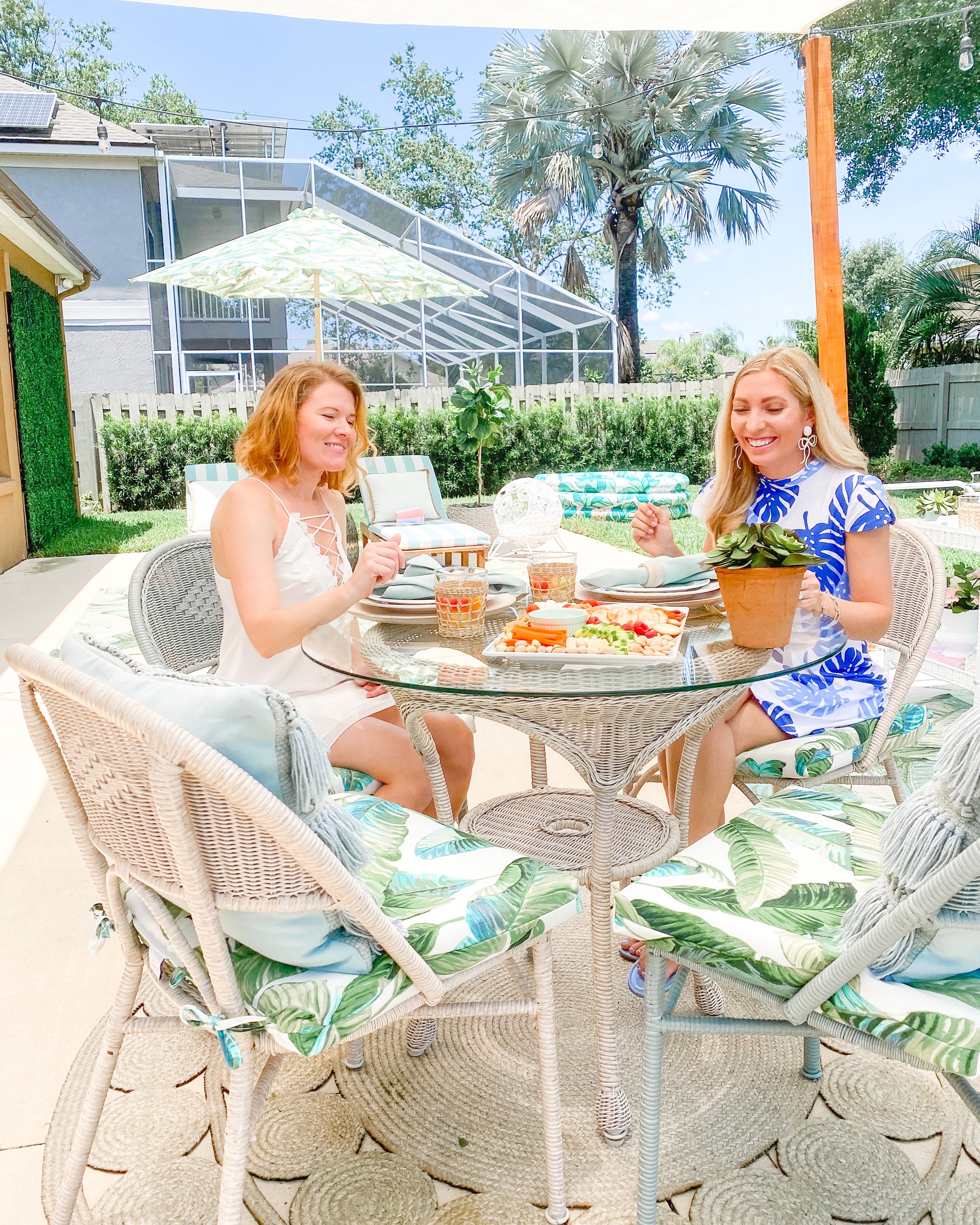 There are several beautiful coastal beach towns here in Florida. However, nothing says seaside-chic like Palm Beach. The small town is known for their impressive real estate, preppy southern style, and their bright and sunny color palette. I wanted to provide a step-by-step guide on how to achieve this distinctly Floridian aesthetic and bring home some sunshine no matter where you may be. Also, just because Palm Beach is an expensive place, doesn't mean that you have to spend a ton of money to achieve that look. Even when shopping from stores like Pottery Barn Orlando you can stay on a budget. My Palm Beach styled patio is completely affordable and features pieces from both high and budget end stores.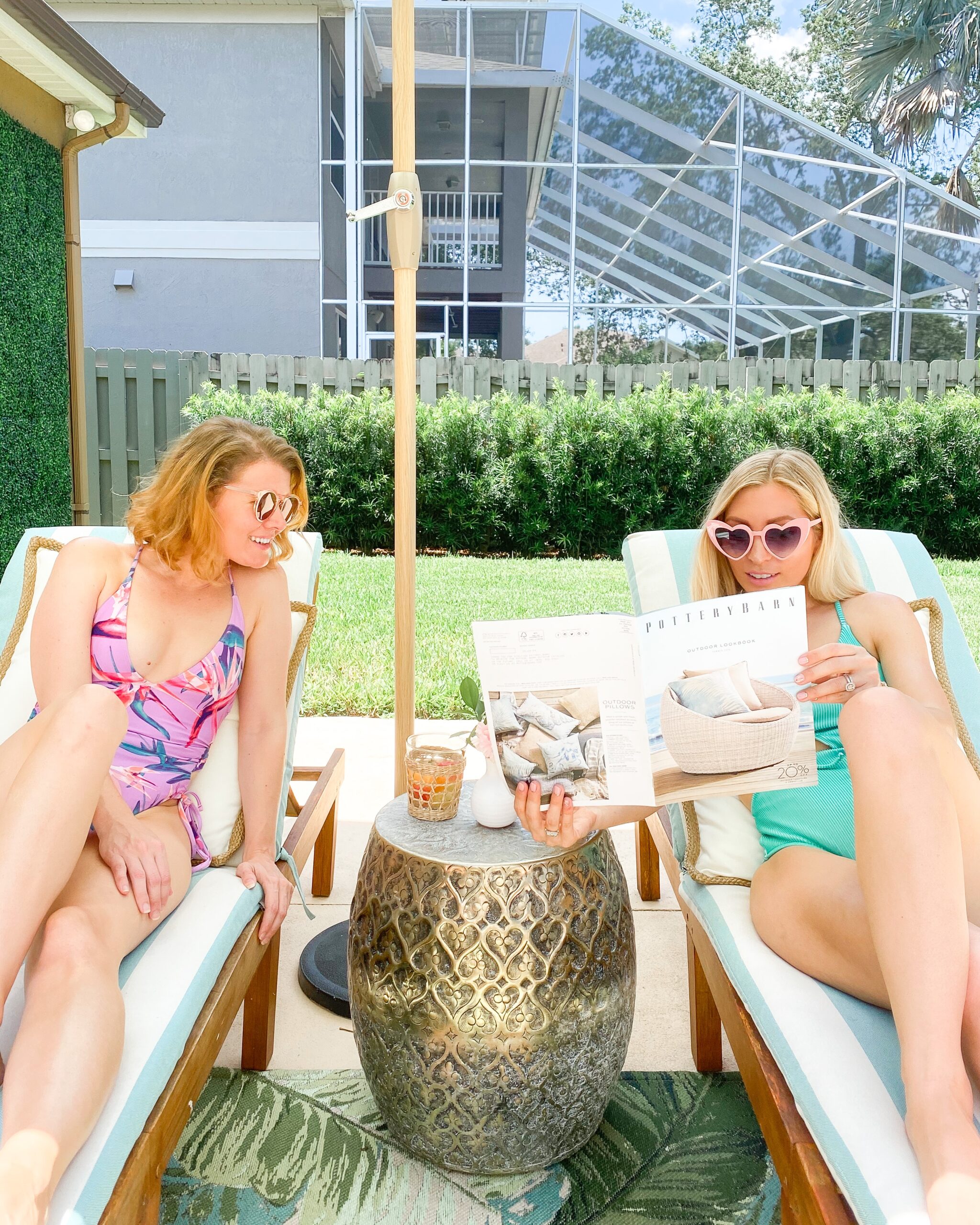 When it comes to a Palm Beach styled patio, you want to start with a blank canvas. Even though it's a town known for a wide ray of colors, all of the color pops from the blank white canvas base. My husband wouldn't allow me to have as much white furniture as I would like, but I did get some white resin wicker pieces and I painted the patio floor as close to as off-white as he would allow.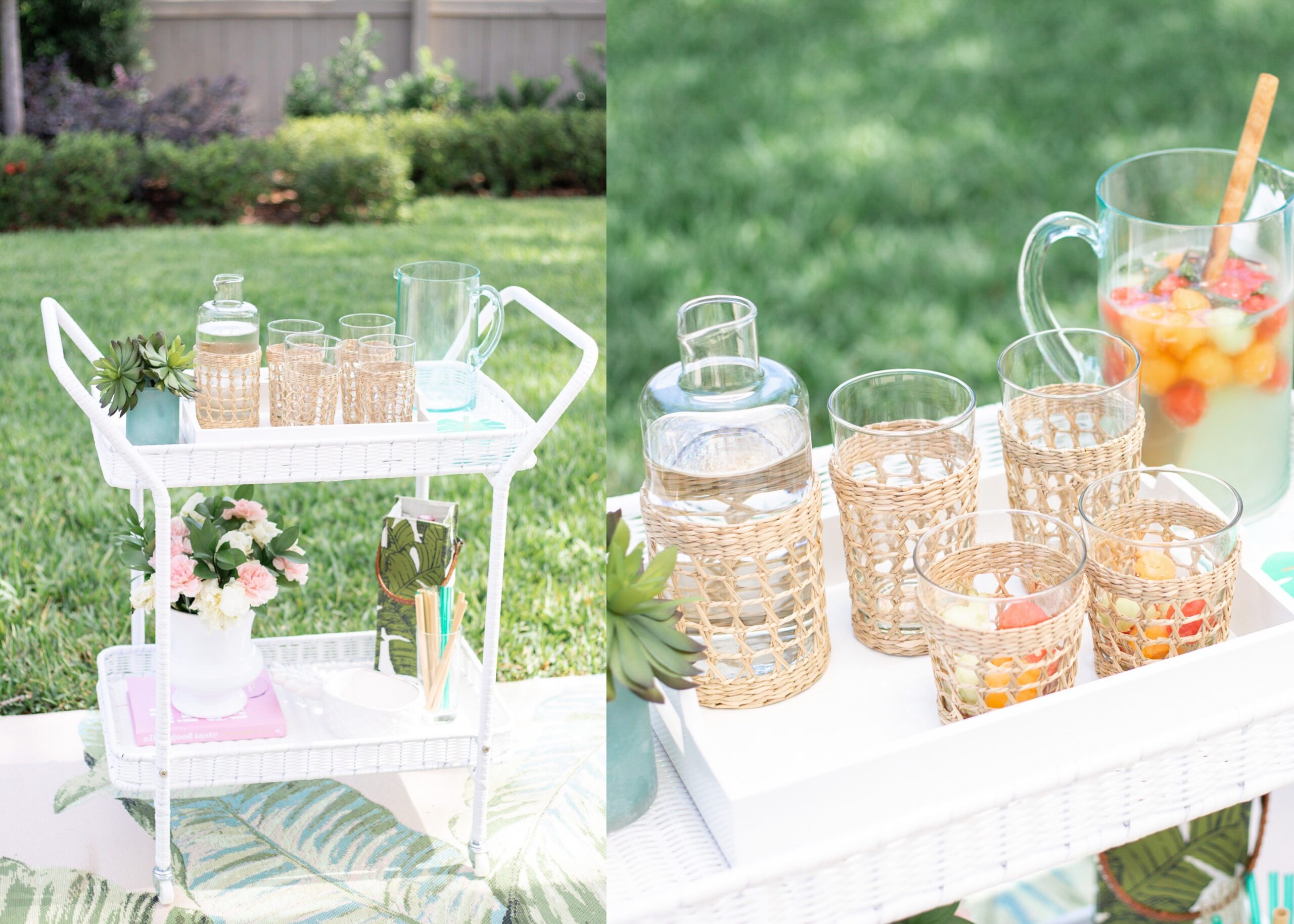 Next I added in some fun bright colors. I didn't want to go too bright, since I'm a pastel kind of girl and I also love the bold and pastel vibe at The Colony in Palm Beach. The colors I picked were white, aqua blue, greens, and coral pink. Then I chose some tropical accents by adding in the banana leaf print.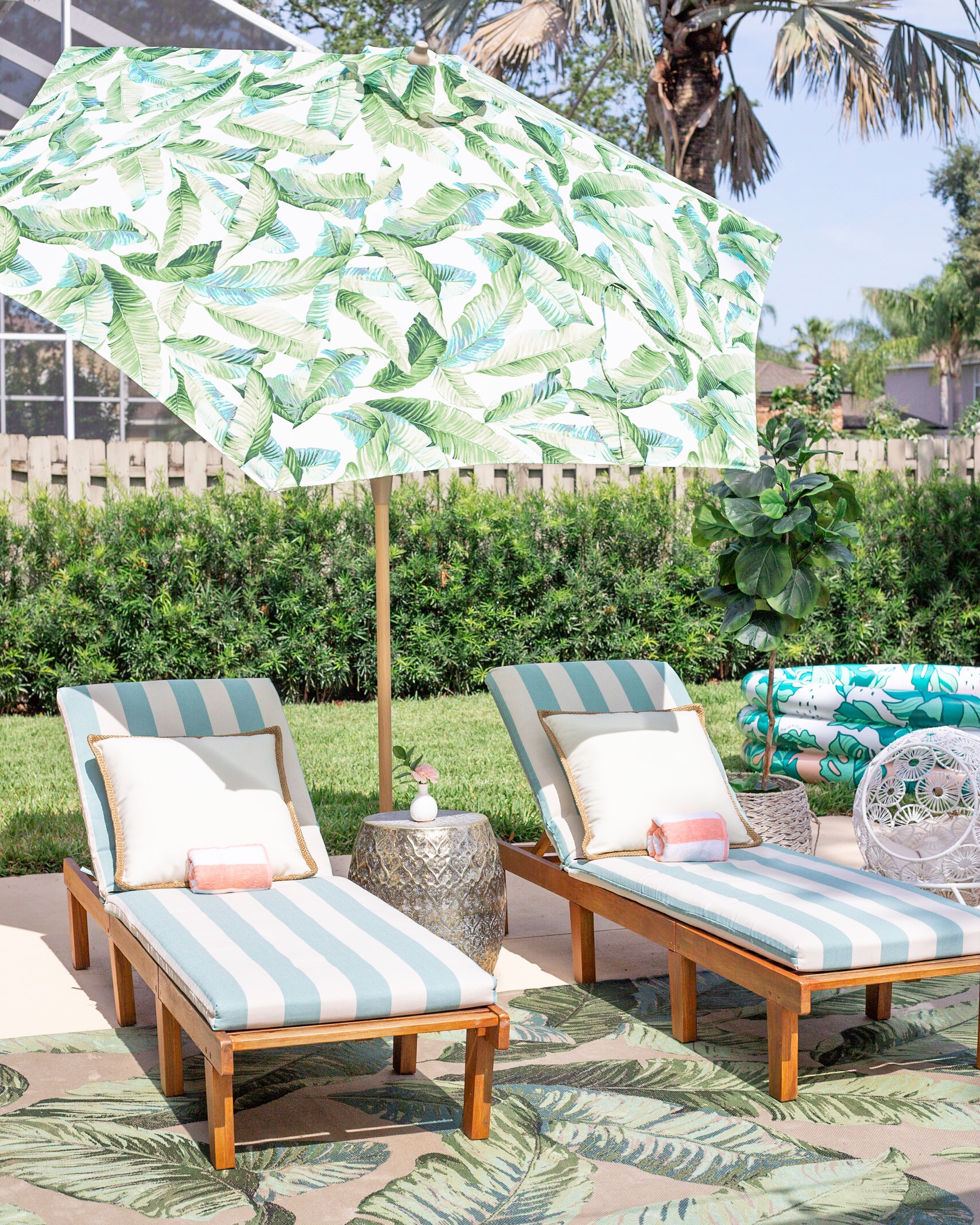 Texture is such a fun way to spice up patio decor. Palm Beach patio style draws from natural outdoor materials like rattan, bamboo, and wicker. I drew those into my own patio decor from large furniture down to my simple bamboo reusable straws.
Prints and more prints! Palm Beach is full of mixing prints from the original banana leaf print, to cabana stripes. I pulled these both in through my rugs, chaise lounge cushions, and umbrella. Palm Beach also carries the allure of glitz and glam compared to other preppy beach towns. Adding in some glass and metallic gold pieces help add that ritzy Hollywood vibe.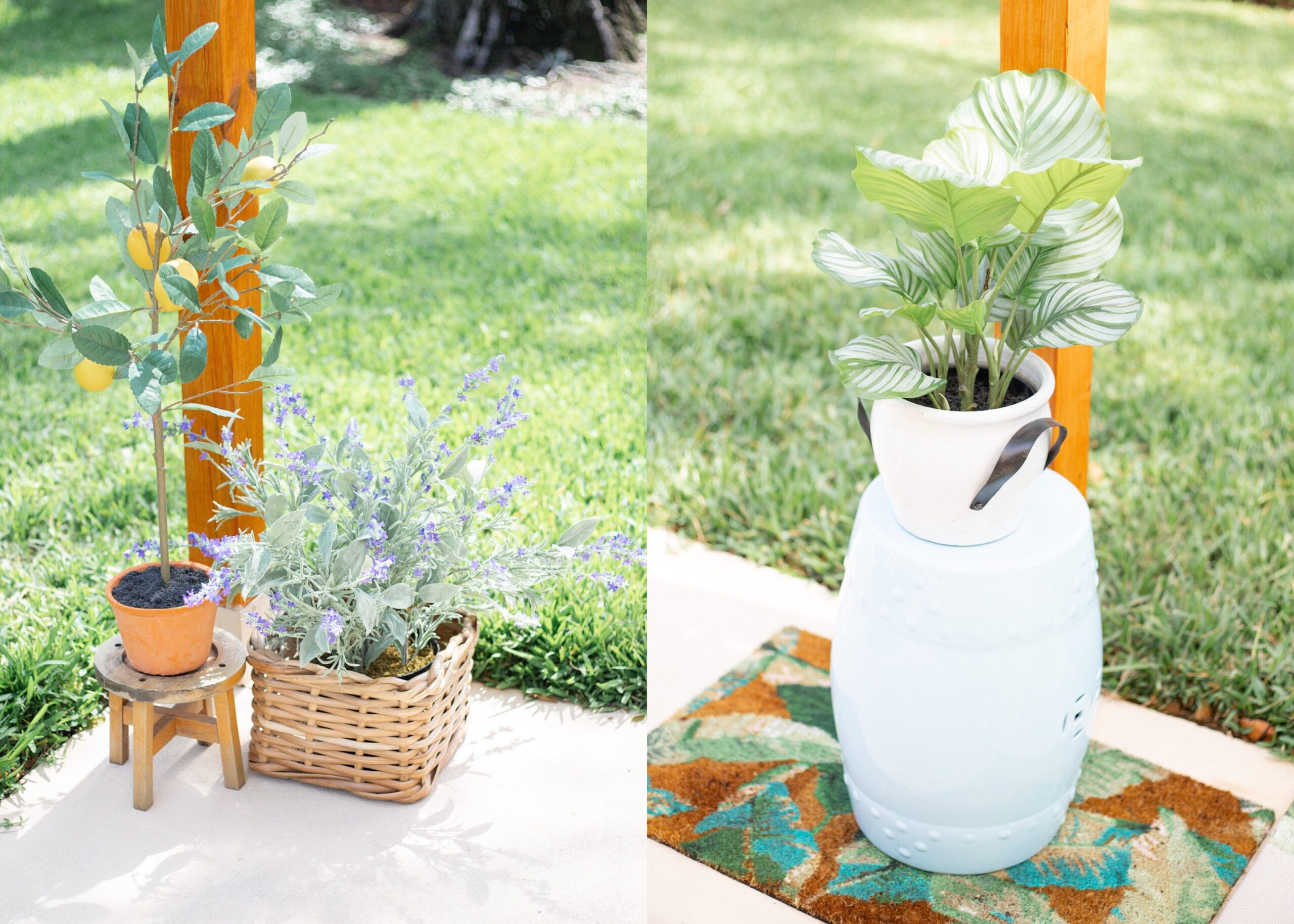 Currently Pottery Barn is offering in-store shopping by appointment only. It's touch-less shopping to keep everyone feeling safe. They are also doing Virtual Design appointments where you bring photos and your color palette for them to help you shop and design your space, since they cannot come to your home at this time. Call Pottery Barn Orlando for an appointment (407) 355-3552.
Speaking of patio style…what's yours, and where did you shop for your pieces?
Xoxo, Nikki 
**Disclosure: Some of these items were gifted and borrowed from Pottery Barn Orlando for this shoot. All opinions are still 100% my own.**