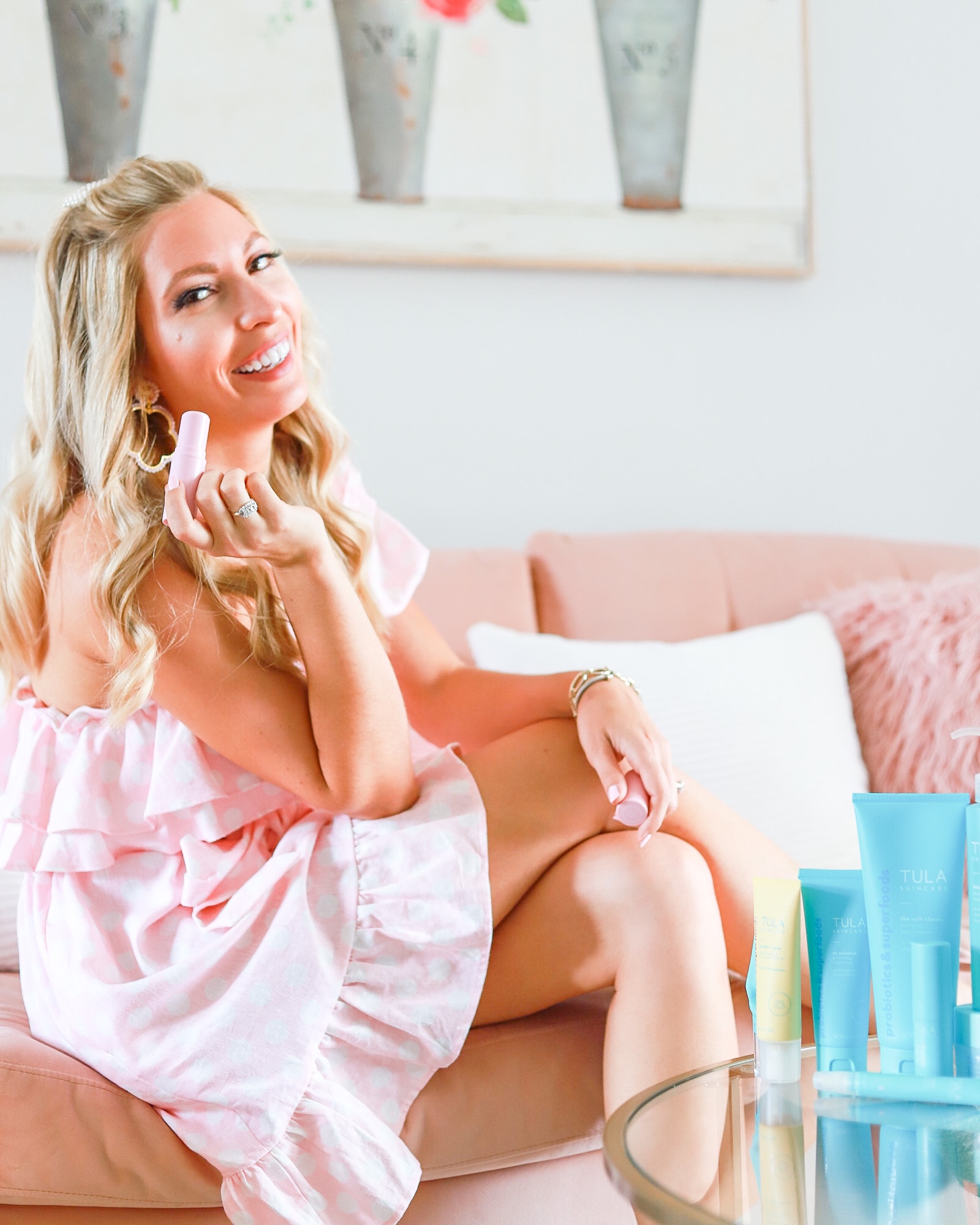 Taking care of my skin has always been a top priority. Growing up I rarely wore makeup and even now, during the week, I focus more on keeping my skin clean vs. putting makeup to cover blemishes. My mother has more recently been stressing about the importance of skincare since she works for a plastic surgeon and you only have one chance to keep your skin healthy. So, when I fell in love with Tula products; I knew it was a great opportunity to update my skincare routine.
Tula is not some trendy product, but a clean and effective company bringing you products that benefit you from the inside out. 100% of their products are made with good-for-you probiotics. They believe that the ingredients good for your body, are also good for your skin. Tula is a woman run company, started by a doctor who researched probiotics for over 15 years. She had a lightbulb moment after seeing how probiotics were changing lives and started Tula, a USA based company.
Three of my favorite products that have been a game changer in my skincare routine, are the 24-7 Moisture Hydrating Day & Night Cream, Rose Glow Eye Balm, and the Face Filter Blurring & Moisturizing Primer.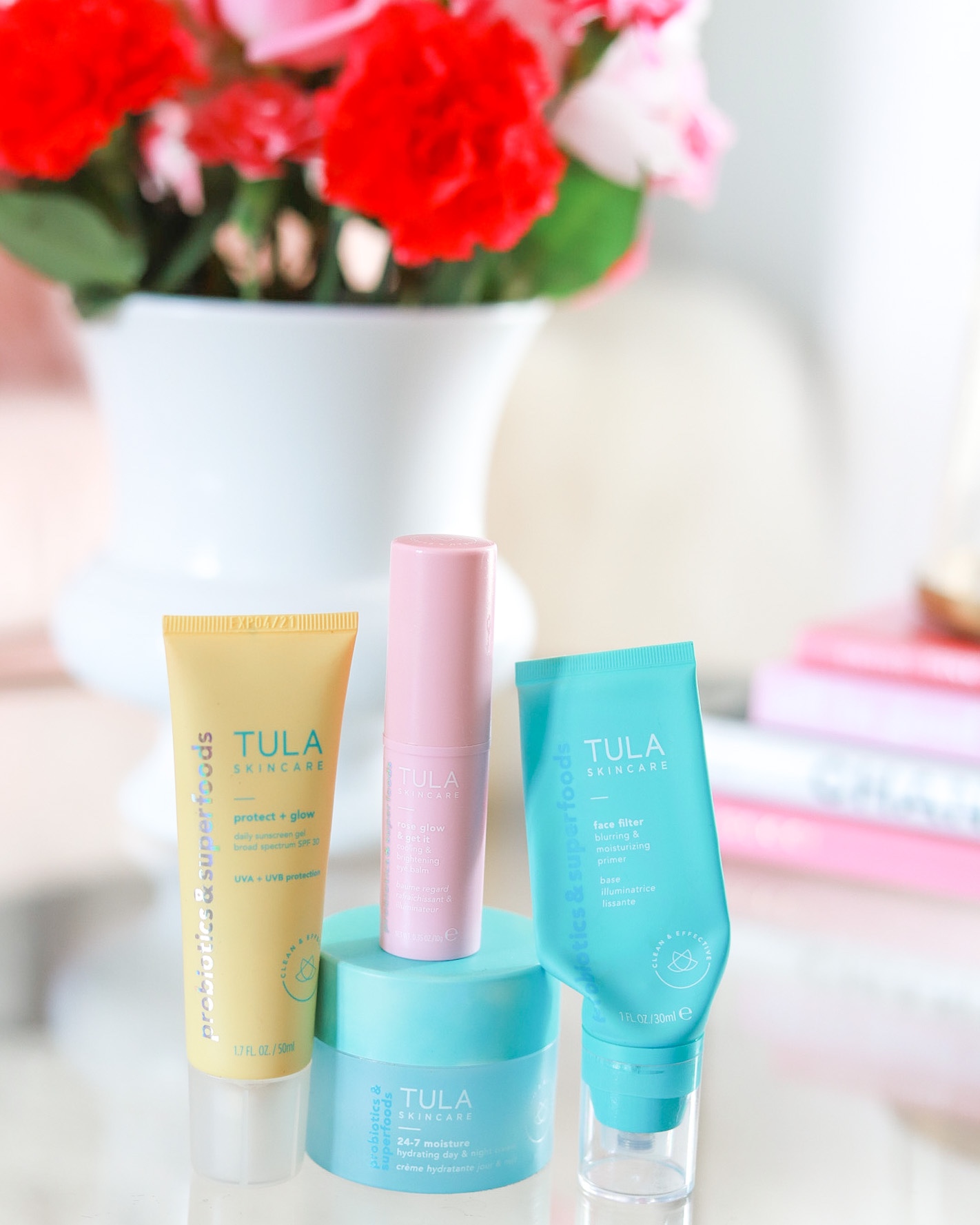 MORNING SKINCARE ROUTINE
Your skin needs different things in the morning and the evening. This is why I wanted to share what I use at each time of day and why. My skin personally is dry, though I always thought I had combination skin. If you get a facial, the esthetician can help tell you what kind of skin you have. This will be very helpful in choosing your products.
CULT CLASSIC PURIFYING FACE CLEANSER – I start with this probiotic gel cleanser that cleanses and nourishes skin without stripping, or over-drying.
GET TONED PRO-GLYCOLIC 10% RESURFACING TONER – Next, I tone my face with the pro-glycolic toner to gently exfoliate and smooth my skin.
HYALURONIC ACID – To help my skin with its dryness, I have been using Hyaluronic Acid to help retain it's moisture. This also helps with plumping your skin and getting rid of fine lines.
VITAMIN C SERUM – This is a lightweight Vitamin C and AHA serum concentrated with smoothing pineapple juice and hyaluronic acid to brighten and even tone.
ROSE QUARTZ FACIAL ROLLER – I keep my facial roller in my beauty fridge over night, that way it will be nice and cold to help de-puff in the morning. I use the roller all over my face to massage my serums into my skin.
PROTECT + GLOW DAILY SUNSCREEN GEL – Not only does this give you protection from UV rays, but from blue light as well. This is something to wear every day, gives a subtle glow, non-greasy, and is reef safe!
24 – 7 MOISTURE HYDRATING DAY & NIGHT CREAM – Finally, the perfect day and night cream that does it all. Packed with probiotics and superfoods, it delivers deep hydration, firms skin & improves look of fine lines & wrinkles. Skin is left looking more even & glowing.
ROSE GLOW EYE BALM – With caffeine and hydrating rose water, this will have you feeling awake and energized. It can also be used as a nice natural highlight when you are going makeup free.
FACE FILTER BLURRING & MOISTURIZING PRIMER – This blurring & moisturizing primer instantly smooths to create an even "filter" like finish. As you blend this buildable formula, it releases its special skin-blurring properties or "glow particles" that create the look of a sun-kissed, radiant skin tone. The non-comedogenic formula won't clog pores.


EVENING SKINCARE ROUTINE
Sometimes I change out a few of my serums in the morning, or evening. However, for the most part it stays the same. I use the majority of my moisturizing skincare items in the evening, so that they can really soak into my skin.
#NOMAKEUP REPLENISHING CLEANSING OIL – I start my evening routine with this makeup remover and cleanser in one. An oil cleanser is great for people with dry skin. It replenishes moisture while removing stubborn debris and not clogging your pores.
GET TONED PRO-GLYCOLIC 10% RESURFACING TONER – Next, I tone my face with the pro-glycolic toner to gently exfoliate and smooth my skin.
HYALURONIC ACID – To help my skin with its dryness, I have been using Hyaluronic Acid to help retain it's moisture. I use this in the evenings to help my skin also soak in my retinol more.
RETINOL – This contains 0.5% pure retinol, an ingredient that can reduce the appearance of fine lines, photo damage, and general signs of the aging of skin. I personally think anyone 30 and over should use retinol every night to help reduce and prevent wrinkles.
ROSE QUARTZ FACIAL ROLLER – In the evening I like to use my facial roller to massage in my Hyaluronic Acid and Retinol. This gets them deep into my skin to soak in overnight.
24 – 7 MOISTURE HYDRATING DAY & NIGHT CREAM – Creamy and soothing, this gives you the full overnight moisture your skin needs.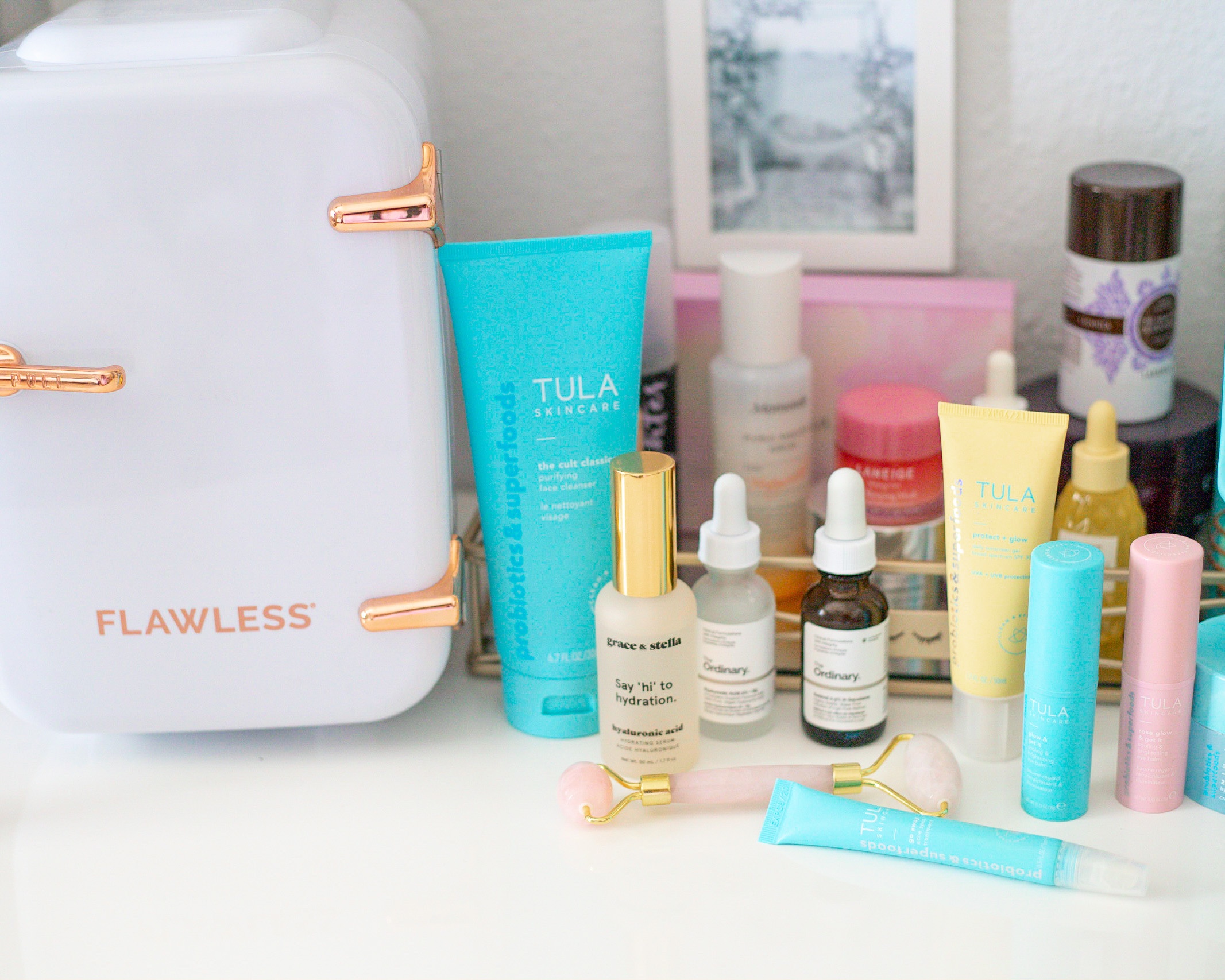 OPTIONAL ADDITIONAL PRODUCTS
GO AWAY ACNE SPOT TREATMENT – With a clear formula, you can use this acne spot treatment at any time of day. 73% of people saw pimples disappear after 24 hours.
SELF-CARE SUNDAY NOURISHING FACE MASK – This is a great mask for hydrating your skin on a weekly basis. You can use it one of three ways, a small amount as a moisturizing serum, leave on for 10 minutes as a mask, or keep on overnight as a treatment.
NOURISHING & BRIGHTENING HYDROGEL MASK – These superfood masks are a gel moisturizing mask. They come in two pieces, which make it easy to fit them nicely to your face. Purchase a pack of TULA Star Bright Hydrogel Masks (at 50% off) & 100% of proceeds go directly to getting more medical masks to NYC's COVID-19 frontline healthcare workers.
ACNE CLEARING GEL – This acne gel can be used instead of your toner when you are suffering from breakouts. It helps to fight and prevent acne, plus brightens to clear up marks left from previous acne.

If you are interested in trying out the Tula products that I love so much, then you can use the code NIKKIAHALL to always get 15% off your purchase. You can also get free shipping on orders over $40.
If you have any skincare tips, or thoughts on any of these products, I would love to hear from you. Please leave a comment below!
Xoxo, Nikki