Who needs a bit of vacation time? Raise those hands ladies!! When you look back and think about the best nights out, and when you have had the most fun, 9 out of 10 times your girls have been with you. In our society, where we put our nose to the grind that 40 plus hours, or take care of children 24/7 (because you know that's never ending), we desperately need that time with our girlfriends to remind us why "adulting" on weekdays is necessary, but how blowing off steam every so often is needed for our sanity. So every now and then you really need to take the time to go away for a girls weekend.
Girls need to blow off steam together, to dance, to have personal face time, to get dressed up, to remind each other that we are still sisters and soul mates, and to keep us true to ourselves.
Girls Weekend Day 1
We started off the Saturday with of course tons of coffee and a girly music hour filled trip from Orlando to Daytona.
Some of the songs we listened to were:
Justin Bieber Sorry
Selena Gomez Hands to Myself
Becky G Shower
Taylor Swift Bad Blood
Fifth Harmony Work from Home & Worth It
We then checked into our hotel, "The Plaza Resort and Spa", which was so beautiful, and the staff were very pleasant and helpful. Our room was the perfect size for the four of us. It was very spacious, two queen beds, with a view of the beach off our balcony.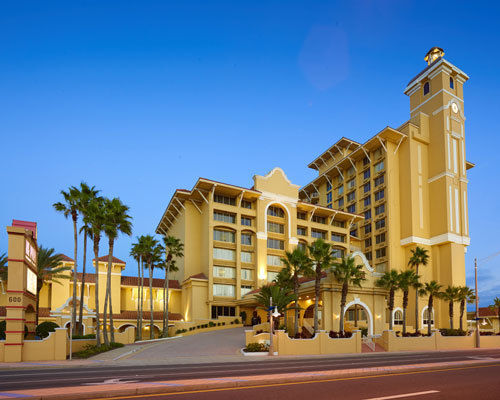 *Photo Courtesy of Plaza Resort & Spa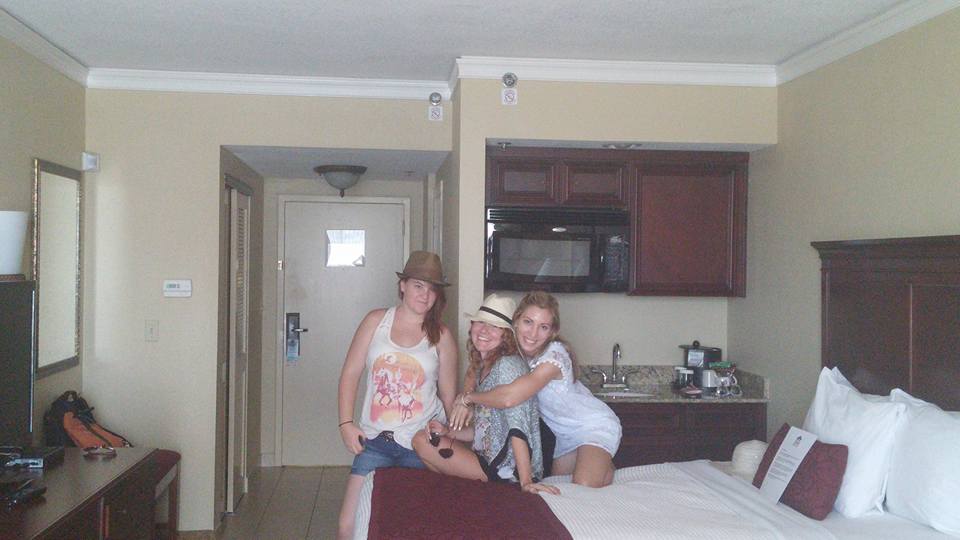 We ate some lunch in our room and then packed up what we wanted to bring down to the beach and made the trek down to set up our spot. Now, when you get four women together, that means we end up over packing. We had everything we could need, which meant a heavy trip down to the beach. We were not lacking in tent, chairs, music, snacks, sunscreen, or alcohol.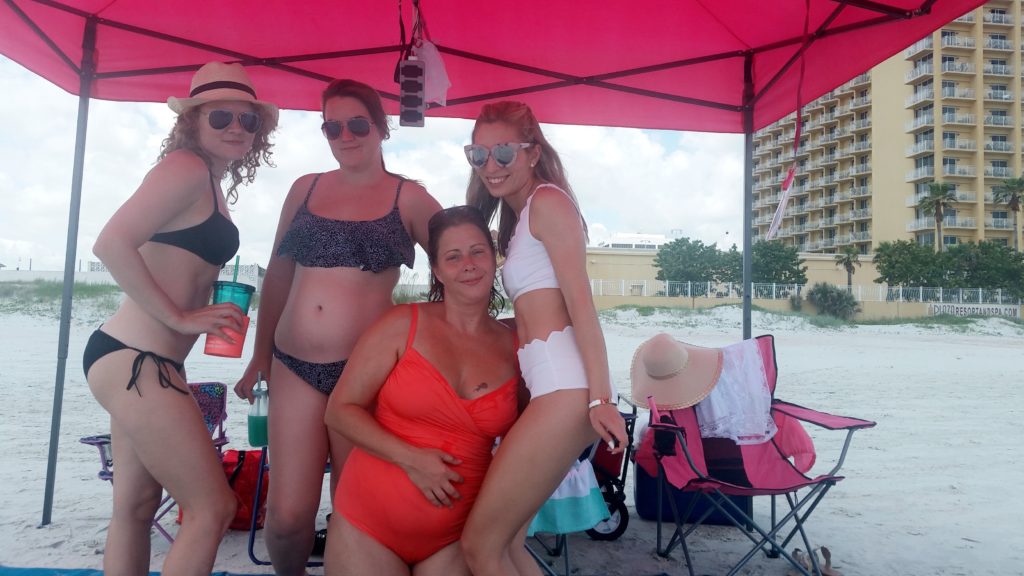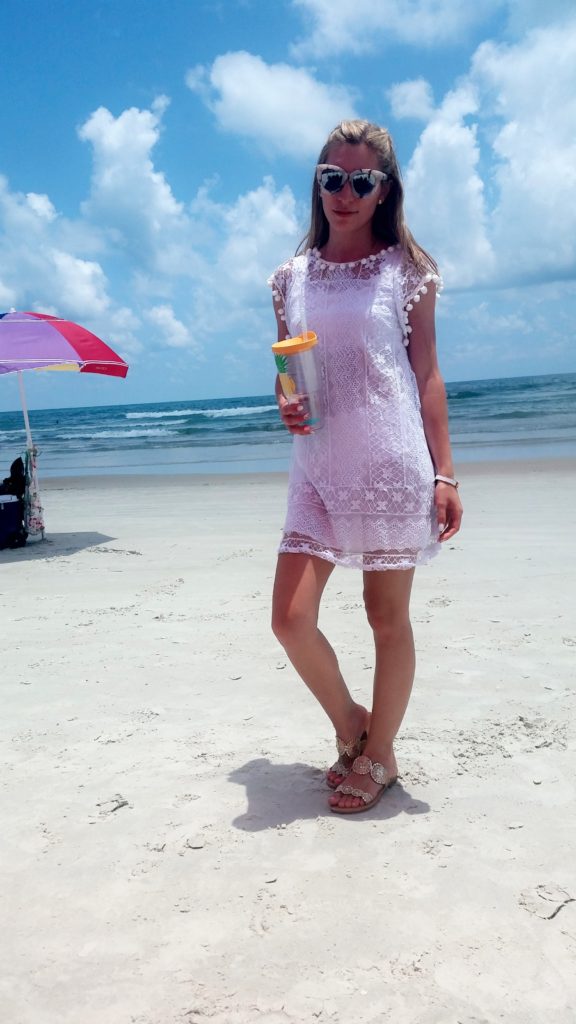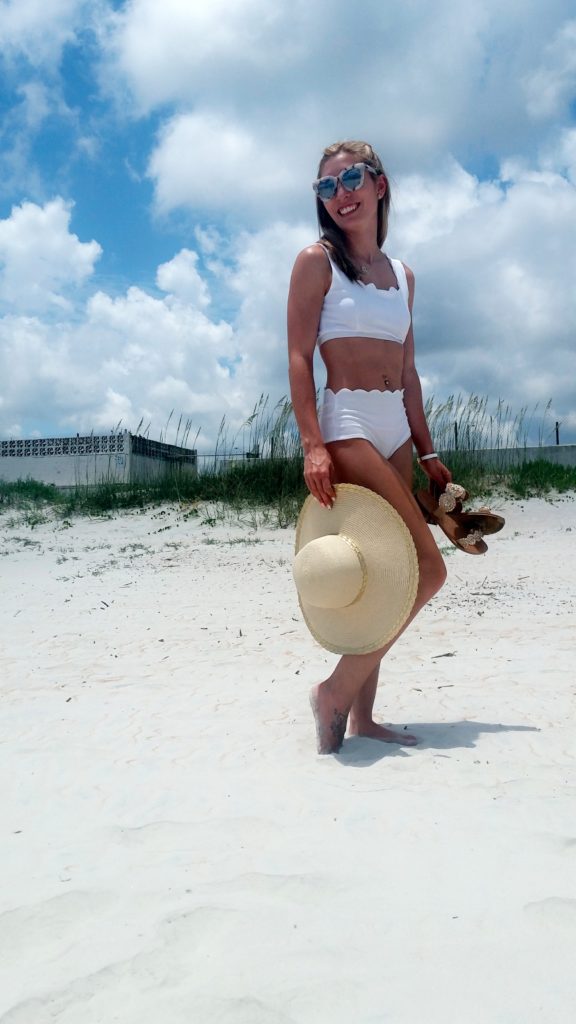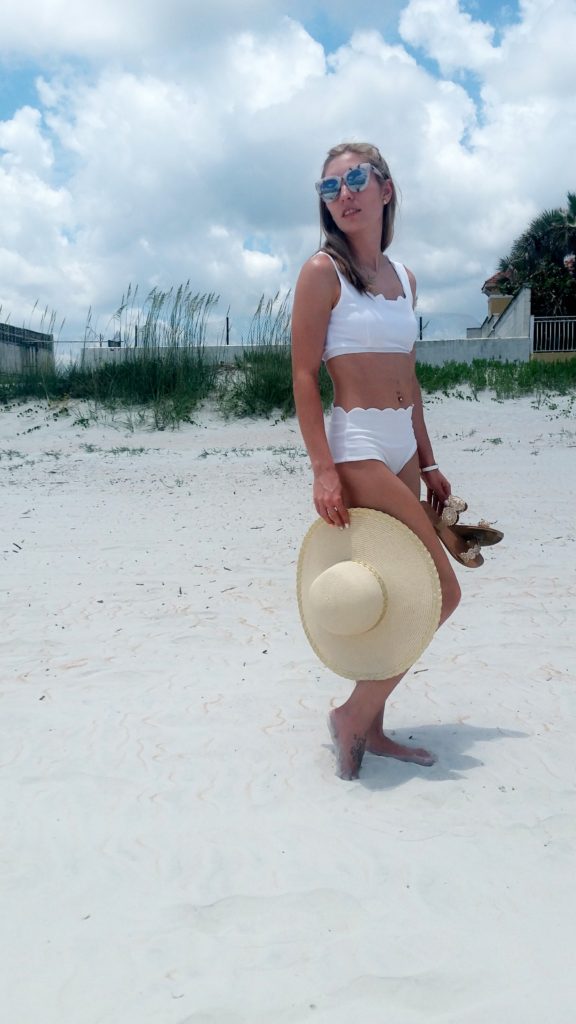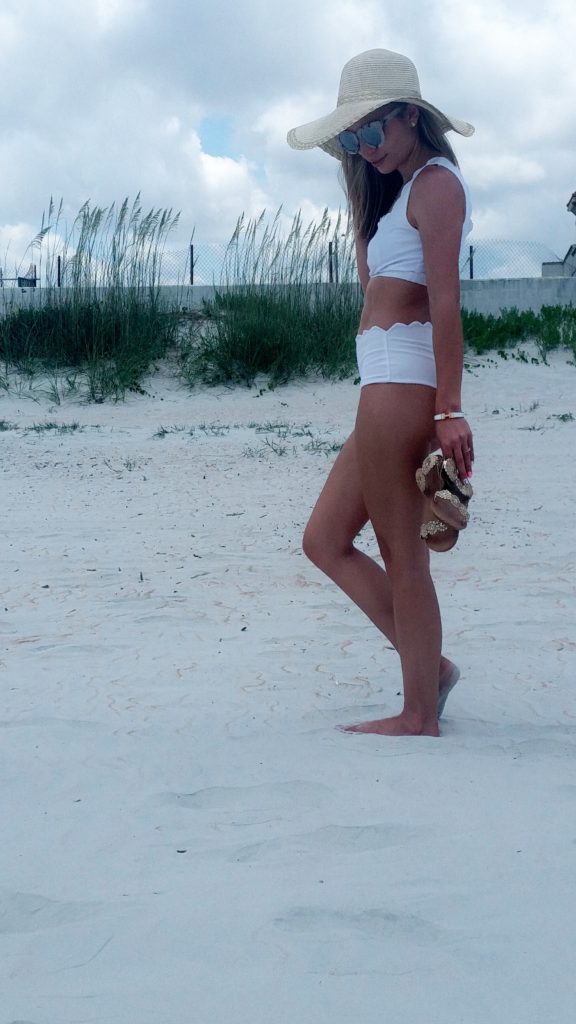 Boutique Lace Cover up (Sz. Small) / Similar Upscale / Jack Roger Lauren Sandal – Natural (Sz. 7) / Quay Sugar & Spice Sunglasses / Pineapple Earrings / Hermes Clic Clac Bracelet / Monogram Necklace / Kelly & Katie Metallic Floppy Hat (Similar) / Marysia Palm Springs Top / Marysia Palm Springs Bottom (Sz. Small)
Can you believe it took over 4 hours for the four of us to get ready? I do!!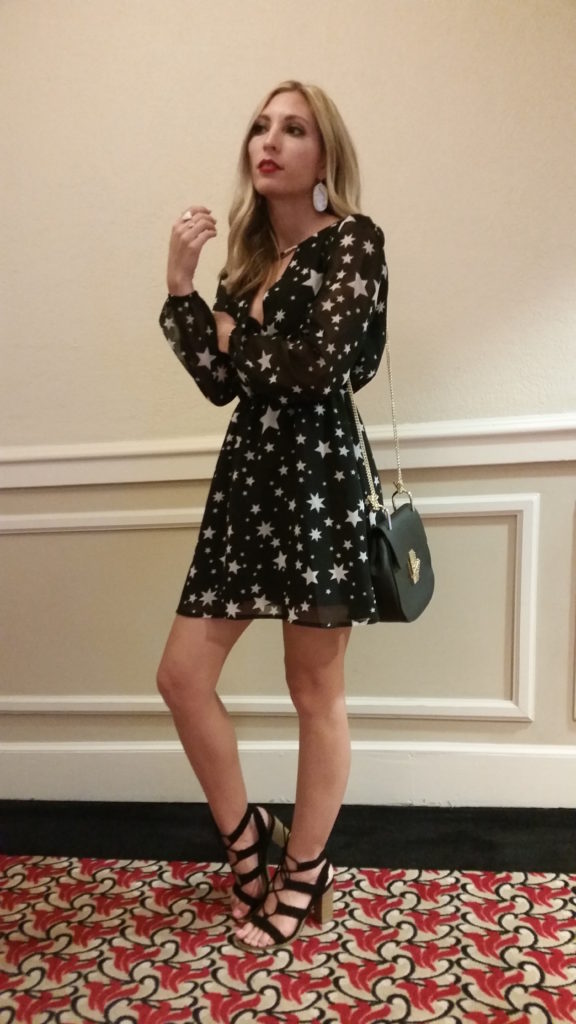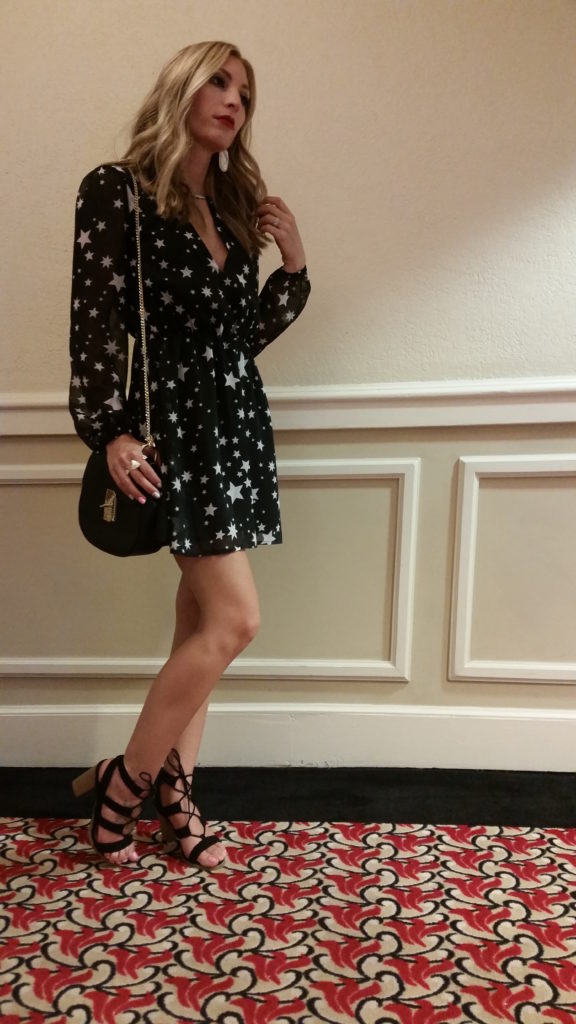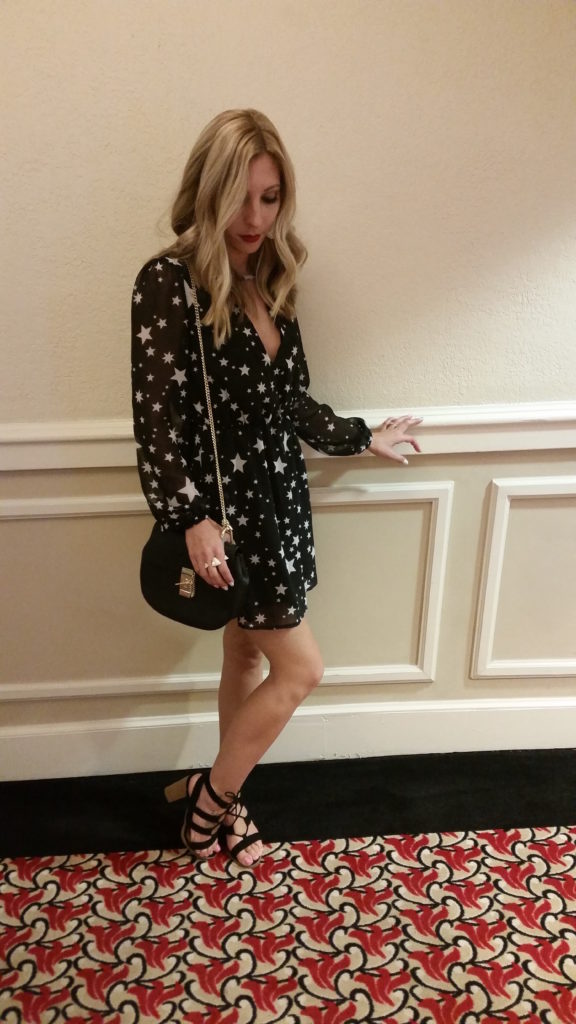 Lovers + Friends Dress (Sz. Small) / Braided Lace up Sandals – Ross (Similar) (Sz. 7 )/ Chloe Drew Bag / Kendra Scott Danielle Earrings / Kendra Scott Ring / Broadway Impress Nails / Chloe Perfume / Blake Lively Red Lipstick
We ended up eating a late dinner so we checked out the "1888" restaurant at the hotel, which was on point! I swear whenever we have a girls weekend nobody ever is ready to eat dinner on time haha. It was quiet and the ambience was lovely, we also got special treatment since we were the only ones in the restaurant by this time.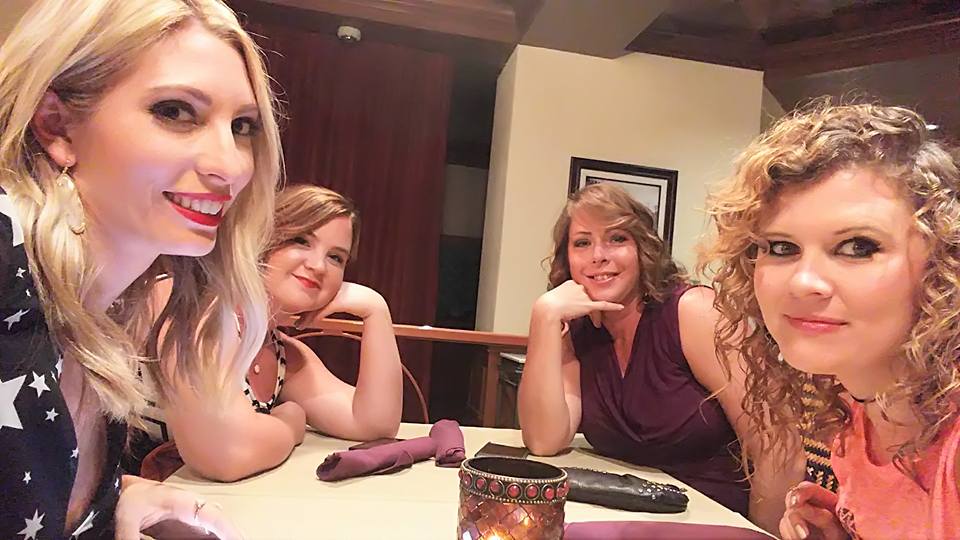 Here's what we ordered off the menu that was delicious.
 Rae & Myself shared:
Roasted Oysters with Pickled Radish, Carrots, and Smokey Butter
Atlantic Salmon with Mustard & Herb Crust and Goat Cheese Ravioli
w/ a side of Green Beans and Asparagus
Michelle & Brittany shared:
Cajun Chicken Fondue with Soft Pretzel Nuggets
and each had:
The Ocean – Blackened Salmon, Cilantro Lemon Aioli, Spinach,
Heirloom Tomato, Ciabatta w/ Parmesan Fries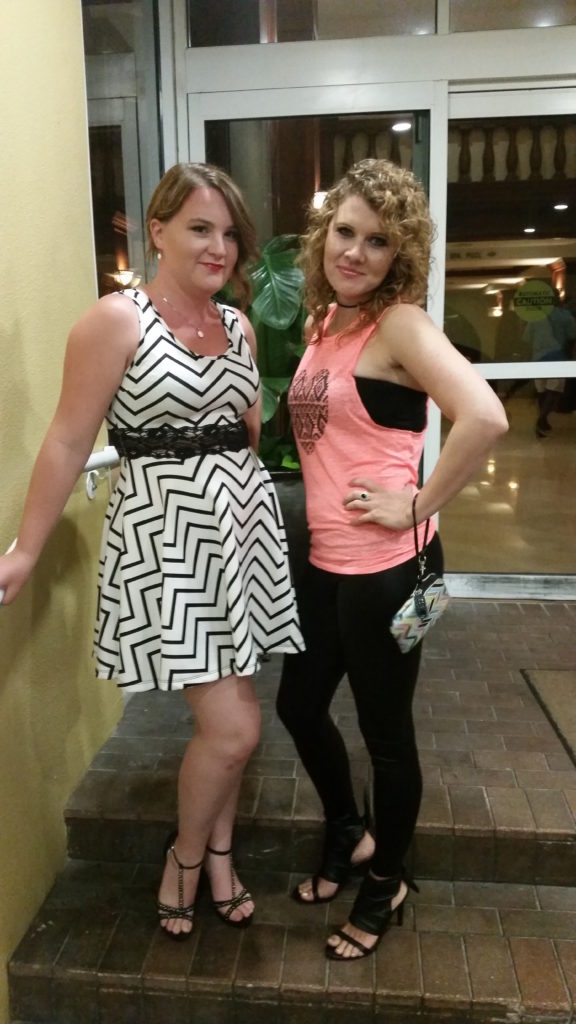 According to Rae (left) "The Oysters tasted like ocean boogers." Hahaha and then we heard the kitchen staff making ocean booger jokes the rest of the night.
Rae Left:
Black and White Chevron Dress – She bought it at Ross! / Similar / Studded T-Strap Pumps Ross / Similar  / Opal Jewelry set her fiance brought back from a Baazar in Afghanistan / Similar / Similar
Brittany Right:
No Boundaries Burn Out Muscle Tank – Peach Smoothie / Leather Look Leggings / Leather Tie Heels – Ross / Similar / Asos Bow Necklace
Then it was time to head off to the "509 Lounge" where my girlfriend Megan (who lives in Daytona), normally will go because her boyfriend works there. You can't have a girls weekend without some great music and dancing.
"Girls night is important because you should never forget about your girl friends even when life gets busy. You need time with friends to be yourself and be goofy since life is too serious all the time." – Megan Michetti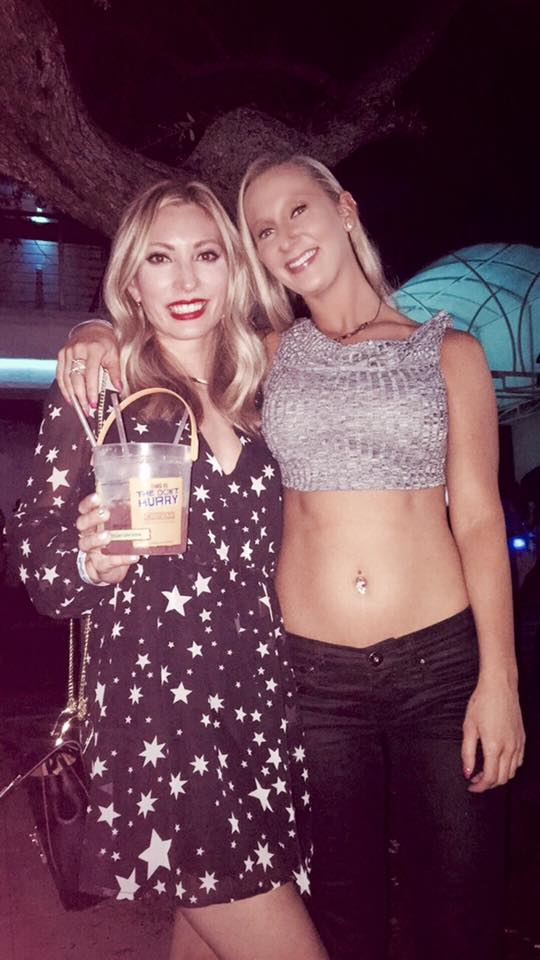 The music was upbeat and we all shared a few of these deliciously fruity bucket drinks called Voodoo Juice. It was a combo of 4 different flavored Cruzan Rums and some juice. Safe to say we had a great time filled with dancing, laughter, chatting, people watching and a safe two block walk back to the hotel.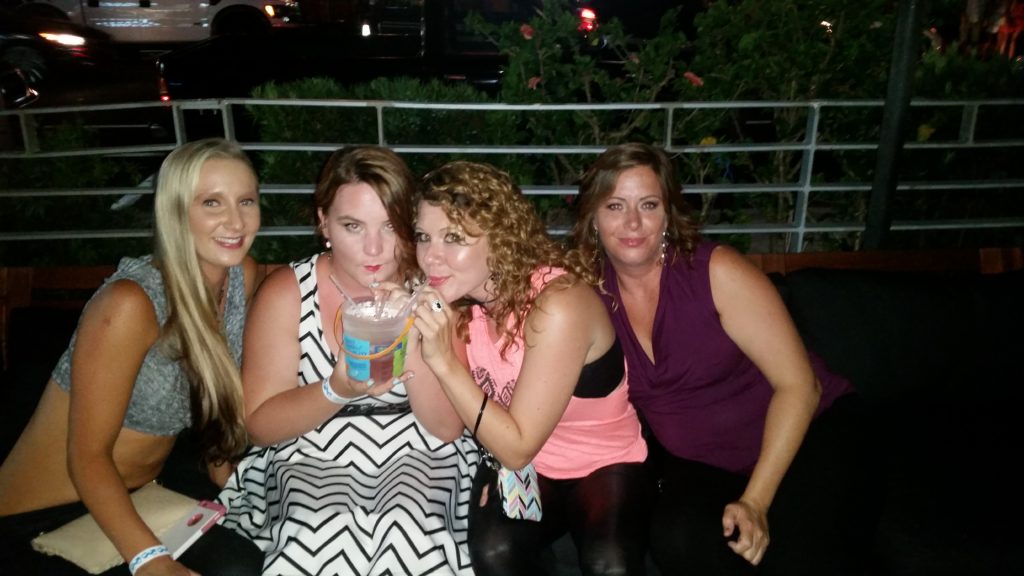 "A girls getaway is important because life is too demanding and short, so its important to do something special with your girls. It makes new memories especially as we are getting older and are more likely to forget some of the older ones." – Michelle Carpin (right)
Girls Weekend Day 2
We gathered everything up in the morning so we would be ready to check out and headed down to spend some time by the pool after breakfast. The Bloody Mary was amazing! It was spicy so I couldn't even taste the vodka, which is exactly how I like it.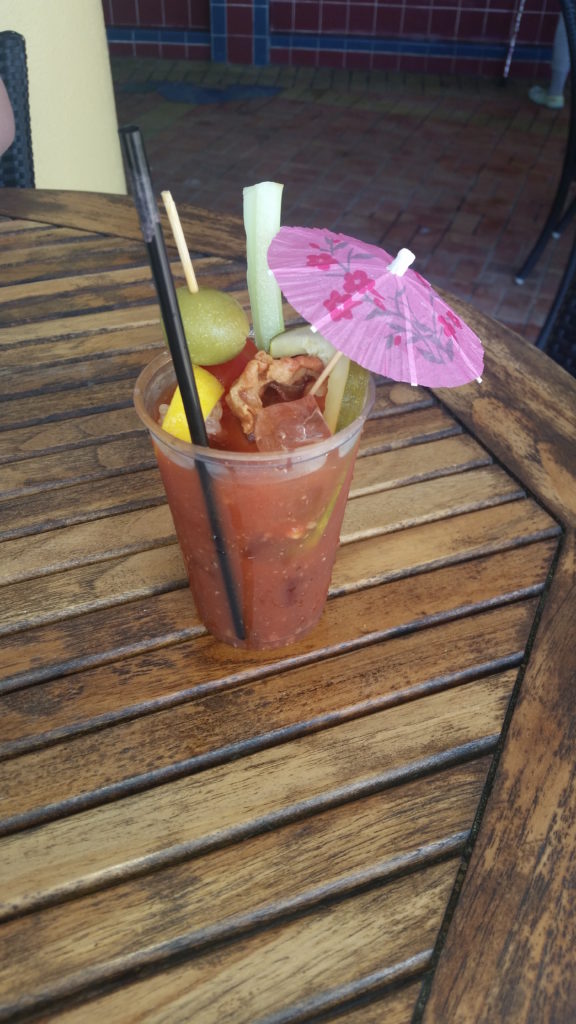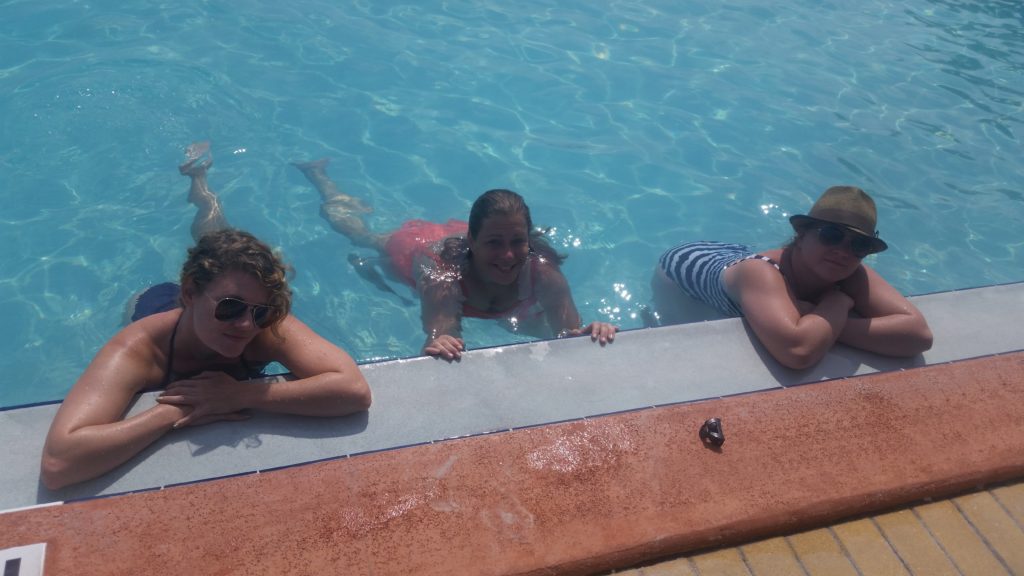 We spent some time together at the pool relaxing and then Rae left to go home and the rest of us headed down to the beach to complete the girls weekend with a bit more fun in the sun.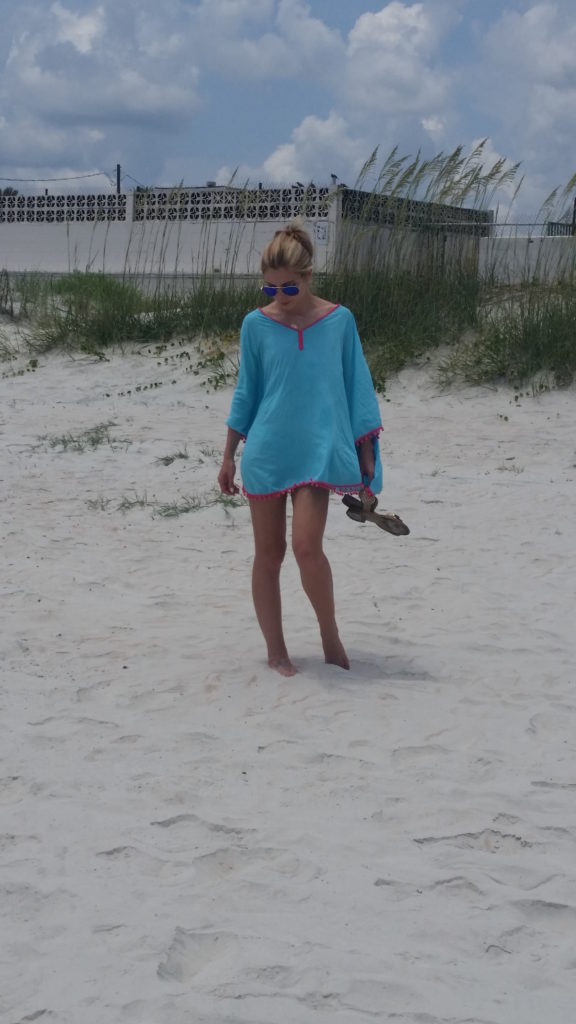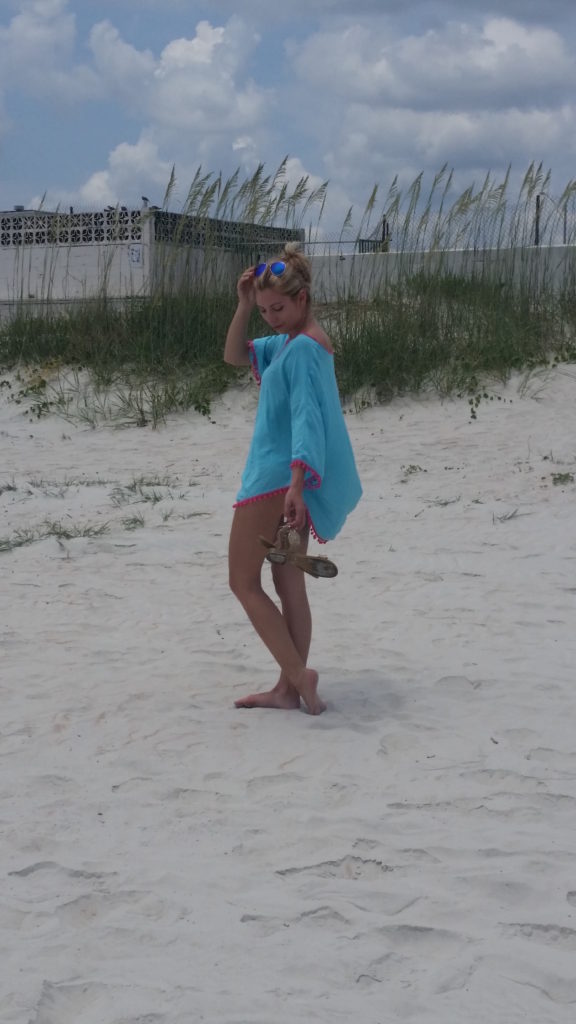 Sky Blue V Neck Pom Pom Cover Up (Sz. Small) / SheIn / Ray Ban Sunglasses / Flamingo Stud Earrings / Jack Roger Lauren Sandals – Natural (Sz. 7)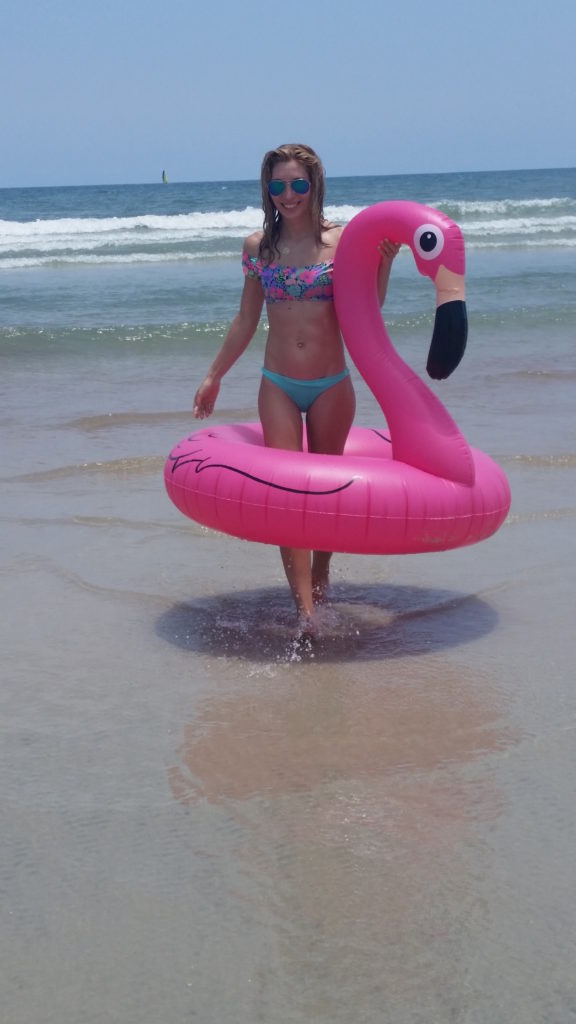 Big Mouth Flamingo Float / Similar Crop Bikini Top / Itsy Bikini Bottoms – Sea Foam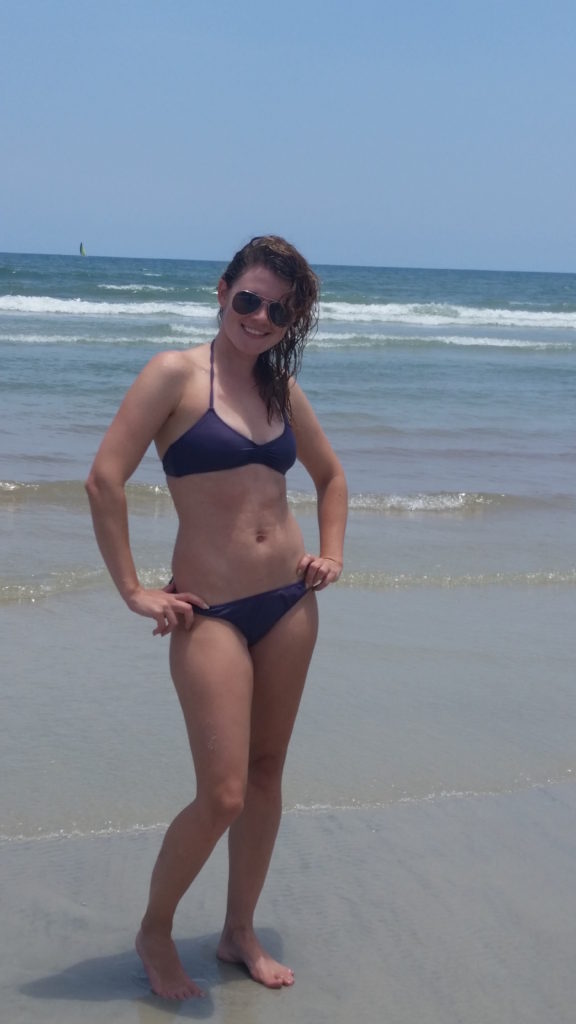 Bathing suit Victoria's Secret / Similar Top / Similar Bottom
"A vacation with your girlfriends is time to put away the everyday mommy and let out the free spirited woman in yourself and re-strengthen the bond with your friends. It's so you can build a stronger friendship and gain that bit of freedom so that you can com back home a better mommy." – Brittany Arnold
We brought some fun floats to the beach so that we could have some fun bouncing around in the waves. After a bit more tanning, chatting, and listening to music we drove home back to reality. All in all it was a really great girls weekend and I can't wait to do it again next year!
*Photography Credits: Rae Breda & Brittany Arnold
This post was sponsored by The Plaza Resort & Spa, but all opinions are my own.