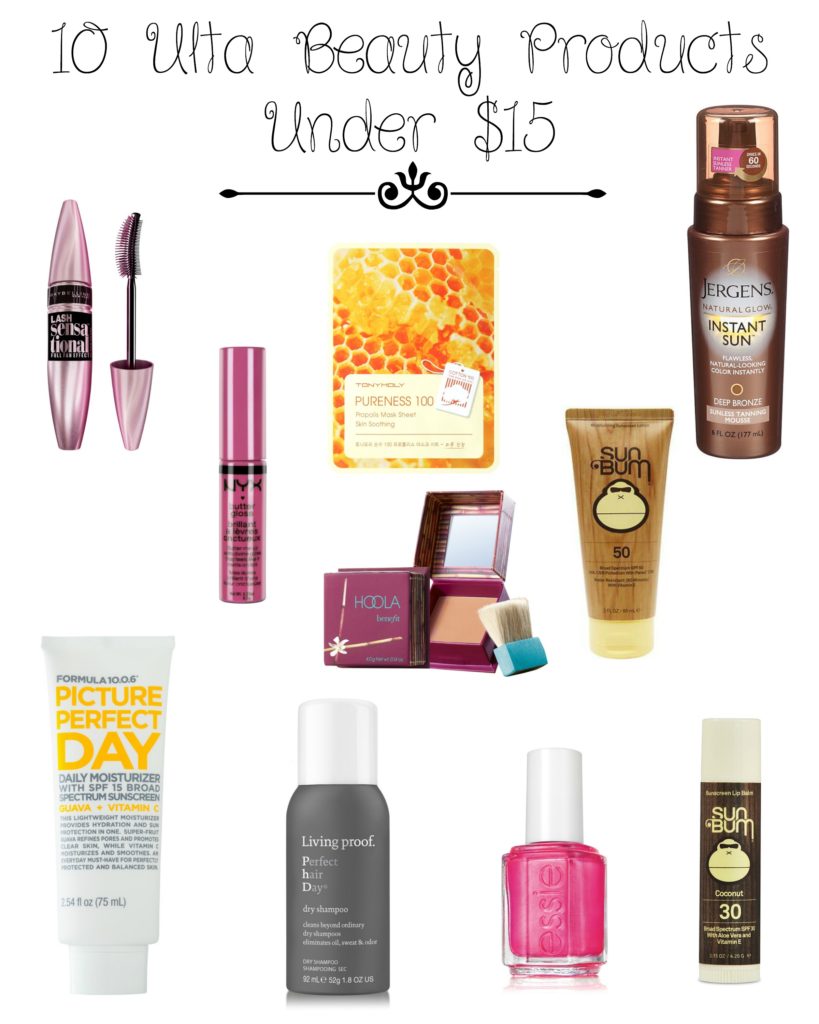 Summer is finally here and there are a few things I think every girl/woman needs for the summer. Summer is the time to wear all those bright colors, smell tropical fragrances, and give yourself a gorgeous sun kissed glow. However, you want to make sure you are using products that are going to help your skin, hair, and nails. That's why I put together these great items that I have purchased in preparation for this heat filled summer in Florida.
Jergens Natural Glow Instant Sun Mousse I love this sunless tanner because it goes on so smoothly with a glove and looks very natural. I first use a regular lotion on my elbow and knees and then pump the foam mousse onto the glove and rub it evenly all over. The product gives a beautiful tan and fades evenly after about a week.
Formula 10.0.6 Picture Perfect Day Moisturizer This is my favorite facial moisturizer. It has an SPF in it which is a must for protecting your face from sun rays every day. It is a very light weight lotion too and doesn't feel like I've put a bunch of oil on my face.
Essie Shimmer Brights – (Seen on the Scene) Essie Polishes are one of my favorite brands. The pigment and range of colors are just to die for. Summertime is the best time to show off those neon bright fingers and toes.
Sun Bum Water Resistant Moisturizing Sunscreen Lotion SPF 50 Sun Bum has a fantastic line of products from sunscreen, after sun, and lip balms. I prefer rub on sunscreen vs. sprays. This is due to the fact that the sprays do not provide an even coverage and I don't feel like it really soaks into your skin as well as the rub in lotions do. Not only does your body and face need sunscreen, but your lips are sensitive to the sun as well. This is why I always make sure to use a lip balm with sunscreen when out in the sun. The coconut flavor is my favorite!
Sun Bum Sunscreen Lip Balm SPF 30 – (Coconut)
Living Proof Travel Size Perfect Hair Day Dry Shampoo  I keep this dry shampoo in my purse due to the hot days here in Florida. We don't only get heat, but we get a great deal of humidity. My hair dresser reccommended this so that I wouldn't over wash my hair and dry it out. This is the best dry shampoo I have tried. It smells amazing and really helps to pull the oils out of your roots.
Tony Moly Propolis Mask Sheet – (Honey) Sheet masks are amazing. I normally like to get mine from the Face Shop in NYC, since my sister in-law lives there. However, Orlando doesn't have a face shop, so this brand at Ulta is just as awesome. The Honey mask smells amazing and gives a wonderful hydrating feeling to your skin.
Nyx Buttergloss – (Peaches and Cream) A fun bright gloss is a great way in the summertime to add a dash of color to your look. Wear all white or black and throw on a bright lip to make your face stand out. I love to wear neutrals and then have a bold lip be my statement piece.
Hoola Matte Bronzer Hands down I feel like this is the best bronzer I have come across. It's matte, so you don't look like you have shimmer, or highligher all over your face. You can contour with it, or just give yourself a hint of color since I don't reccommend giving your gorgeous face too much sun. You get so much pigment in a small dose with the Hoola Bronzer.
Maybelline Lash Sensational Waterproof Mascara I love Maybelline Mascaras, they have so many different versions for whatever look you are going for. Their mascaras seem to give so much volume and are priced very affordably. During the summer between sweating your butt off and the trips to the pool and beach what girl doesn't need a waterproof mascara?!?