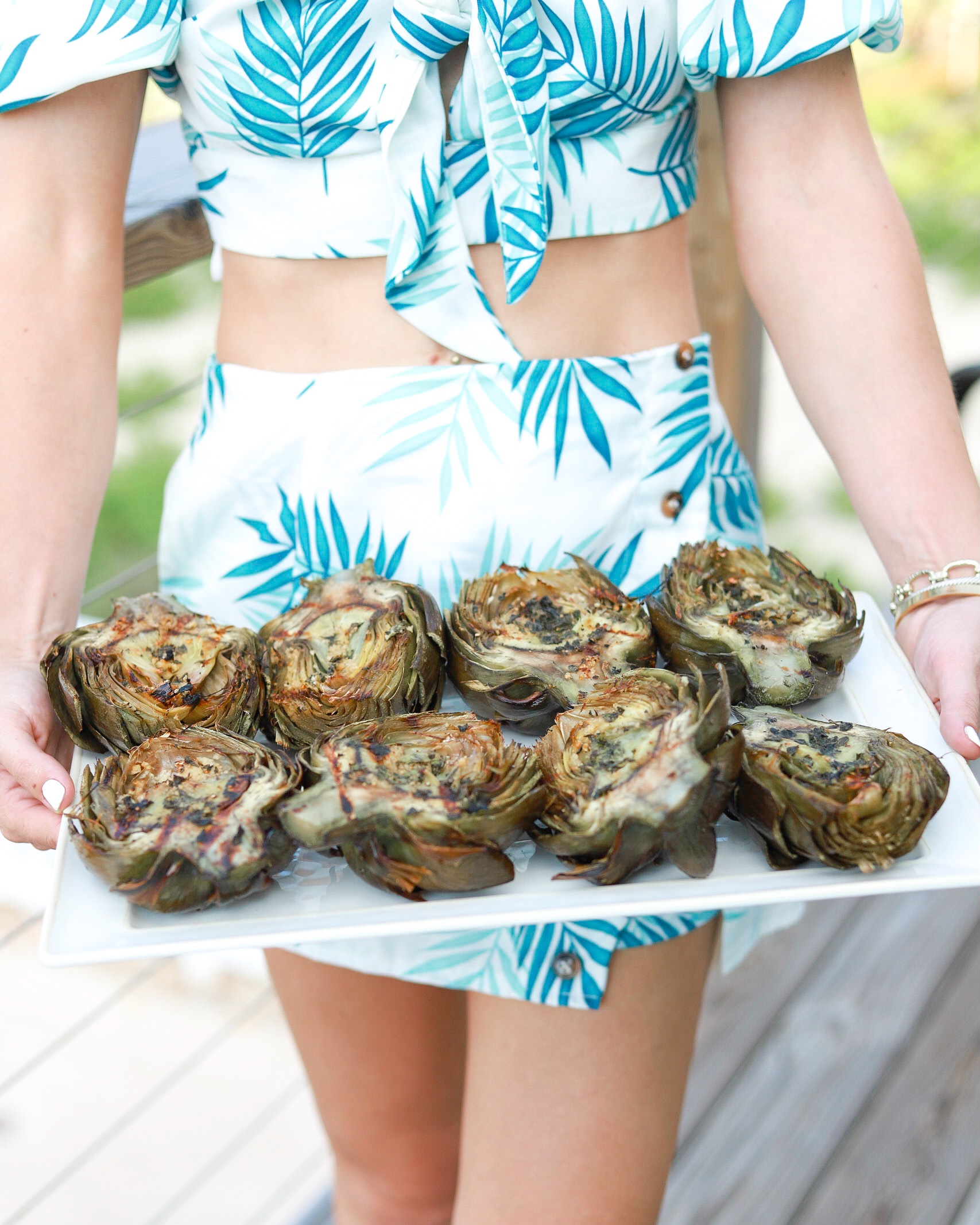 This is probably my favorite dish to eat out. Whenever I go to a place and they have artichoke on the menu, I always ask for one. You have no idea the disappointment I feel when it says that they are seasonal, I ask if they have it, and they say not right now!! Ugh, I am then constantly craving one afterwards and complaining about it LOL. However, if you have this recipe in your archive, you won't need to worry about whether you can get an artichoke at the next restaurant you visit. In fact, why even spend the money eating out, when you can bring the fancy shmancy dinner to your home. These grilled artichokes Hillstone style, will be sure to please your taste buds.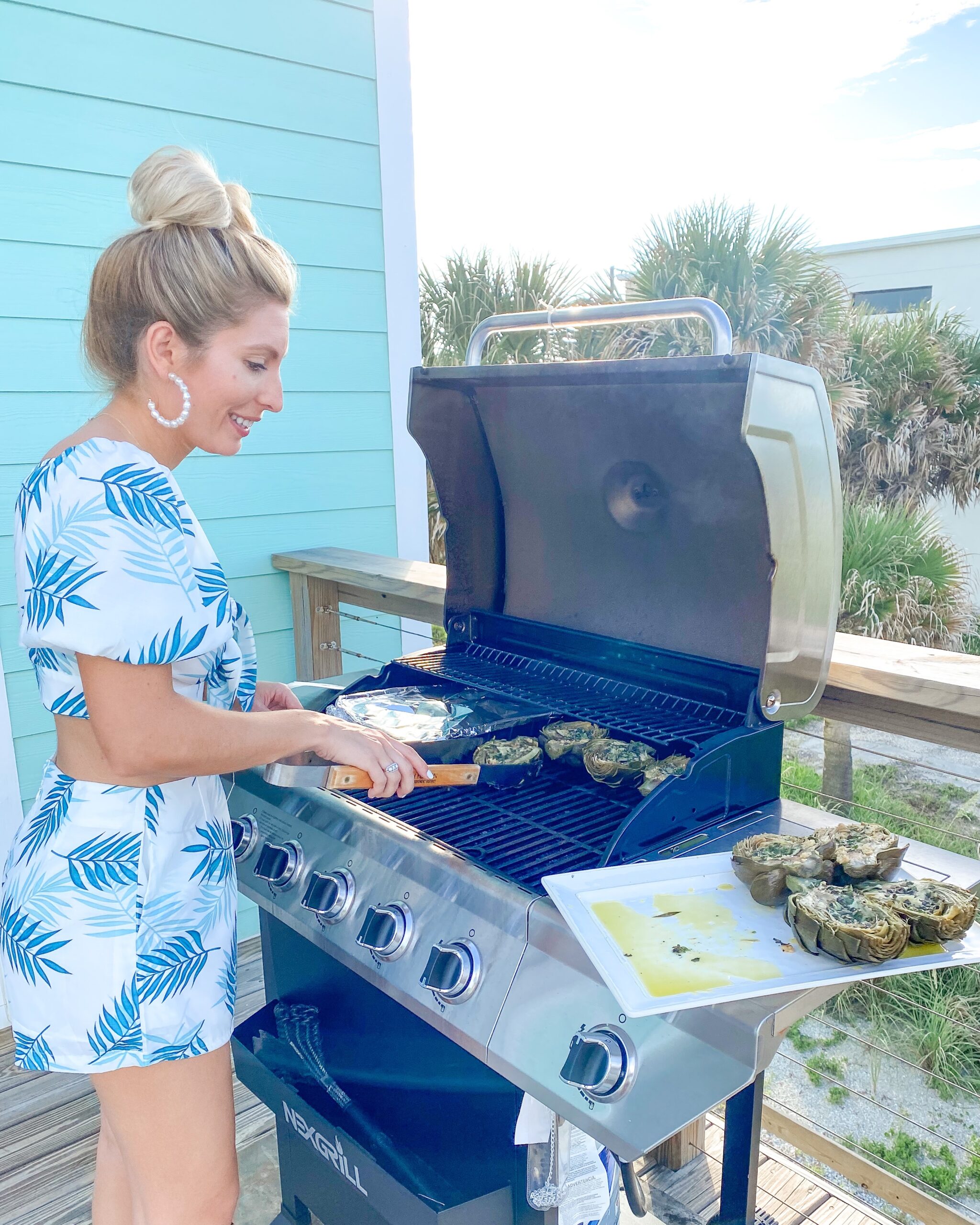 This is a great recipe to make when you are going to grill a few other things as well. We made a whole Mediterranean style meal with lemon potatoes that we put on the grill, and some other grilled vegetables. However, if you are going for a full Hillstone style meal, then I suggest to grill some steak with your artichokes. Be aware that these grilled artichokes are a two step process, you need to steam them first, and then you grill them to finish them off. So, while your artichokes are steaming you can prep the rest of your meal.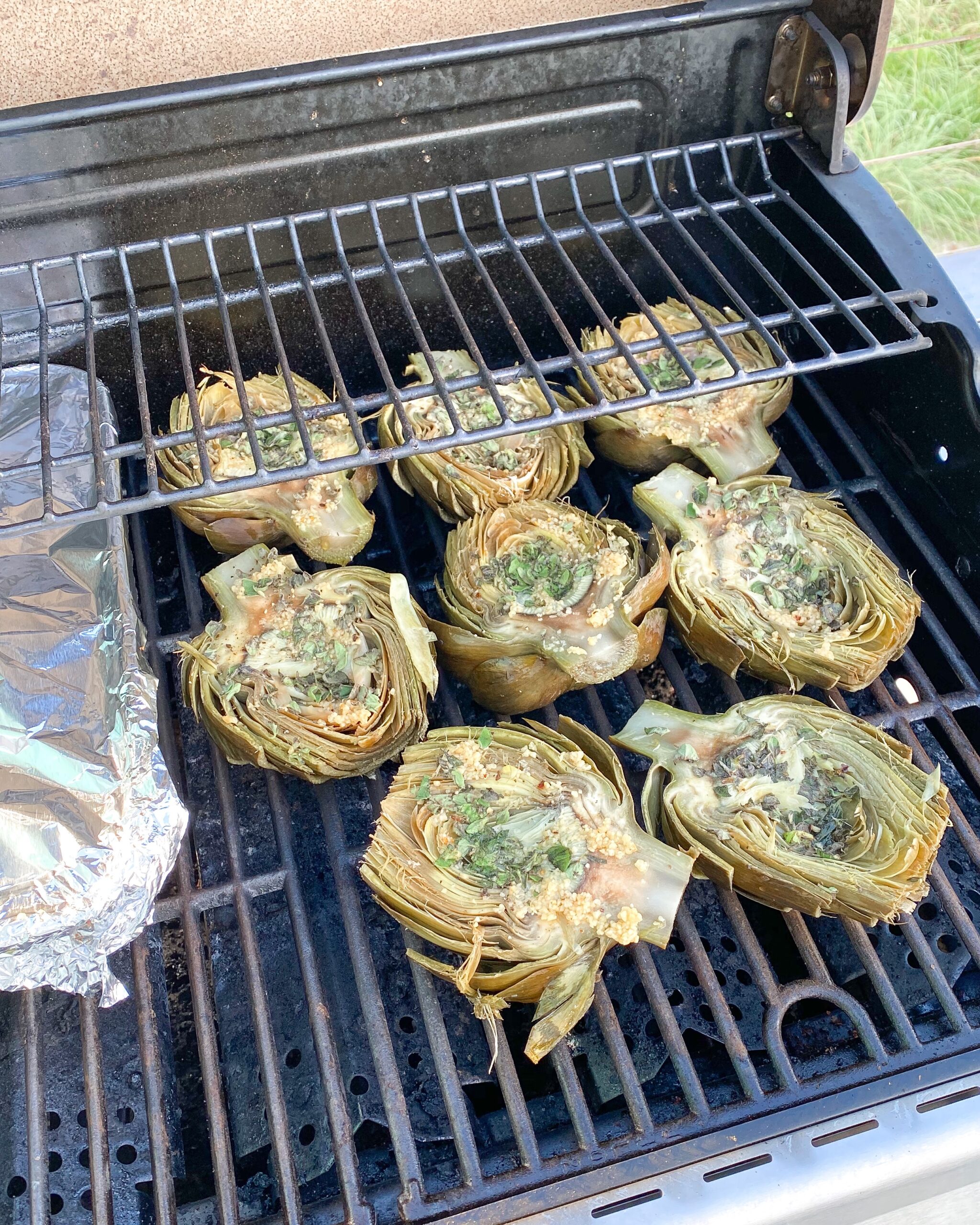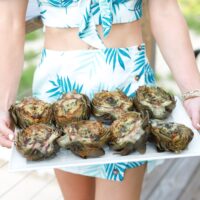 Print Recipe
GRILLED ARTICHOKES WITH AIOLI
Crispy artichokes with a lemon garlic aioli.
Ingredients
2

Large Artichokes

1

Lemon

cut into wedges

Olive Oil

5

Tsp

Minced Garlic

4

Tsp

Oregano

fresh, or dried

1/4

Cup

Mayo
Instructions
Cut about 1" off the top of your artichoke, and cut the sharp tips off all the artichoke leaves with scissors. Have lemon wedges handy so that you can rub lemon all over the edges and cut parts of the artichoke, which helps to prevent browning.

Cut the artichokes in half. Use a metal spoon to scoop out the fuzzy chokes and the small inner artichoke leaves. Rub lemon juice all over the inside and exposed cut areas of the artichokes.

In a pot with a steamer; add 1" of water. Put it on high heat until the water begins to boil, and and then turn down to a medium heat.

Place the artichokes cut side down, cover, and steam for 20-25 minutes. You will know they are done when you can pierce the heart easily with a knife because it's tender.

While the artichokes are steaming; you can make your aioli. Combine the mayo, 1/2 of the lemon juiced, salt, and 1 tsp minced garlic til blended. Refrigerate.

Prepare the grill with a high heat, aprox 400 degrees.

Rub olive oil all over the artichoke halves. Then take your minced garlic and rub 1 tsp into the cut side of each artichoke. Top with fresh, or dried oregano, and kosher salt.

Grill the artichokes on each side for 5 minutes and try to grill them on an angle, so that you get nice grill marks. Enjoy with the aioli!
Outfit: Shein | Shoes: Franco Sarto | Earrings: Target | Necklace: Kendra Scott
Use my code SSW1205 for 15% off your purchase at Shein.
Xoxo, Nikki