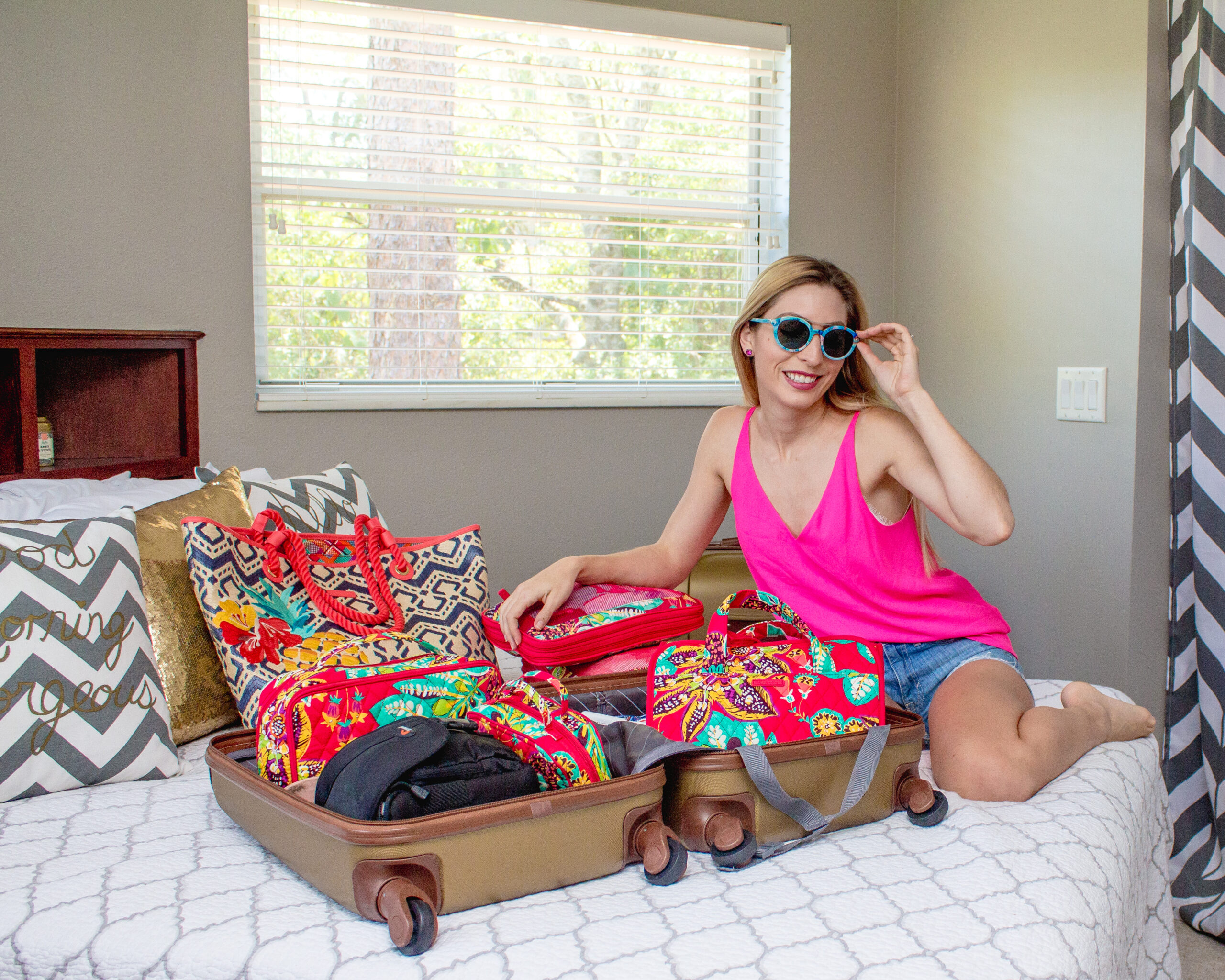 Happy Tuesday fashionistas! In one week, I will be heading off on my summer vacation woot woot! I am an avid over packer and I really am not a fan of this chore haha, therefore I wanted to save your brain and your suitcase and assist you with some packing tips! When the manager at my local Vera Bradley reached out to me about collaborating, I knew this would be a great time to share with you some of the amazing products they have to help you with your traveling needs!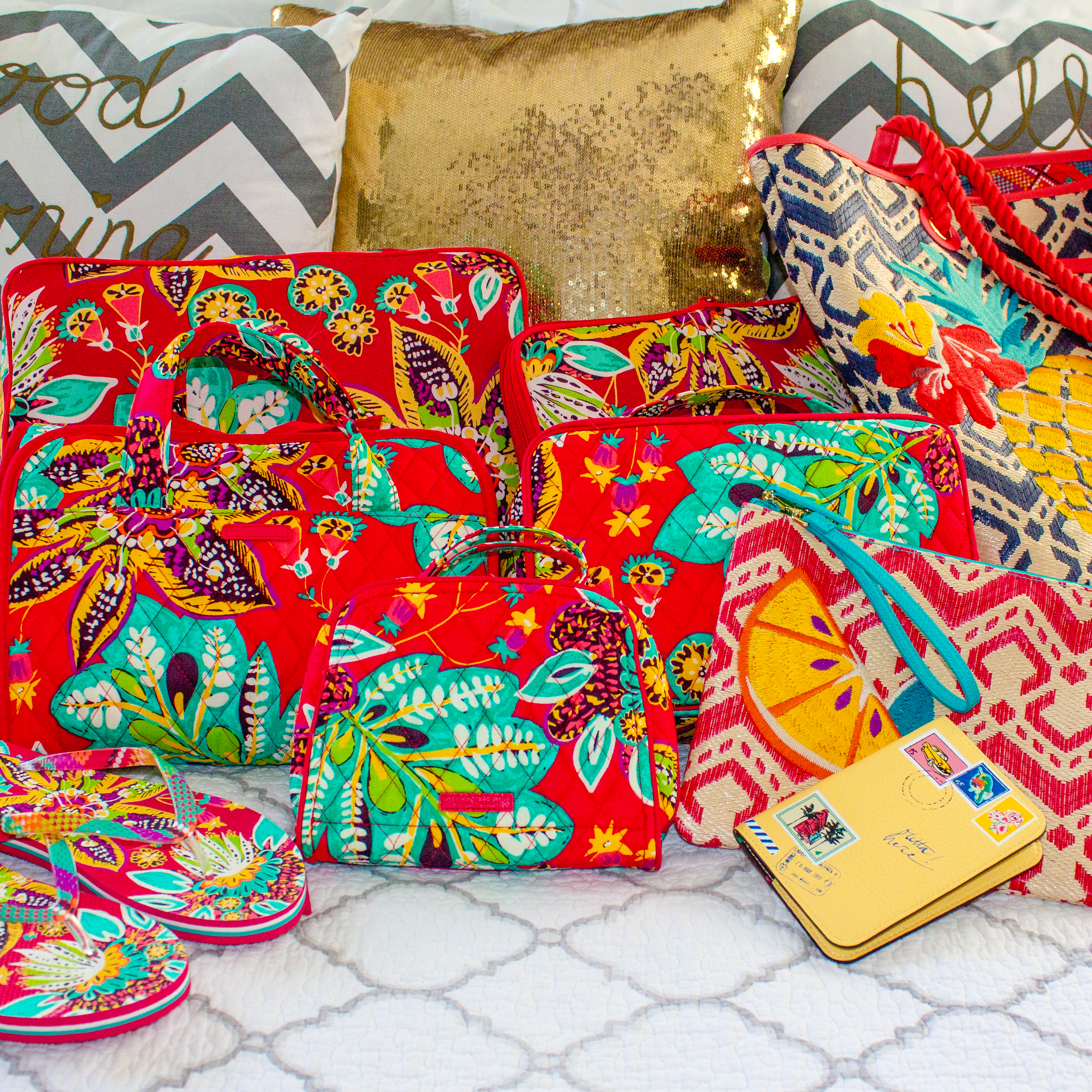 *This post is in collaboration with Vera Bradley and these products were gifted for me to review, but all opinions expressed here are my own. 
First thing first, is your carry-on luggage. This should really contain the items that you consider to be most essential and would need within the first 24 hours of your trip. Sometimes luggage gets delayed, or lost and you don't want to be left stranded without your most needed items.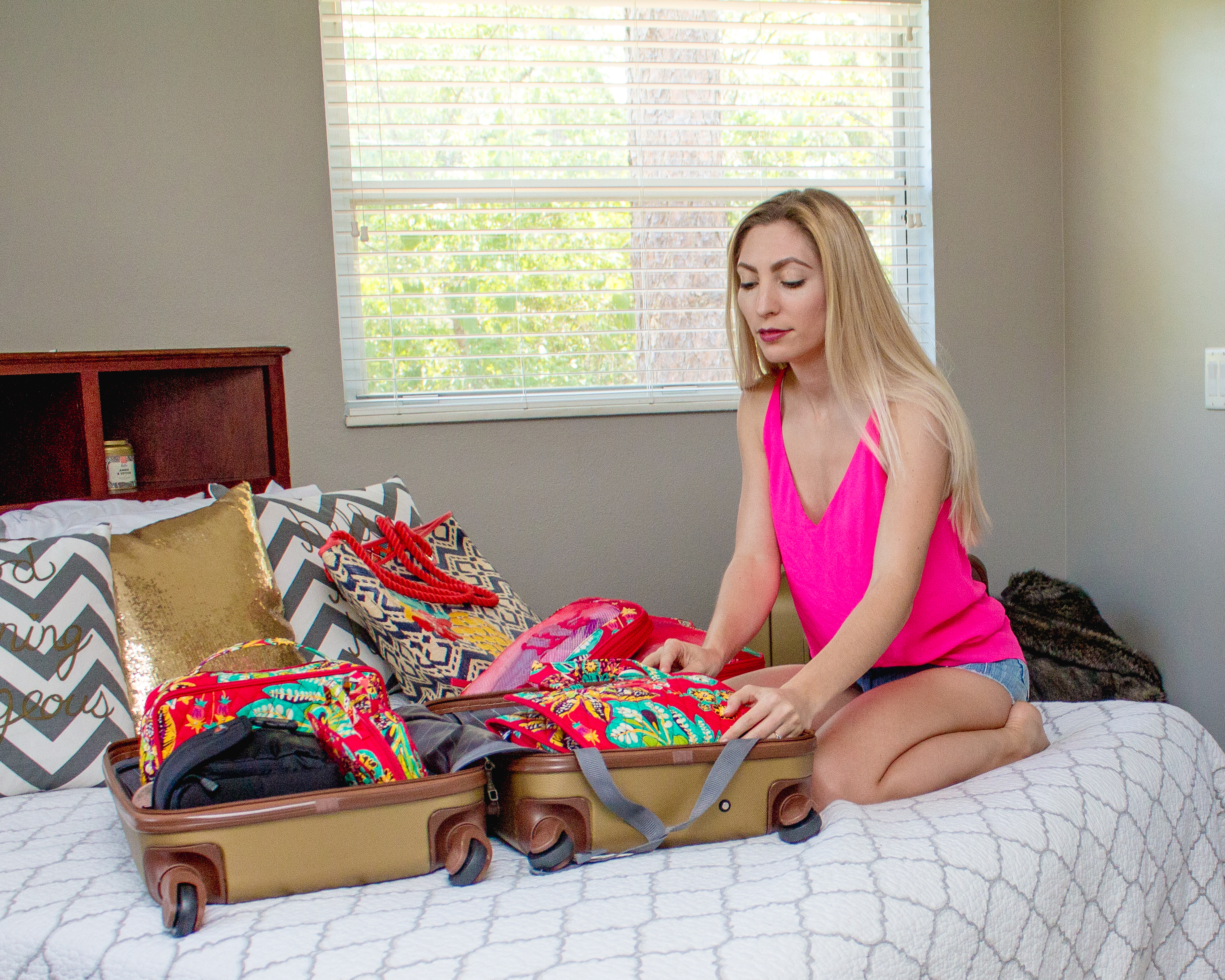 Here are few tips when packing your carry on:
Make sure to pack all of your most valuable items in your carry-on, including jewelry, cameras, and designer bags.
Pack a change of clothes (including underwear!) just in case your checked bag gets lost (knock on wood).
For a beach vacation, make sure to pack a bathing suit and travel sunscreen, this way you aren't forced to buy these items for a higher price when you reach your destination.
Some other important items – chargers, meds, headphones, a book and anything you will need to be comfortable on the plane!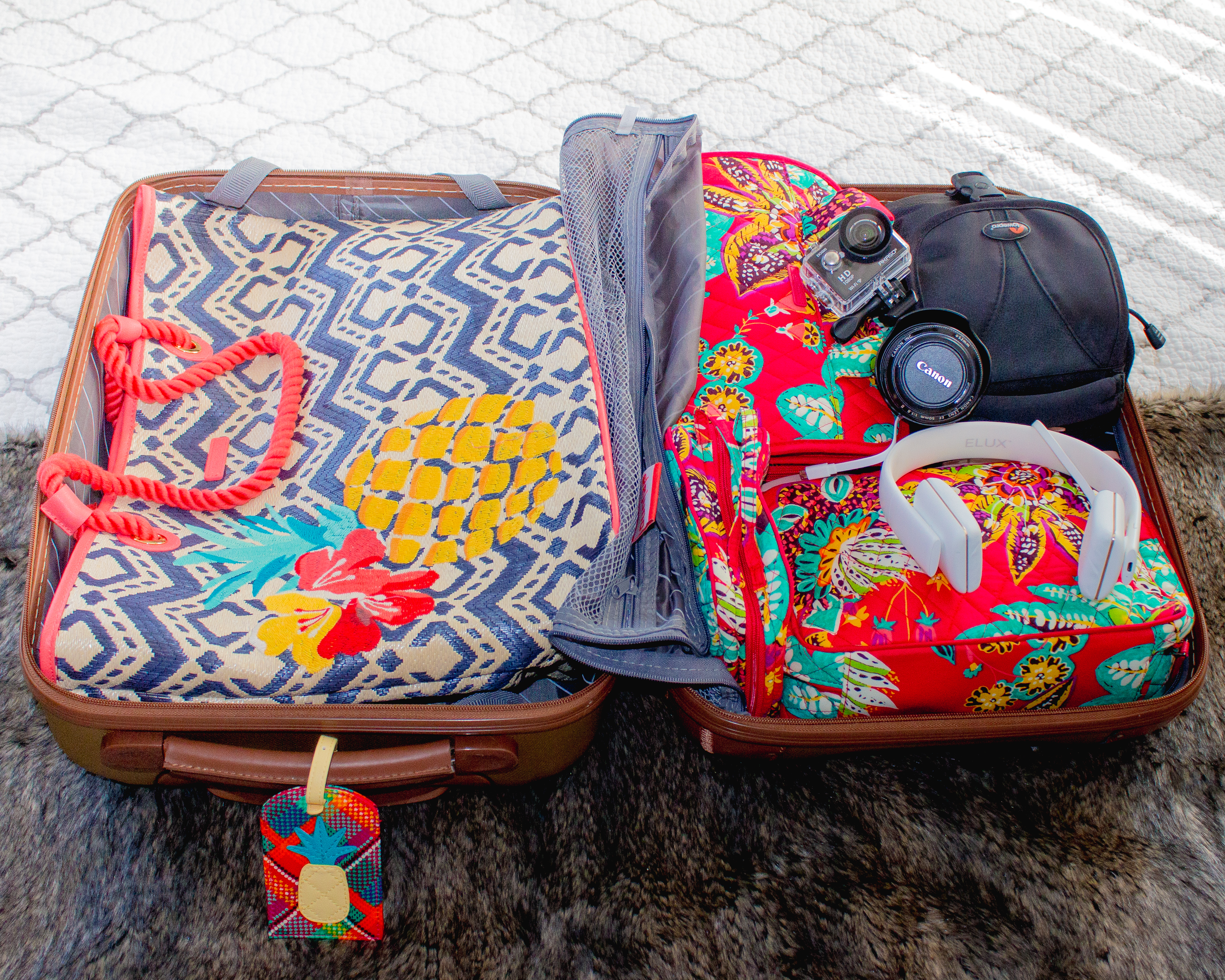 Here's a quick look into my carry-on…on the right side, I pack my most valuable items including jewelry and a few pairs of my sandals. I use the Vera Bradley Travel Jewelry Organizer – inside it has two large and four small clear pockets, plus two additional elastic slip pockets, and one padded ring strap.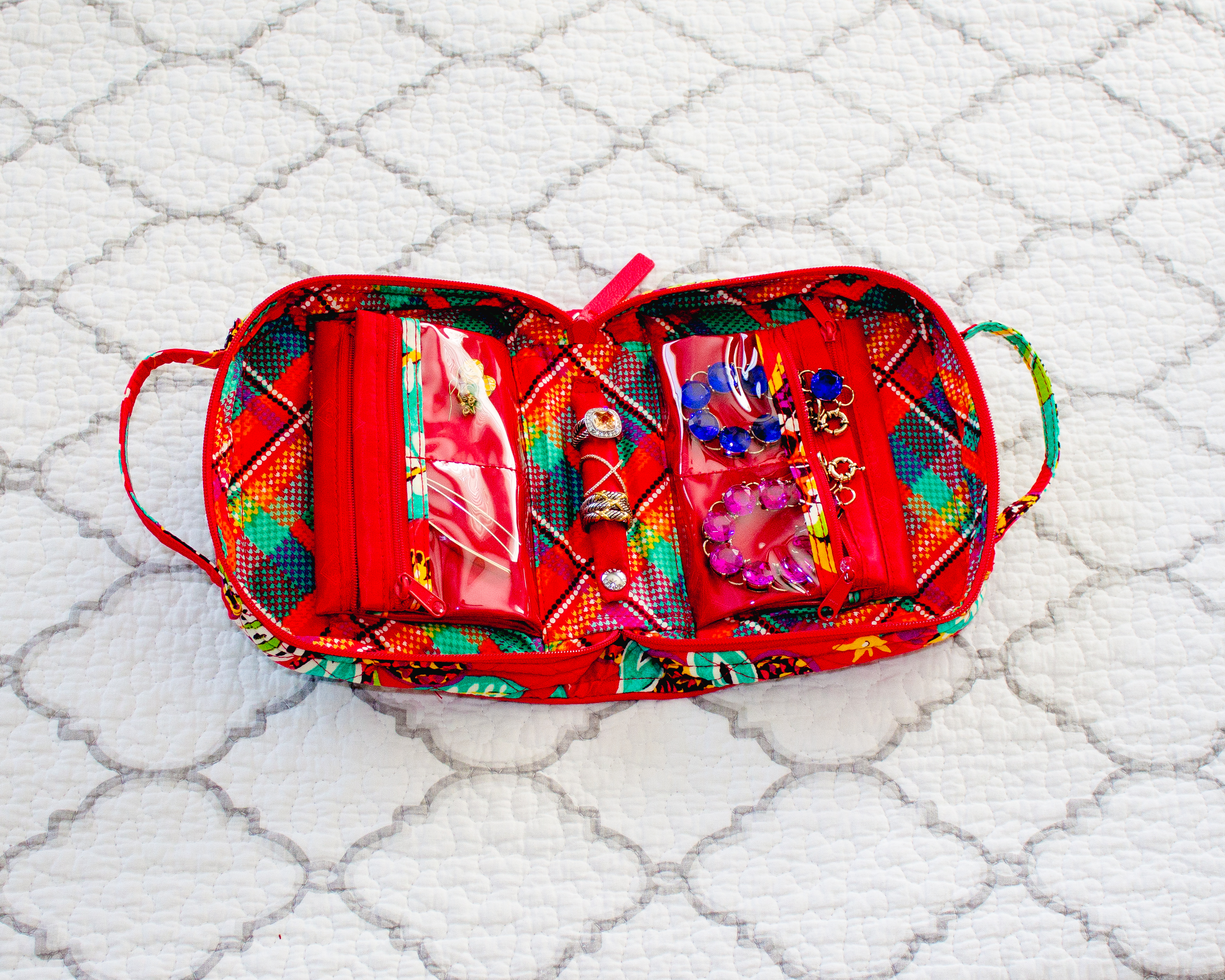 Other items I pack in my carry-on include:
My Specter Wireless Headphones, so I can listen to music, or movies on the plane.
My Canon T4i camera and my action camera, for taking blog photos and getting any fun video while traveling.
Straw clutches and my Vera Bradley Straw Beach Tote.
An extra bikini
All of my sunglasses (This pair is my fave because they are prescription)
A change of clothing (plus bra & underwear)
Essential makeup & toiletries under 3 oz each
Chargers for all of my equipment
My iPad Mini and laptop
Bathrooms when you travel, are not always set up to easily set out all of your toiletries. This is where a Hanging Organizer comes in handy! I make sure to find travel size toiletries, or to get some small containers to put some of my favorite beauty and skin care products into, this frees up way more space and then you can also pack them into your carry on! Remember the TSA size items need to be 3 oz, or less.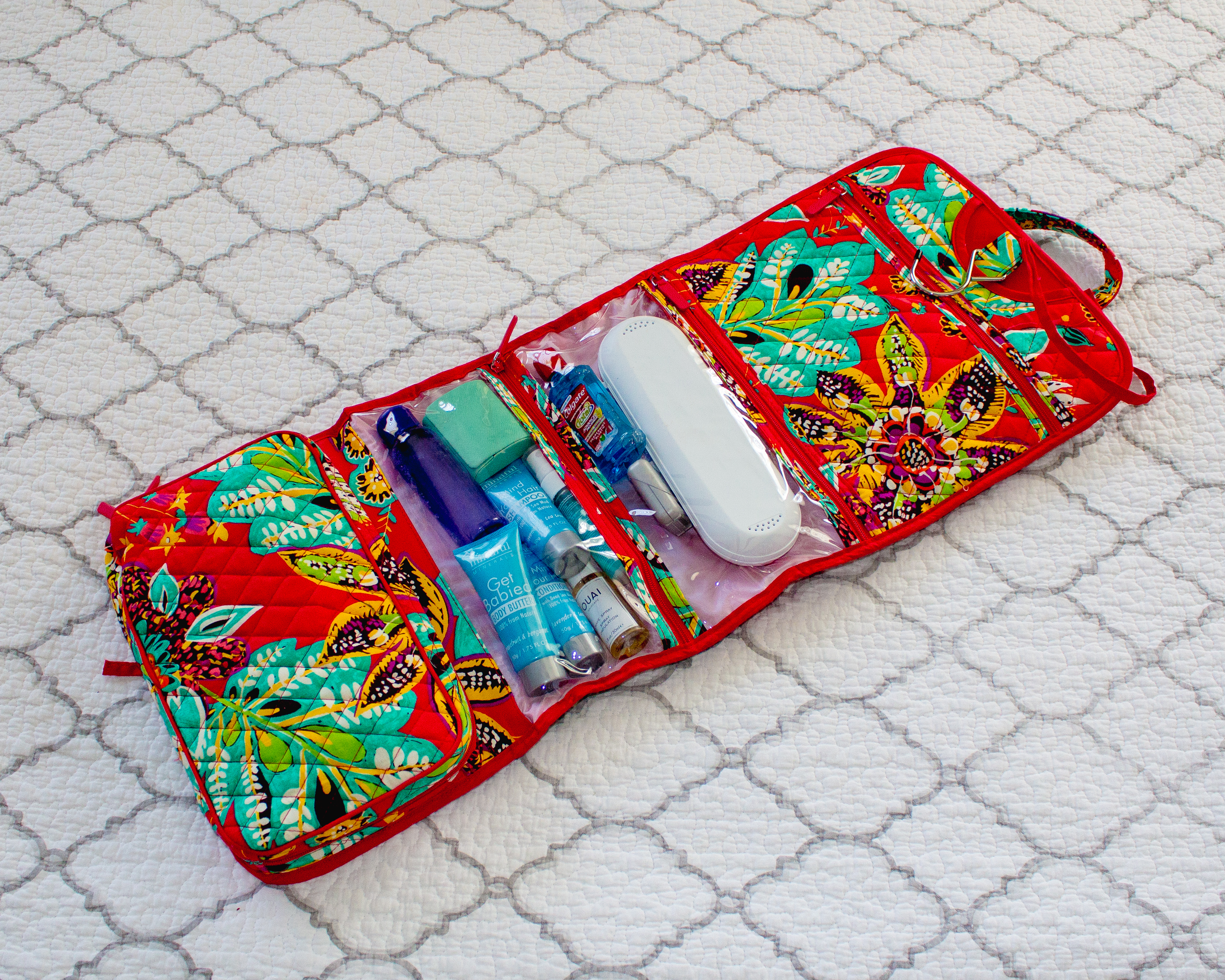 Makeup is a whole other ball game as well! I only like to bring whats necessary when traveling, but that includes makeup and brushes!! The great thing about the Vera Bradley travel collection, is that they have different cosmetics cases based off of what you need. I picked the Large Blush & Brush Makeup Case, which has pockets to hold all of my makeup and spots for my brushes as well, this way I can keep everything together in one case.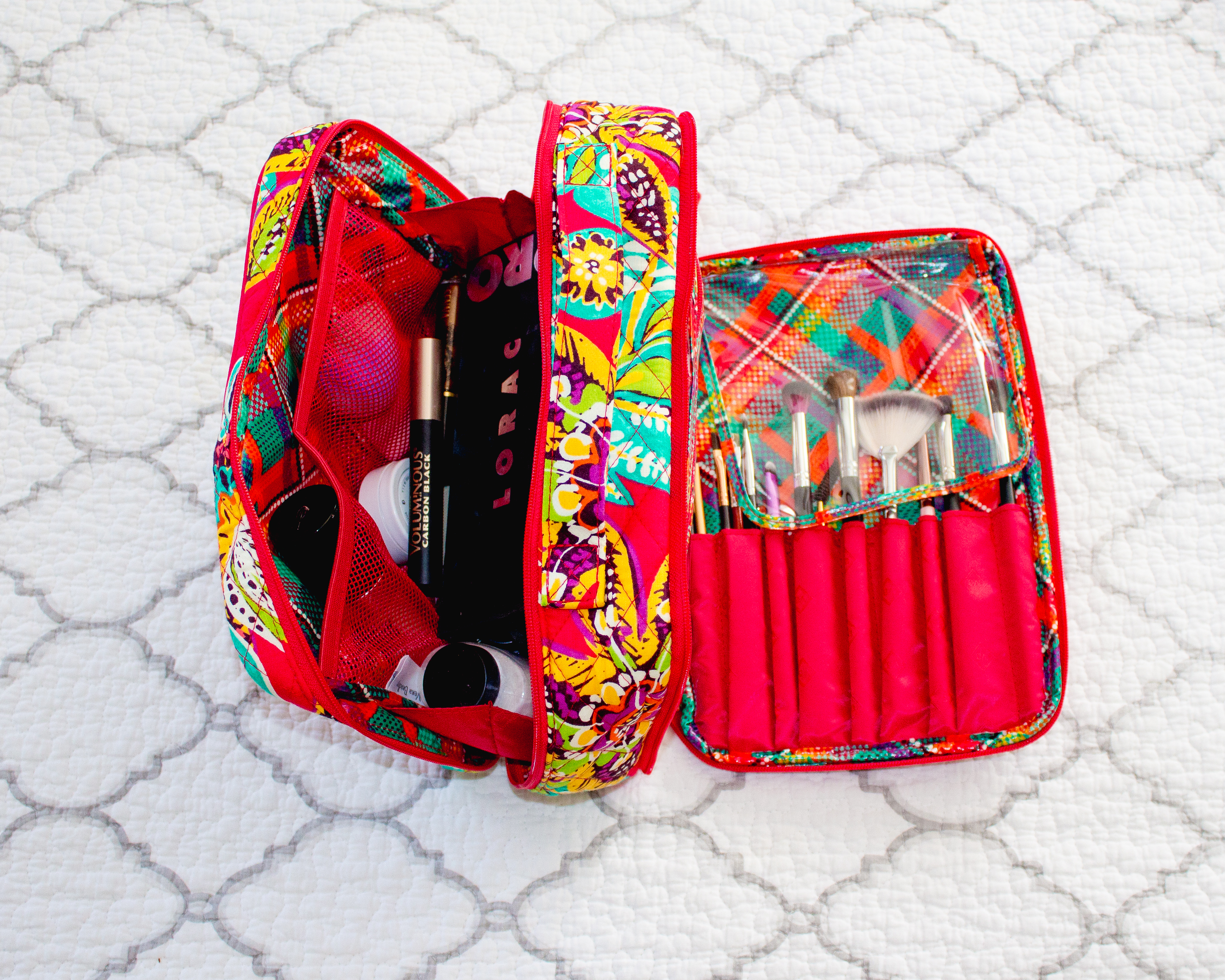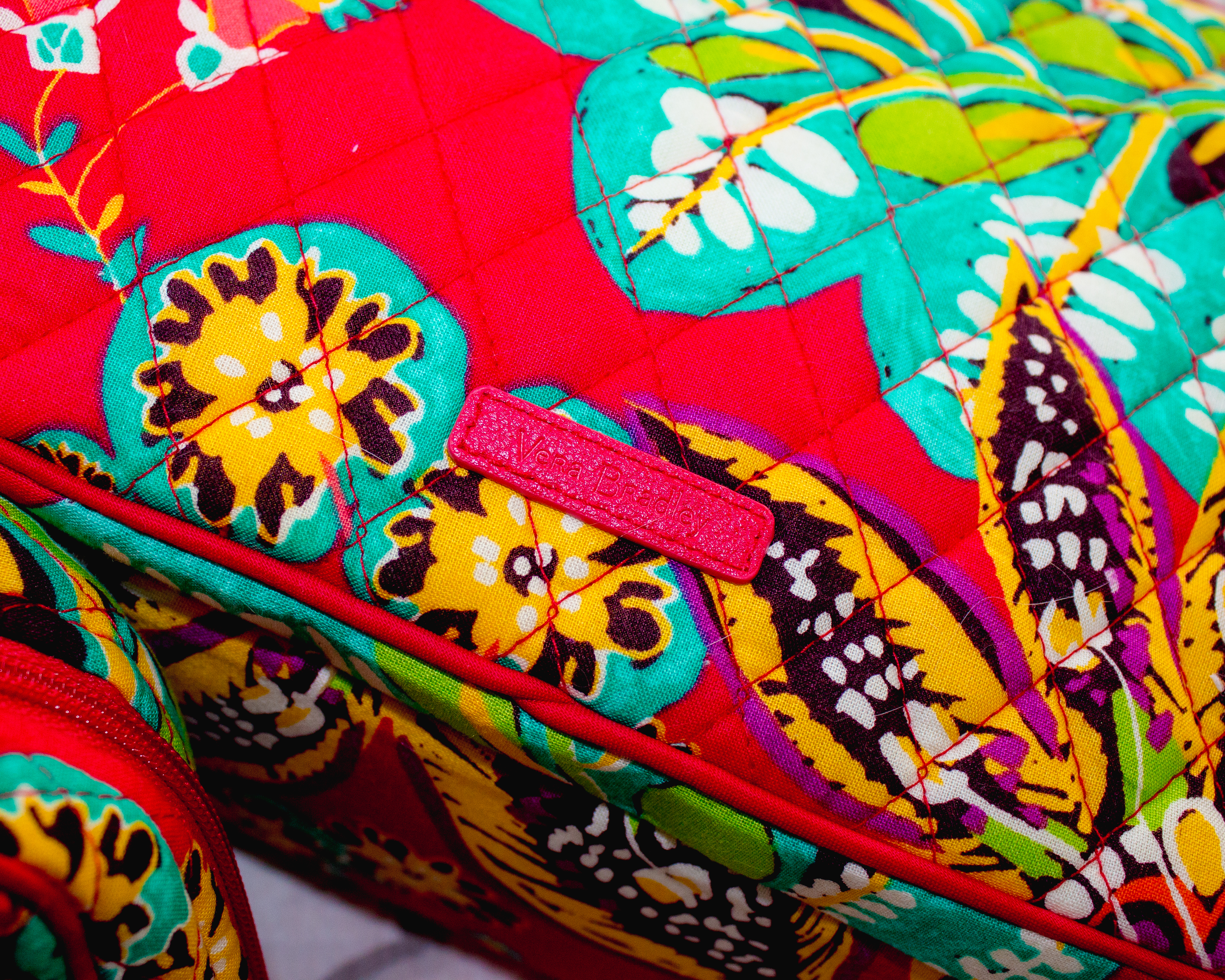 I am so in love with this bright tropical pattern, which is perfect for summer!!
Moving onto checked baggage! I always attempt to pack way more than I should into my checked luggage… lately I have been weighing it ahead of time to make sure its under 50 lbs! When planning out my clothing for a trip, it really is a big help for me to create an excel spreadsheet. I create outfits by day and try to decide which pieces I can wear more than once and what accessories will go with the different outfits. Then I lay everything out on my bed to help me get a visual of the outfits and so that I don't forget anything!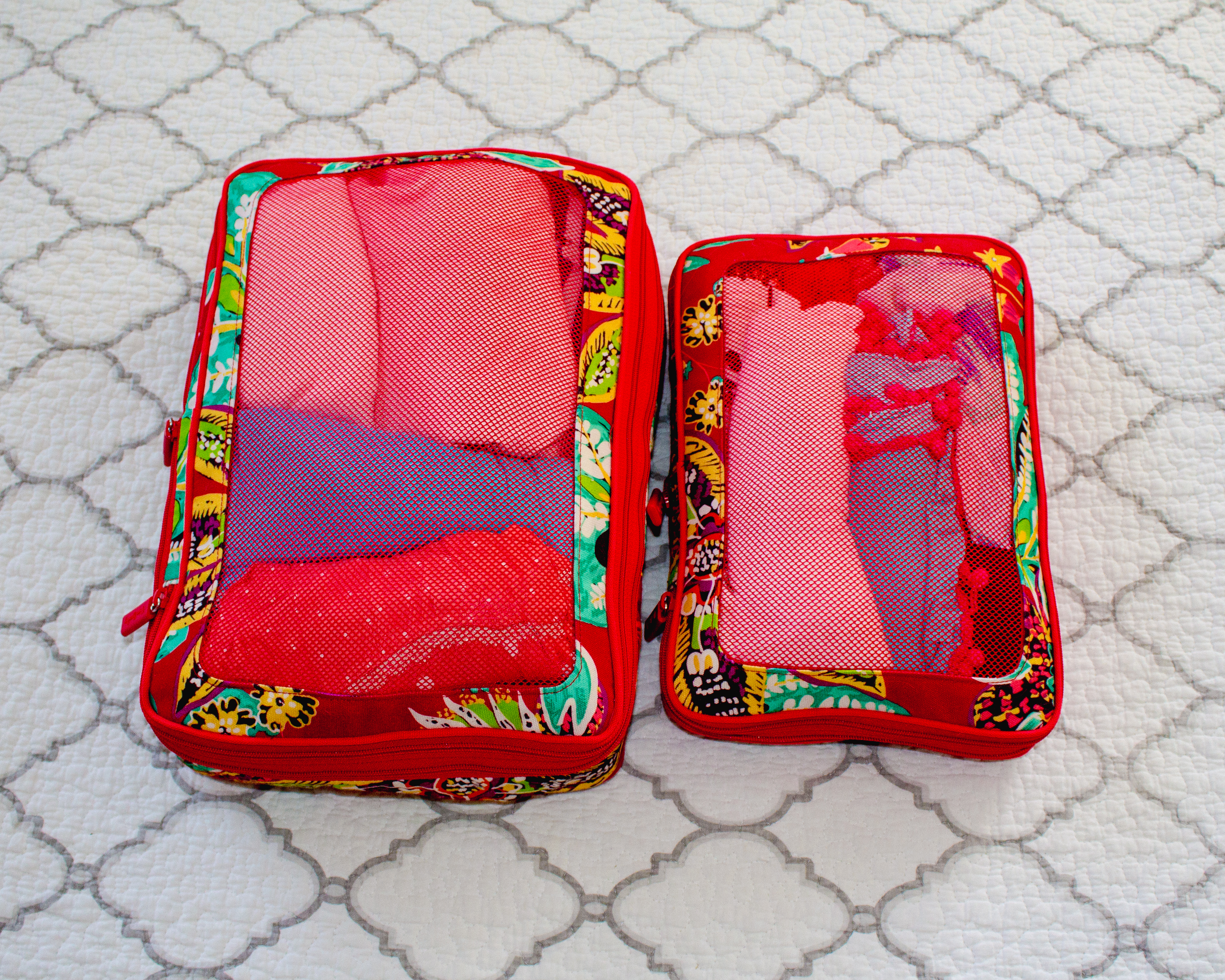 Since I always need to figure out ways to fit more clothing in my suitcase (already told you I had over packer problems haha) these awesome Vera Bradley Expandable Packing Cubes have been a god send. The Medium Cube is great for thin materials like tops and light weight dresses. The Large Cube is what you would use for thicker items like jeans, jackets, and heavier dresses. The best way to use these, are to unzip them completely and then roll all of your clothing and pack it tightly. Zip the cube closed and then zip the second zipper compressing all the clothing inside to at least half of the original size. This will really help you stay more organized and then you can use these to put the dirty clothing in during your trip. Here's what I was able to fit inside the two packing cubes: 1 dress, 4 cover ups, 1 jeans, 1 skirt, 4 shorts, and 8 tops (plus there was still room for more).
Here are a few tips for your checked bag:
Lay out your outfits on your bed before you pack them so you can make sure you have everything
If you're packing purses/bags, fill them up! I like to put purses inside of purses to save space and help them keep their shape.
Pack the majority of your toiletries & makeup in your checked luggage, because there is no size limit
Use balled up tissue paper to help shoes keep their shape.
Pack multiple swimsuits because you don't want to have to wait around for one to dry.
Also, do not pack delicate straw hats! I always carry mine onto the plane with me.
Today is the last day of the Vera Bradley Memorial Day Sale as well!! Select patterns are 50% off online only, so head on over and check it out before it ends!!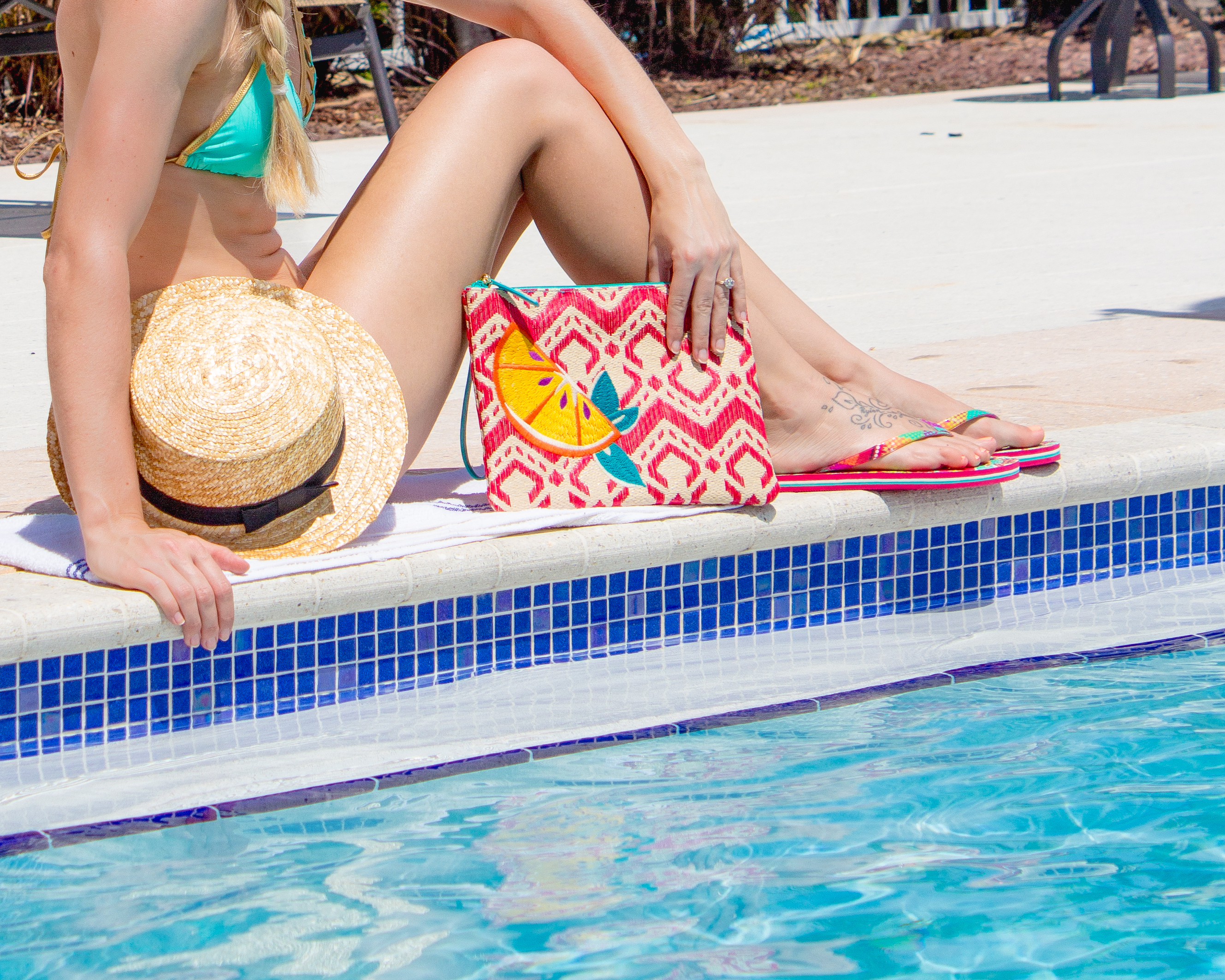 Last, but not least…come and hang out with me at an in store event at Vera Bradley in the Orlando Mall at Millenia on June 17th if you are in the area! The event will take place from 1-3 p.m. and during this time you will be able to take an extra 15% off your purchases when you shop in store, or call in to shop! I have an additional coupon for you to use as well for $30 off a purchase of $125, or more, so if you would like one leave a comment and I will get that to you!! There will also be a giveaway during this awesome event!! Vera Bradley will be giving one lucky winner a pair of 
Flip Flops
in the color Rhumba and this really cute
Straw Beach Wristlet
, which is great for summer! These are two items that you want for your next beach trip!
Side note
, if you can't make it into the store call 
(407) 354-4495 and you can get entered into the giveaway remotely plus you can still take advantage of the one day sale. 
SHOP THE POST:

Cheers to a fabulous week!!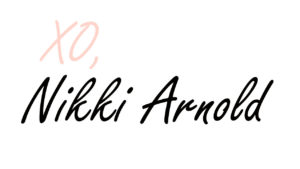 PIN IT