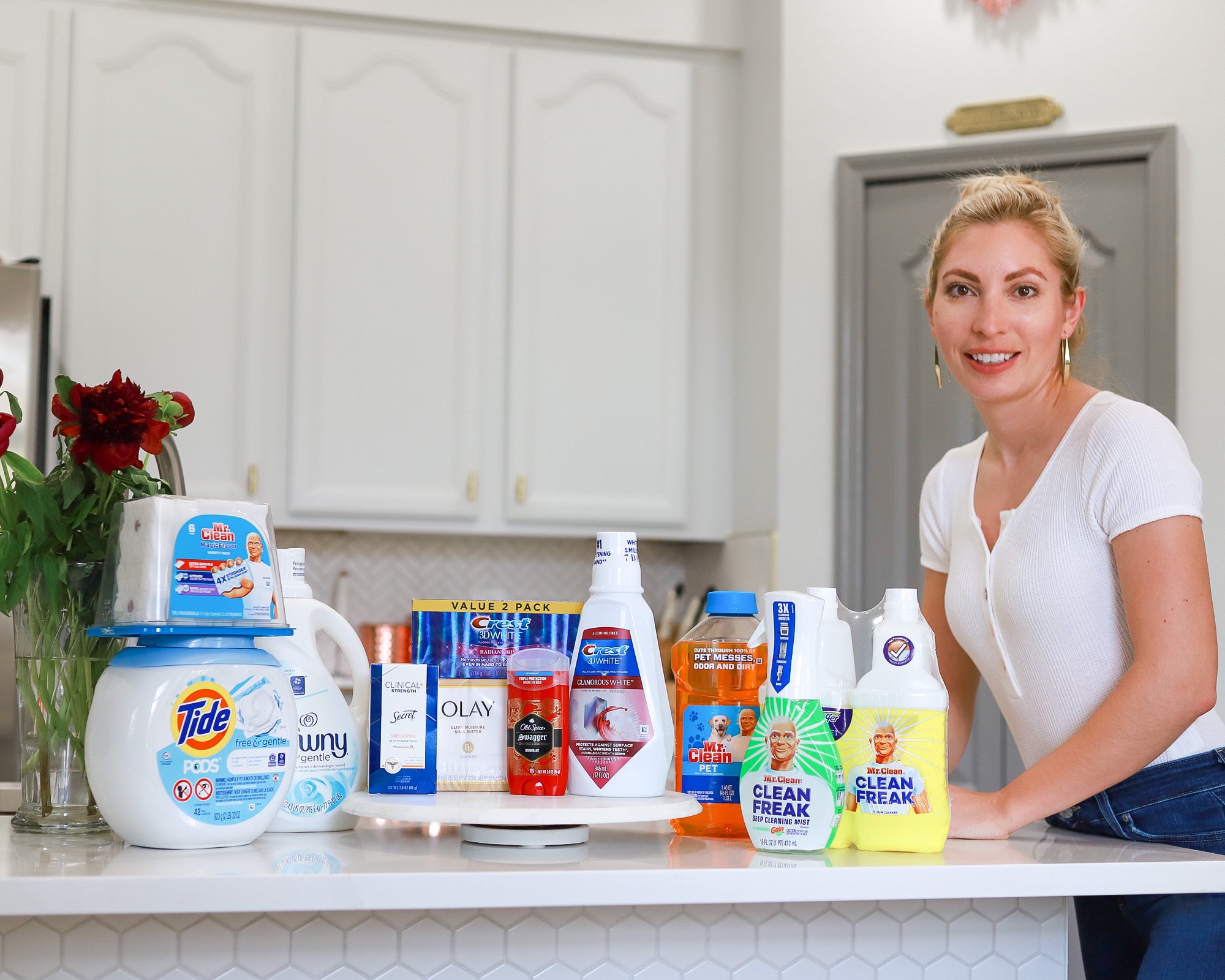 This post is sponsored by P&G. All thoughts and opinions are my own,
Who remembers last year when we were first in quarantine? There were so many items in short supply. My mom always taught me not to over buy, but when you go without toilet paper, you learn what items to stock up on. Being a mom of two boys also has taught me to have extras tucked away to pull out, like when someone runs out of Crest toothpaste, or Olay soap. This is why I'm so grateful for a way to stock up with the Publix Stocking Spree and earn up to $120 a year in Publix gift cards!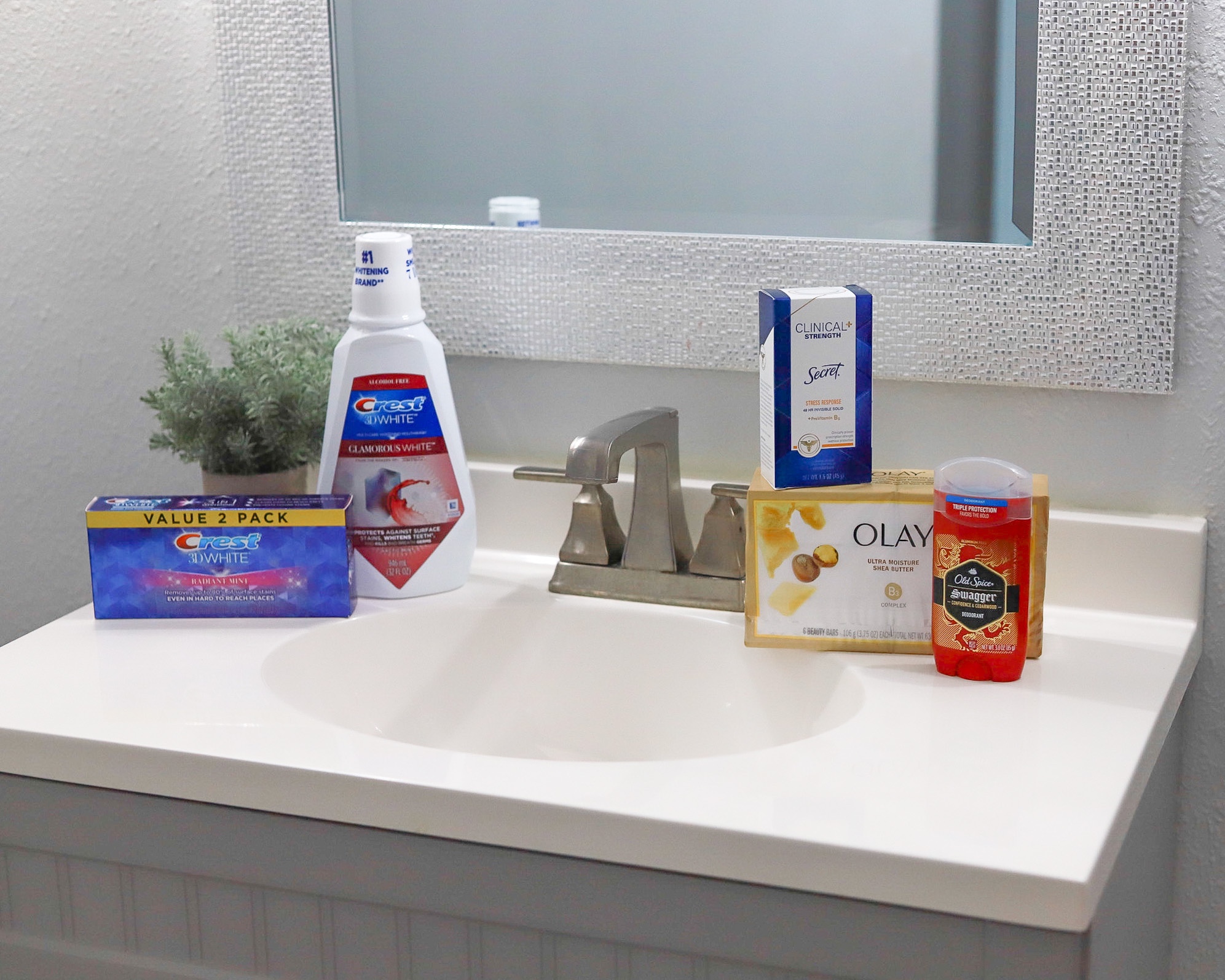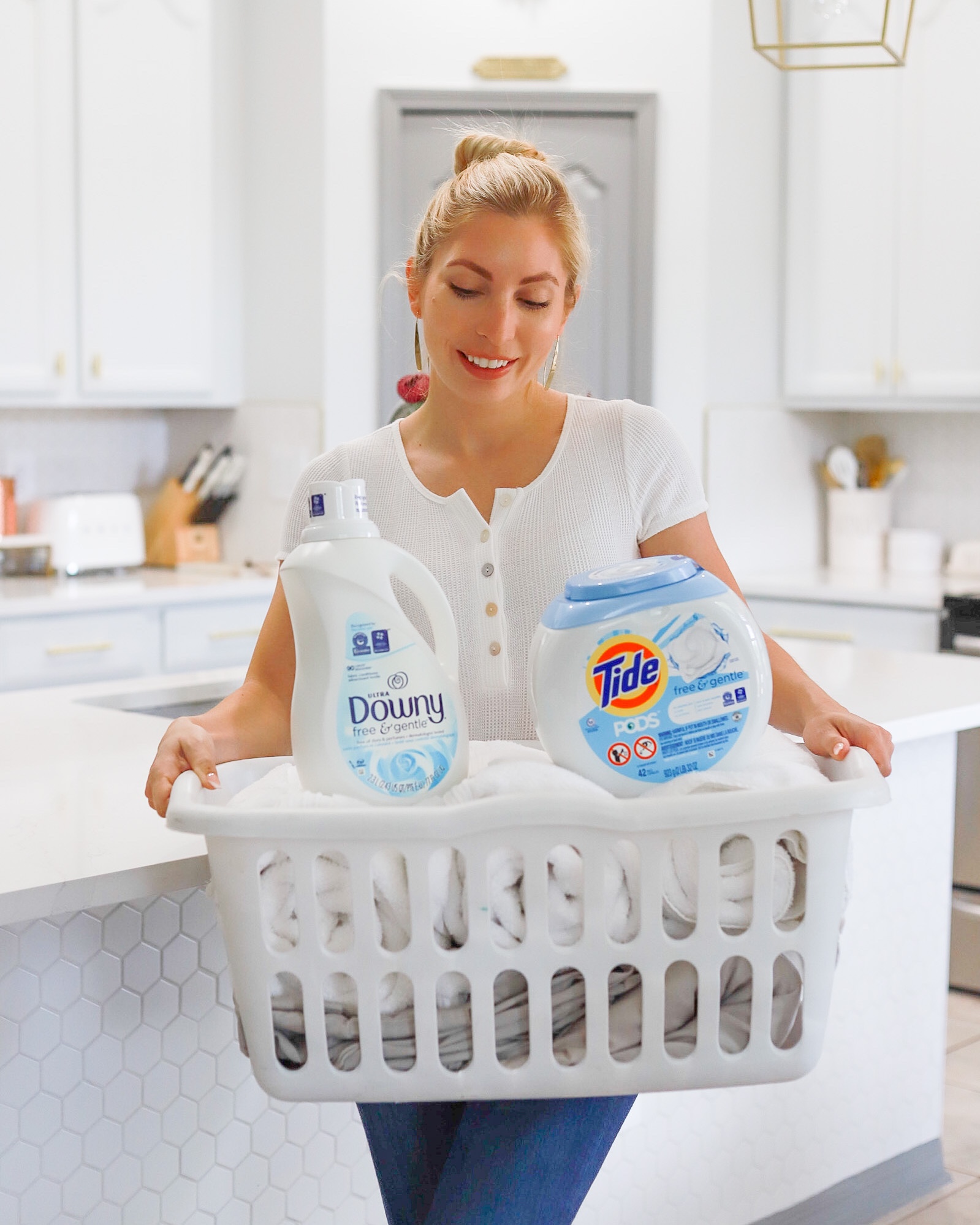 Detergent is another staple that we go through regularly, and it always seems like we need more Tide & Downy! Plus, even though we are not entertaining like we used to, I swear we go through more cleaning supplies than I would like. I will say that having the kids home so much makes plenty of extra messes for me to clean up. Thank goodness for Mr. Clean, he's my go to guy!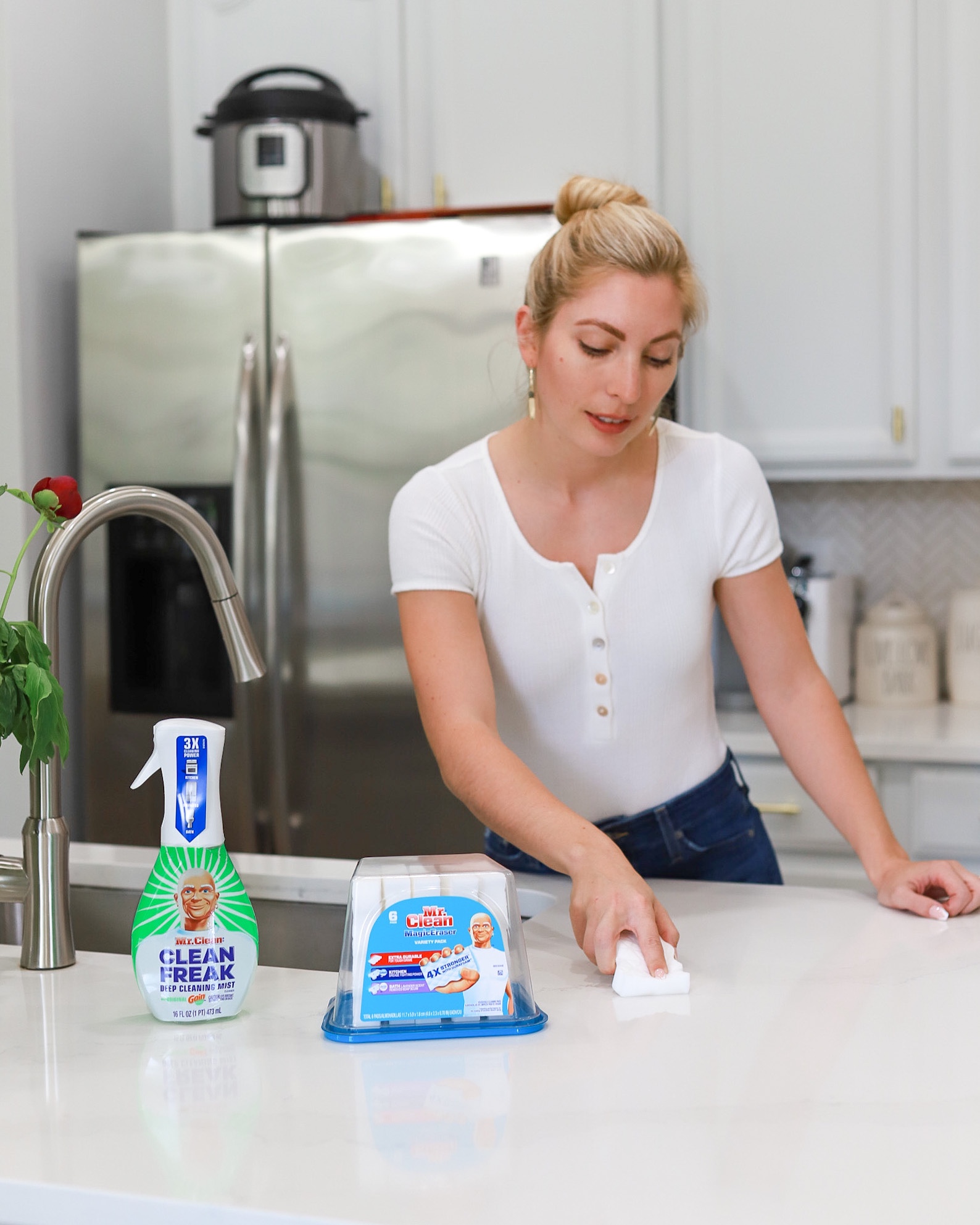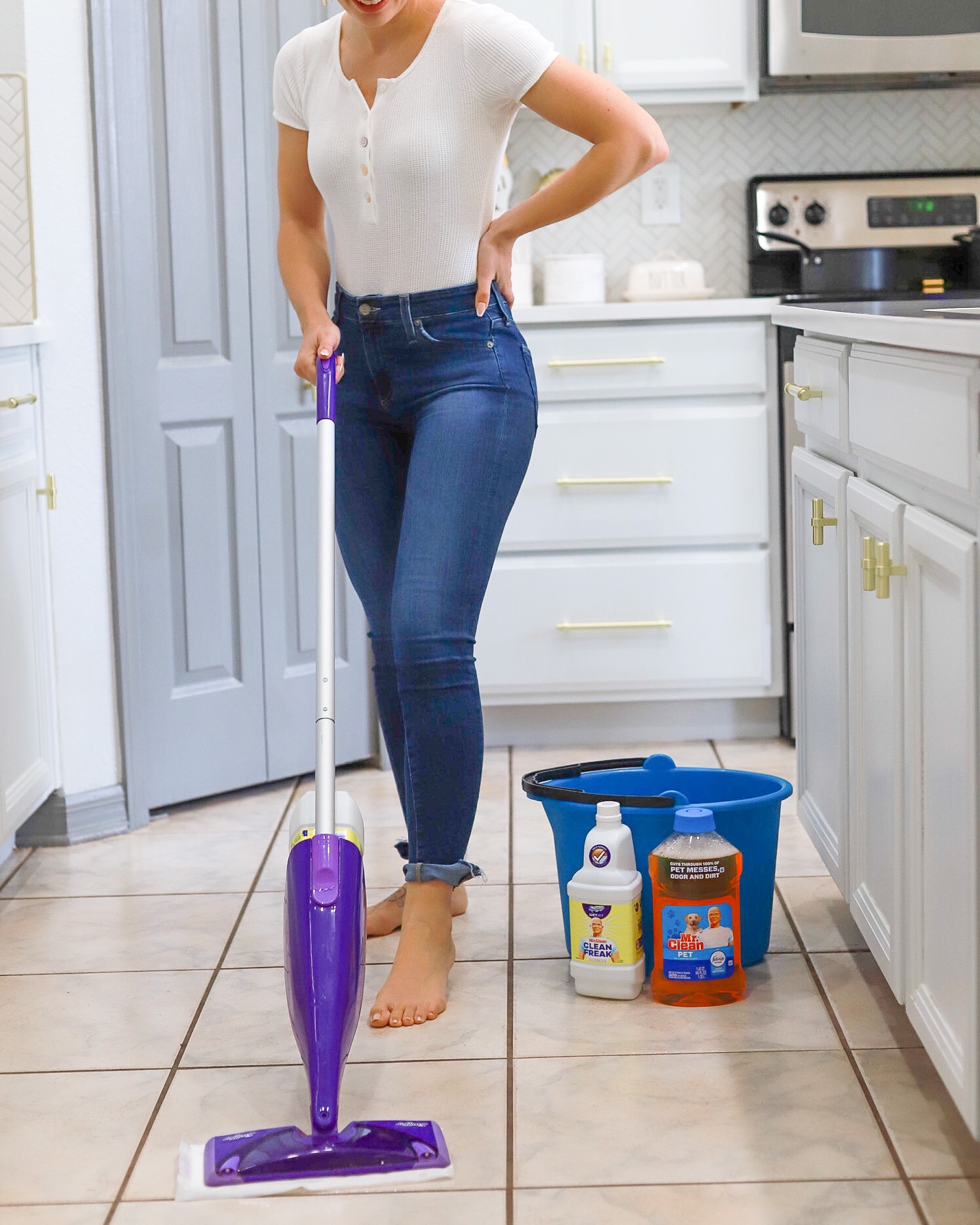 When it comes to grocery shopping, I know we all love a good sale. But, there's nothing better than being rewarded for buying the things you need anyway – like all the items I mentioned above. With summer being right around the corner and everyone at the house so much, we were running low on a few of our staple products. So, I headed to Publix and picked up things that I needed and I know I can be rewarded for purchasing!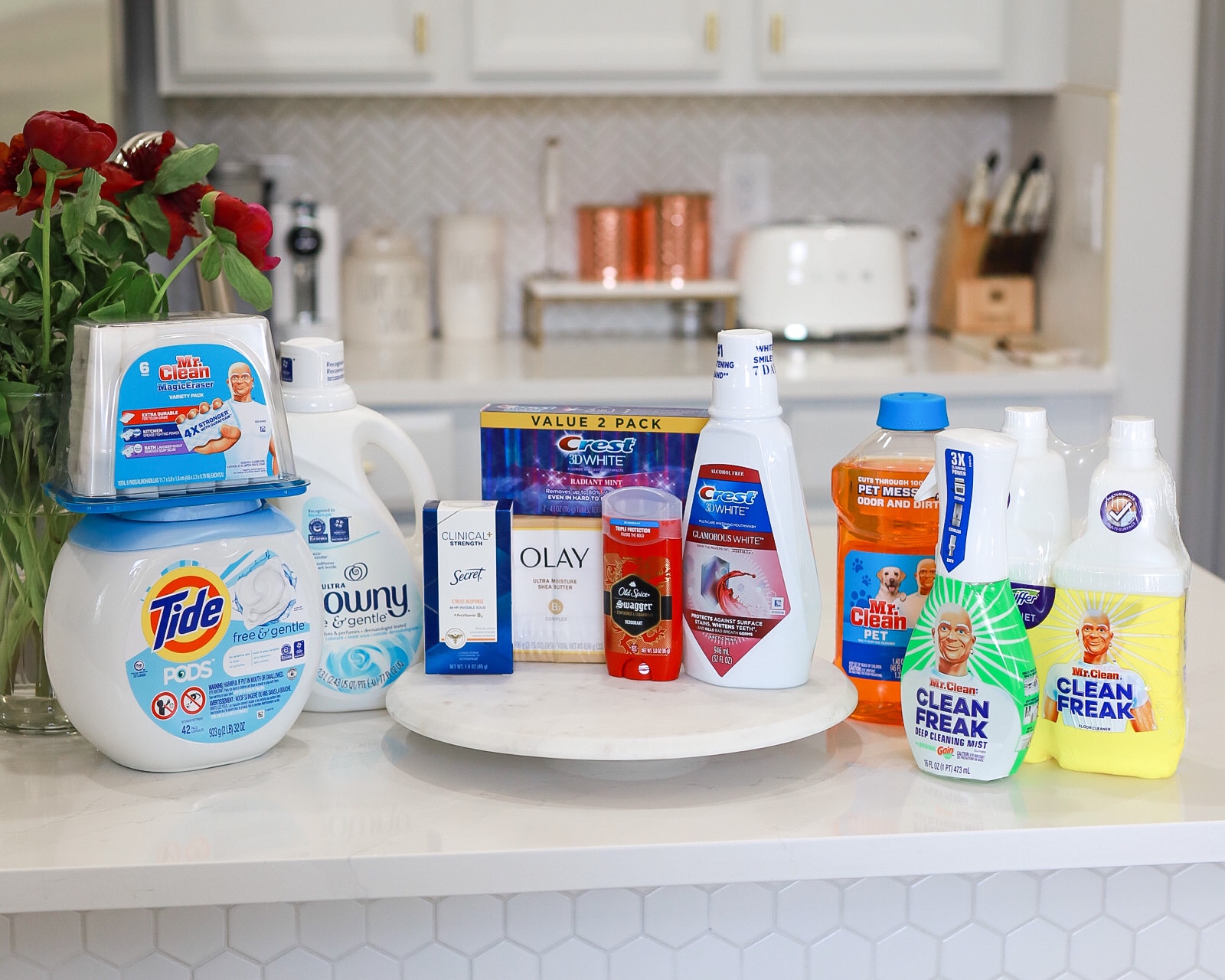 Publix Stocking Spree is a program where you can be rewarded JUST for buying the products we already know and love. All year long, you can receive a $10 Publix gift card every time* you purchase $50 of participating Stocking Spree products (*Up to 12 gift cards per household, per year). Once you create your account, you'll be able to track your dollars spent and your gift cards earned throughout the year. The more you buy, the more you earn!
It's very easy to take part in the program and the list of products is available on www.stockingspree.com, so you can check out the participating products before you head to Publix. Take your list and purchase your products. Then when you get home, take a photo of your receipt, login and upload the photo of your receipt. I completed the process in less than 5 minutes! Once your receipt is reviewed and you have spent $50 on participating products, you get to claim your $10 Publix gift card. You can choose either a physical gift card, which will be mailed to you, or a digital gift card that will be applied to your Publix Digital Wallet. I personally love the digital option as you can receive the gift card in 24 hours and have it before your next shopping trip!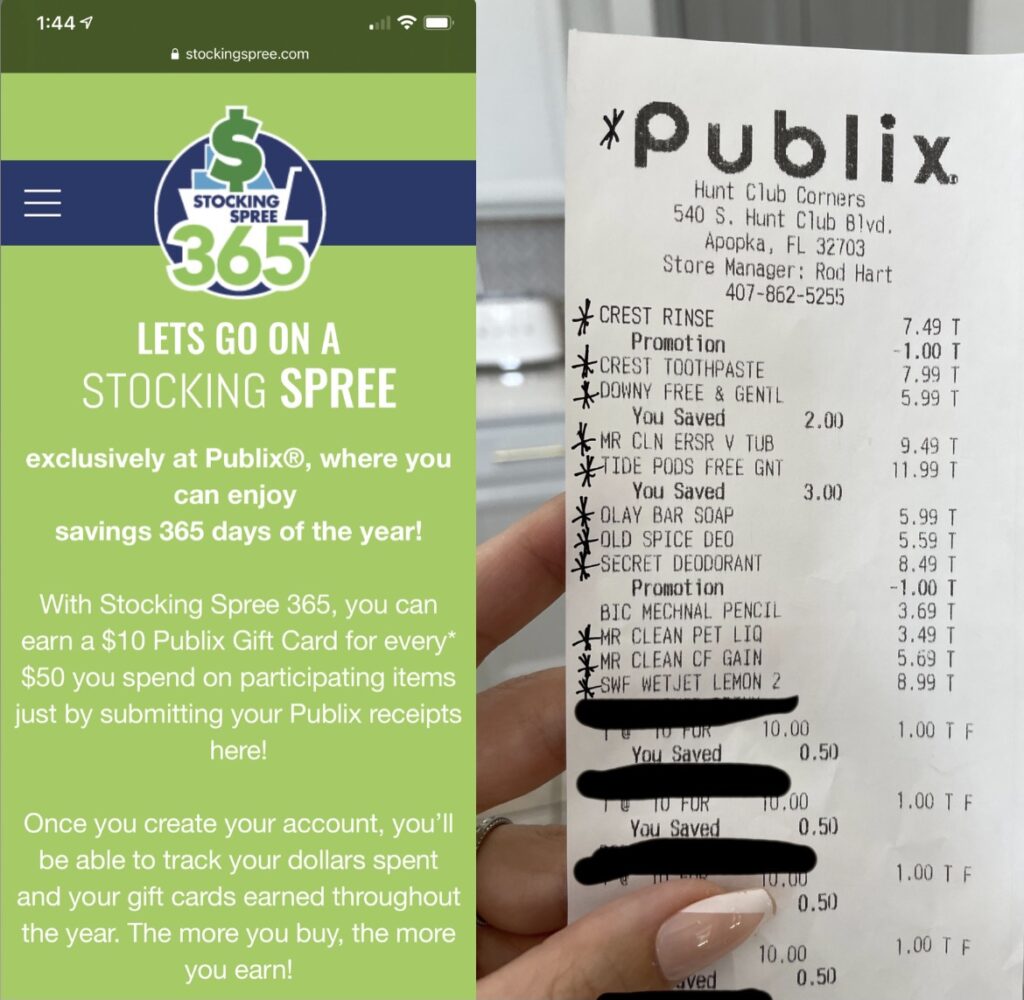 Please follow the below steps to upload a receipt:
Create an account or login into your account
Take a photo of your receipt and make sure to follow the steps on what you need to put an asterisk next to before you take the photo.
Click the "SUBMIT RECEIPTS" button
Select the total # of products on your receipt
Click the "SUBMIT YOUR IMAGE" button
Publix Stocking Spree by Digital
The Digital Gift Card is applied to your Publix Digital Wallet. Once loaded, please go to your Publix Digital Wallet account to see the exact expiration date of your reward. To redeem, go shopping at any Publix store. At checkout, you will be required to enter in the 10- digit phone number on the PIN Pad linked to your Publix Digital Wallet account. Your Digital Gift Card does expire. It is valid for 6 months and you will be able to redeem it any Publix store. Please check your Publix Digital account to see the exact expiration date of your $10 Digital Gift Card.
Publix Stocking Spree by Mail
The Physical Gift Card is an actual $10 Publix Gift card that will be mailed to you via USPS. Please allow 3-5 weeks for delivery. The card will be mailed to the address provided during the registration process. The Physical Gift Card does not expire.
Stocking Spree is active at all Publix Locations in:
Alabama
Florida
Georgia
North Carolina
South Carolina
Tennessee
See StockingSpree.com for a full list of participating products and to upload your receipts. Don't miss out on this awesome chance to be rewarded for your Publix purchases!
Xoxo, Nikki