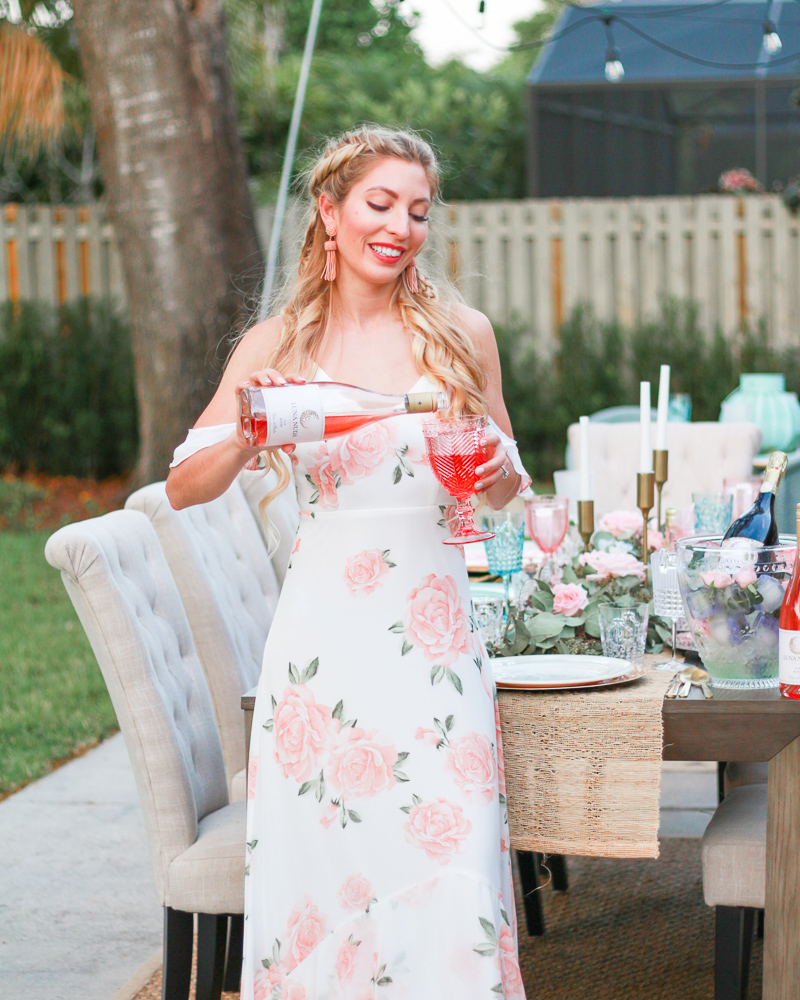 Many of the products shared in this post were gifted, but all opinions are 100% my own.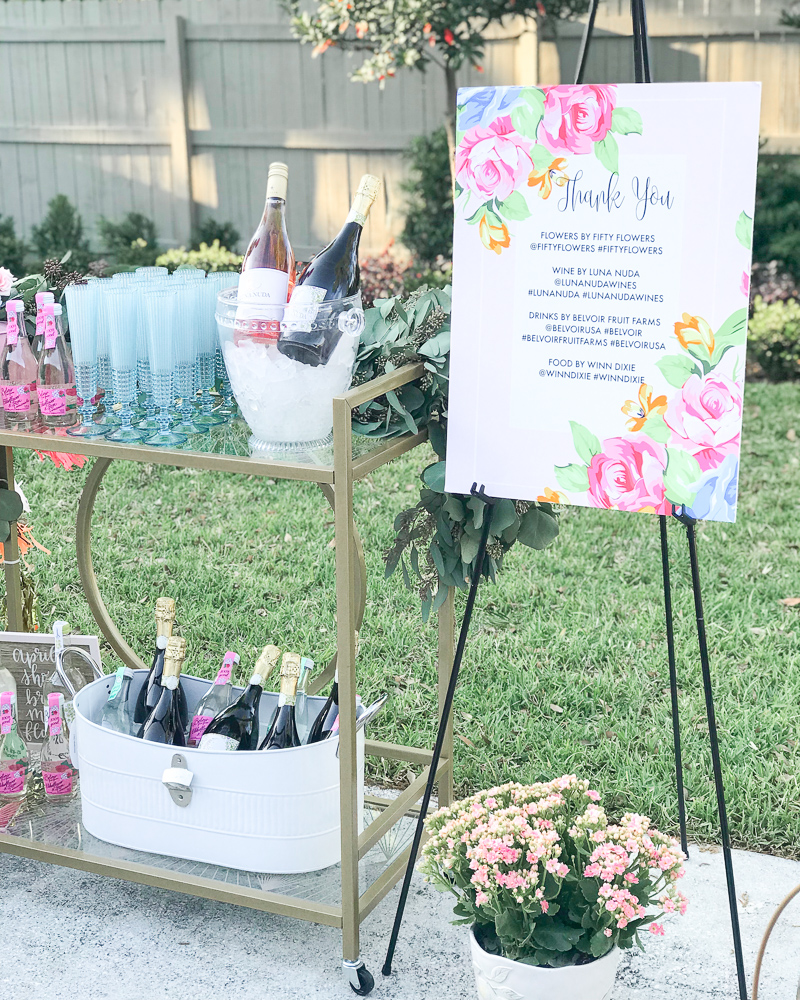 Spring is the perfect time to host an outdoor event. It's not too hot, or cold, and if you're lucky enough, you will get a perfect sunny day like we did! For my birthday I threw a spring garden party with a group of my friends to celebrate the season and have some quality time together. Here are some of my planning/hosting tips and some great pictures of our soiree!
FOOD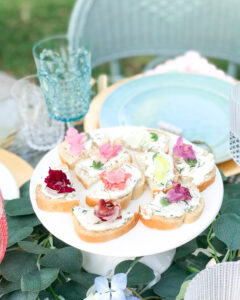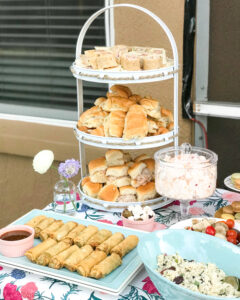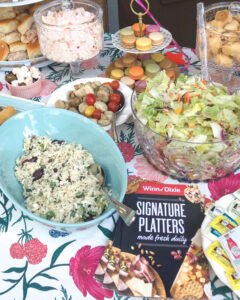 I had a very specific plan in mind for the garden party food and luckily Winn Dixie came to the rescue with some amazing platters that fit the bill. Winn Dixie provided all the food for the party and it was truly delicious. I am always shopping at Winn Dixie because it's not only the closest grocery store to my house, but I am part of their rewards program. When I shop there I earn points that I can either use for gas, or on future grocery purchases.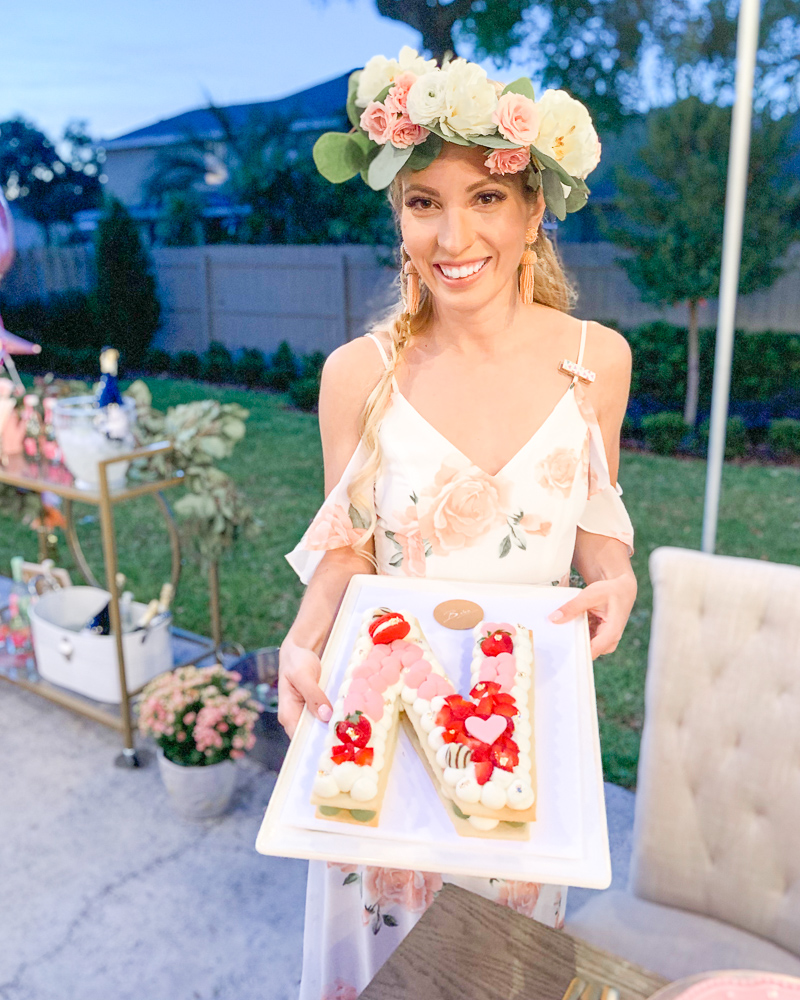 My beautiful cake was from a local Venezuelan woman Eats BolosEats Bolos who makes beautiful artistic desserts. Not only was it super delicious, but it's also so pretty and perfect for spring. One letter, or number is only $30.
DRINKS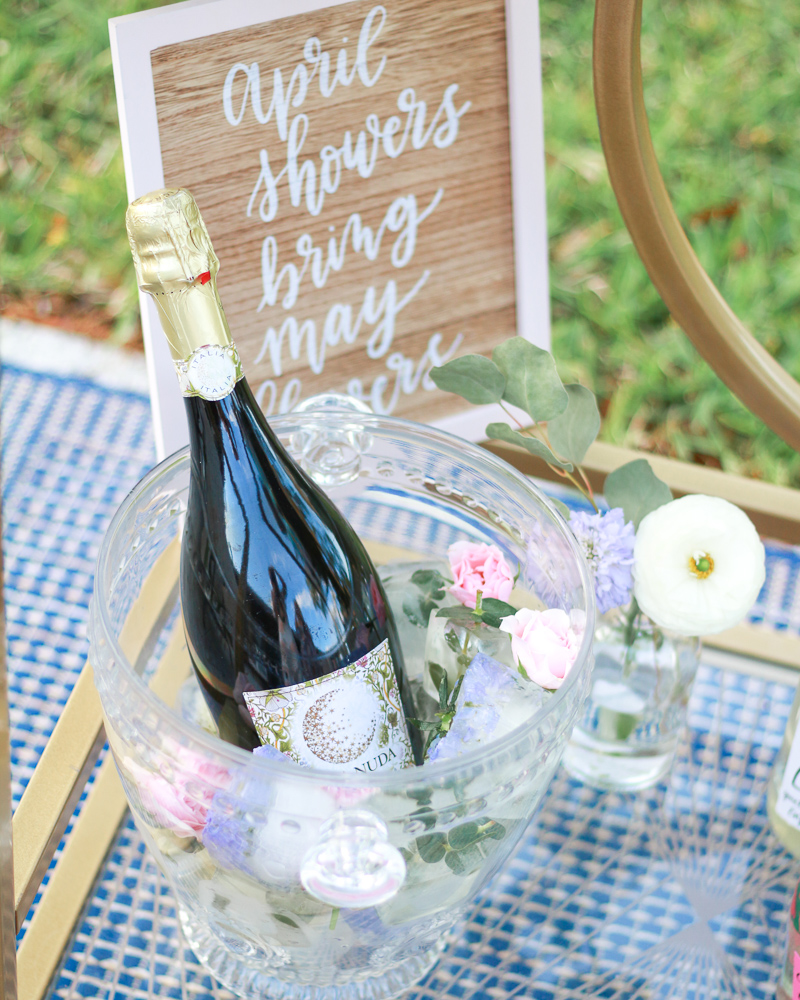 Affordable, delicious, and beautiful, this is what describes both Belvoir and Luna Nuda. Luna Nuda Wines makes four different wines and they provided both Prosecco and Rose for the garden party. These are the two best wines, in my opinion, for spring. I also purchased some bottles of Welch's Sparkling Rose from Winn Dixie for our non-drinkers. You don't want to be leaving anyone out.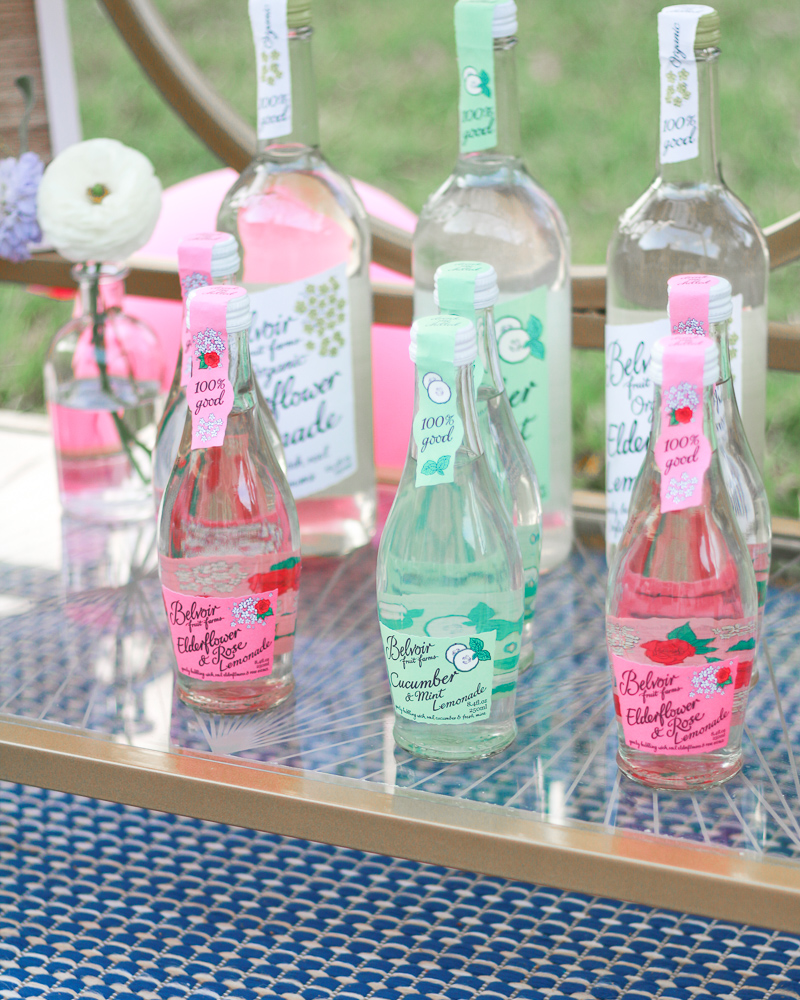 Belvoir Fruit Farms makes some really amazing Elderflower Lemonades and they sent us 3 different flavors for the event. They come in two different sizes, minis for single servings and larger bottles which we used to put in the drink dispensers. You can drink these alone, or use them as mixers for spritzers, or cocktails. They also make beautiful decorations for your bar cart.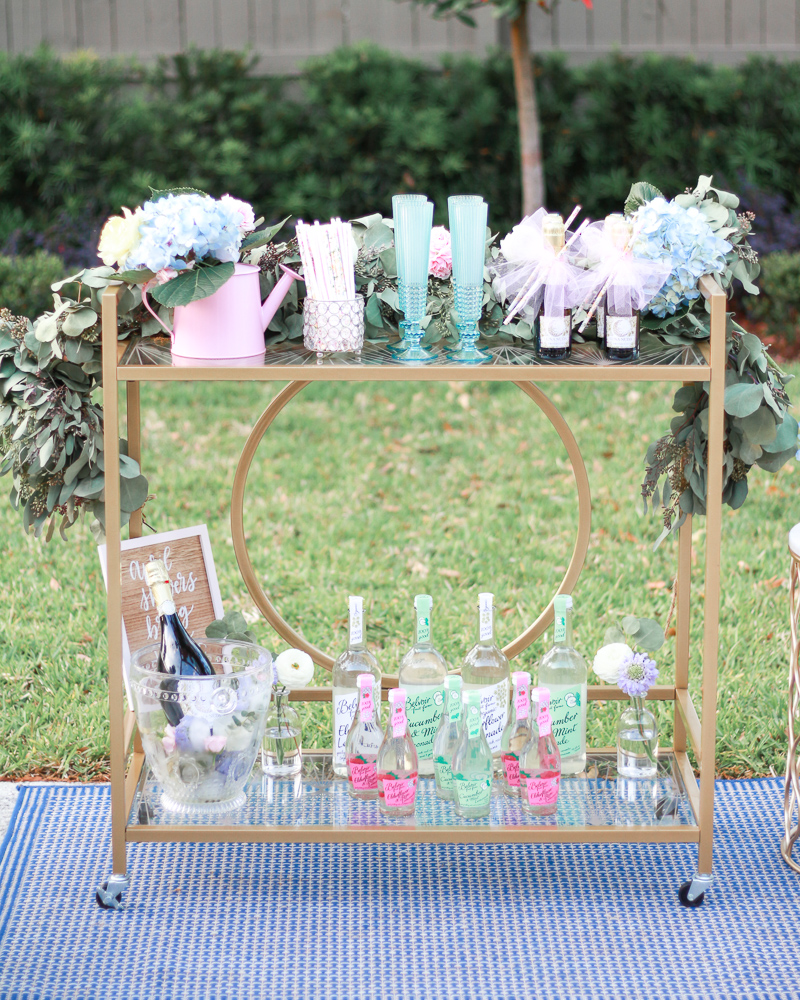 DECOR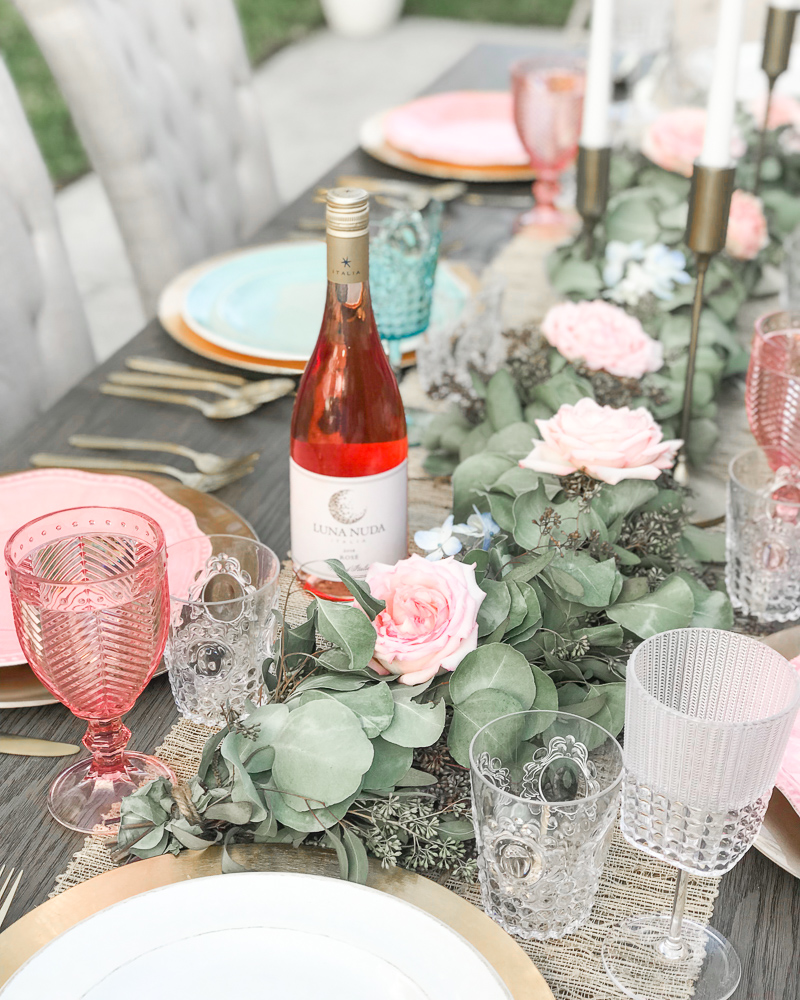 I suggest picking a color scheme first. For spring I chose pastels in pink, blue, and yellow, plus white and greenery. Fifty Flowers sent all the flowers for the party and we created some beautiful arrangements and table-scapes with the garland and flowers. A mix of blue Hydrangeas, pink Spray Roses, Garden Roses, white Ranunculus, and Eucalyptus are the perfect picks for a garden party. I kept the decor simple and focused mainly on the flowers. I also chose some spring table cloths from Home Goods and pastel colored dishes from Pottery Barn, Pier 1, and Baci Milano. The touches of gold in the silverware and candlesticks were all from Target. The dollar spot at Target is also a great area to look for affordable party decor.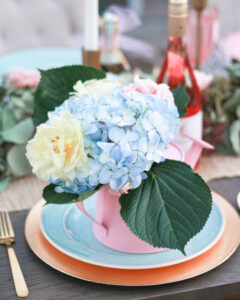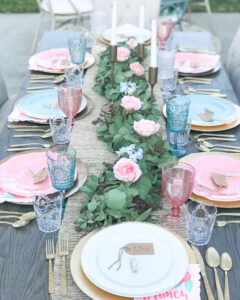 Garland | Ranunculus | Carnations | Hydrangea | Garden Roses | Spray Roses | Greenery | Tulips
ENTERTAINMENT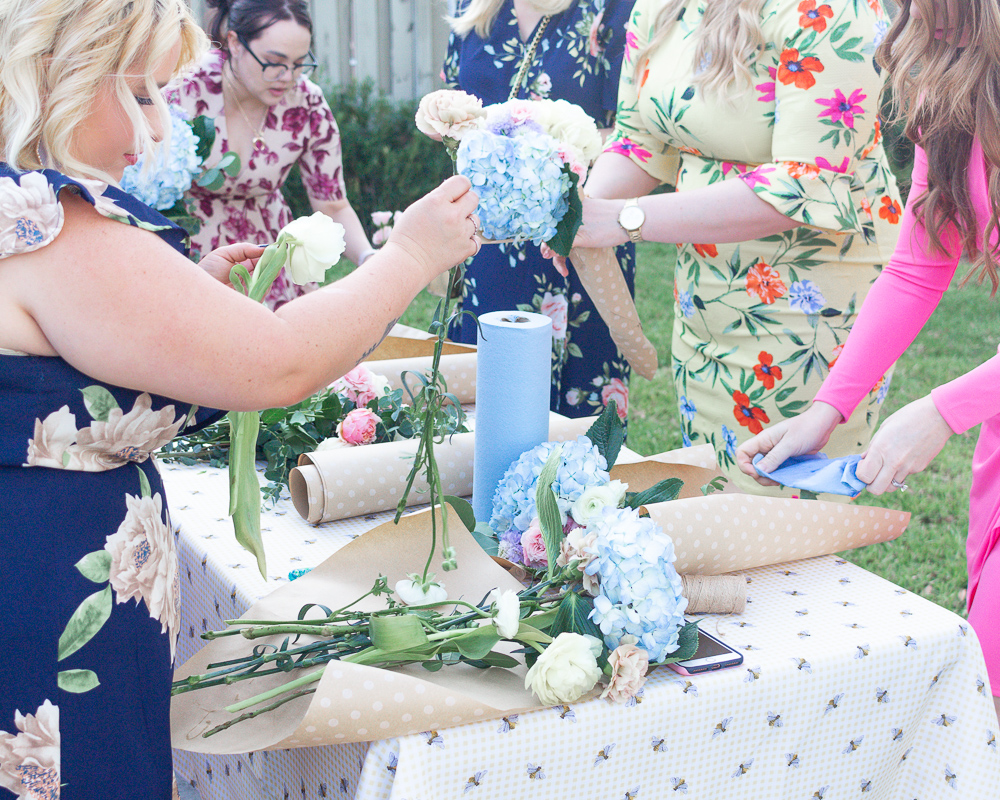 Even though we didn't end up having time to play all the games, I always want to make sure there is enough for people to do. Not everyone is good at making small talk, and having games helps to break the ice if not all of your guests know each other. The games I suggest are Prosecco Pong (which doesn't have to be played with alcohol), Mash (Do you remember that game? I found it at Target!!), the clothes pin game, and bouquet making.
The clothes pin game is where everyone who arrives pins a clothes pin on their clothes and there is a word or two related to the event that no one is allowed to say. If someone hears another guest say the word then they can take their clothes pin and the person with the most at the end wins. This is a great game for bridal showers and baby showers as well.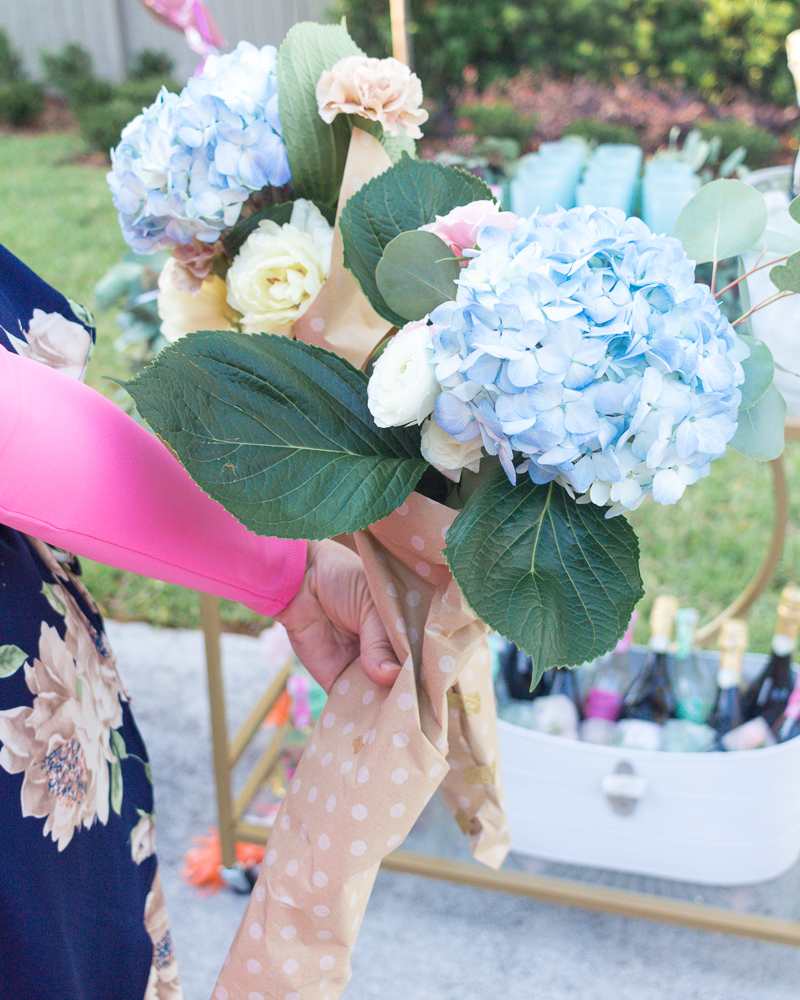 The one activity that everyone really enjoyed was making their own bouquets and I am going to show you very soon the best way to host this activity. I had buckets outdoor with all of the flowers and all the tools and supplies that everyone needed to put them together; floral snips, water picks, wrapping paper, and twine. Everyone made such gorgeous bouquets and I gave some tips to everyone on how to care mostly for their Hydrangeas.
MUSIC
I recently purchased the Alexa and this was the best thing to play music off of. It is actually very loud and you can link it to either Pandora, or Spotify and play channels, or a playlist. This was a great way for everyone to choose different types of music for the party and never run out of options. Some of the songs that everyone picked were 90's pop, Ariana Grande, Lauren Alaina, Taylor Swift, and Top 40.
OUTFIT CHOICES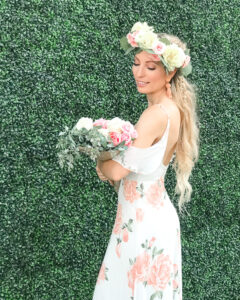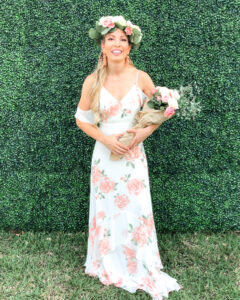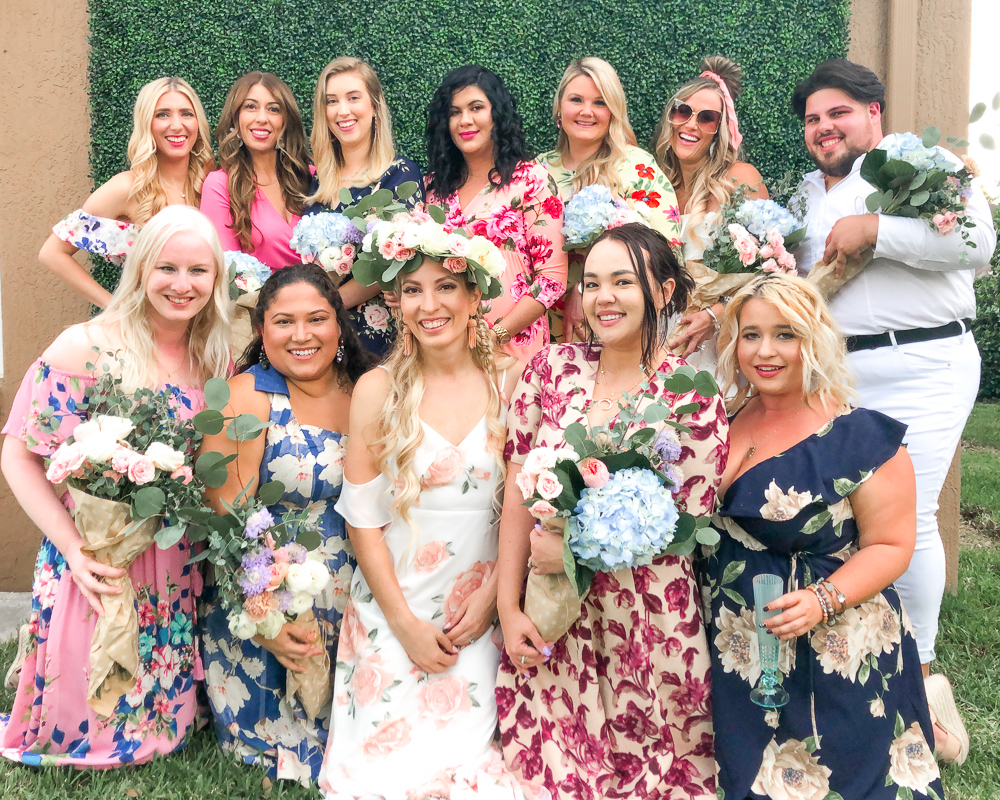 Like the decor for the event, I suggest outfit options that go along with that theme. I made the suggestion of whites, pastels and florals. I wore a floral maxi dress and so did so many of the other ladies. Jawny wore an all white outfit, which was very chic and he also owns a gorgeous pink floral lace blazer from Lane Bryant. I have linked a lot of great spring garden party dresses below. These are all under $50 and some are from Rent the Runway, so you could always rent something if you don't think you will wear it again.

Xo, Nikki