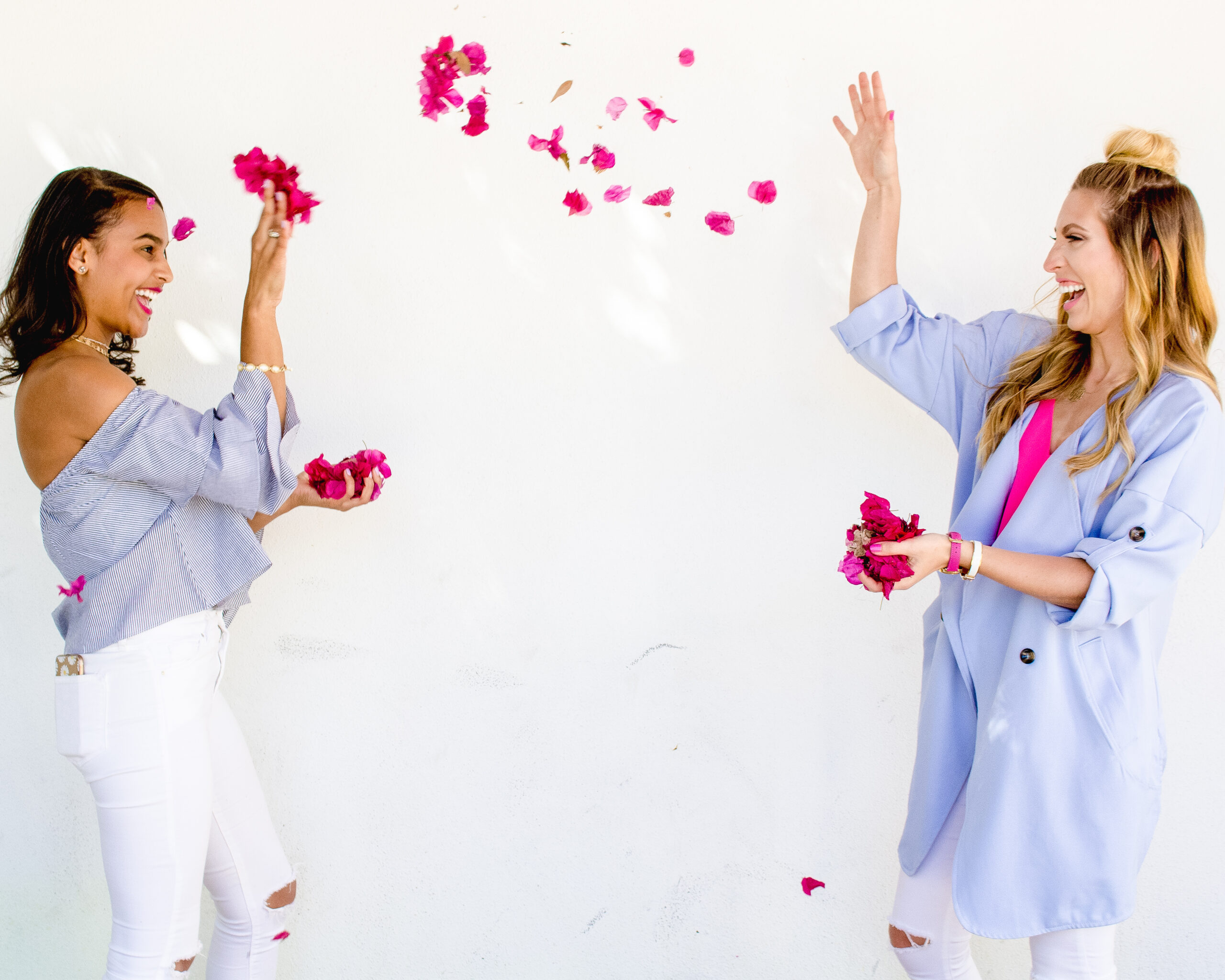 Forget the white after labor day rule! White is a year-round color, or at least a spring color, so lets break out those white jeans for spring time.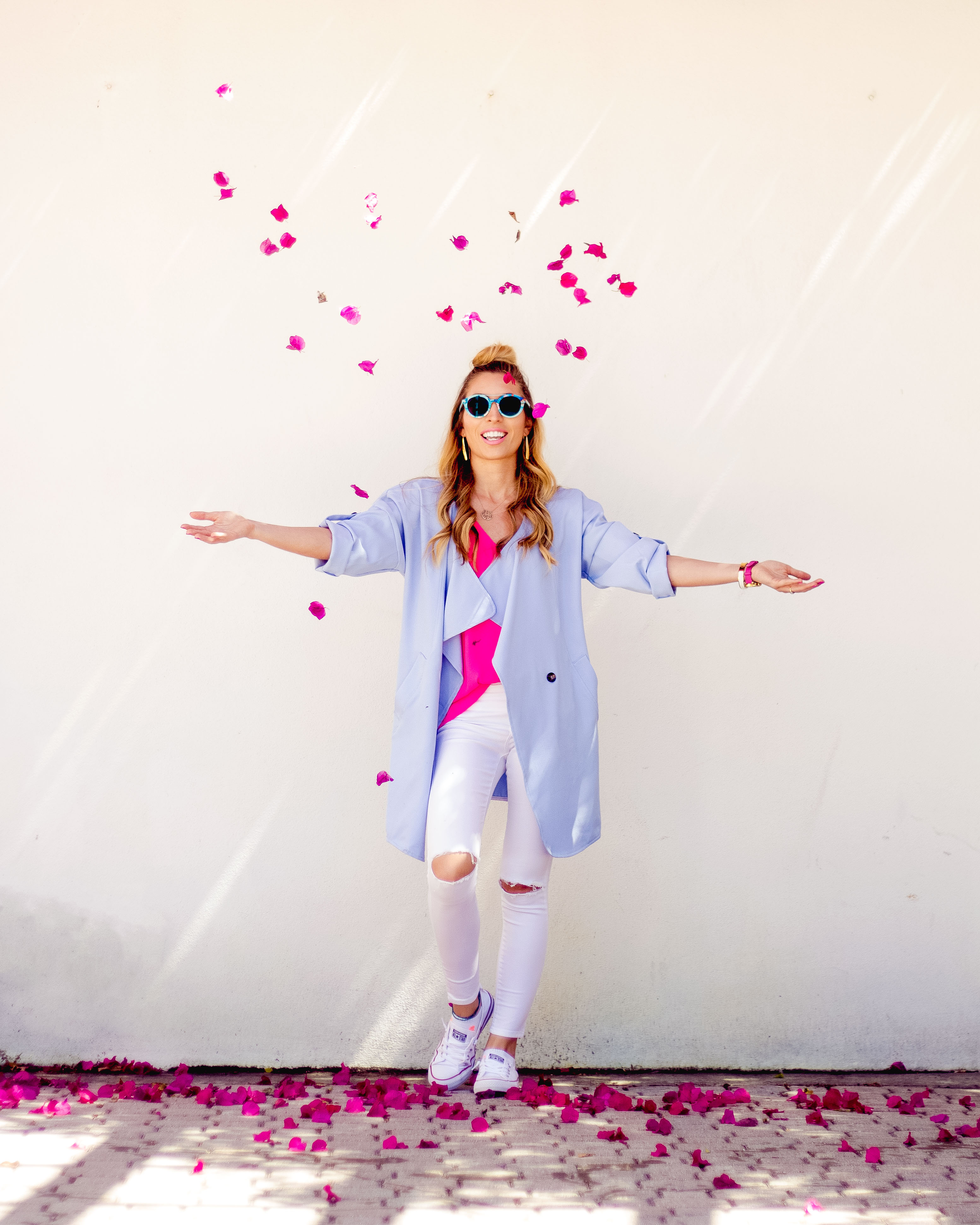 Do you ever wonder where that "white after labor day rule" came from? I certainly did, so I did a bit of digging and this is what I found. It turns out it was an 1920's high society rule that dictated the upper classes from the lower classes, since they would take trips for the summer and during hot summers would wear light white clothing. Also, because coal was burned during the cooler months and that would stick to white clothing, so you didn't want to look all sooty. So, can you wear white jeans this coming Thursday? Well are you trying to impress some snooty people on the upper east side, shovel a bit of coal, or feel like you must strictly adhere to a set of very old fashion rules, then by all means stow away those white jeans till June. But me…I'm breaking all the rules and also making sure to Scotchgard my pants, since I know I'm bound to spill a thing or two haha.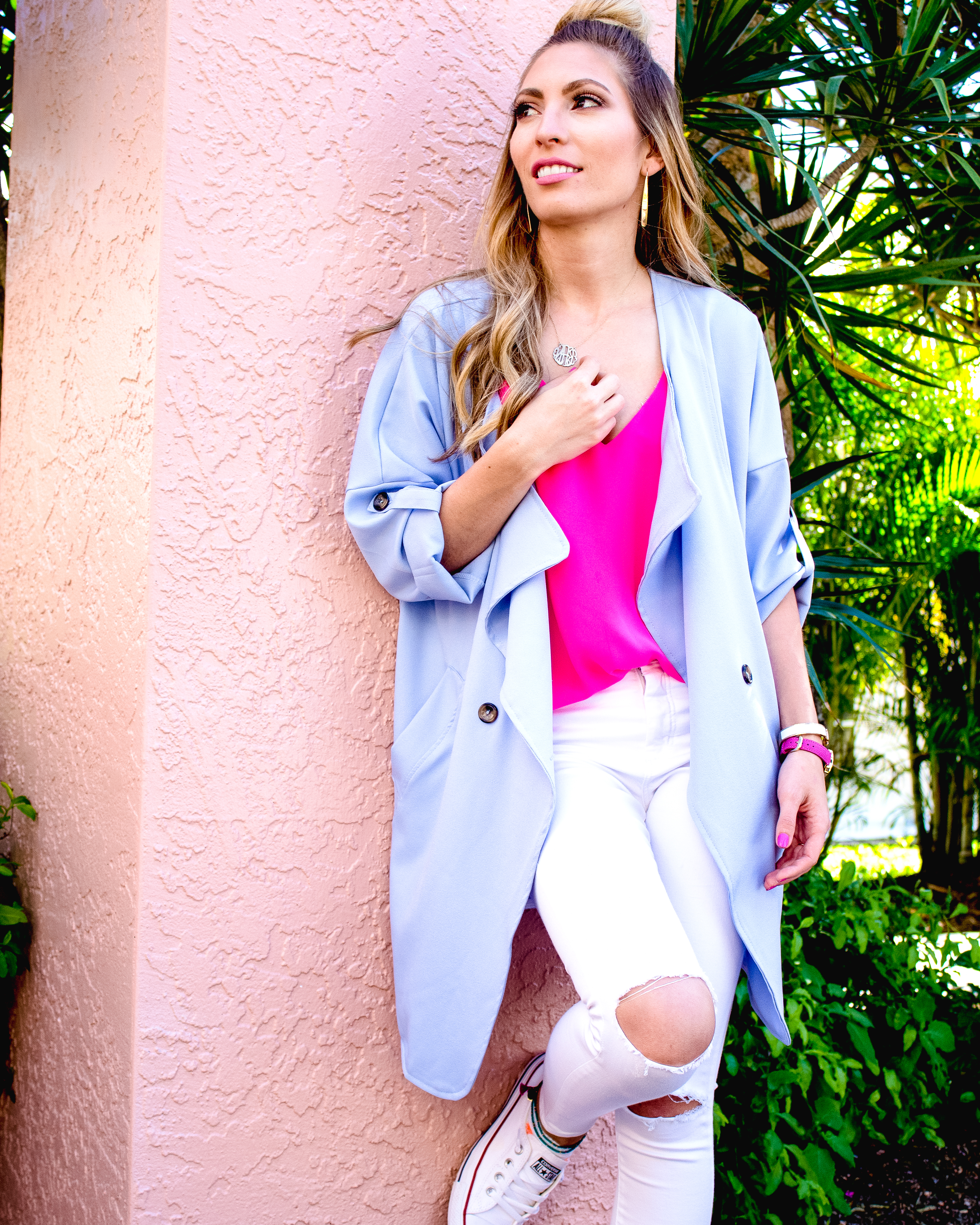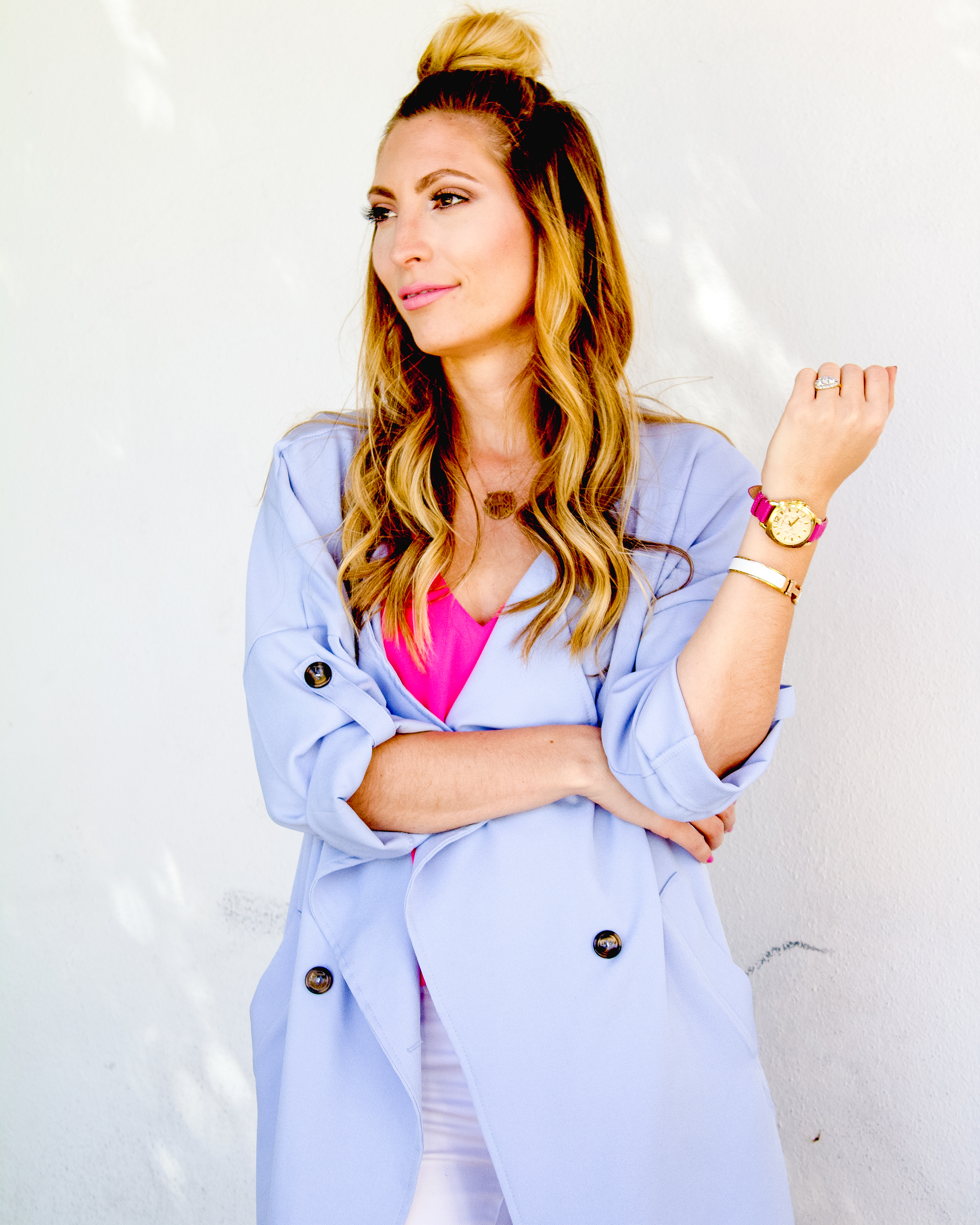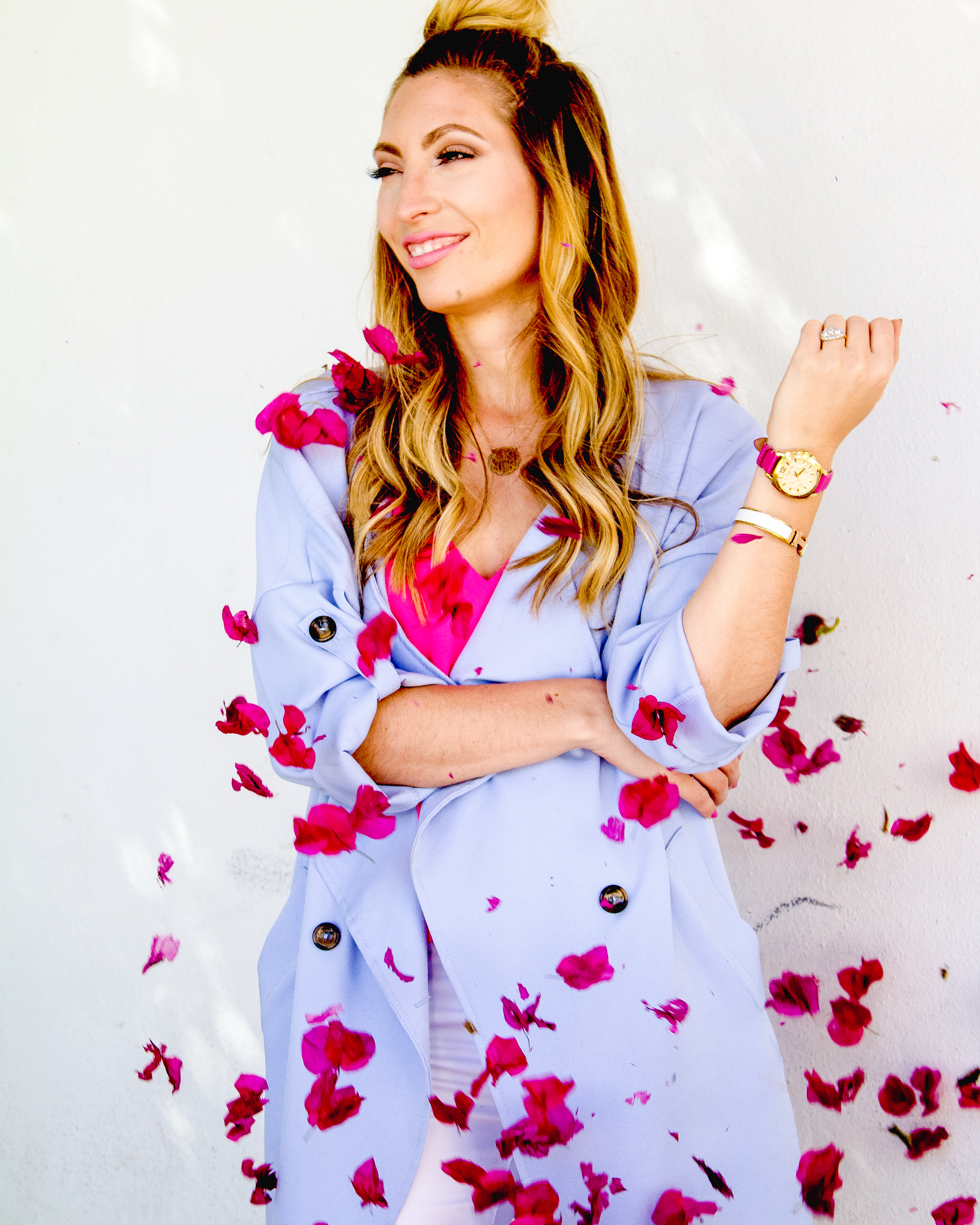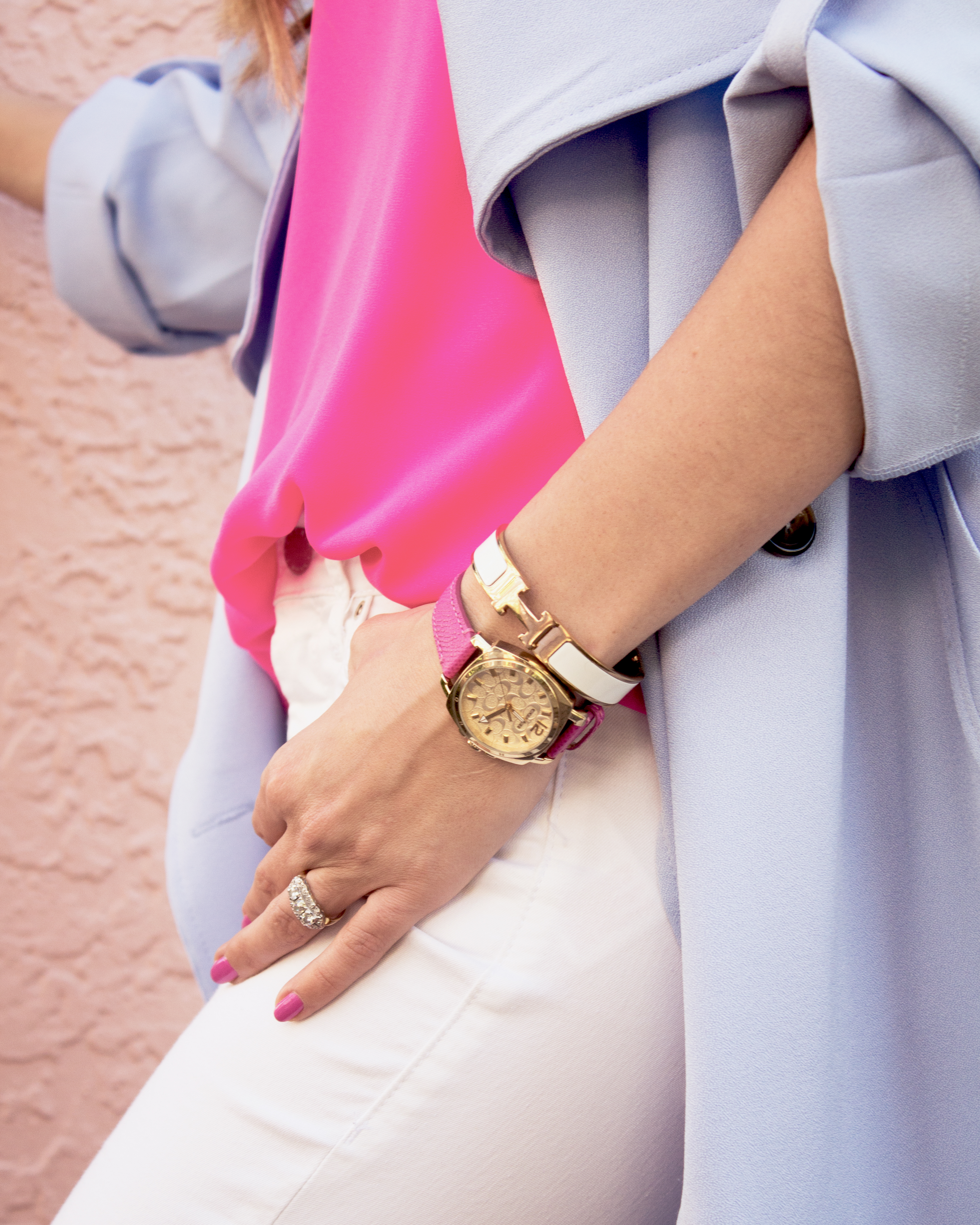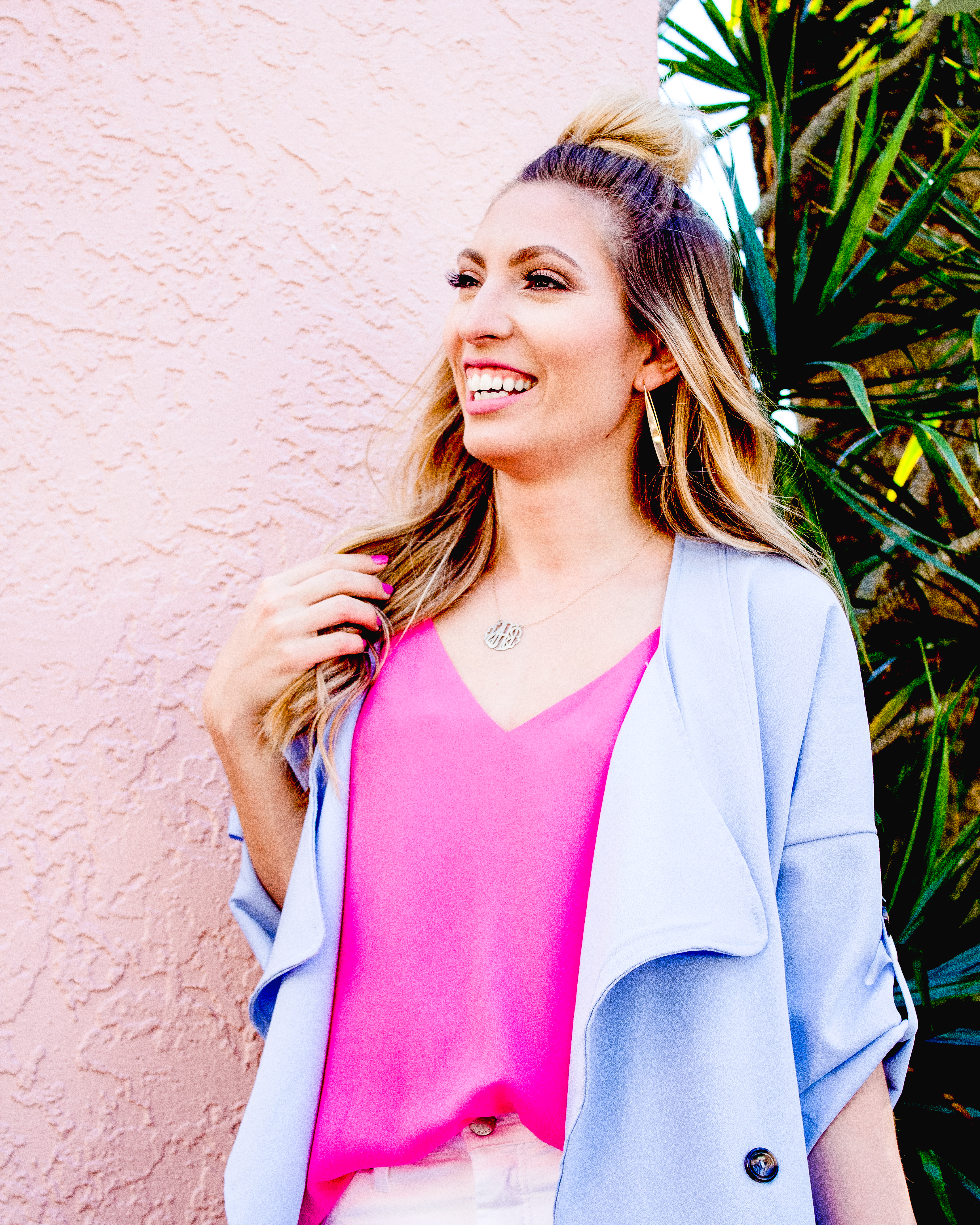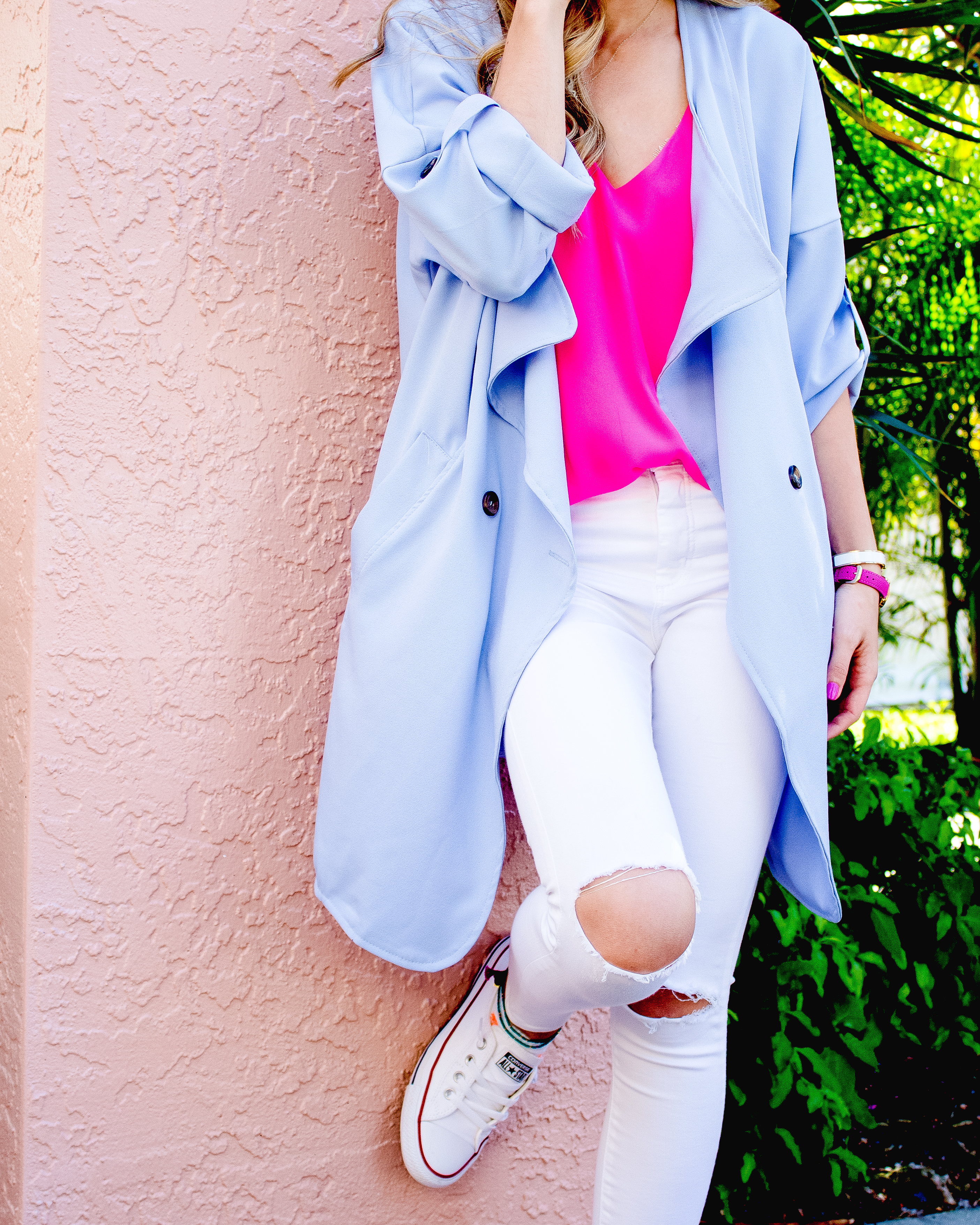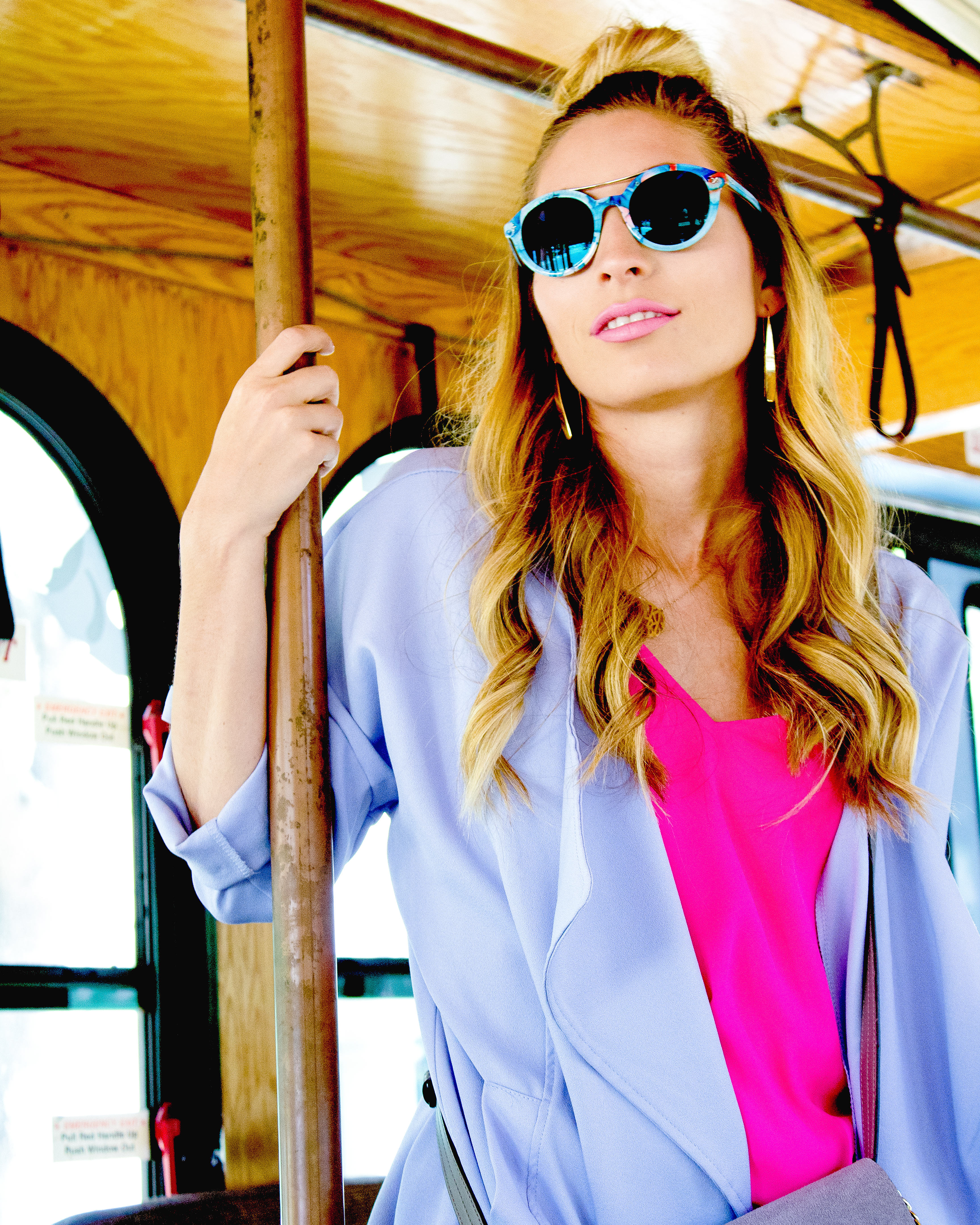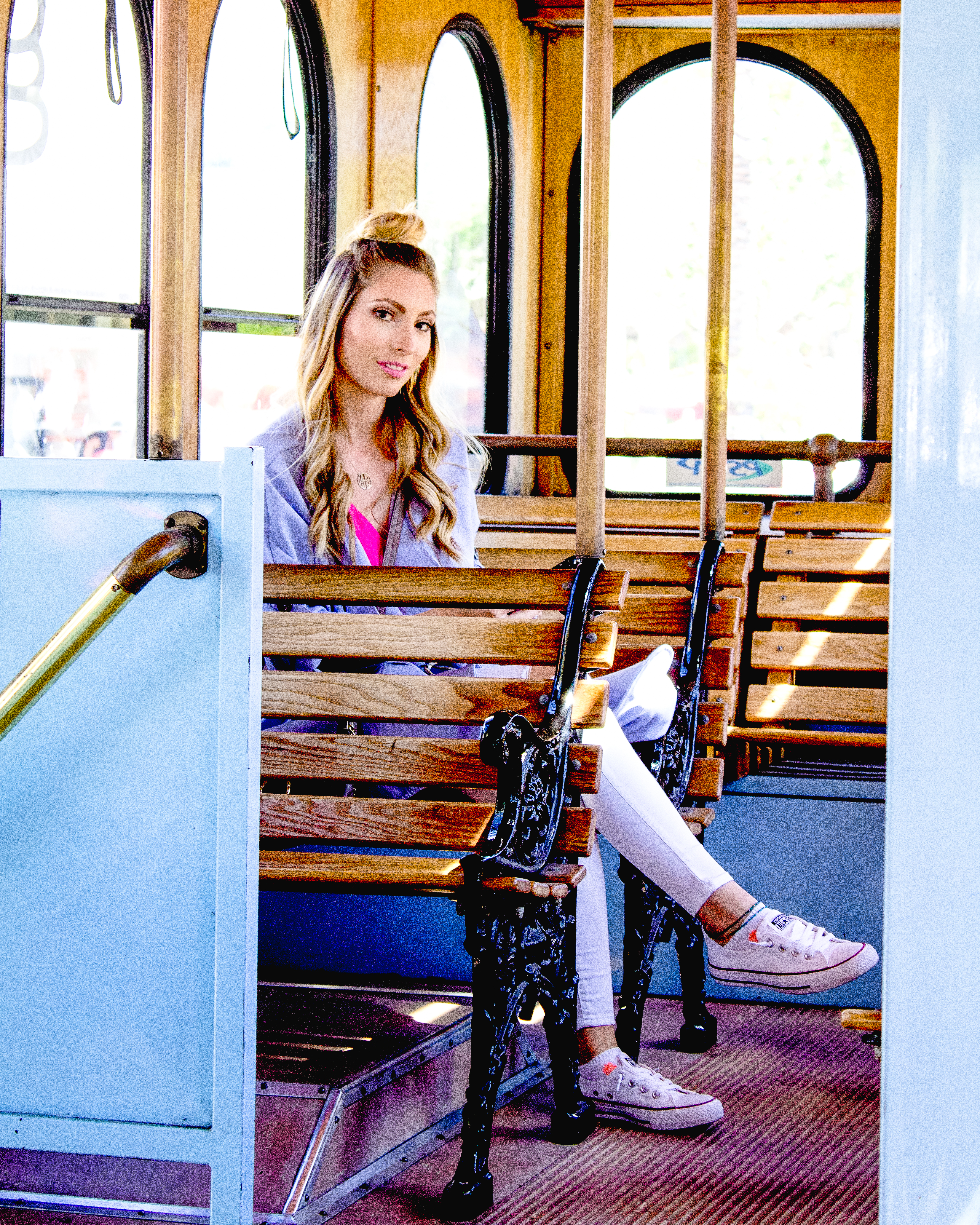 There are so many ways to style white jeans for spring. I chose to pair mine with my favorite color of all time…PINK! Yup, I'm a girl and I love pink. I also love pretty much every color, so throwing in this pastel shade of blue with the hot pink really paired very nicely together. It's a color combo I wouldn't normally think about pairing, but hey, sometimes that's what you need to do in order to re-work your closet.
Shein Similar Jacket / Express Top Similar / Bralette / White Jeans
Sunglasses / Earrings / Necklace / Similar Bracelet / Similar Coach Watch
Purse (Similar under $100) / Socks / Converse / Fossil Jewelry (Ethical Fashion)
Lipstick – Urban Decay Heartless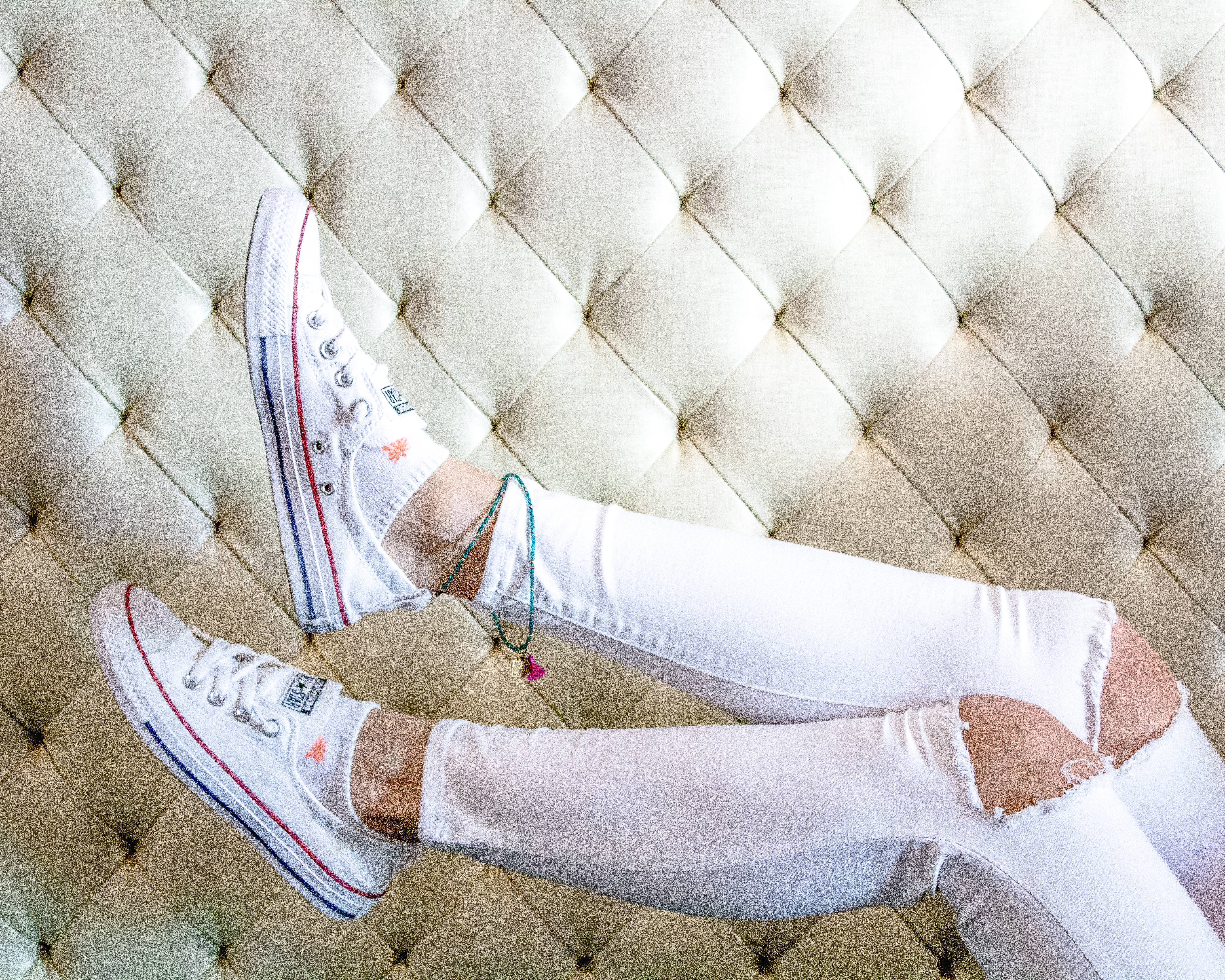 I kept the look casual with distressed white jeans and my awesome pair of chucks, my Momma got me for my birthday. This pair slips on easily and I never have to worry that my shoe has come untied. Super quick and simple for us busy ladies on the go. I felt so comfy, yet chic for running around the town and linking up with a fellow blogger babe, Lucielle Salomon, who I met earlier this year at the Orlando Makeup Show.
P.S. My tip for keeping white tennies nice and clean, is to clean them every time before you put them away. I use Huggies baby wipes to clean mine; they scrub well and get all the dirt and scuffs off.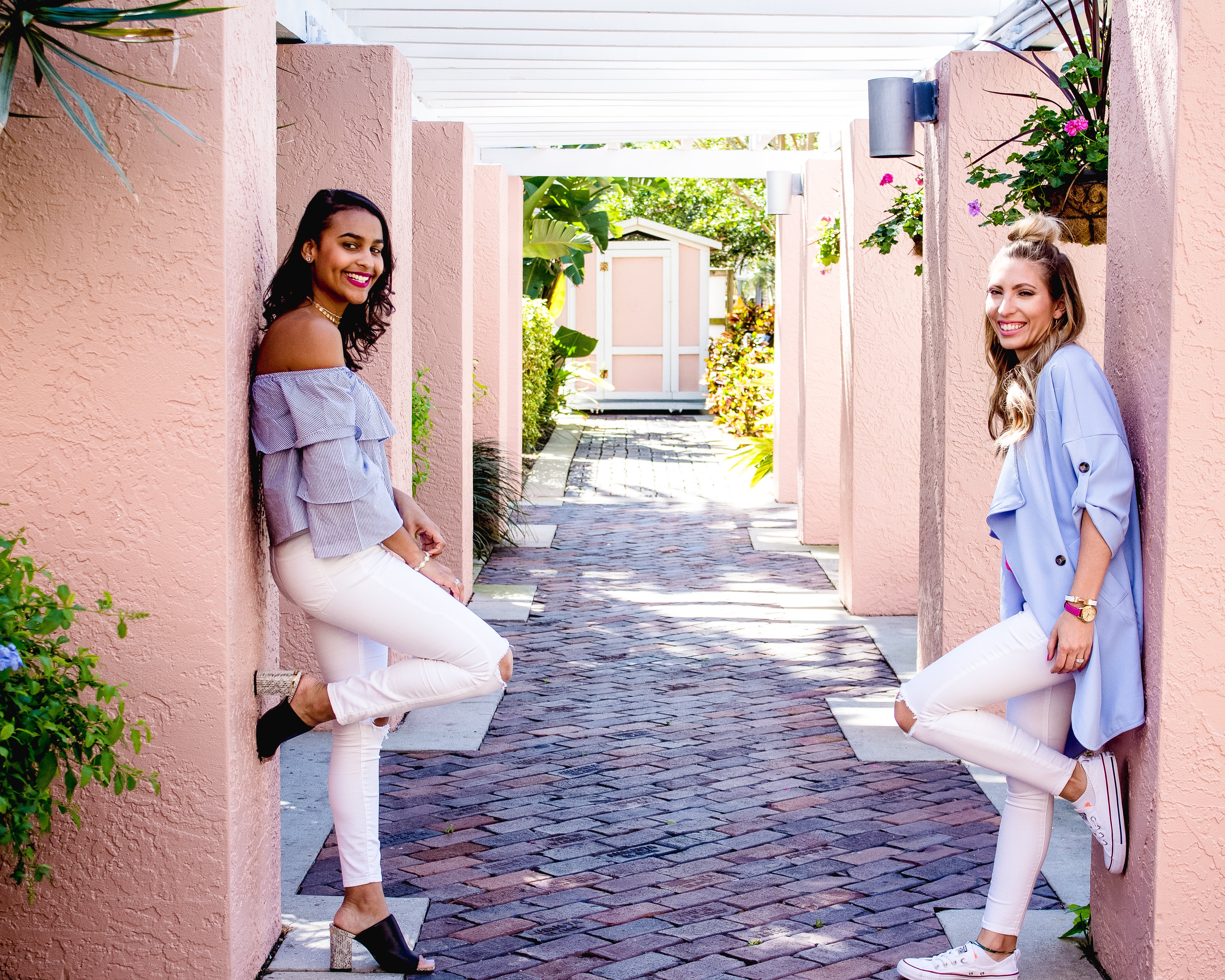 Well, this little lady also has a pair of destroyed white jeans!!! Yup, you will see this trend popping up all over this spring. So, head on over to see how Lucielle styled hers in Two Ways to Wear White Ripped Jeans. I wonder if people were thinking, "whats up with these two", as we were meandering around town haha. Blue and white was on both of our minds. I'd love to hear how you style your white jeans if you have a pair, and if you don't I really suggest adding them to your wardrobe. Just make sure to Scotchgard those babies first, you never know what you may sit on!!
*Photography by Rae Breda of Lil Rae of Sun Photography.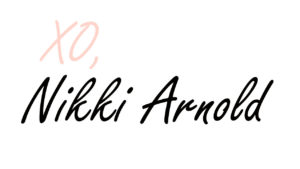 SHOP THE POST:

PIN IT