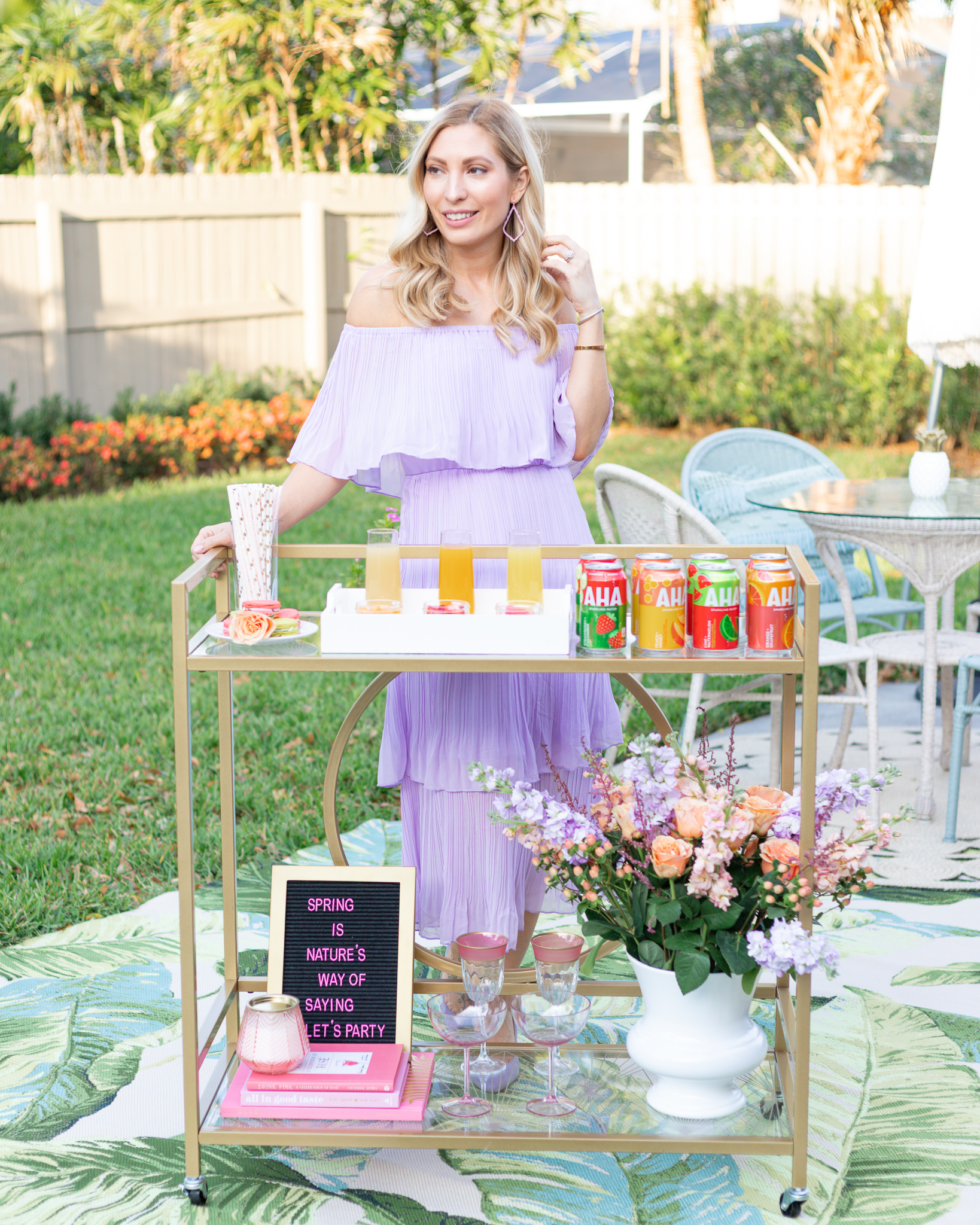 This post has been sponsored by Coca-Cola. All thoughts and opinions are my own.

Spring is almost here and it's the time for spring cleaning and re-organization. I decided it was time to update my bar cart from Valentine's Day. Since, it was cluttered with all the extra decor from the holidays. I actually did not purchase anything new to decorate my spring bar cart, except for fresh flowers. I'm always looking for ways to repurpose things. So, if you struggle with "too much stuff," hopefully, this will help you think about different ways you can use items you already have. I also wanted to share my new beverage obsession for spring, AHA Sparkling Water.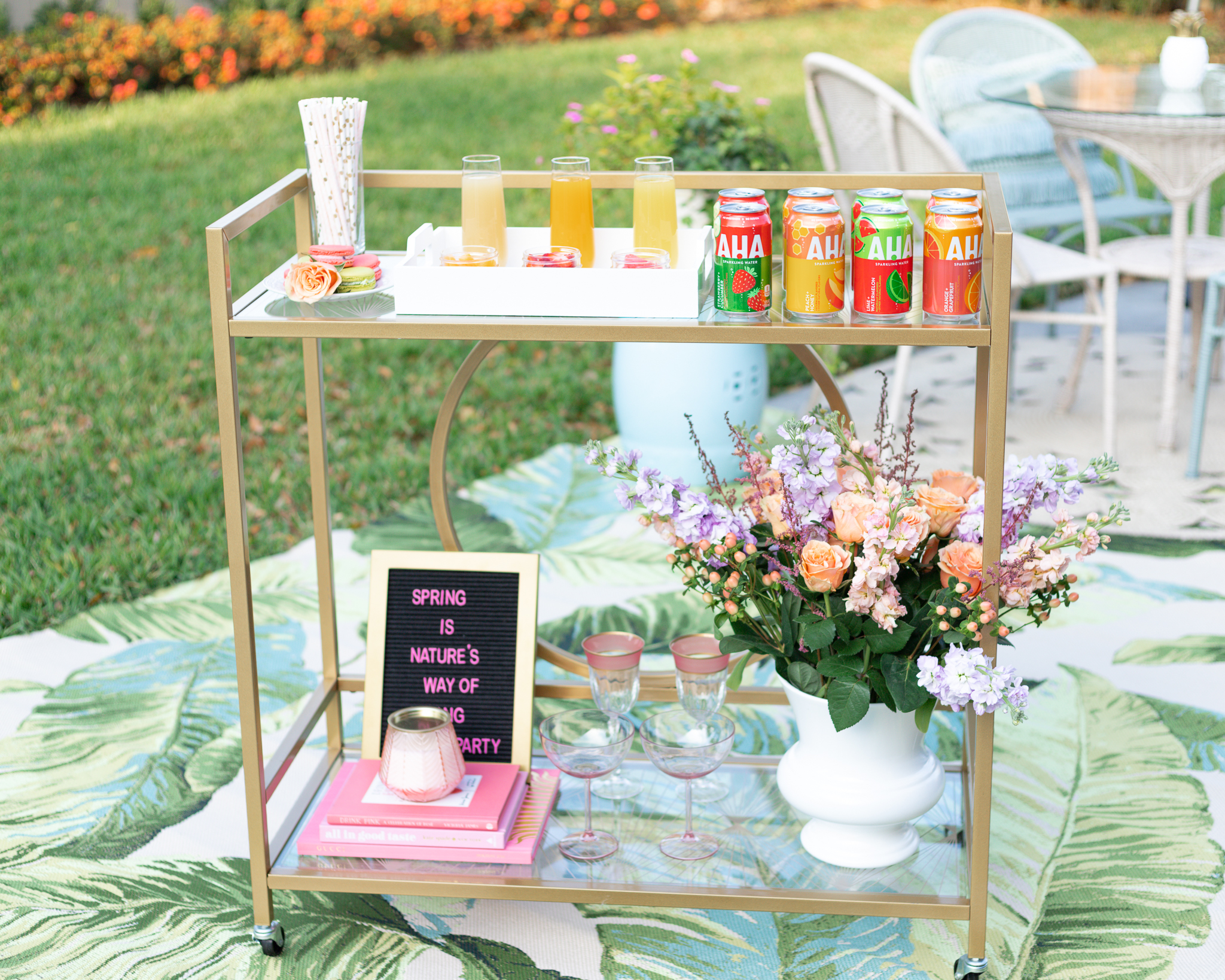 1. Start with a gold bar cart.
I have had this bar cart for a couple years now. My husband actually surprised me with this as a birthday present for my 30th. I feel like a simple metal bar cart is a timeless piece that can go with many decor changes in a household. I also like having one that's portable because I can take it outside for spring and summer activities.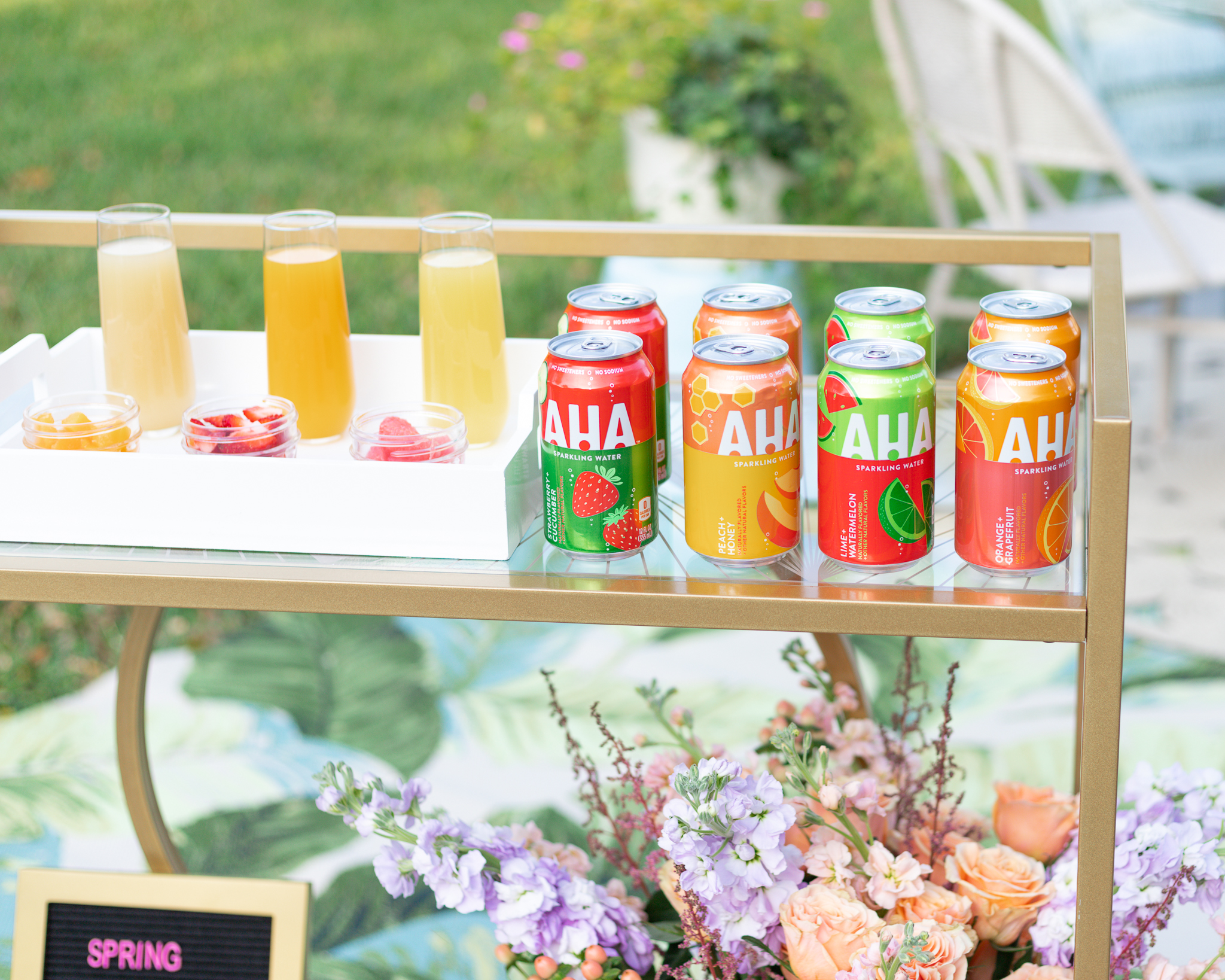 2. Add some colorful bottles, or cans.
I am a big fan of flavored sparkling water. So, when Coca-Cola came out with these new AHA Sparkling Water, I knew that I needed to try them. I really love the fun colorful packaging, and the uniquely delightful flavor combinations. I found 4 flavors in the water aisle and can attest that they are all delicious. I have been drinking AHA because it gives me a sensory experience with a bold flavor forward taste. If you know me that's very important, since I'm not a big water drinker.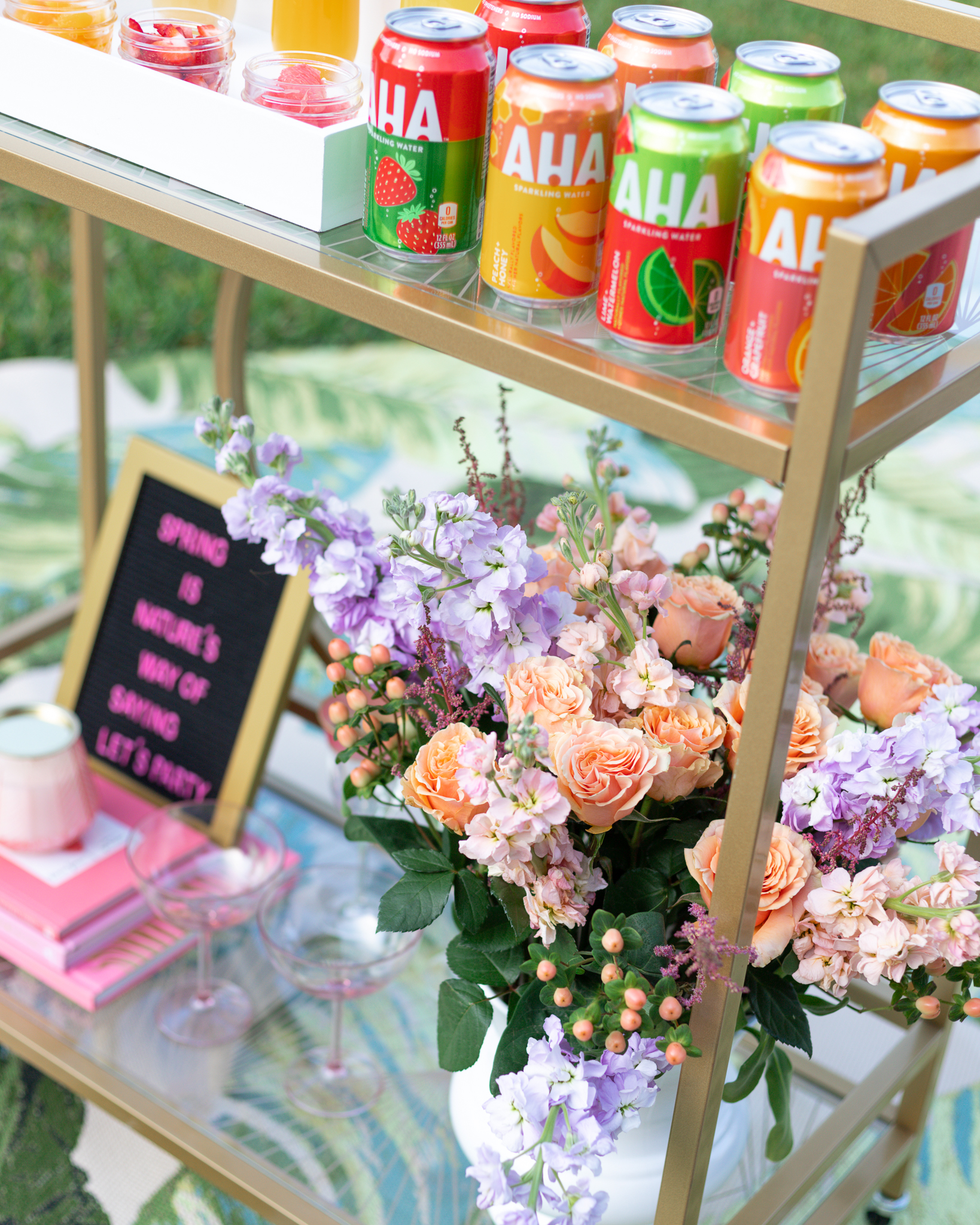 3. Add some fresh flowers.
I love the cheery feeling of having fresh flowers in the house. There isn't anything that screams spring more than fresh springtime blooms. I will actually have a tutorial coming soon with some great tips on arranging flowers, since it really can be a task picking the right flowers to put together, the right vase, and how to get them to look like a professional arrangement. A simple bouquet of roses, or colorful blooms will definitely make your spring bar cart.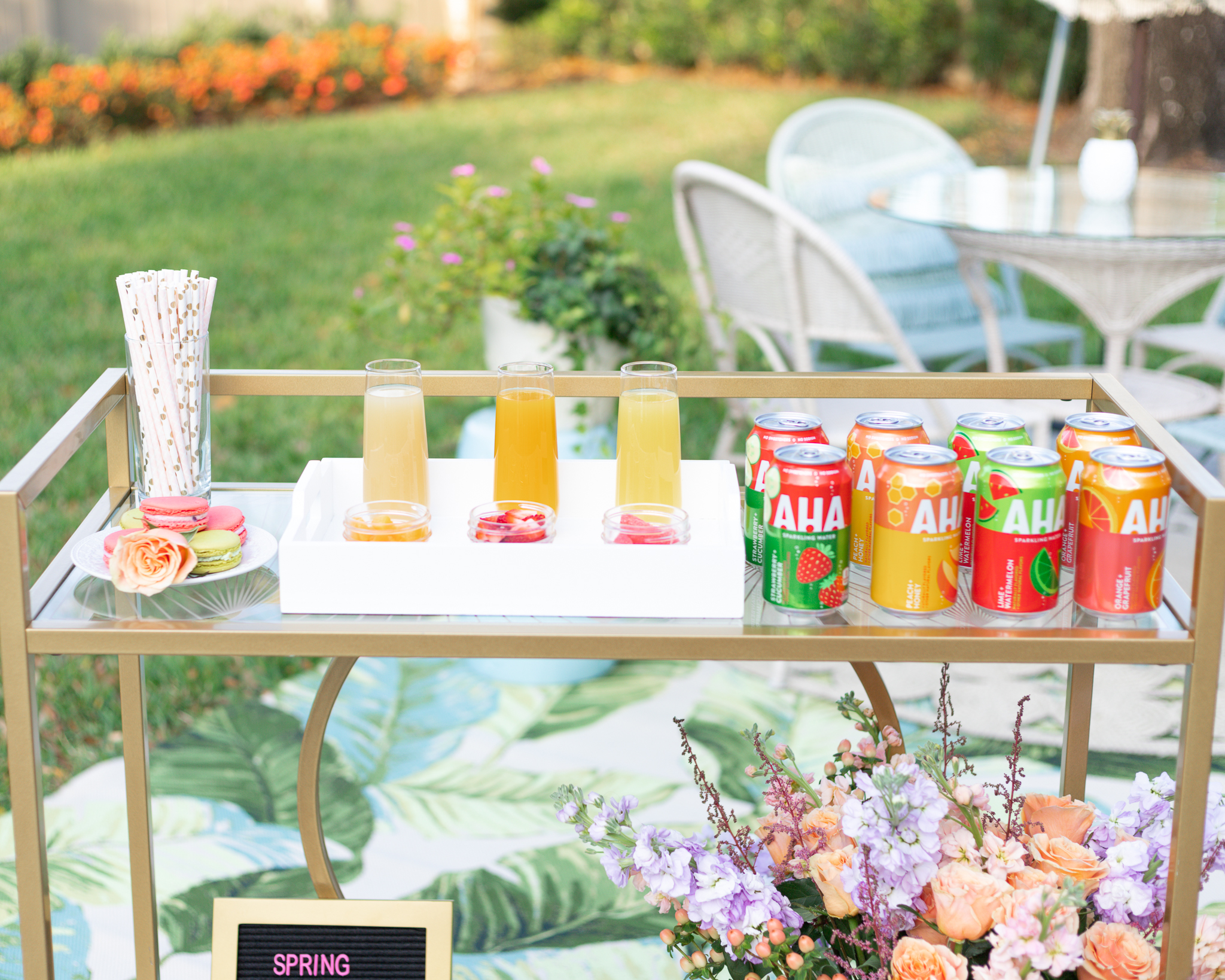 4. Add some dimension with books, candles, colorful straws, and a tray.
I took some books from my coffee table and stacked them with a candle to match my blush and gold theme. I used my letter board and created a fun spring saying in pink. On the top of my spring bar cart I used a small white try where I added in glasses of juice and small bowls of fruit to mix with the sparkling waters for fun mock-tails. I also am a big fan of fun colorful paper straws, which I have started to collect. I used a highball glass and added in some pink and gold straws, since they could be used to drink right out of the can as well. Plus, they are environmentally friendly!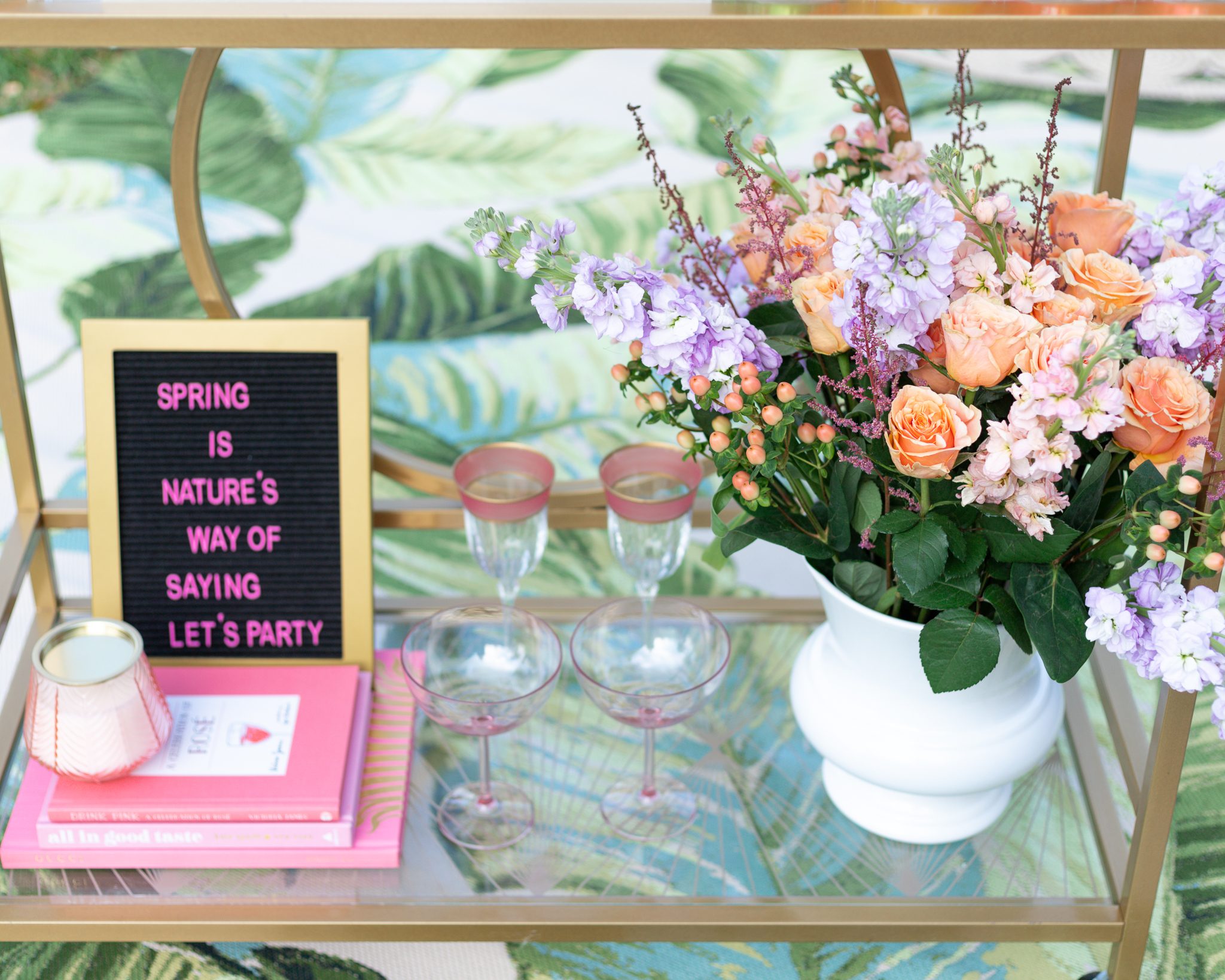 5. Finally adding in some pretty glassware.
I actually collect dishes and glassware in order to change out my tablescape, or bar cart. So, I added in some of my favorite pink glasses in two different styles. The glassware also adds some great dimension and it always is more fun to drink something out of a pretty glass.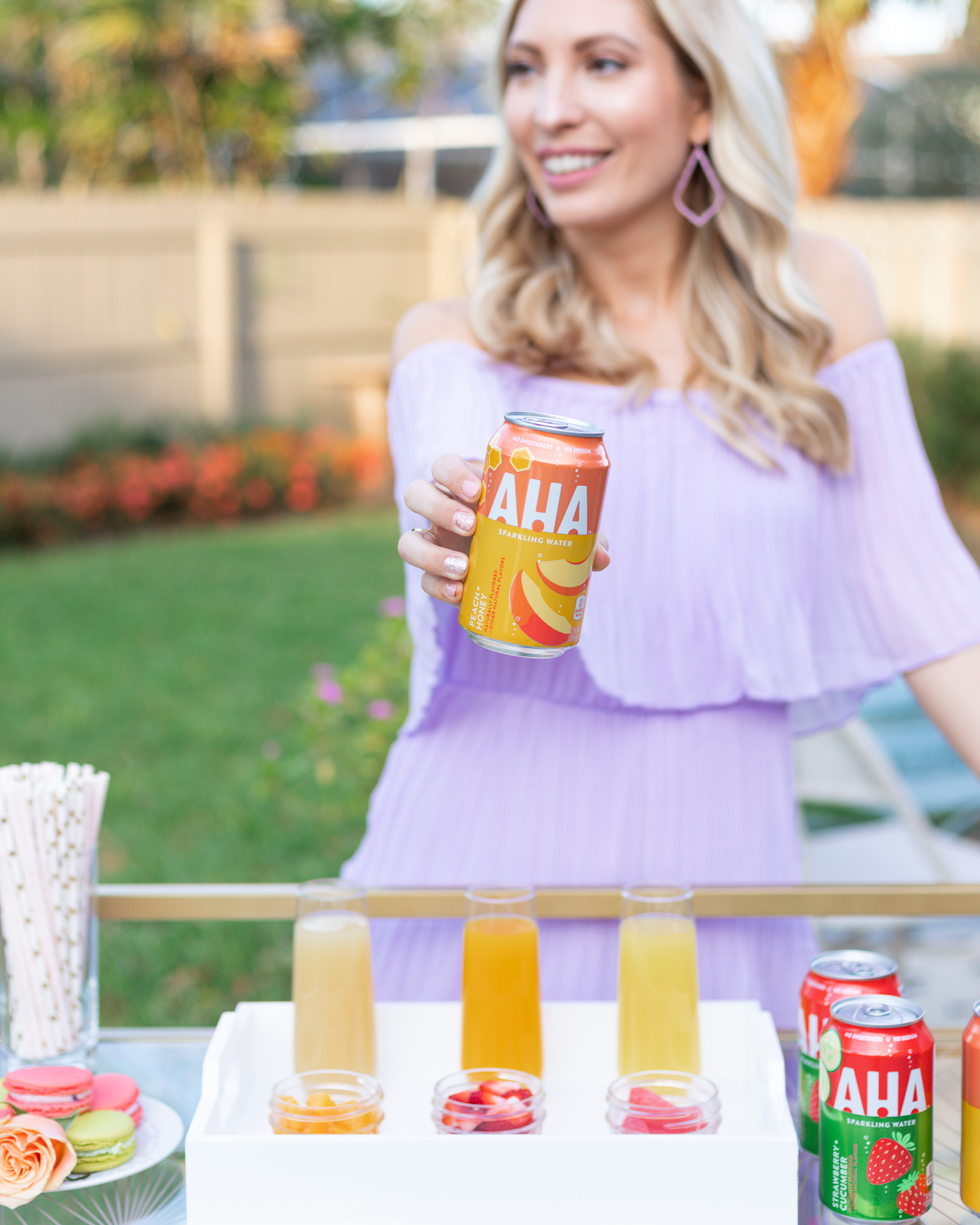 Let me know if you try out the new AHA Sparkling Water at your local South Eastern Grocers.
I hope this gives you some inspiration for styling your own bar car this spring.
Xoxo, Nikki