We hosted our first BBQ at our new home a couple weeks ago and of course summer in Florida is always looking like it's going to schedule a hurricane on us. Luckily the weather was perfectly sunny albeit hot until after dinner time when we were ready for some rain.
There are all different kinds of hostesses, some like to take on more challenges than others. I am horrible at going overboard when it comes to party planning which means I spend way too much money, way too much time, and then feel way under appreciated. So I decided for this BBQ since it's meant to be a casual hang out with friends and family I would make sure to scale myself back and keep things simple. After all, the first BBQ of the summer should really be about enjoying great people, delicious food, and hopefully plenty of sunshine.
Thinking about gathering your own friends and family for some grilling, chilling, and games? Here are the recipes, drinks, and games that  I put together for our BBQ that left a very happy face on everyone that attended.
1.   Potluck Style is best!
We provided the main course and had everyone else bring an appetizer, side, or dessert. This way everyone gets to bring something they enjoy and it makes things so much easier on the host, or hostess. It's also nice having a variety of foods because you never know what someone may, or may not eat. We also chose a simple main dish to grill out, hot dogs and hamburgers. This gave people options, but also didn't break the bank when we went to Costco and bought our supplies. We had about 40 guests so we got 12 lbs of hamburger meat at $2.99/lb and two 48 packs of hot dogs at $9.96/ea.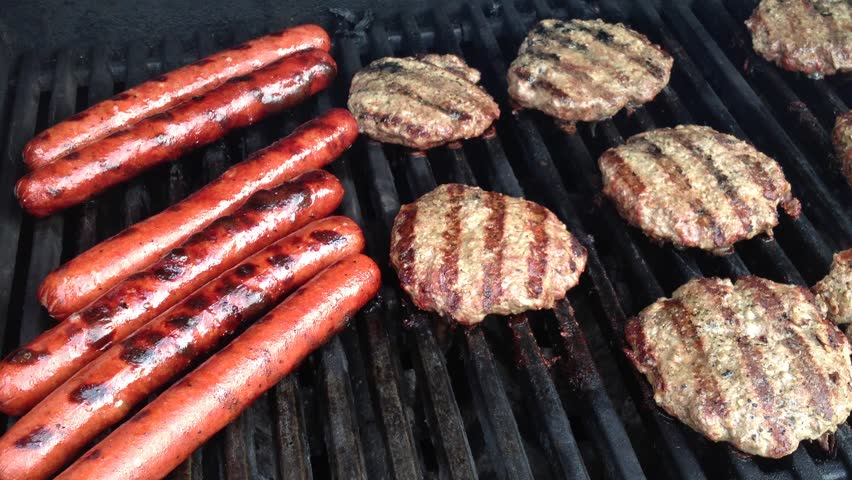 2.   Choose easy recipes, with your own fresh take.
Poppy Seed Coleslaw (Similar) – Nona's Recipe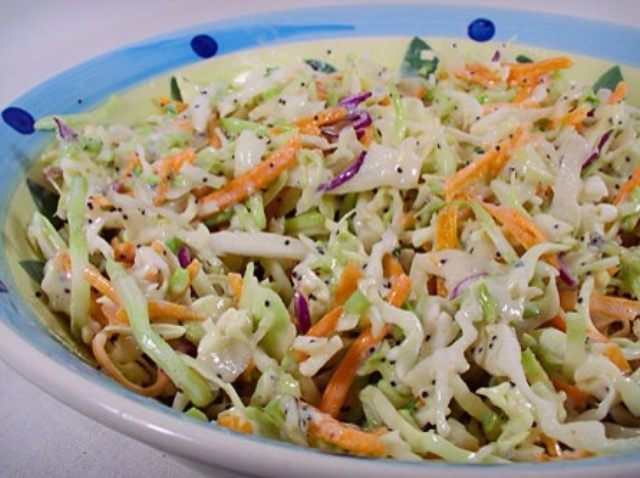 Broccoli Cheddar Noodle Salad – thanks to Brittany & Tyler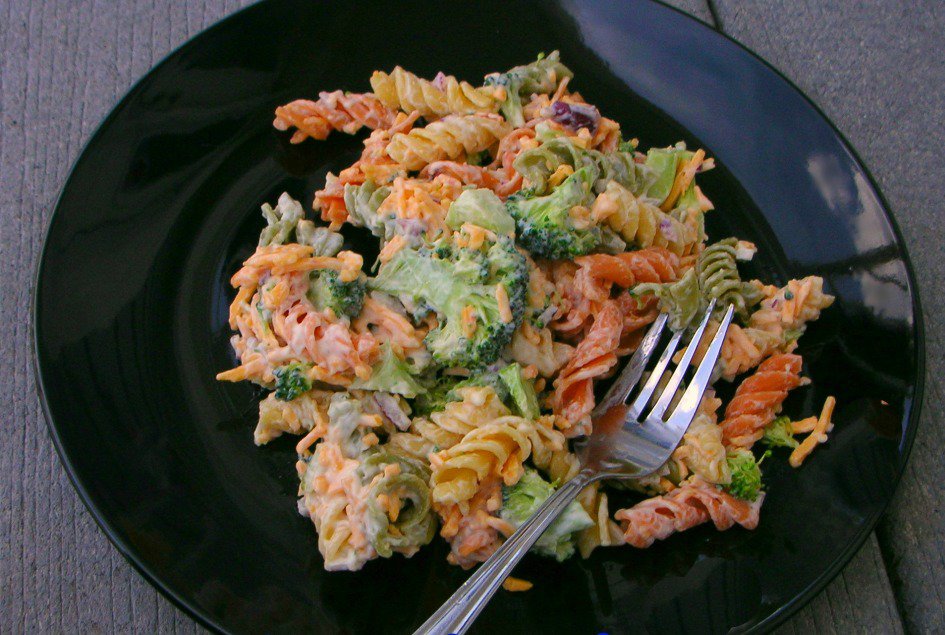 Clam Dip with Fritos – made by my Papa Jim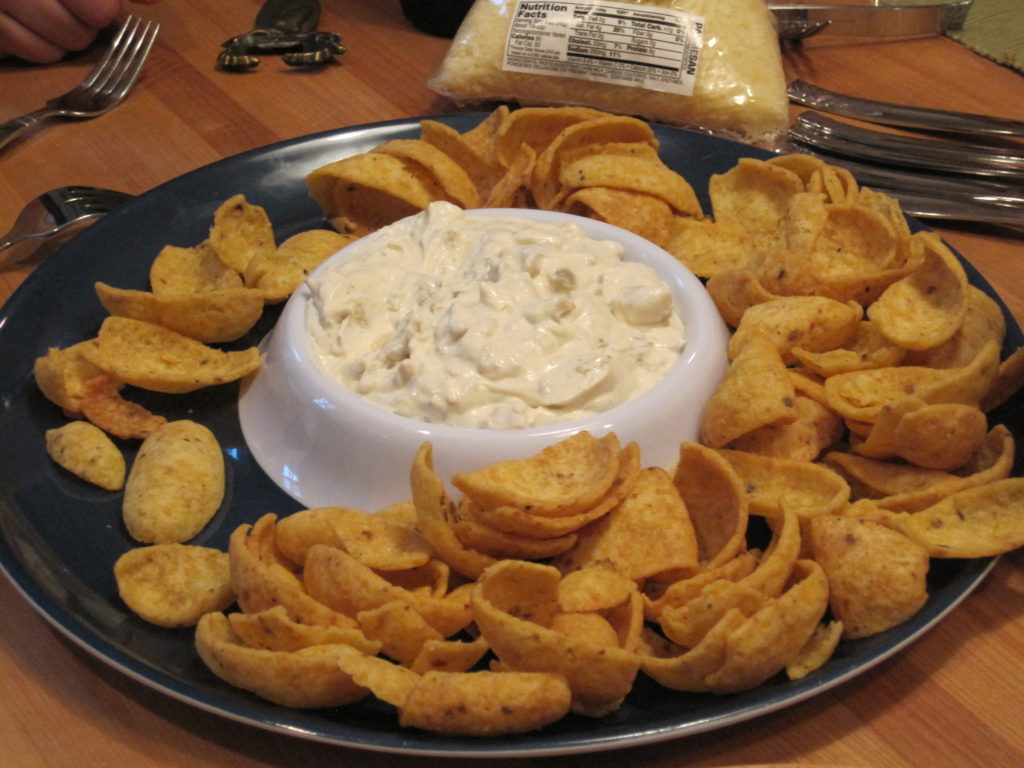 3.   Drink simple – Beer and pitcher drinks
I put out two pitchers of ice water for everyone because it was a hot day and water is a staple drink that everyone needs. I also purchased sweet tea and lemonade for anyone who didn't want alcohol and then two kinds of beer. I didn't want to go all out with alcoholic drinks because it was Sunday during the day and something people can just grab out of the cooler is easiest. I would pick one domestic beer preferably a light beer for the majority and then one speciality beer, which to me for a BBQ would be a Blue Moon with an orange.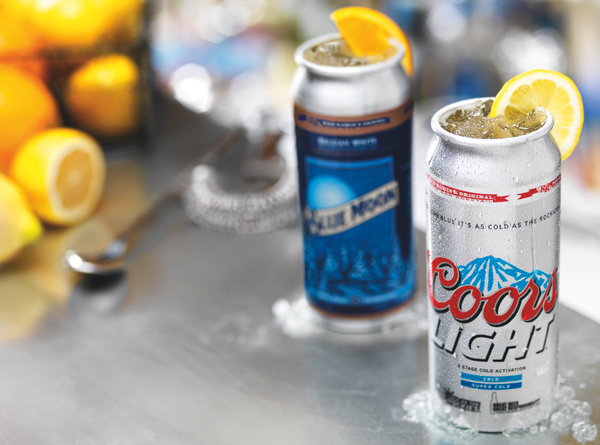 4.   Yard games are always a must.
For the kids I put out a variety of things to keep them busy. I wanted to keep them out of the house, but still cool, so I set up the water slide that my son had recently got for his birthday. The kids had a blast running all the way across the yard before sliding down it. I also got each of the kids a giant container of shaving cream that for some reason is so entertaining for them to rub all over themselves and then hose off. We also had bubbles, lawn darts, and water guns. For the adults we brought out corn hole and the giant 4 foot Jenga that my cousin's boyfriend had made and so many people became engrossed in the game. The tallest we have gotten it is 6'3″ before someone made it fall over.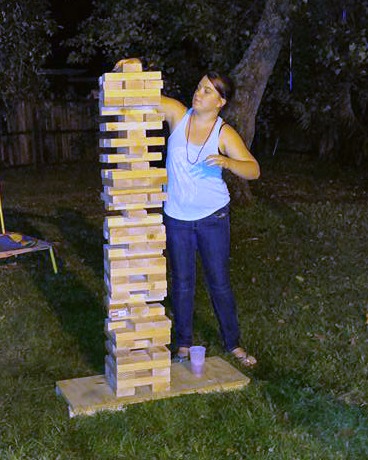 5.   Keep décor to a minimum.
I am huge on decorating and DIY projects, however when you are having a causal small friends and family BBQ it's best to keep it low key. Less is more especially when it comes to clean up. I set out our patio tables and chairs and covered everything with plastic white table cloths. I put a simple faux flower arrangement on the two tables that I took from my living room. I picked up some simple patio cushions and throw pillows that were on clearance at Walmart for a whopping $1.50/ea to add a pop of color and give a uniform look.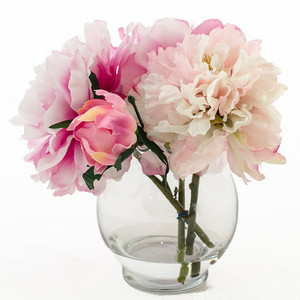 6.   Everyone loves dessert.
If nobody brings a dessert then definitely plan to provide one. Everyone loves something to satisfy their sweet tooth once their stomach is less full and they are relaxing and enjoying coversation. We ended up having two desserts. Our lovely neighbors brought a huge tray of assorted cookies that were so delicous and perfect for both adults and kids. Plus it happened to be one of my best friend's birthday so we had a cake there for her that my cousin had picked up.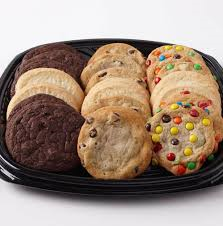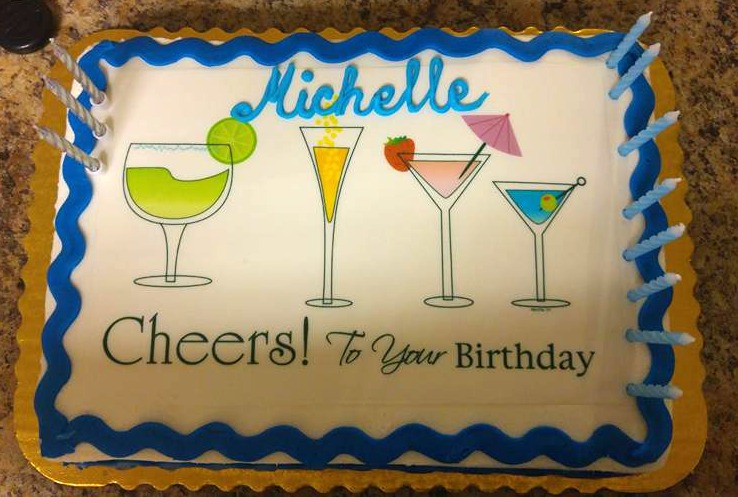 When it comes to BBQ attire I prefer dressy casual. However, that's also because I'm a dress up kind of girl in general. It was hot so I picked a pair of light weight shorts and paired them with wedges to keep my toes out of the dirt in the back yard. This way I was still fun and feminine looking, but not over done.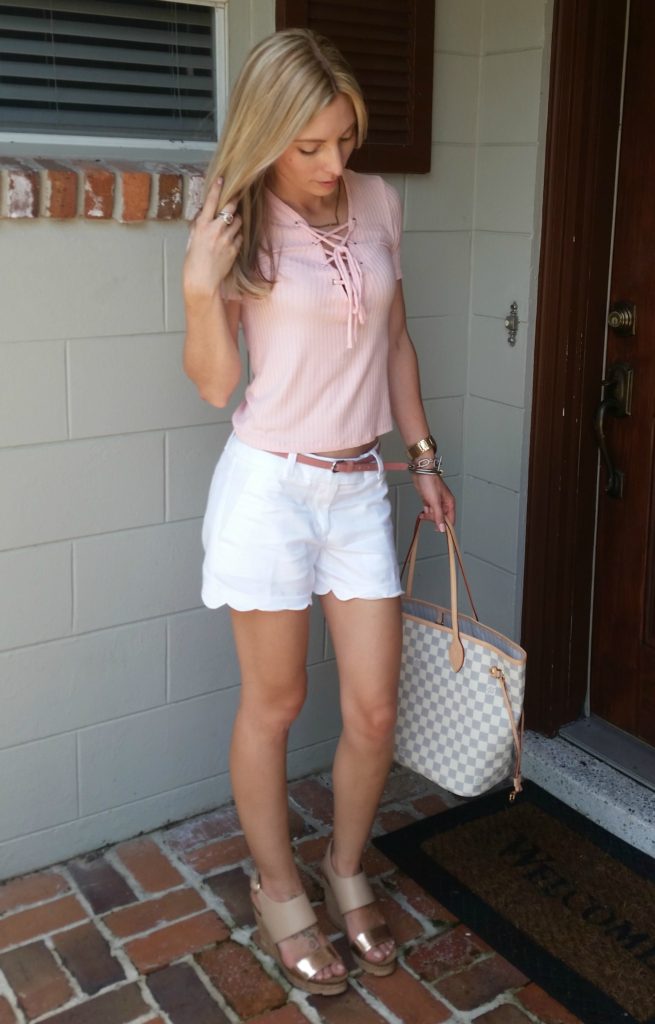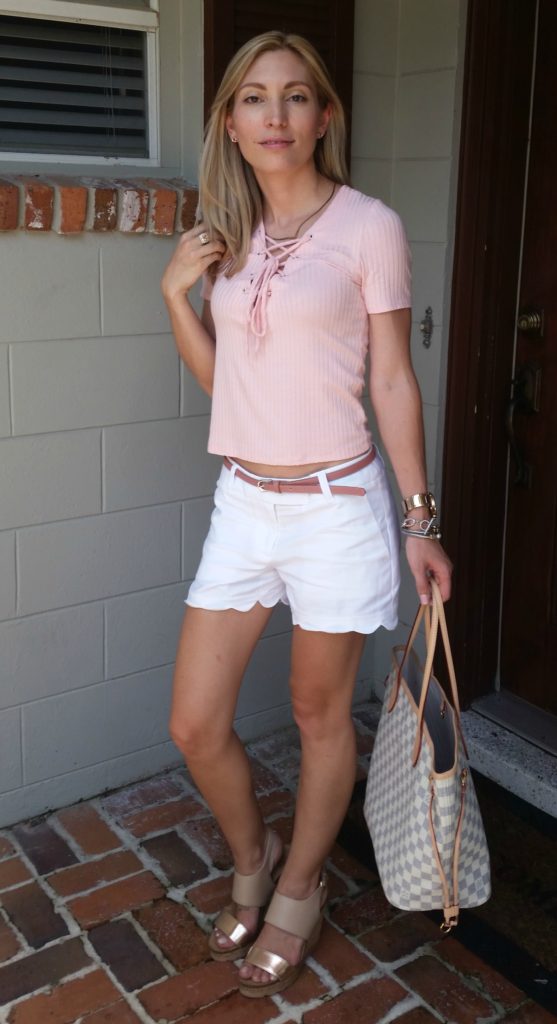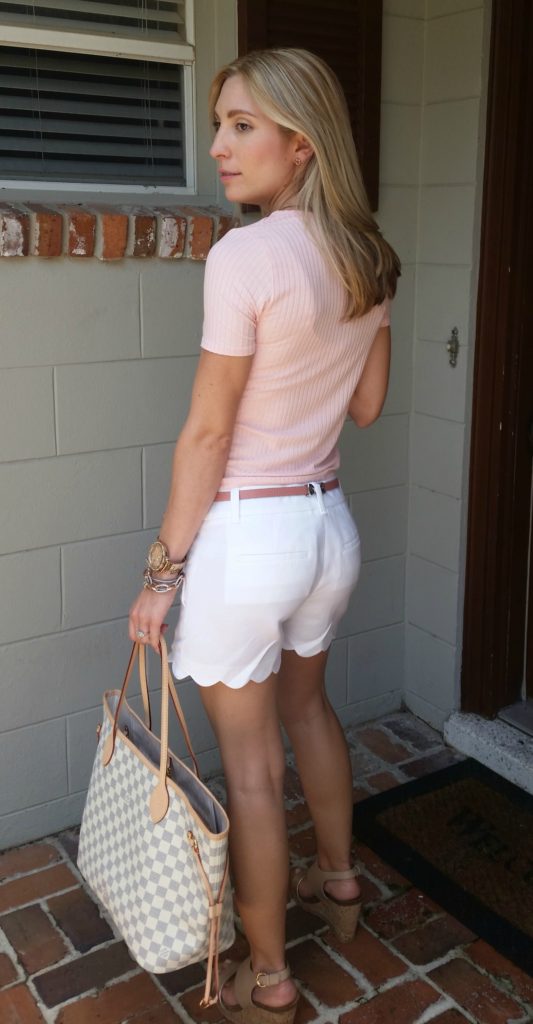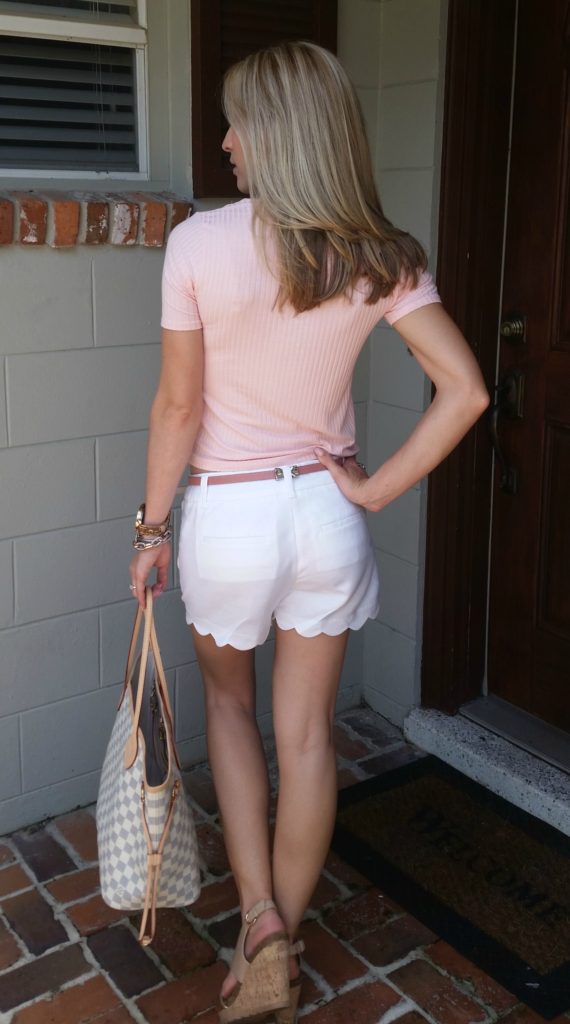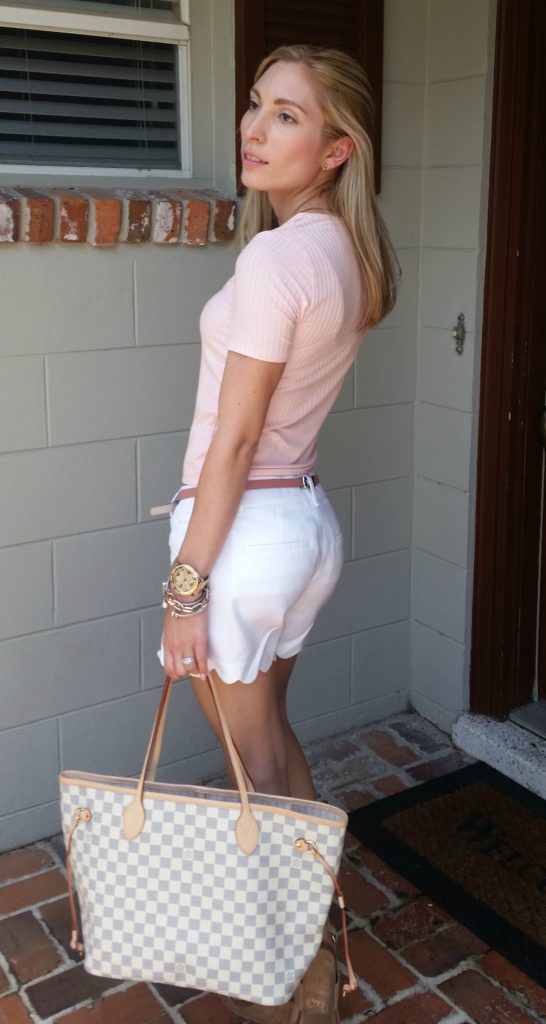 Photography credit goes to my best friend and cousin Brittany!