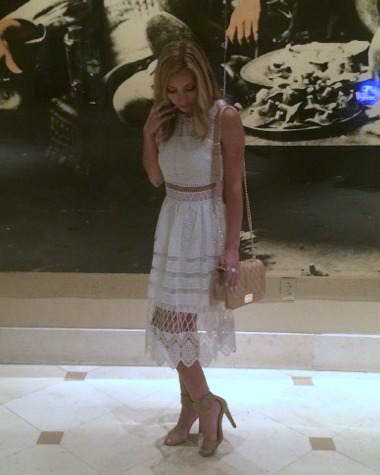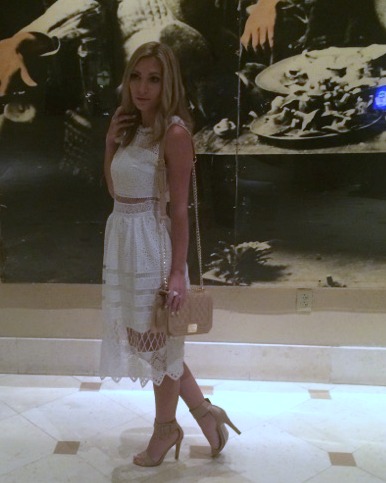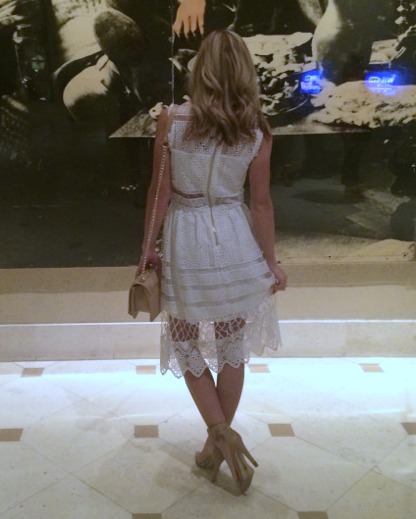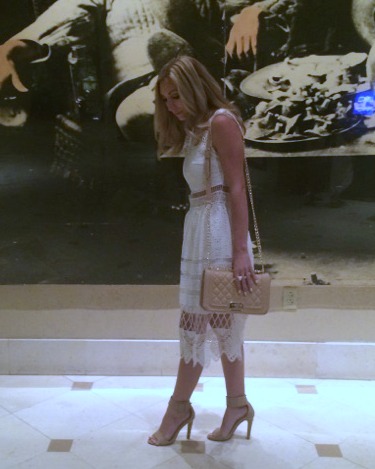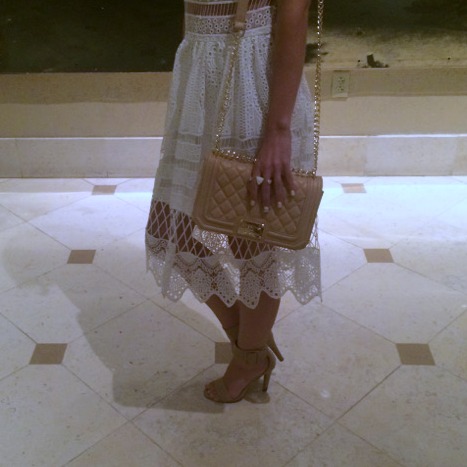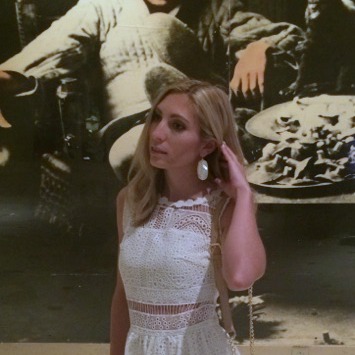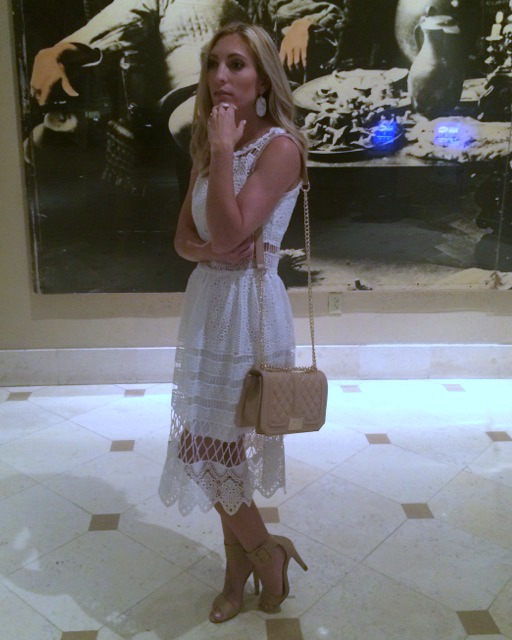 This past weekend was my boyfriends Birthday and Father's Day, which is one of my favorite times of the year. For him he would rather not be bothered and just play some golf, but I really enjoy surprising him with something he's been wanting and getting cards together from my son and me. This year we went out to dinner at The Palm at the Hard Rock Hotel here in Orlando. The food is so divine there I don't think you could go wrong with anything you order. I tried this delicious Strawberry Moscow Mule cocktail that had strawberries, vodka, ginger beer, lime and mint and it came in such a cute copper goblet.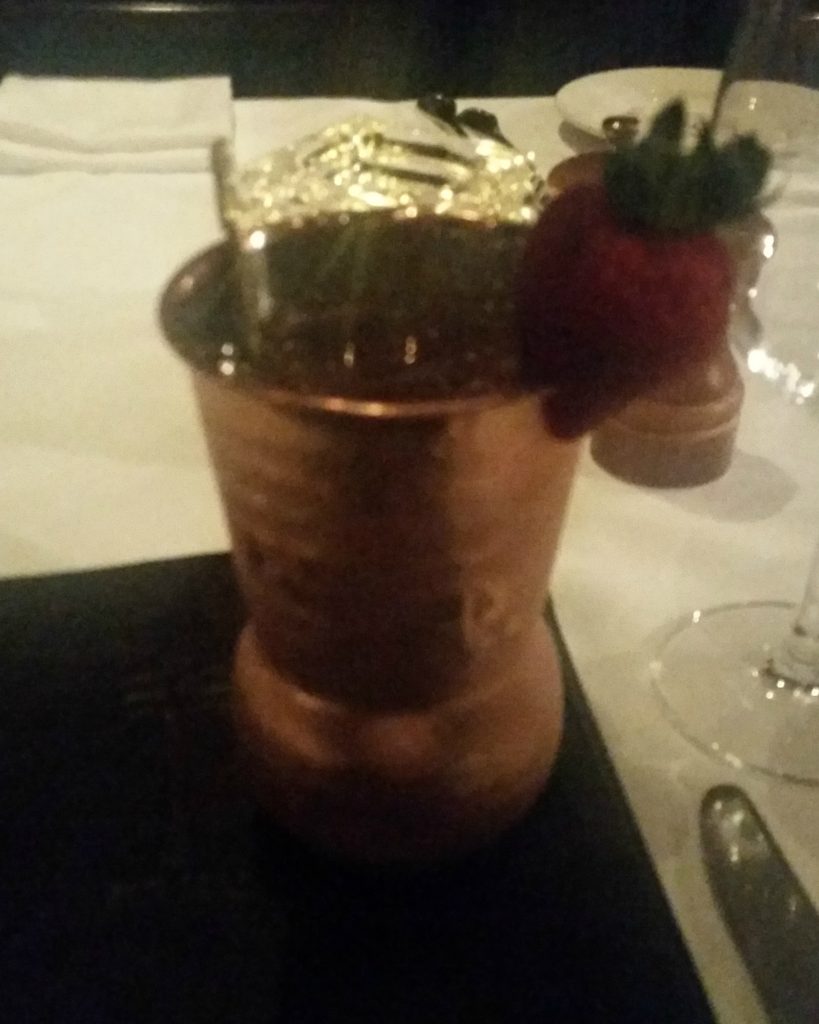 I decided to go with a cocktail style dress because the Palm and Hard Rock Hotel are a bit of a more dressy atmosphere. I had been dying to wear this gorgeous lace dress by Alexis. It's so feminine and light weight for summer. The detailing of the crocheted lace just makes me oooh and aaah over her lovely creation. I wanted the focal point to be the dress, so I paired it with neutral accessories; a nude quilted cross-body bag and nude heels. The Kendra Scott Opal looking earrings and ring added just the right elegant touch without being over done.
Oh and before I forget… I wanted to share with you one of my new favorite things… press on nails! I am not a fan of damaging my nails, I used to have acrylics for years and gel polish does almost the same amount of damage. However, natural nails are more prone to breakage and polish doesn't last as long, so I found these amazing Broadway Impress Nails. They come in so many colors and designs, plus you don't have to glue them on they are press on and actually stay on for a week, or more. How can you beat that! Change your nails for the price of a bottle of nail polish, so easy, they look great and no damage to your nails.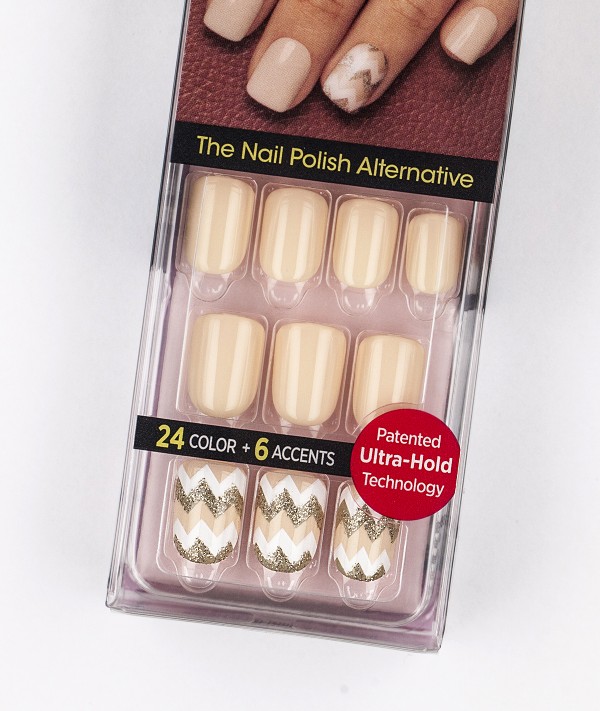 Alexis Sage Dress – White (Size Small)
Similar Lace Dresses I'm loving Dress 1 / Dress 2 / Dress 3
Strapless Bra – Nude (32C)
Delicious Vodka Ankle Strap Sandals – Beige (Size 7) / Similar / Similar / Similar
Bebe Marie Cross-body – Taupe / Similar
Kendra Scott Danielle Earrings / Kendra Scott Double Ring
Makeup
The POREfessional Face Primer Mini
Laneige BB Cushion (Natural Beige)
ABH Contour Kit (Light to Medium)
Laura Mercier Secret Brightening Powder
ABH Brow Wiz (Brunette)
Roller Lash Super Curling & Lifting Mascara
Original Eyeshadow Primer Potion
Lorac Pro Palette (Champagne & Mauve)
Lorac Pro 2 Palette (Buff, Lt. Brown, Nectar, Rose)
Hikari Blush (Tango)
Watt's Up! Cream-to-Powder Highlighter
Nyx Butter Gloss (Tres Leches / Fortune Cookie)
Fingers – Broadway Impress Nails Symphony
Toes – Sally Hansen Birthday Suit & Nicole by Opi A Heart of Gold