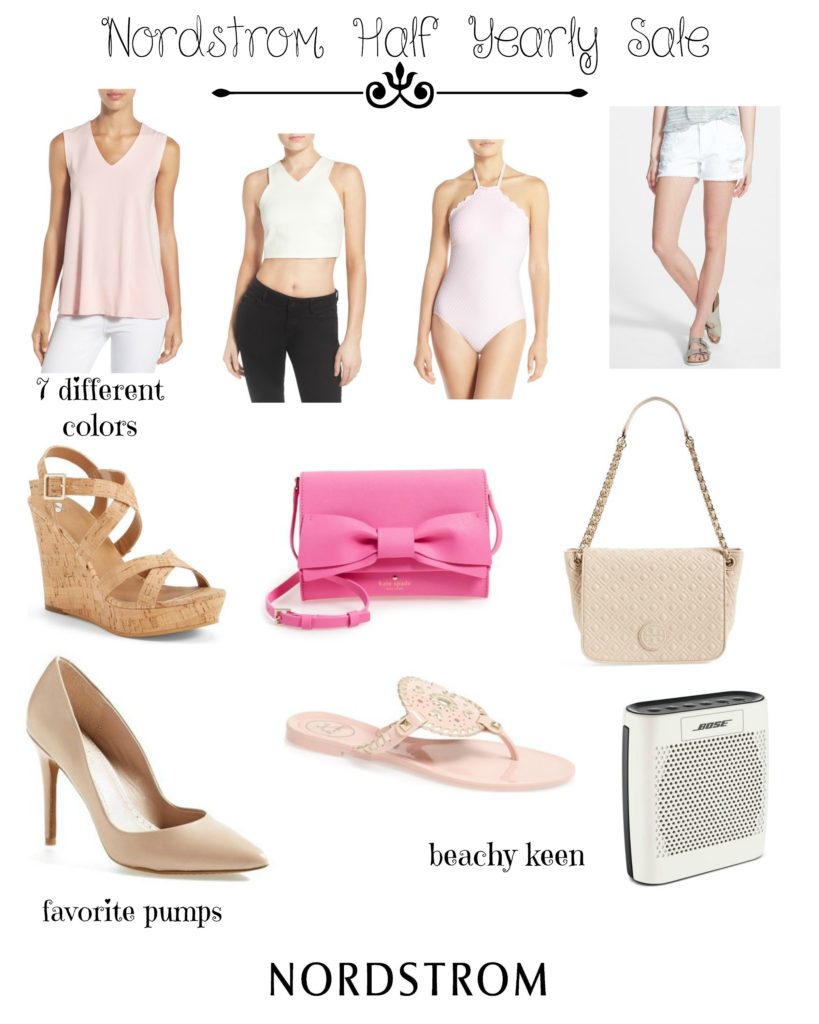 Who doesn't love a good sale? I am always shopping around before I buy something to make sure I am getting it for the best price. Most items I like to buy on sale, unless its already priced low, or something I'm really going to use and I can't wait.  When it comes to high end brands I definitely like to wait for a sale to choose those pieces.
Right now the Half Yearly Sale at Nordstrom is going on and here are the top ten items I either already have, or have something similar.
Charles David Pact Pump:  These pumps are the bomb. They come in 21 different colors/patterns and and I just can't tell you how fabulous they are. Right now these on sale are simply a steal and they are so comfortable. I have them in nude and they go with everything. (For reference I wear a size 7.)
Eileen Fisher V-Neck Tank :  I purchased this top in blush and it is so comfortable and soft. White, or blush are such a great color not only for summer, but year round.
Scalloped One Piece Bathingsuit : I own the Marysia Mott One Piece in white which is so feminine and modest, yet still so fashionable and sexy. This one by Kate spade I have had my eye on in blush, especially for how well it is priced.
BOSE Speaker:  My boyfriend has a speaker very similar to this and whenever we go on a trip, or to the beach we make sure to bring it. It hooks up to your phone via blue tooth and is the best way I think to listen to iTunes, or Pandora.
Blush Jack Rogers:  I don't own this pair of flip flops, but I plan to! I have a pair of BCBG Bow Jelly Flip Flops in blush, a pair of Givenchy Jelly Sandals in white, and a pair of Valentino Jelly Sandals in Black.  For how well priced these Jellies are and how well this type of product holds up at the beach I really suggest buying these while they are on sale!!
---
Eileen Fisher V-Neck Long Soft Jersey Shell (7 colors) Similar / KENDALL + KYLIE Stretch Knit Crop Top / Kate Spade New York 'Marina' Dot Jacquard One-Piece Swimsuit / Articles of Society 'Madre' Distressed Denim Shorts / BP. 'Summers' Wedge Sandal / Kate Spade New York 'Clement street – Francie' textured leather clutch (2 Colors) / Tory Burch 'Small Marion' Quilted Shoulder Bag (2 Colors) / Jack Rogers 'Georgica' Jelly Flip Flop / Charles David 'Pact' Pump (21 Colors) / Bose SoundLink Color Bluetooth Speaker (5 Colors)
Shop My Half Yearly Sale Picks: