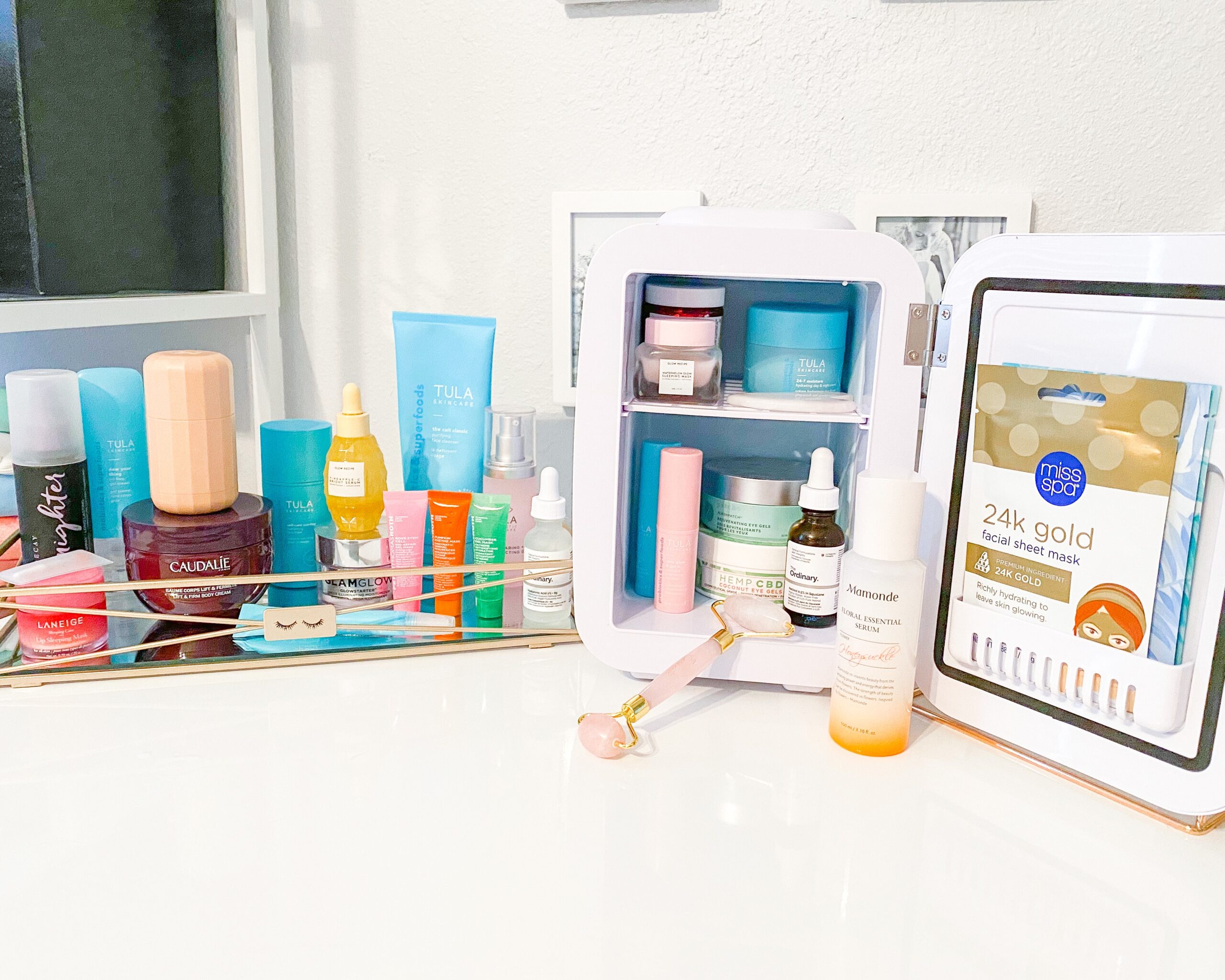 We are in the time period where storage solutions are becoming next level stylish. So in addition to your organized vanity and beauty shelf comes the oh so photogenic beauty fridge where you can keep your products that like to stay chill! Yes this is not a necessity and probably a marketing gimmick. However, it's pretty convenient to keep your anti-puffing products in a fridge on your vanity, instead of walking over to your kitchen. I did a lot of research when I purchased my fridge on which products I should store in it. Here is my list of what I keep in my beauty fridge at why.
VITAMIN C SERUMS
If your Vitamin-C is a cream serum then I suggest keeping it in your beauty fridge. Vitamin-C is something that's a bit unstable and keeping it in a cool place helps with it lasting longer. If your serum is more oily though, then don't keep it in the fridge. I have one from Glow Recipe that is more oil based and it doesn't go on smooth when it's cold.

SHEET MASKS
I really love the feeling of putting on a cold refreshing mask. I keep both my facial masks and my under eye gels in my fridge.

FACIAL TOOLS
Tools like your facial roller and Gua Sha are great to keep in the fridge. When I use my rose quartz roller in the morning under my eyes it really helps with any puffiness.

RETINOL
You should keep retinol in a dark and cool place. It normally comes in a dark bottle to help keep it away from light. I store mine in the fridge to help keep the product stable and to last longer.

DE-PUFFING PRODUCTS
Do you want that under eye cream to be even more soothing? The chilly temps will help de-puff, tighten skin, and reduce any inflammation you might have! This is why you should keep day creams and under eye creams in your beauty fridge.

PROBIOTIC SKINCARE
My main skincare products are by Tula. I love their entire line and they are a probiotic skincare product. I keep a couple of items in the fridge since it helps maintain the life of the products. It also helps with items like my under eye rose balm for de-puffing and feels amazing after I put on my morning moisturizer. I actually have a code now that will give you 15% off all of your future Tula purchases. Just use code NIKKIAHALL for 15% off.

Do you have a beauty fridge? What are your thoughts on this trend?
Xoxo, Nikki