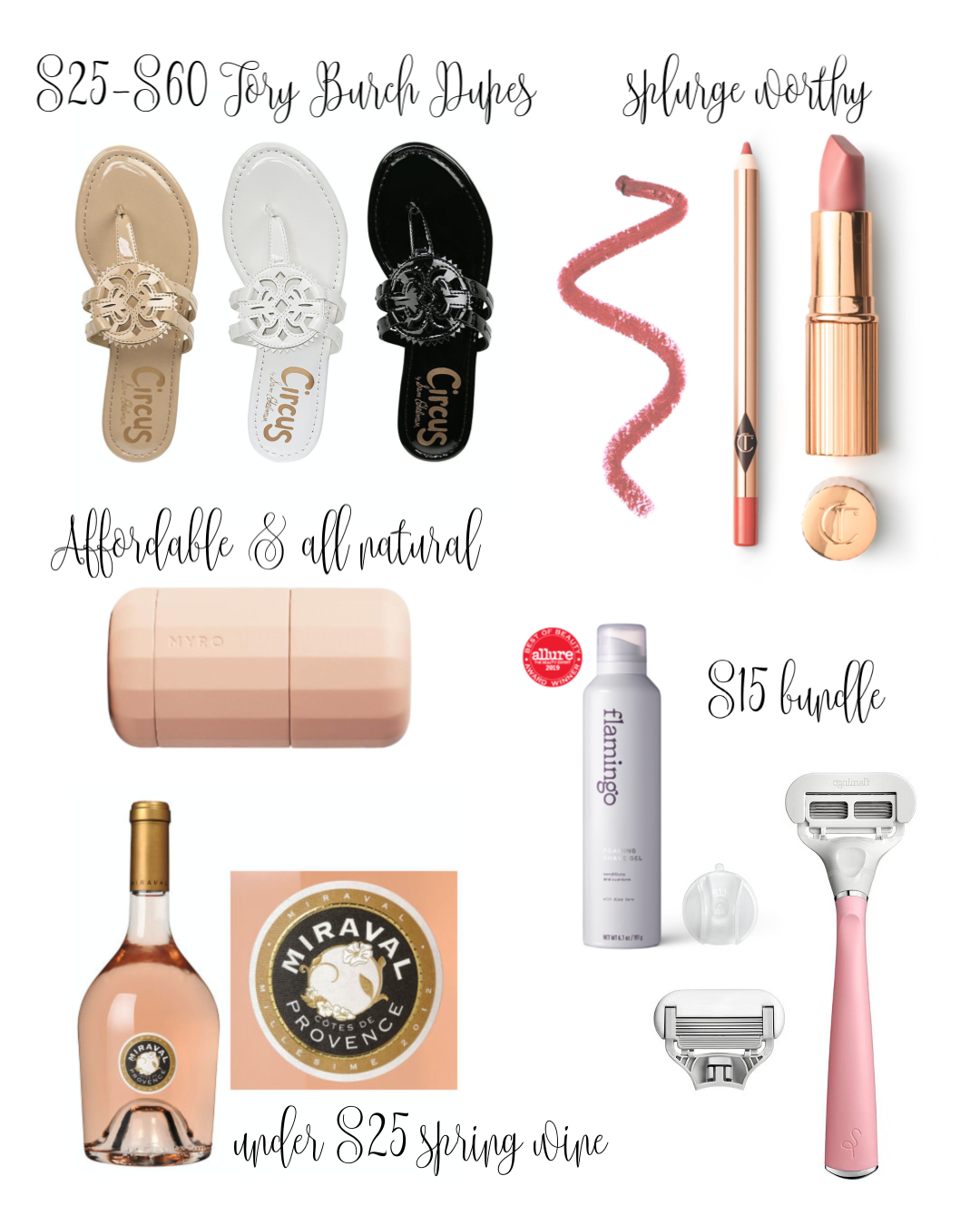 I have been trying out some new things lately based on suggestions from friends, things that have been sent to me, and just items I felt like testing. I wanted to round up 5 of my spring favorites to share with ya'll. These are a mix of fashion, beauty, and wine! I hope you love them as much as I do and they are all worth trying if you haven't already.
ALL NATURAL DEODORANT
Myro sent me a free sample of their deodorant in the scent pillow talk and I am obsessed! I had recently seen it in store at Target, but I'm always on the fence about natural deodorant. People have been saying that it's so much better for us, but does it work? It took a little over a week for my body to get used to it, but now I feel like it works fantastic. I don't stink and the scent smells so good. If you are truly worried about needed a touch up, then it's a super cute packaging to carry in your purse. If you order online through Myro you can even personalize your case. It's also environmentally friendly packaging, since it's re-usable and creates a smaller carbon footprint.

FLAMINGO RAZOR & SHAVING CREAM
Another amazing item found at TARGET! I had been hearing everyone and their mother on IG talk about the Billie razor, however, this razor is even better! So not only can you find it for the exact same price at Target if you need your razor refills last minute, but you can also order online if you want that option. There are a ton of razor colors, and they have an amazing shaving cream. I actually feel smoother longer than when I used the Venus razor.

MIRAVAL ROSE WINE
I just found out about this wine from my friend Alana. It's actually the wine brand started by Brad and Angelina. I have never been a Rose fan, but after trying this one, I'm in love. $22 for a wine is a bit expensive if you love to drink wine like myself, but it's a great wine to have on occasion with the girls, or to treat yourself. I am still on the hunt for a bottle that I love under $15. My friend Sasha and I spoke today, and we are discussing doing a spring Rose tasting to find our favorites.

SAM EDELMAN DUPES FOR TORY BURCH SANDALS
I'm always for finding the perfect dupe! I know it's not for everyone, but we don't all have the budget to spend $200 on a pair of shoes. I have never owned a pair of the Tory Burch sandals and now thanks to Sam Edelman, I never will. There are so many colors here and the most expensive pair is only $60, however I found some under $25. I own a pair in nude patent leather and I purchased a couple of other colors from Nordstrom Rack the other day for spring. They are super comfy and will go with so many outfits.

PILLOW TALK LIPSTICK
Now I know this is an expensive lipstick, but I feel like it's worth the splurge. I actually own only two splurge worthy lipsticks and it's this one and my YSL nude. The perfect nude lipstick can be worn over and over again. Sticking to the basics is great, which is why I only wear three shades of lip colors a nude, a classic red, and sometimes a pink for spring. I am currently on the hunt for a under $10 dupe for this lipstick as requested. However, if you can afford to splurge on this, I suggest it. You will feel like a million bucks wearing it.

What's one of your spring favorites?
Xoxo, Nikki