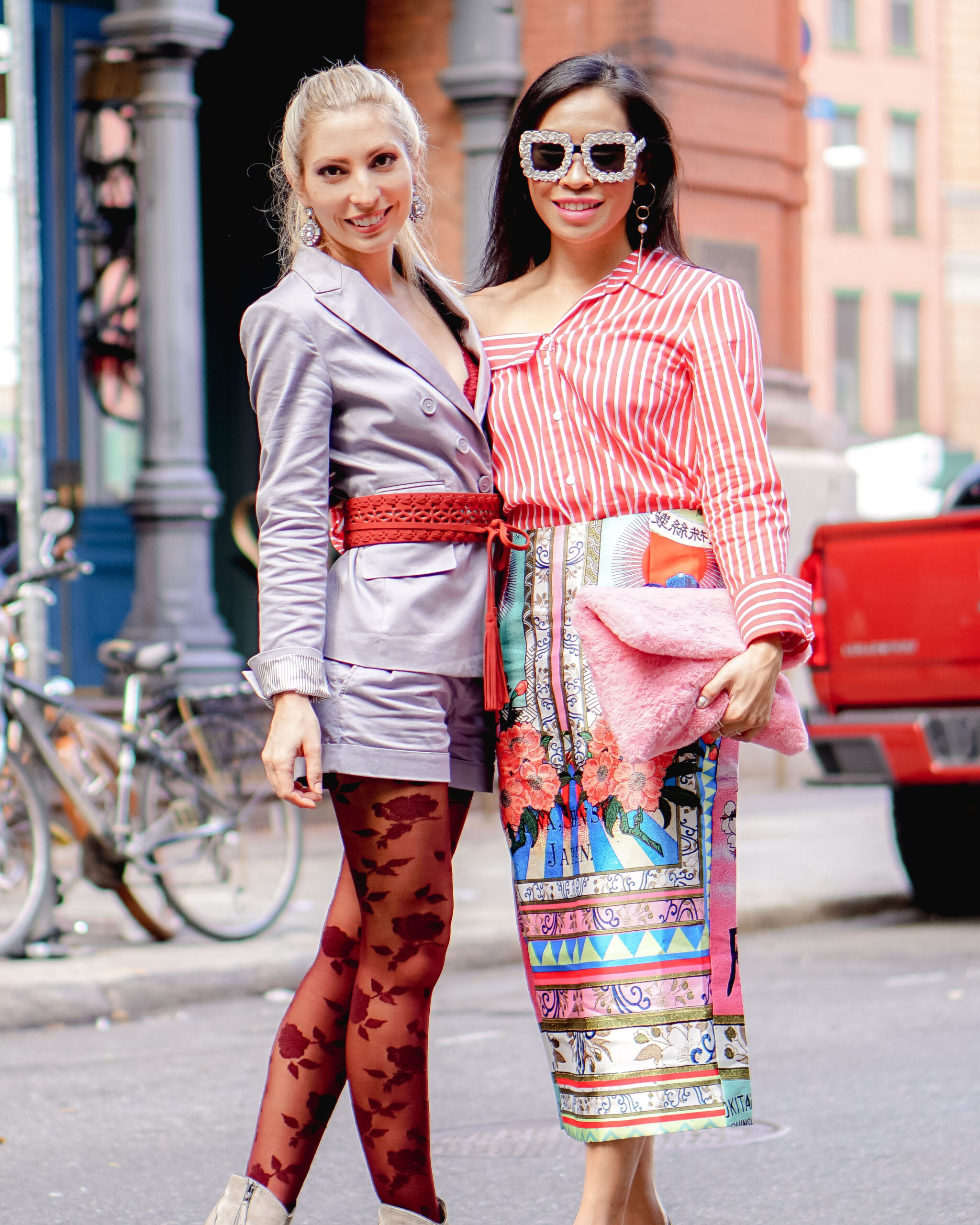 It's that time of year again my friends, the time when all the women and men with a love for fashion, flock together at one of the most coveted events of the season…New York Fashion Week! NYFW happens twice a year, once in the spring, and once in the fall. I attended for the first time last year in September for the SS18 shows, but before going I had no idea how to even attend NYFW. So for all of you fashion lovers, and people who have attending NYFW on your bucket list, I thought I would share with you, how you too can attend NYFW like a pro!
Last year I was invited by Style Collective to attend NYFW and I was super excited because I was like WOW, NYFW is an invite only event and I was invited!! Well, let me tell you that's not exactly the case. Yes, the shows are invite only, but you have to know how to get the contacts and how to pitch the brands to actually secure the invites to each show. I got ALOT of information on that from The Miller Affect in her blog post on how to attend NYFW. She tells you a bit on how to pitch, how to label your emails, and some tips on how to find your contacts. I did create an entire worksheet of not only PR contacts that you can pitch for shows, but agencies to sign up with in order to get credentials, or show invites that you don't need to pitch for if you get registered. If you would like all of that info, simply subscribe below and it will be sent to your inbox! Pitching for NYFW is a lot like pitching a brand that you want to collaborate with. Keep it short and sweet and do not tell them how Fashion Week has been your dream, because tbh they really don't care. Tell them what you blog about, what you love about the brand, and what you can offer them. Remember we are each uniquely different, which is our super power, so think outside the box. I wouldn't write more than a short paragraph of about 5 sentences because they are reading so many emails and you don't want to get deleted because your's was too long to read. Also, you can't really start pitching except maybe a month to 2 weeks before you go. A lot of times you won't even get invites, or hear back from brands until a day, or two before you go, so don't stress if you haven't heard anything. Fashion Week is super hectic and it's very hard to plan a schedule.
WHERE TO TAKE PHOTOS
Most people when they are in New York want to take photos at a lot of iconic spots, well let me tell you that if you want to get good lighting and not have a ton of people in the background, then here is my advice.
Top of the Rock: Go there first thing in the morning when they open, we went during golden hour which was good lighting, but it was super crowded. Less people go in the morning and you will be able to get tons of great photos without waiting for people to move out of your shot.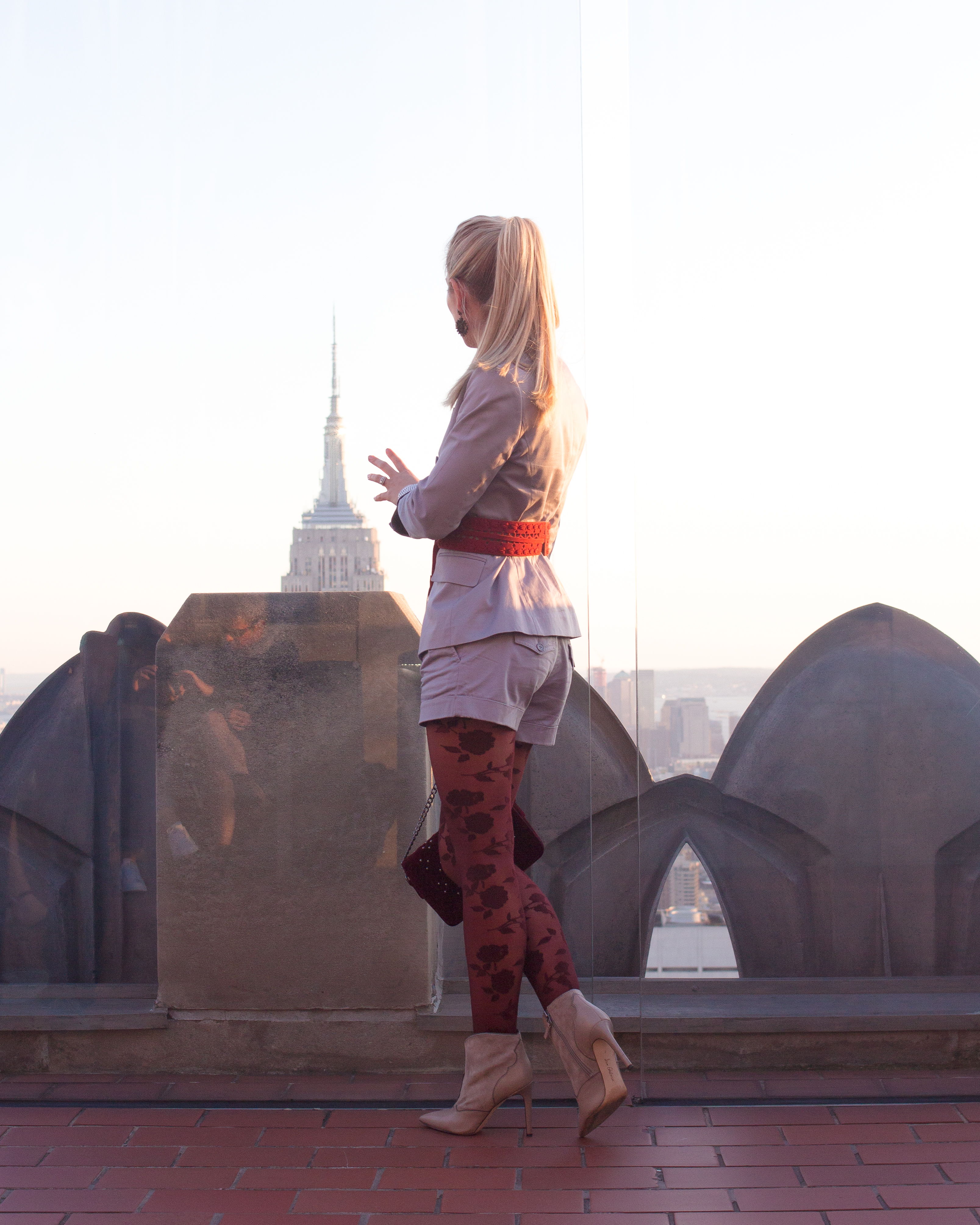 Dumbo & Brooklyn Bridge: This is another morning spot due to lighting and I suggest 1 hour after sunrise for the bridge though you will need to watch out for walkers and bikers. Then head to Dumbo right after which is walking distance and shoot in the street on Washington where it intersects with Water St, and the bridge will be perfectly in the background. This is also the Gossip Girl location of the Humphrey loft.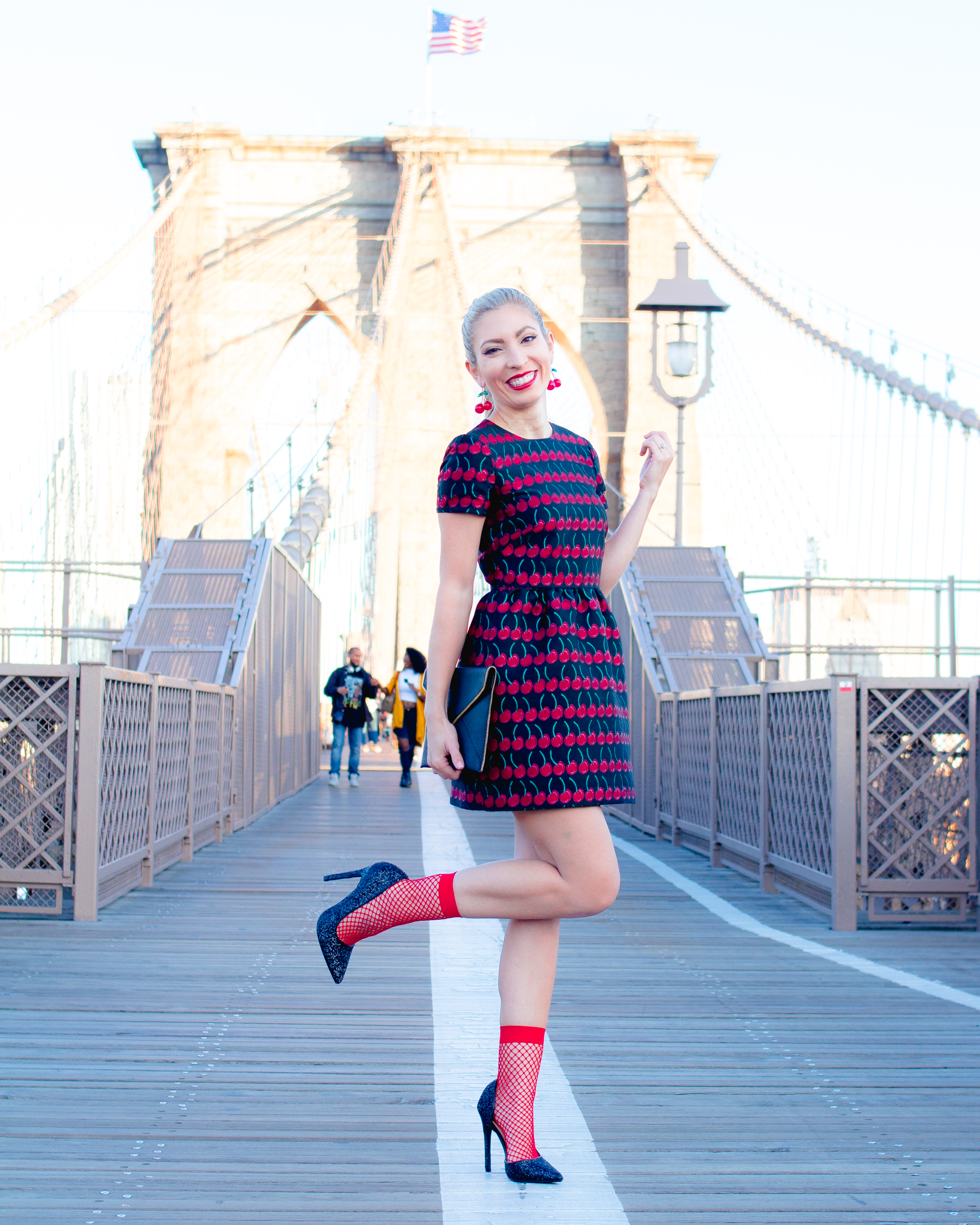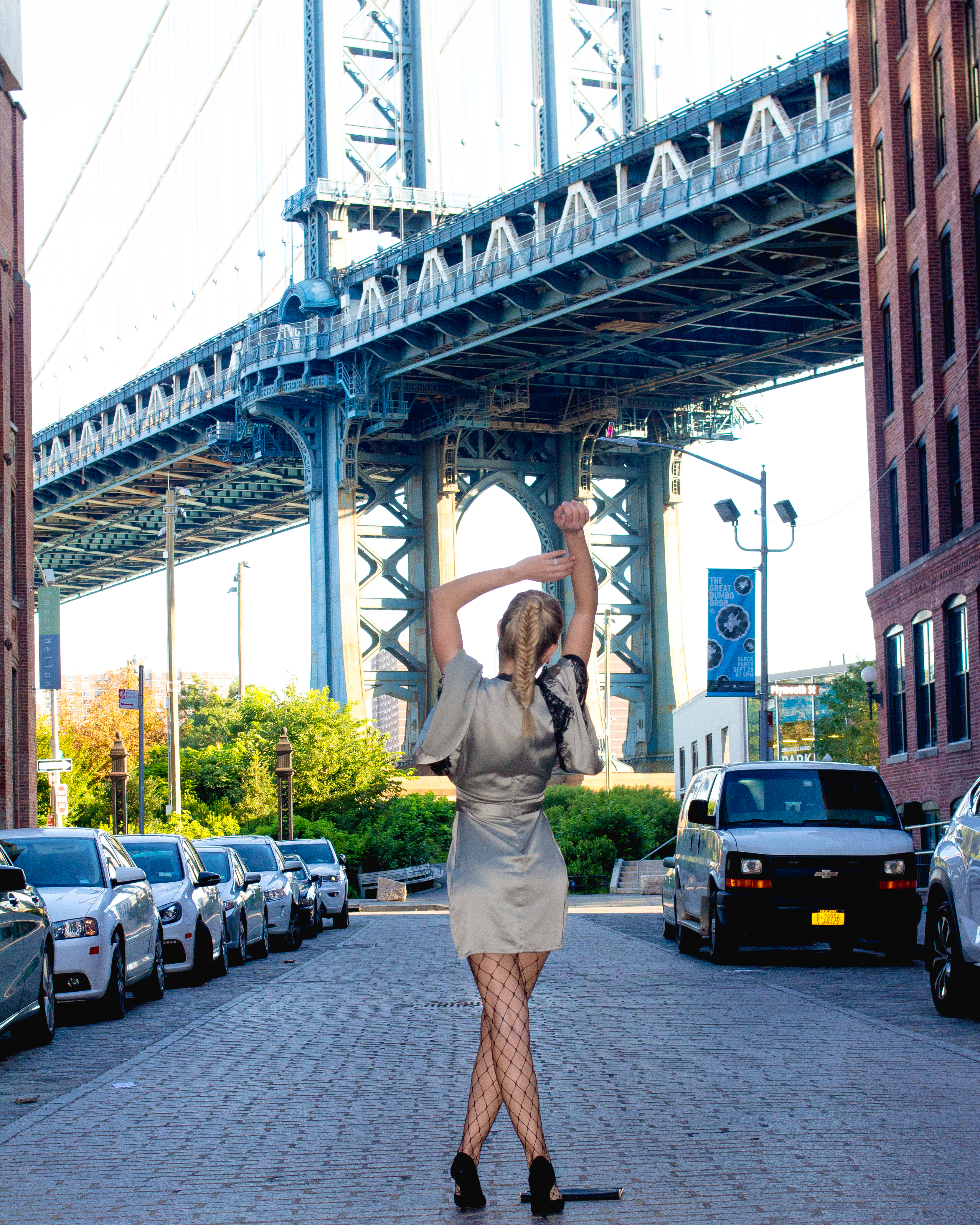 The Met Steps: This is also either an early morning spot, or a late afternoon spot. There are always people around, so you just have to wait for your moment to get your shot. However, if you are looking for the Gossip Girl vibe then just make sure you are higher than everyone else on the steps haha.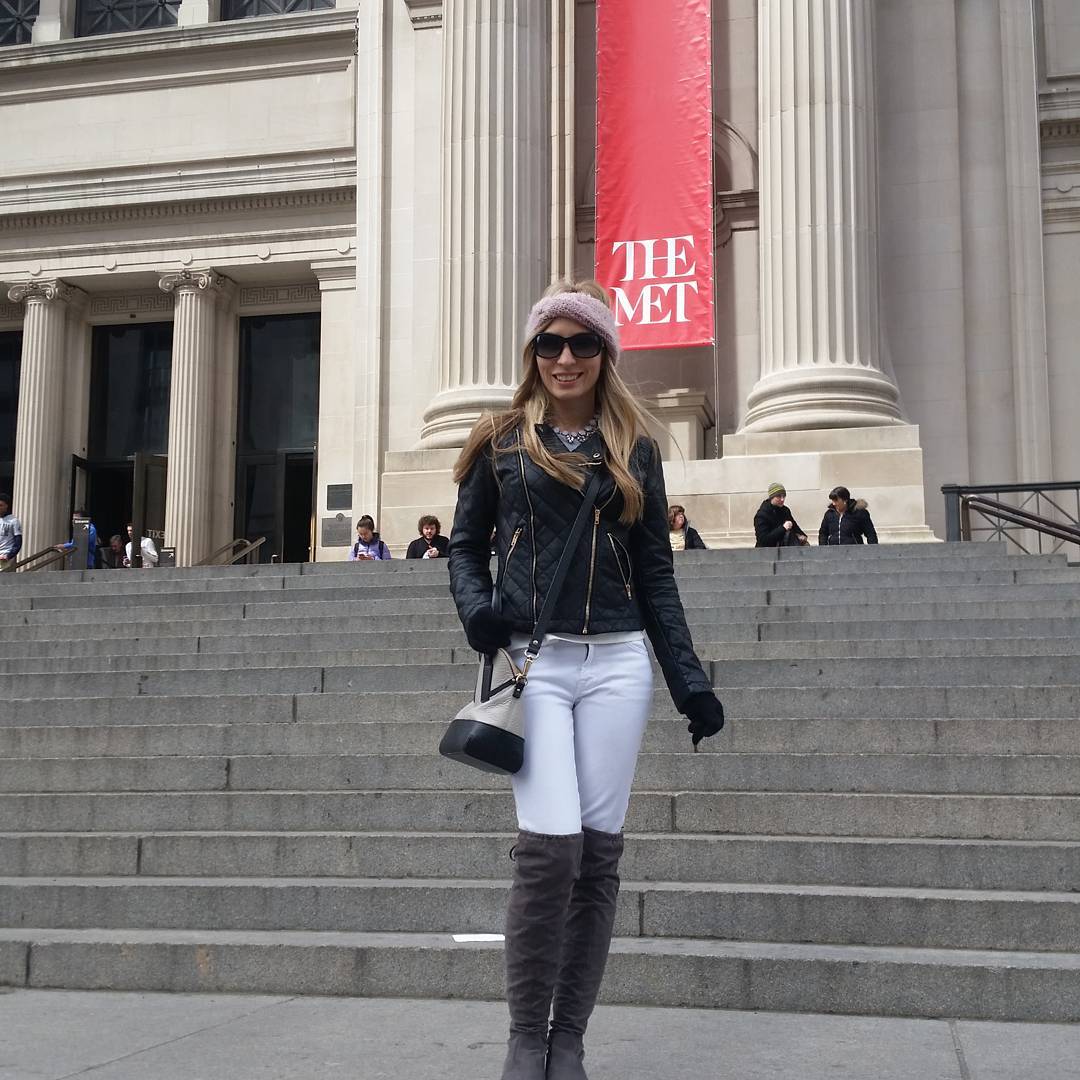 Central Park: You can shoot here at pretty much any time of day. There are trees everywhere so its not hard to get some shade for even lighting and it's so big that people walking past quickly won't disturb you trying to get your shots. There is the Alice and Wonderland location which gets a bit busy so if you want to do that then I would go early, and there is a castle type place which is pretty for pictures as well.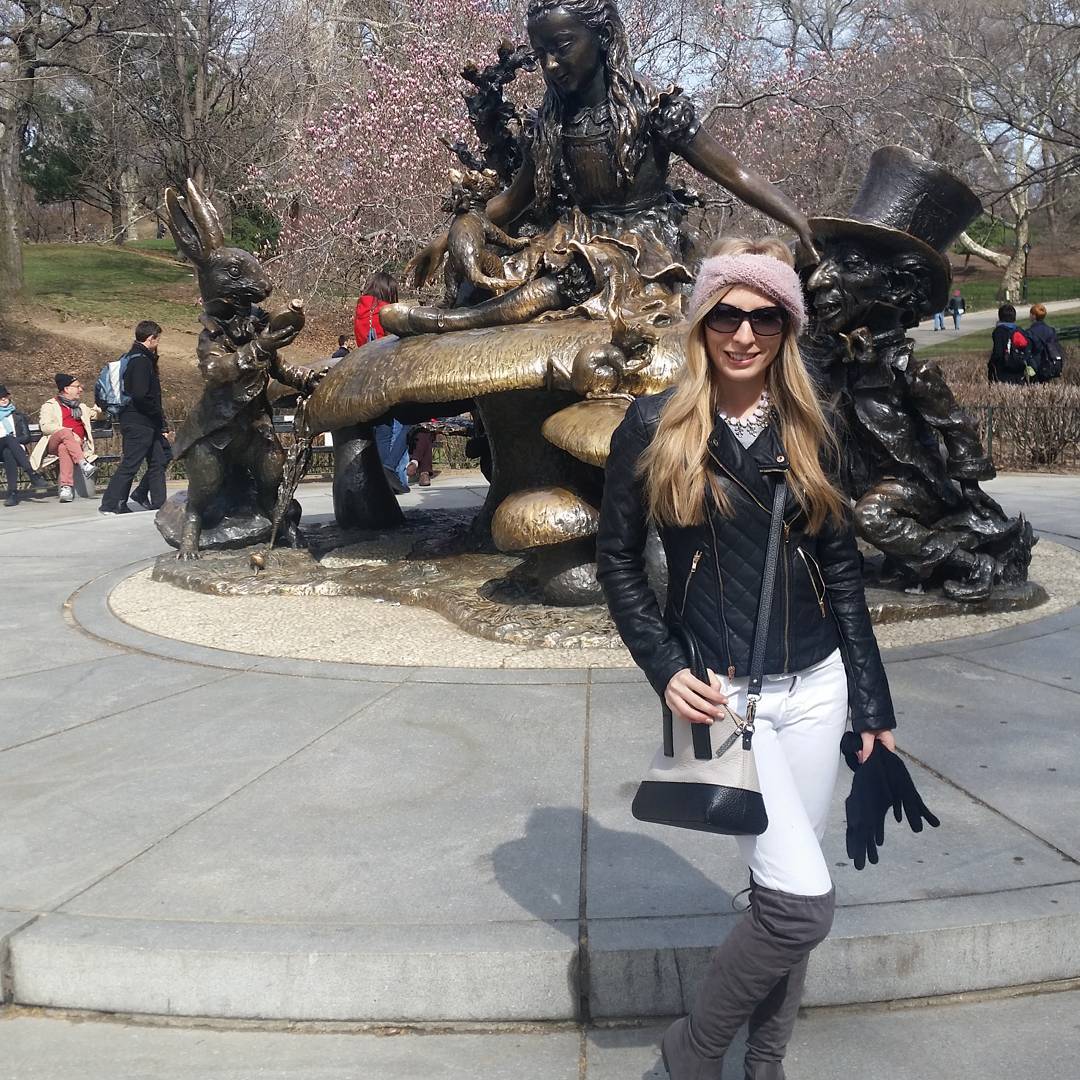 LiketoKnow.it Wall: This wall is in the lower east side at 102 Ludlow Street right outside a Duane Reade. It's a super cute spot to get your #startedwithascreenshot photos. It's pink and yellow and super fun, but I would suggest going either early in the morning, or at golden hour to get the most even lighting. We went right before going to dinner and the Style Collective event.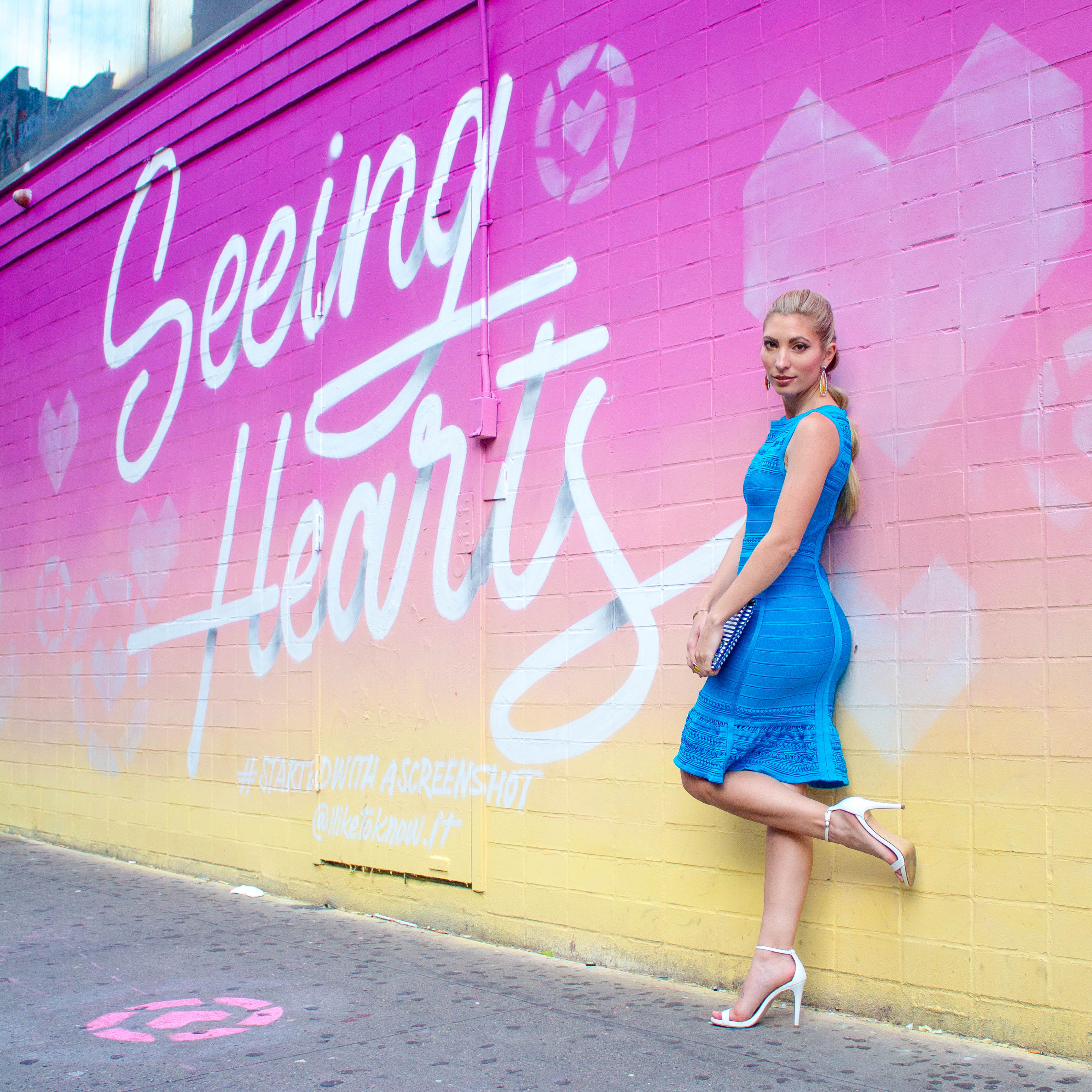 The Empire Hotel: So this spot was great in the evening because the rooftop lighting on the side of the hotel with the sign was perfectly shaded and even. The other side where most people sit for drinks had much harsher lighting in the late afternoon. I would suggest going at about 5pm in the fall, but I'm not sure how far before sunset in the spring due to the time change. A lot of times the bar has the section with the sign blocked off if they aren't super busy, but if you just act really nice to your waitress, then they will let you go take some pictures.
Pietro Nolita: This spot always has great shade, so I would suggest going during a time people will not be eating lunch, or dinner. It's super cute outside for photos, but I didn't go inside because I heard the food actually isn't that great and it's over priced. However, you could go in and just order a beverage to get some more pink shots for your IG feed.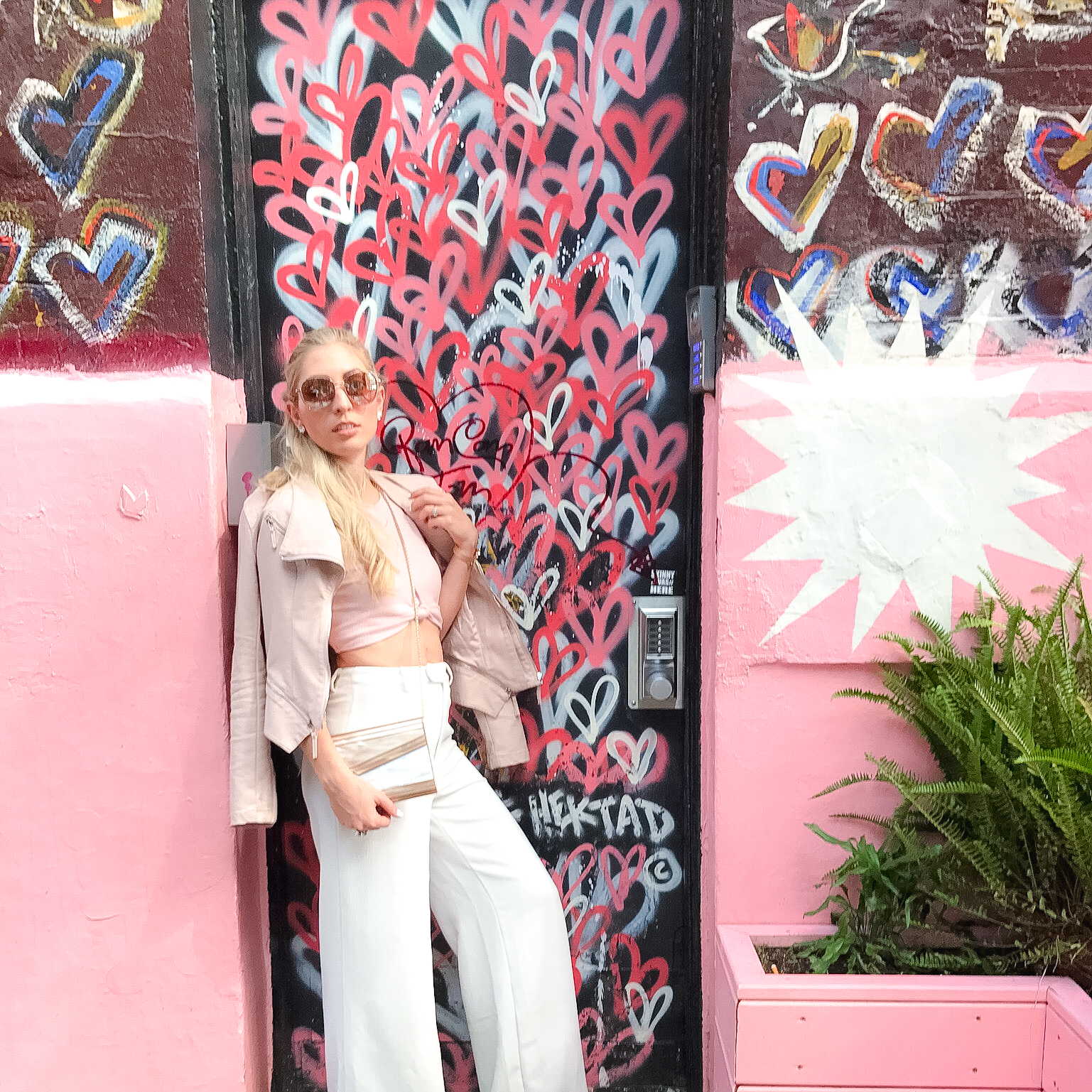 Flat Iron Building: This location if you want to not be over crowded with tourists, then go about 9-10am in the morning. It's pretty easy to get a good photo though with the building behind you from the small square across the street. Shoot from a low angle pointed up so you can get all of the building, plus it makes you look taller!!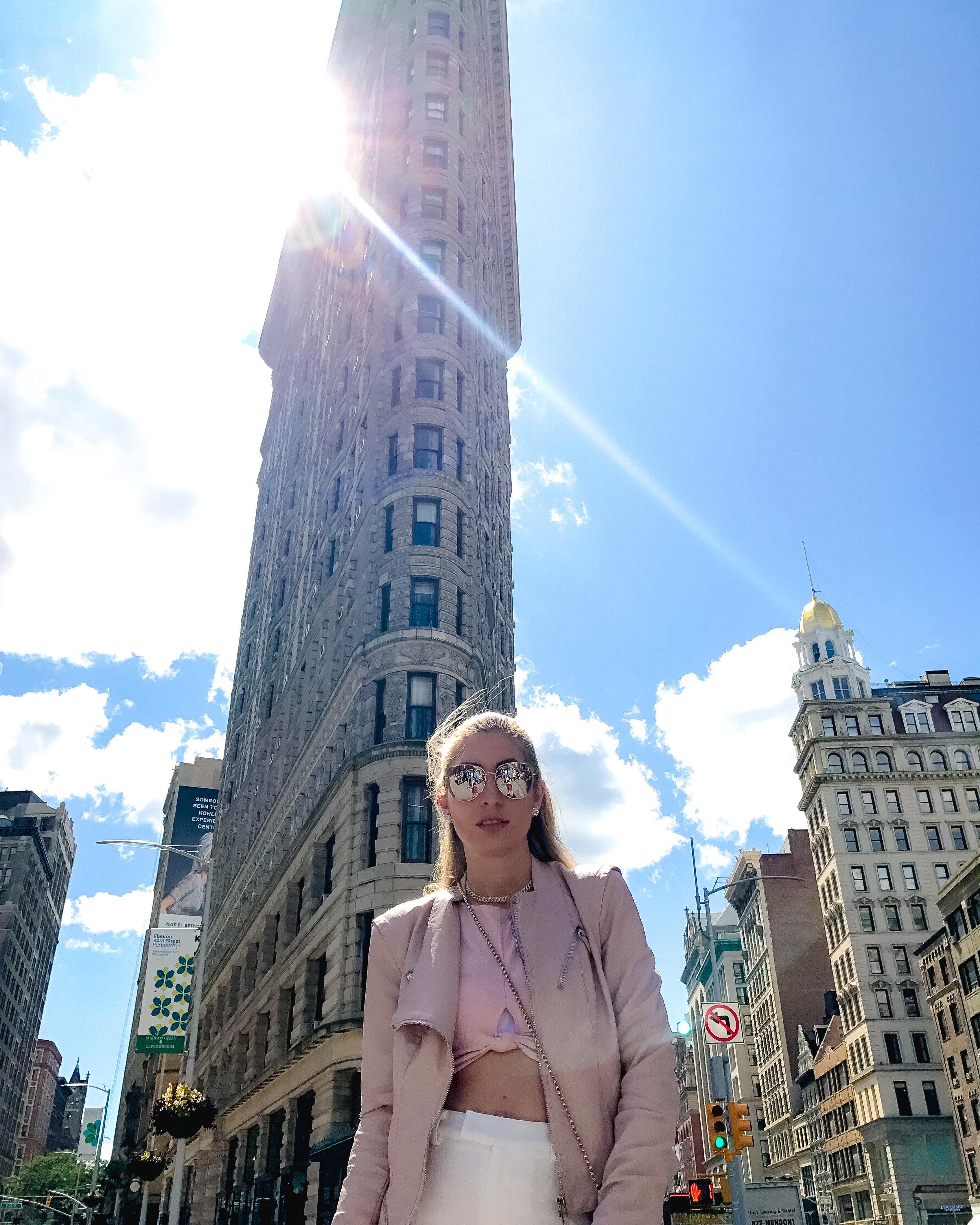 WHERE TO STAY
I stayed in Brooklyn with my sister-in-law when I went, which was great on one hand because I didn't have to pay for a hotel, but on the other hand it was awful transportation wise for trying to get to shows. The shows are held at two places, the Skylight at Pier 59 and the Gallery at Dream Downtown, which are both close to each other. So, I really suggest staying somewhere in Chelsea, or the Meatpacking district. Even staying in Midtown, which is where all the Style Collective girls stayed, is probably going to take you 30 minutes plus depending on traffic to get to the shows. If you are really serious about attending multiple shows a day, then I suggest that. Plus the way a lot of the shows are at the Dream Downtown, people are starting to line up almost an hour before the shows. If you do not have a ticket with an actual seat, then I really suggest getting there very early so you can get a good spot and make sure you actually get into the show. They are over inviting people and not everyone gets in. Now, if you are not going to change outfits at all, or want to save a bit more money, then I suggest staying in Midtown. I stayed at the The Lexington Autograph Hotel for my one year anniversary and that's where all the Style Collective girls stayed as well. Not only is it a very nice hotel, but it's quite affordable for the city. I suggest going with a group of girls so you can split the room cost and help take each other's photos so that you won't need to hire a photographer.
HOW TO GET AROUND
Subway, subway, subway!! Not only is riding the subway going to be the most affordable way to travel, but you really learn your way around the city. Also, the streets can get very backed up with all the lights and cars, so traveling via the subway can sometimes take half the time of an Uber. I rode it by myself and felt perfectly safe, plus if you put in your address into google maps, it'll tell you which subways to take. If one subway line is down, then the map will tell you alternate routes, which I loved. I purchased the unlimited week subway pass for about $30 and I think we only took an Uber twice at night, so we saved so much money. I also suggest carrying a cute backpack around with you in addition to whatever purse goes with your OOTD. This is because you will most definitely need to have a pair of comfortable walking shoes. Taking the subway means still walking a quite a bit, and by day 3 I could barely walk because I tried to walk in my heels a lot. Don't make my mistake, bring a pair of light weight comfy sneakers, or very comfortable flats to throw in your bag.
WHERE TO EAT
I am a huge Boba girl, so I really suggest heading over to China Town where there are shops for Boba on every corner. There is also, a super cute bakery in Koreatown called, Tous Les Jours where you can get breakfast, or lunch. If you do make it over there, then I suggest making your way over to The Face Shop as well on the same street, for Korean beauty products. Right across from the Gallery at Dream Downtown where some of the fashion shows are held, there is a really yummy Kebab place called Papa Kebab and its very affordable. It's a great place to grab lunch between shows. One of mine an my fiance's favorite Italian restaurants if you want a very nice dinner is Pietro's, which is just around the corner from the Lexington in Midtown. We also went to the iconic Gossip Girl restaurant Butter, which was actually fabulous!! Try their Burrata!! If you are in the mood for some Dim Sum, then take the time while you are getting your pink photo in Nolita, and walk around the corner to this tiny spot called Nom Wah and don't forget to order the shrimp dumplings and the chinese greens!
I hope this post helps you attend NYFW this season, or in the future. If you too have any tips to share with people, please leave a comment below!! Also, if you have any questions that I didn't cover here please let me know and I will answer to the best of my ability.