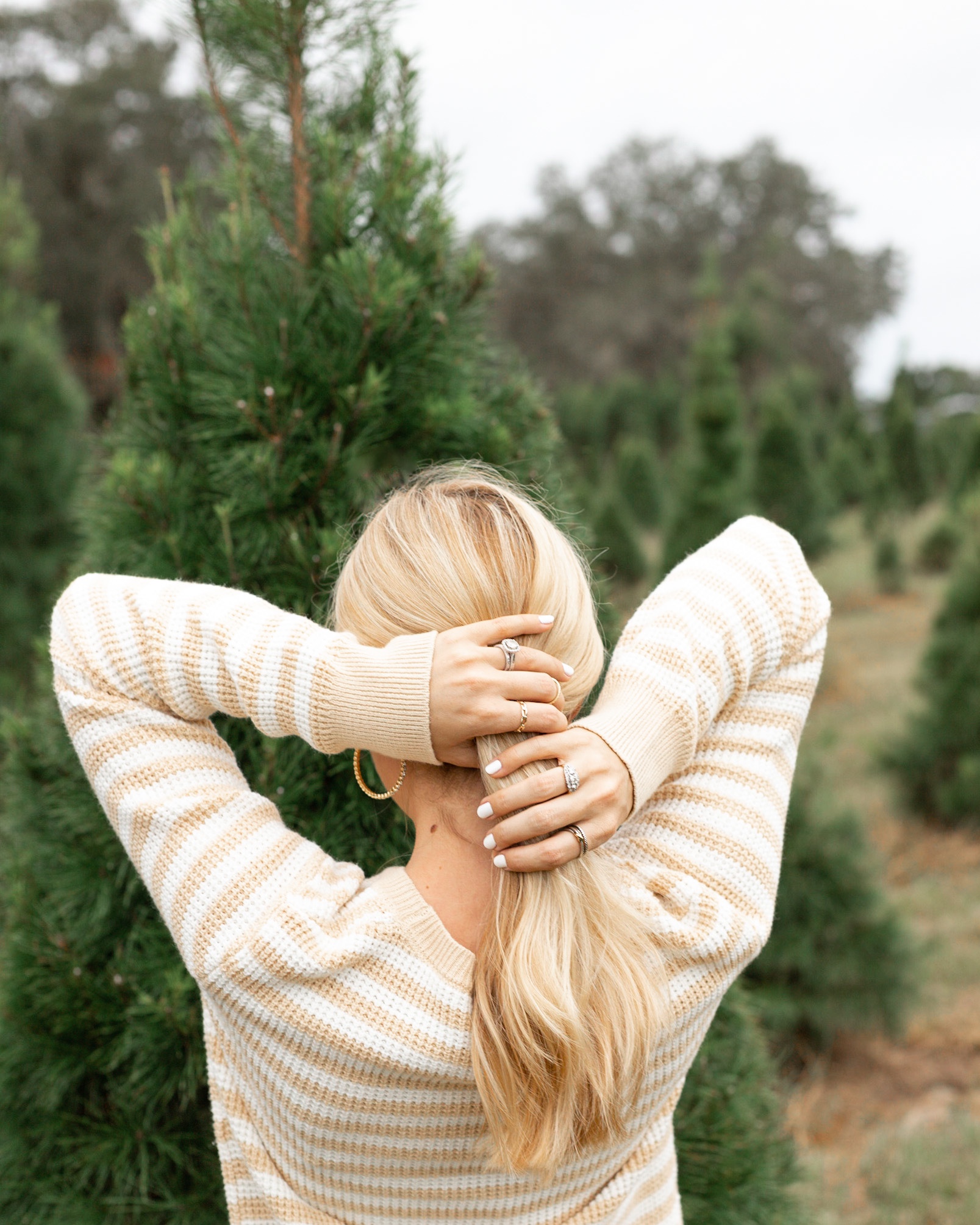 Did you not think you were a ring person? Neither did I, put put some diamonds on those digits and just wait. There's something a tad addicting about some sparkling accents on your fingers. You'll suddenly desire to stack them higher and higher and soon enough your fingers will be like Palm Beach real estate. When you know how to stack gold rings, it's the easiest way to take any outfit from basic to another level. However, they can still be for every day wear, to add the perfect panache to your look.
When you curate the right collection in your jewelry box, rings can give you endless ways to style your looks. Whether you are new to the game of learning how to stack gold rings, or you are a seasoned pro, I have some wonderful tips I'm willing to share. I'm also a fan of layering my jewelry in general, but we can start with this.
TIPS FOR STYLING YOUR RING STACK:
1. MIX & MATCH METALS
An all-yellow, rose, or white gold stack is always chic, and is an easy way to play it safe if you're unsure about how to mix metals. But if you do decide to mix and match, the elegant way to pull off the look is by sticking to only two metals. Pick your dominant color, I personally love gold rings, then incorporate 2-3 pieces of your second metal color throughout your stack.
2. LEAVE AT LEAST ONE FINGER BARE
Piling on several rings can go from "chic" to "cheesy" real quick, so an easy tip to avoid going overboard is to stick to stacking on only four digits at a time. Leave at least one finger bare to create a cohesive and balanced look, instead of an I played in my mom's jewelry box one. I personally prefer to keep either my pinky or thumb bare, but depending on this rings, that's your preference.
3. VARY THE WEIGHTS, SHAPES, AND STYLES
A indisputable way to create visual balance in your ring stack is to mix different kinds of weights and shapes. Thick bands, chain rings, eternity bands… the list goes on. Just be sure that if you incorporate a statement ring, the rest of your rings remain much simpler so they don't compete.
Now, let's see how to curate a ring stack you can't stop looking at (and can actually afford)!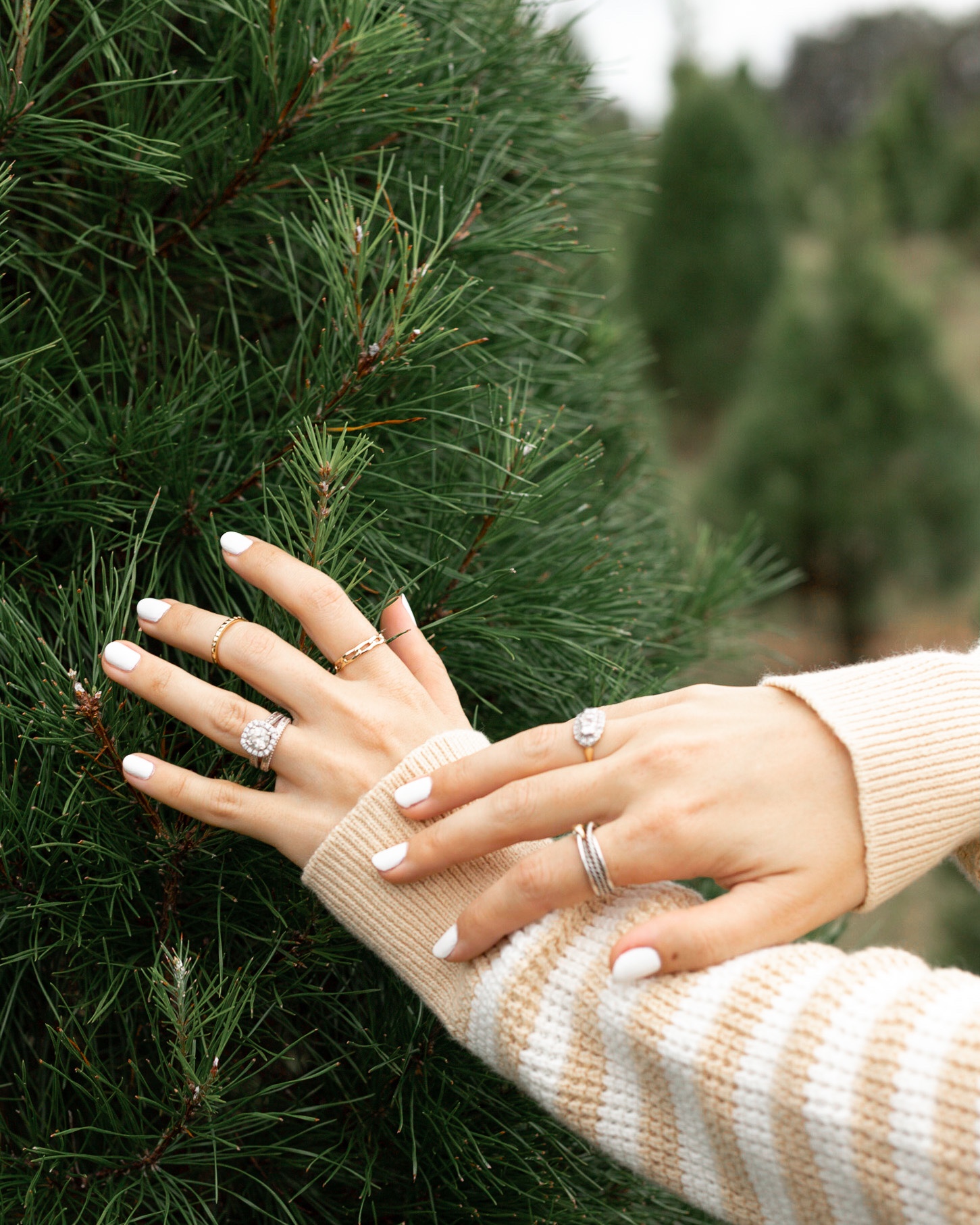 THE PERFECT RING STACK
STATEMENT RINGS UNDER $100
This is normally what I build my stack around. I have two statement rings, my engagement/wedding band on my left hand and then a vintage ring (family heirloom) on my right hand. Starting with a bold ring on your ring finger means it can remain the center of attention as you build around it.

MIDI RINGS UNDER $100
Next up is one of the most fun parts of creating the perfect stack—midi rings! These itty bitty rings look right at home on the middle finger, and are a simple way to add some personality to your stack while also balancing out your look. I know it can be difficult to figure out the right size, but normally midi rings are generally size three and smaller.

ETERNITY BANDS UNDER $100
Eternity rings are quite possibly the most classic part of any stack. They always catch the eye, and there are so many different variations to choose from. Don't limit yourself to a basic cz, or diamond band! I've included some of my favorites here so you can shop them below, and if you want to really make a statement, get creative and stack a few on one finger.

STACKING RINGS UNDER $100
No stack is complete without just a few simple, gold bands. Whether you're on budget and get costume jewelry, or solid gold that you will keep for years, these are a must. Play with textures as well and mix some smooth bands with some hammered ones.

Rings are a great gift for a loved one this holiday season. Whether you are shopping for a promise ring, and anniversary band, a gift for your mom, or friends…you can't go wrong with a classy ring to add to their collection.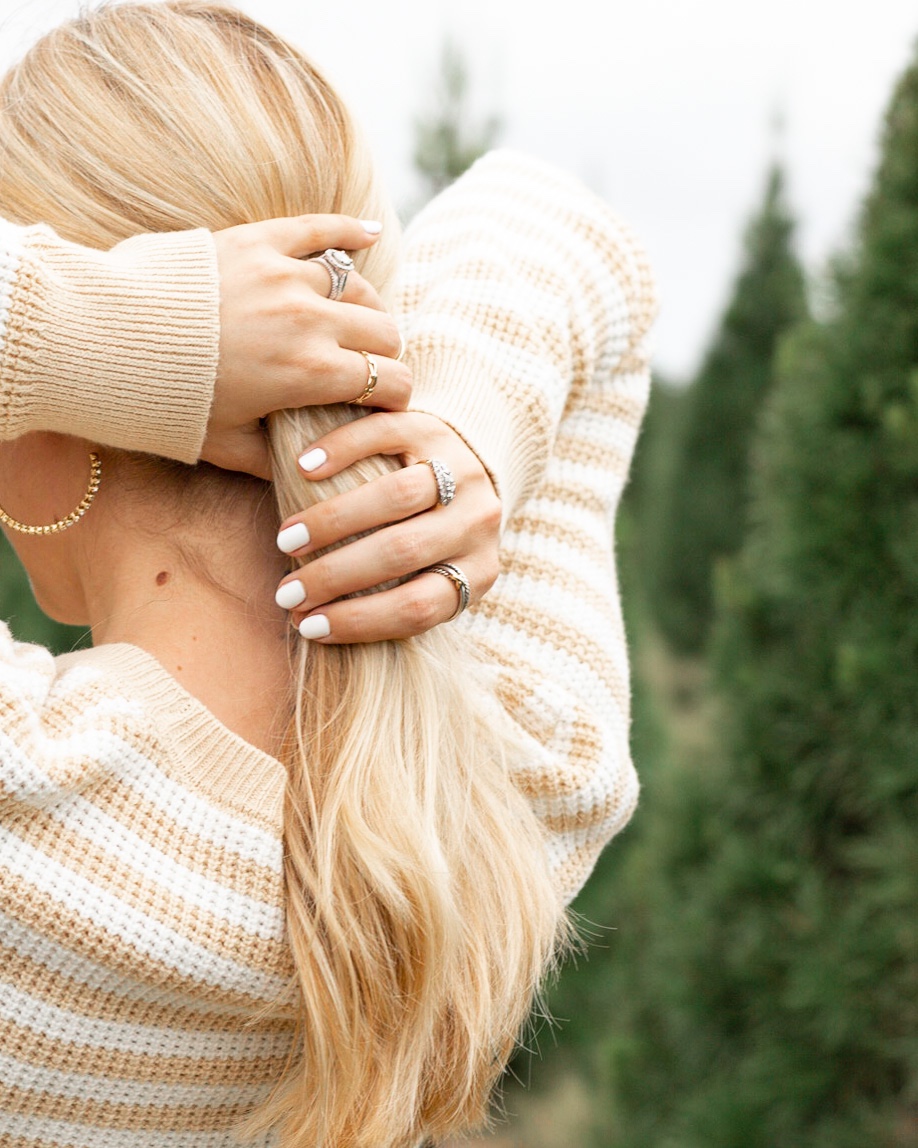 Share your suggestions for how you formulate your own ring stack in the comments!
Xoxo, Nikki