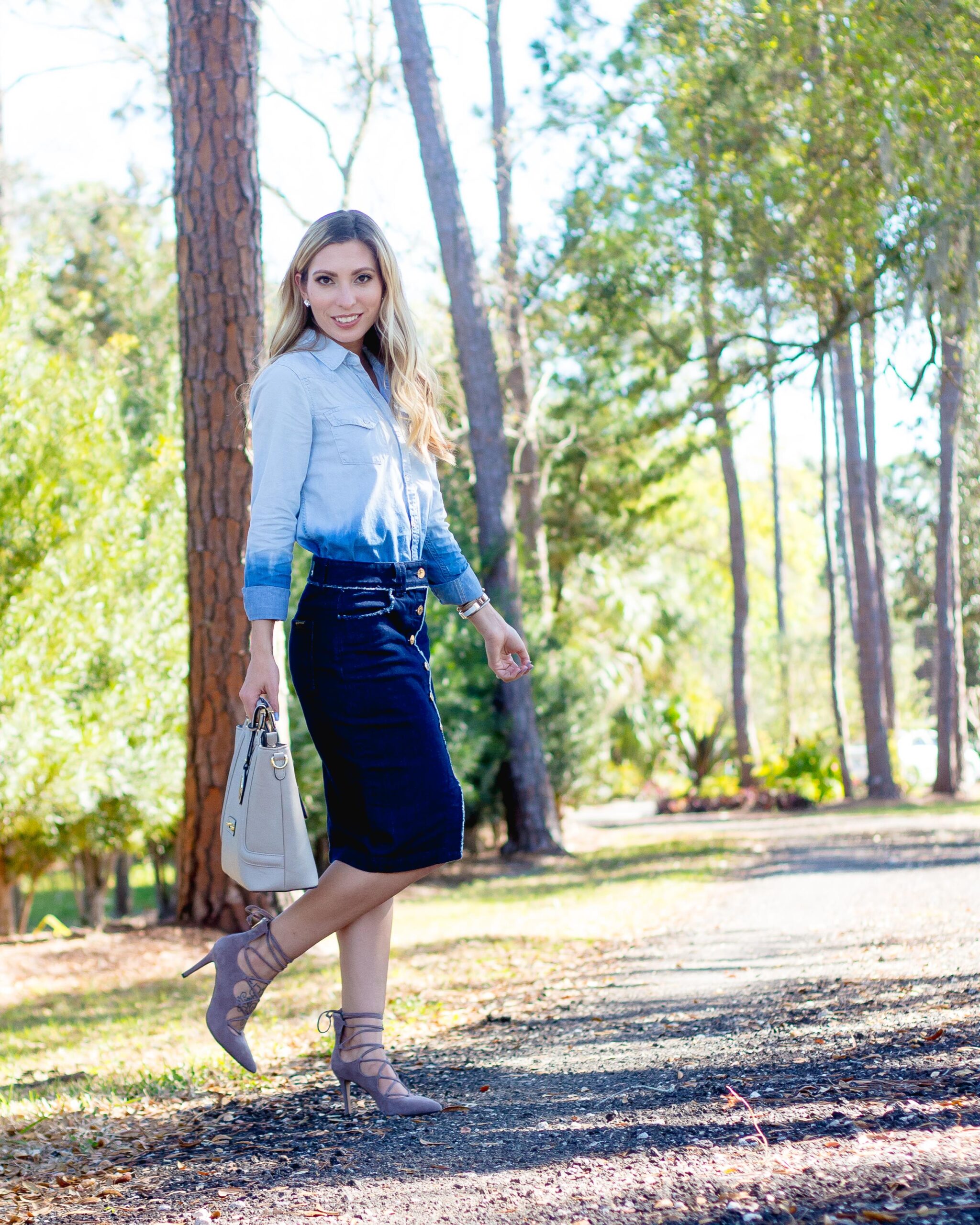 Hey there fashionistas and Happy Friday!! Do you remember when it was a faux pas to wear mixed denim? Especially two different colors of denim, or even to wear a denim jacket with a pair of jeans? I feel like it was also around the time, when it was not cool to mix brown and black. Luckily trends change, and trend setters rule! Therefore, really now that we are "grown" and finding our own styles, we can mix and match to our hearts desire.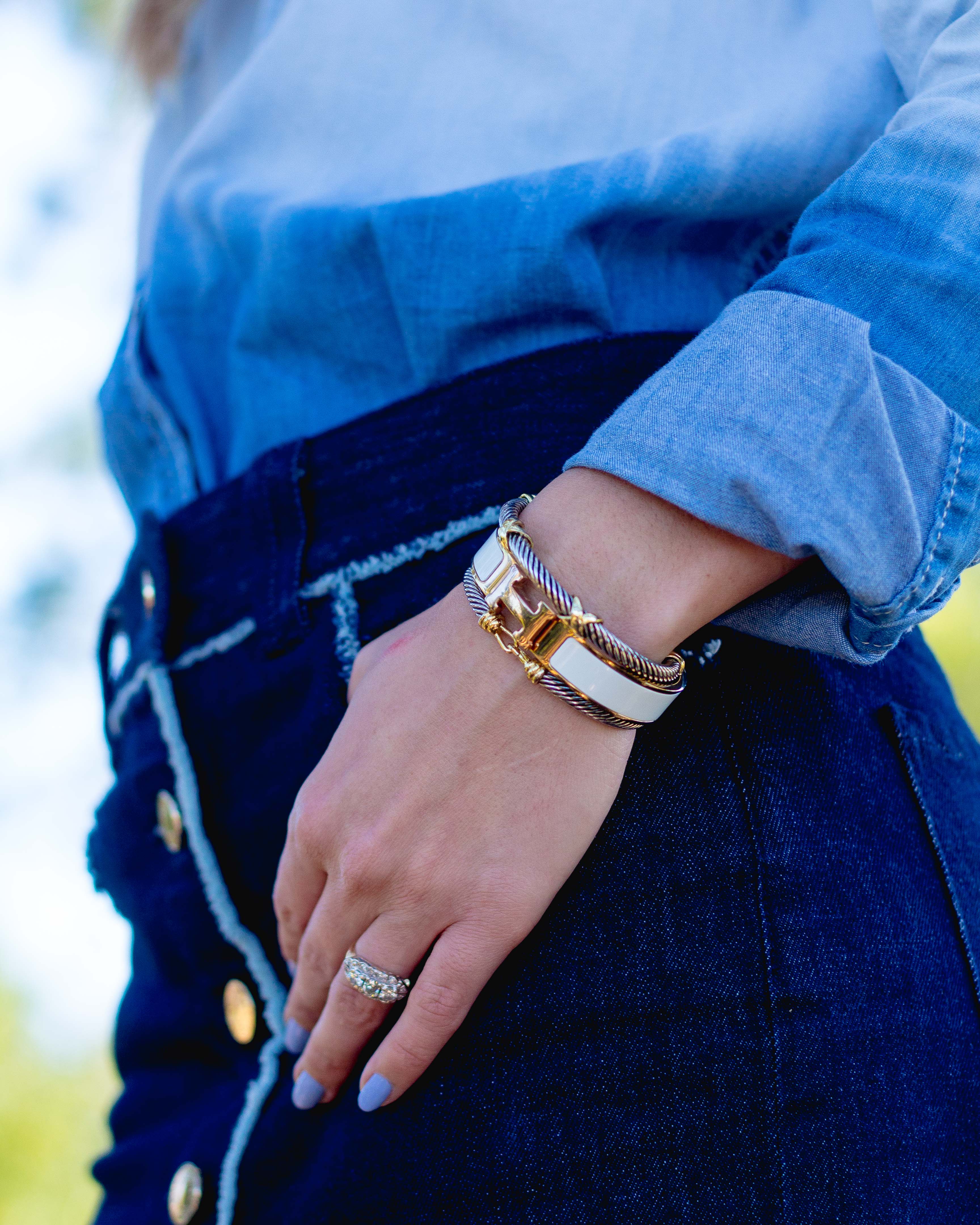 I feel most at home in a good fitting pair of jeans, but sometimes I really want to mix it up and feel a bit more girly, which is where this awesome denim skirt came into play. I wore this mixed denim combination to the Makeup Show the other weekend and got a lot of compliments, so I thought I would share great combo for spring with all of you! Speaking of the Makeup Show…I am in the process of putting the detail together from my awesome haul to share with all of you!!
Guess how much I got this 7 for all Mankind skirt for??? *Drum Roll* $14.97 at the opening of the Nordstrom Rack in Winter Park! Also, I did not break my no shopping rule for the year. I simply happened to win a $100 gift card during the raffle they had and then I used that to purchase a few items!! Heck yes!! With this mixed denim combo, I really wanted to stick to neutrals, so that this jean skirt would be the focus. These playful gray lace up pumps that I purchased during the Nordstrom Annual Sale, and this Versace 19.69 purse I found at TJ Maxx finished off the look.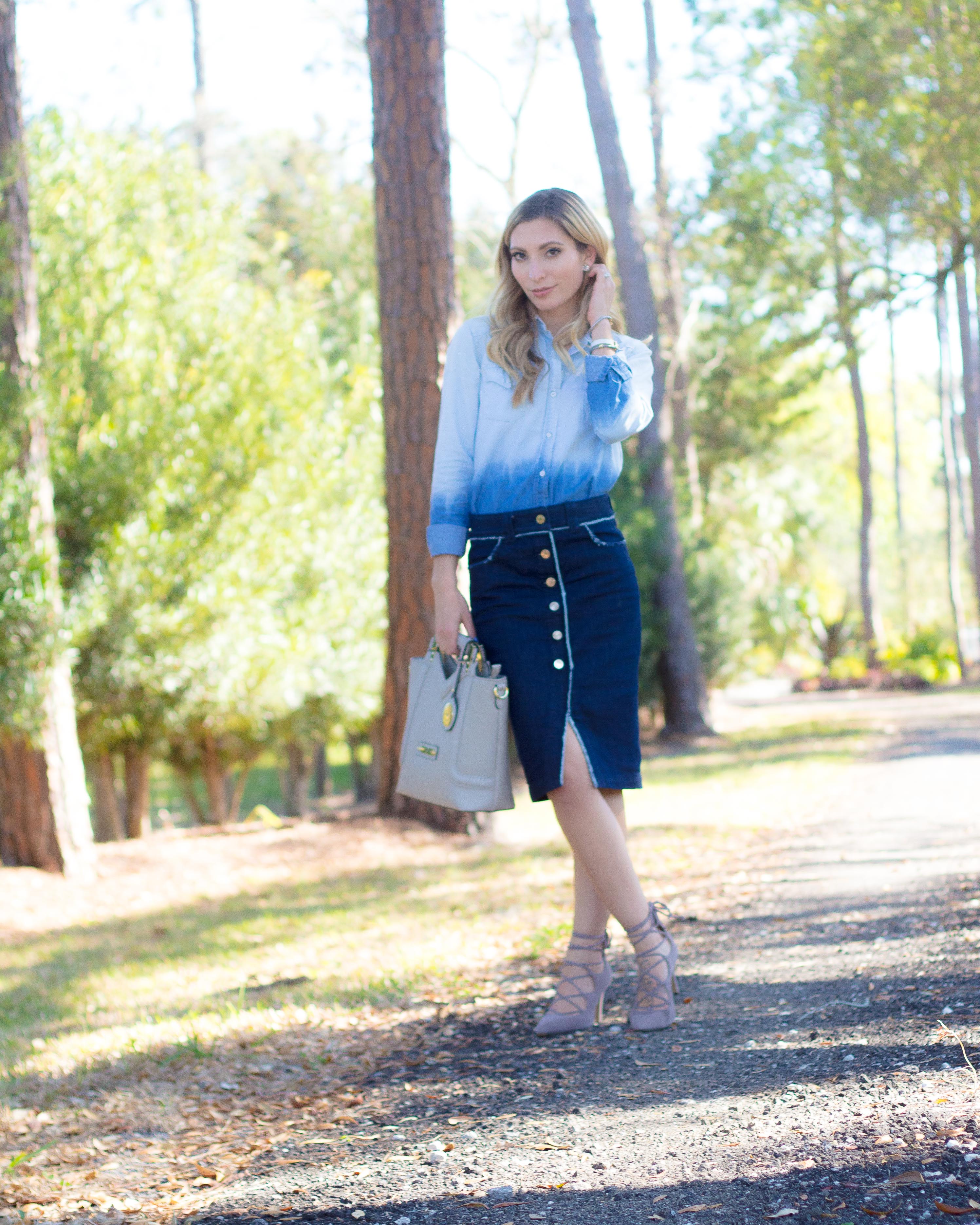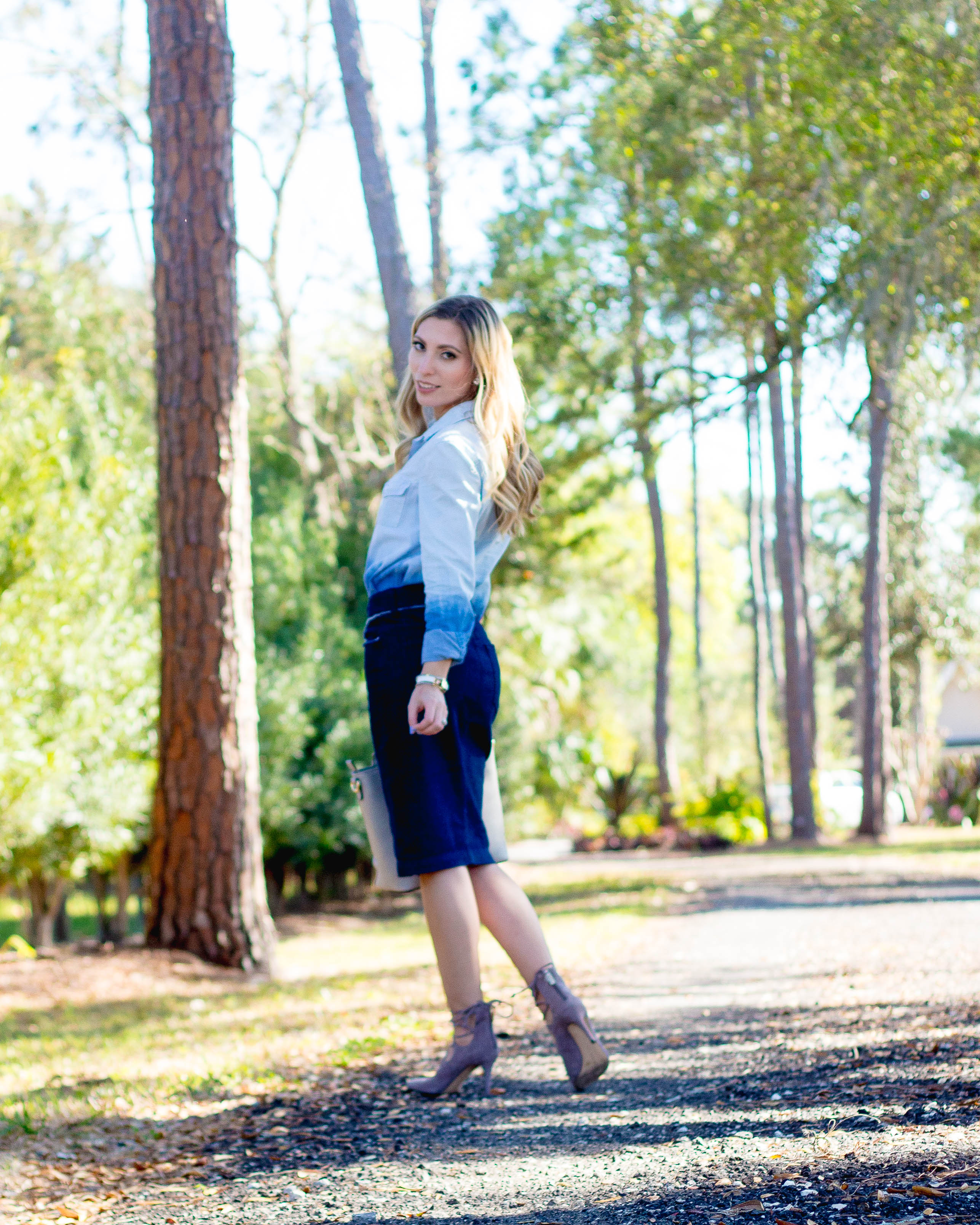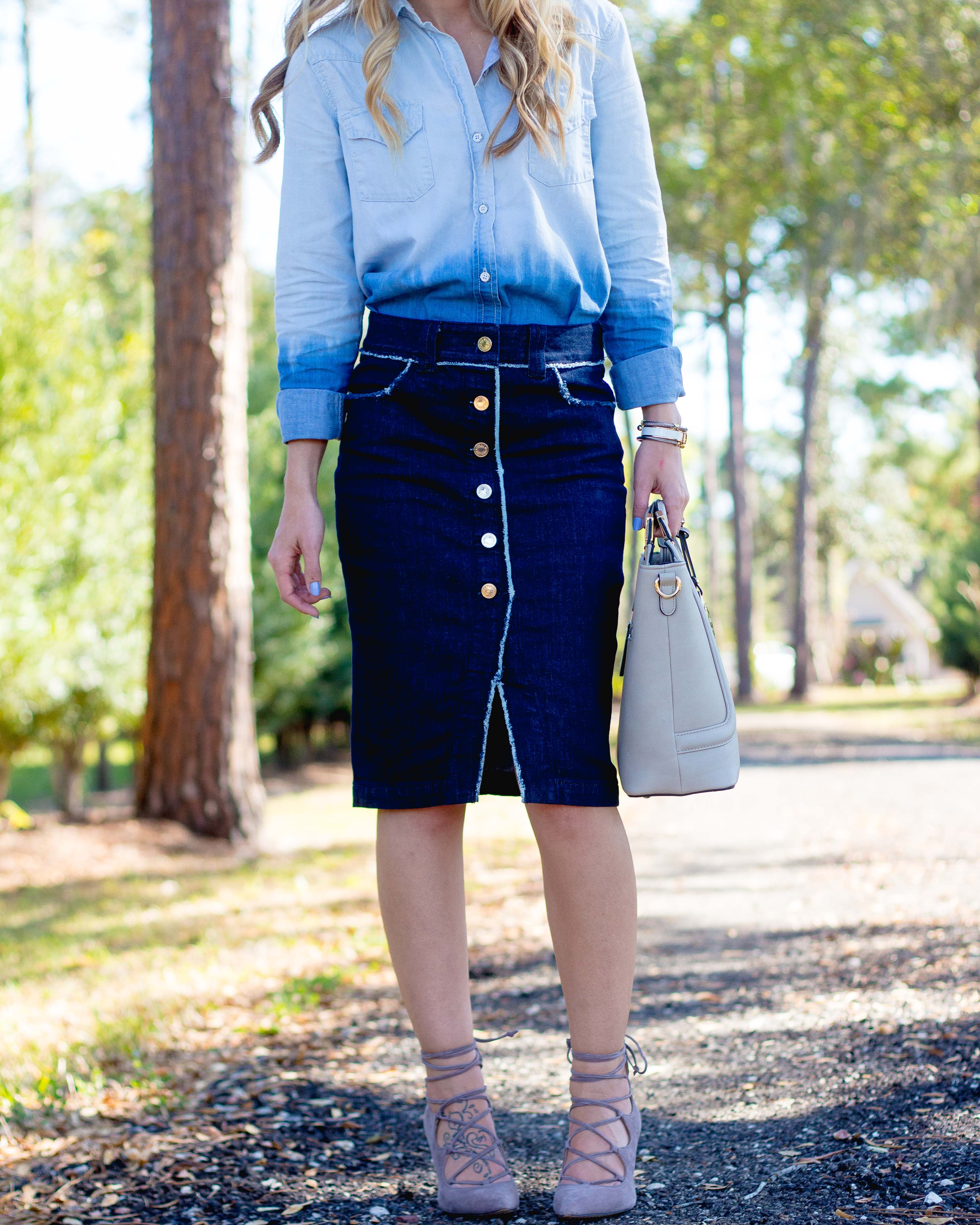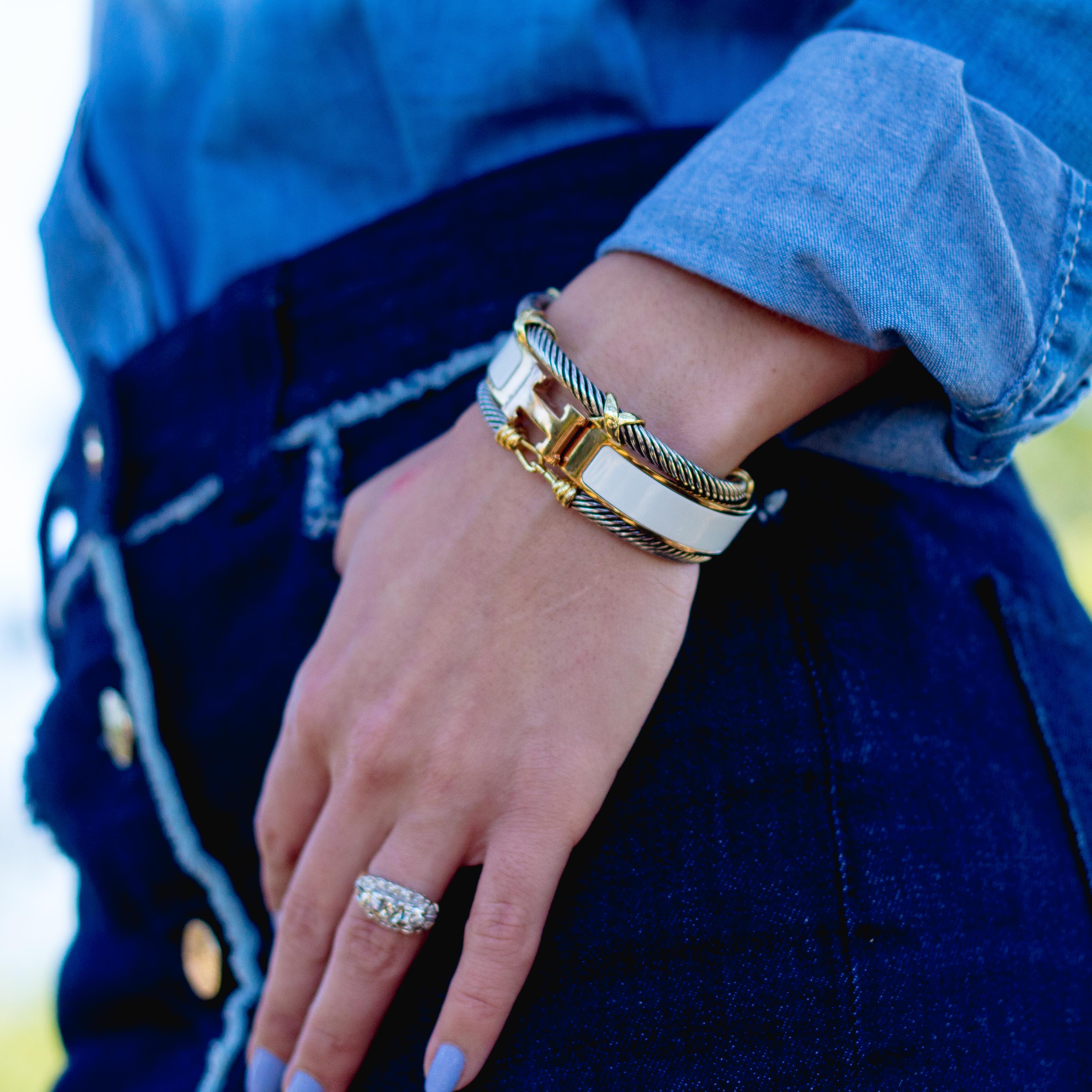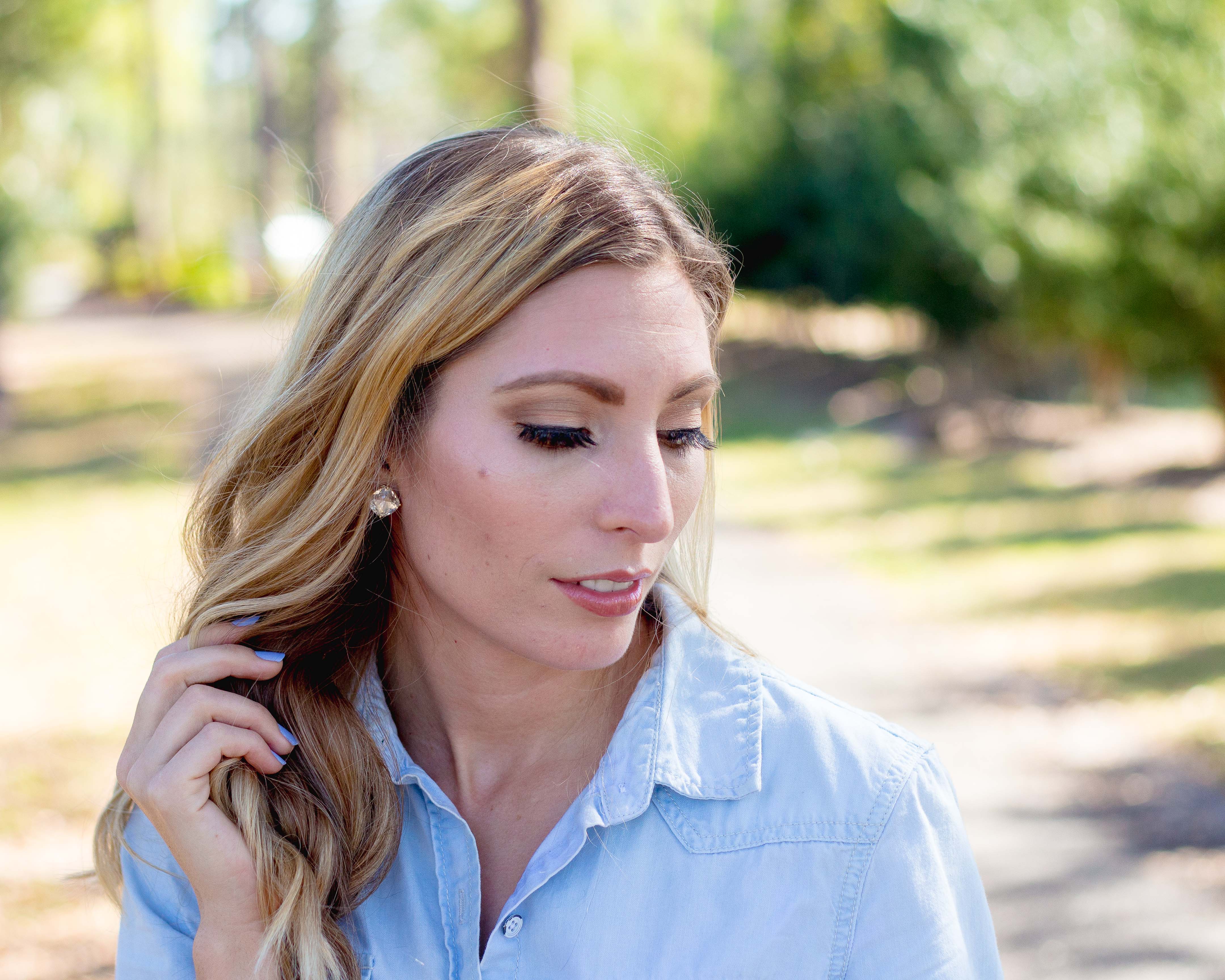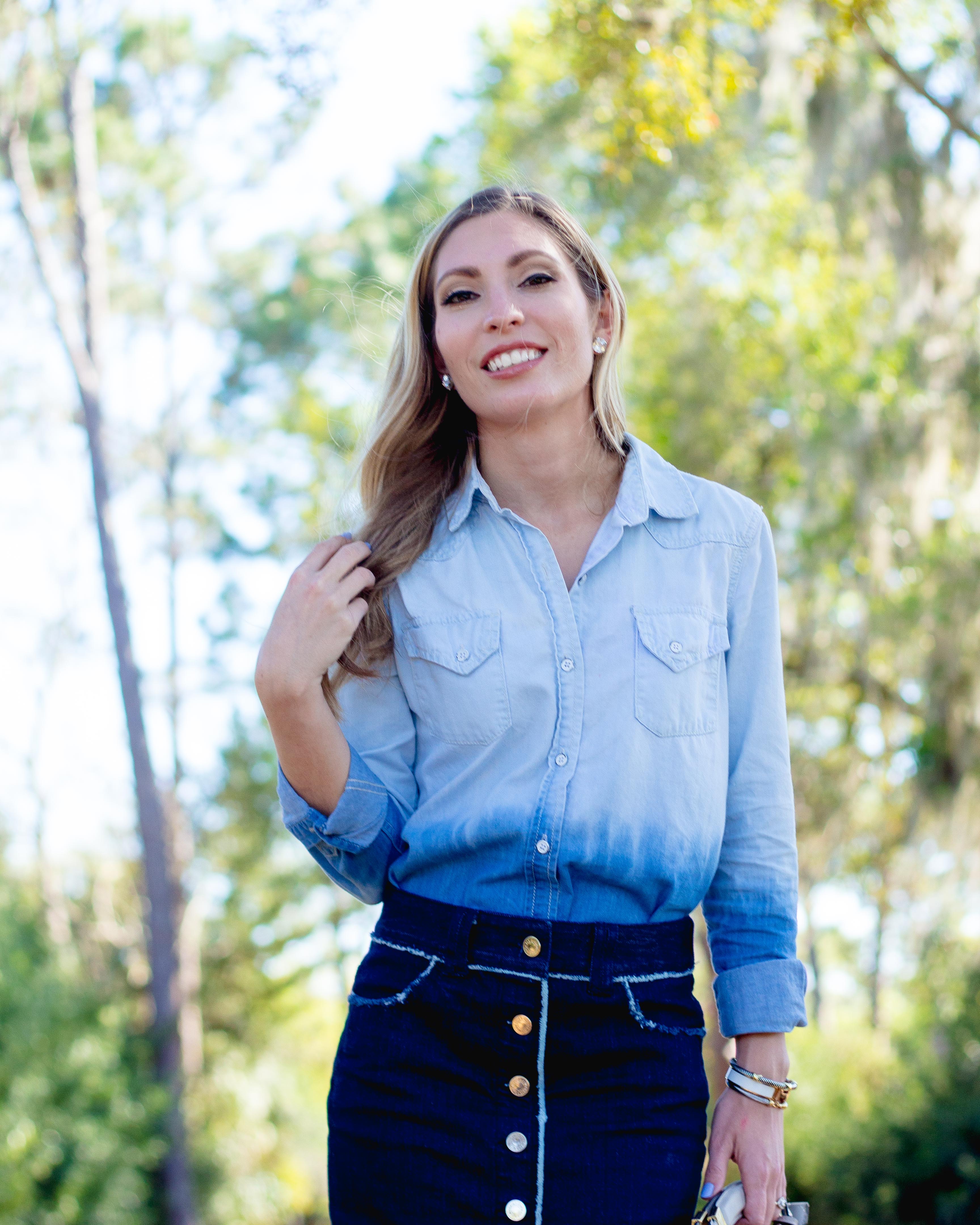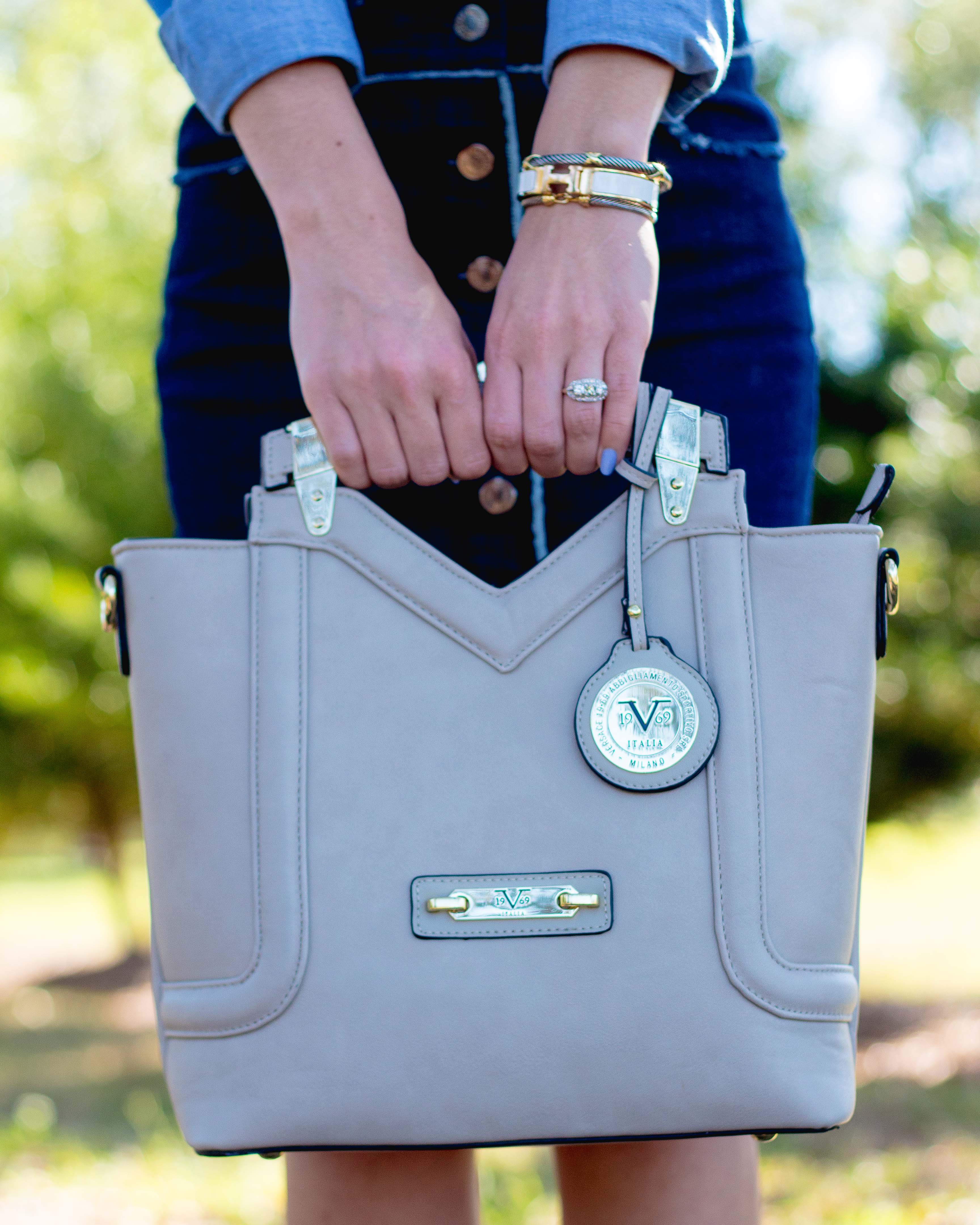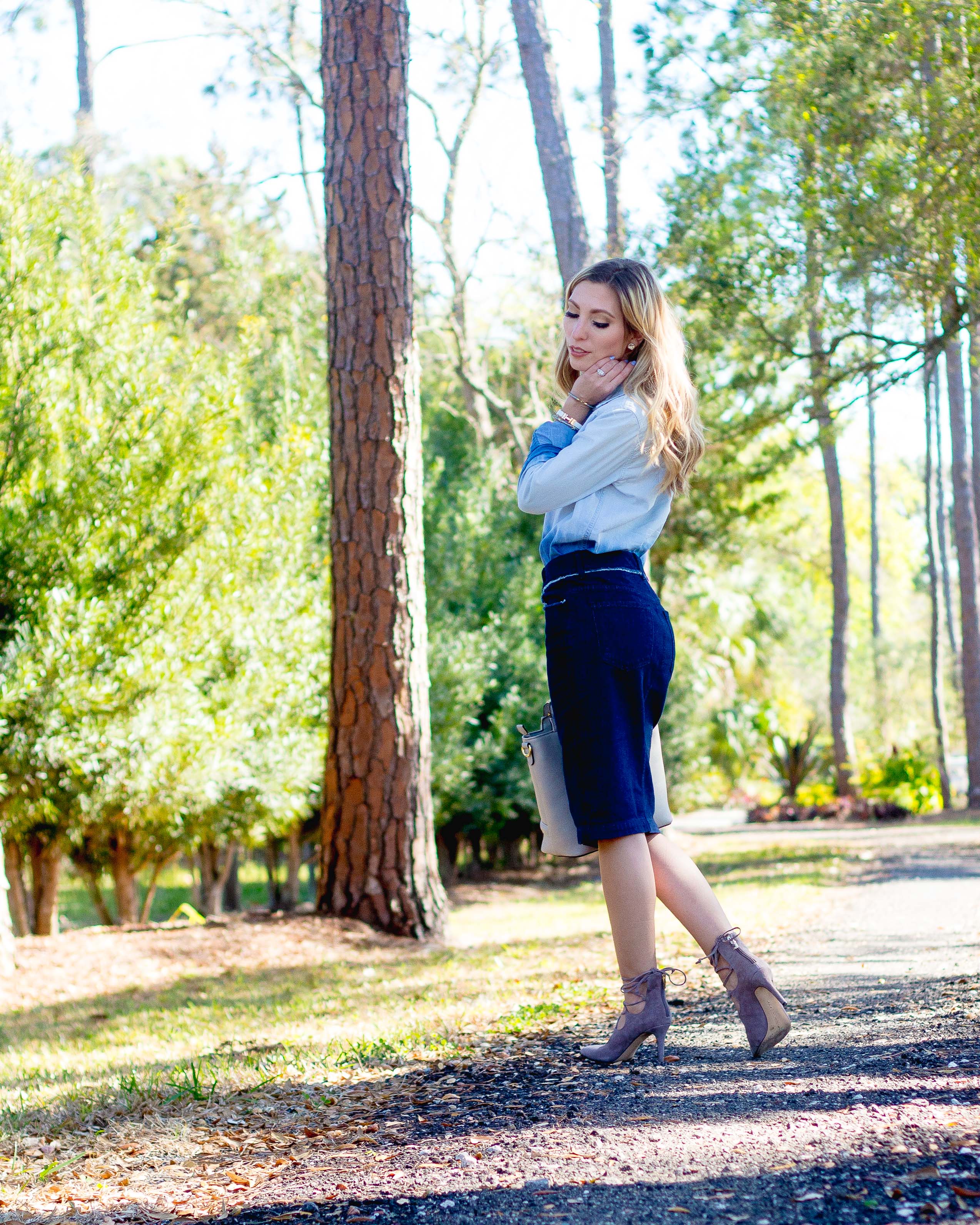 Similar Top / Skirt / Pumps / Similar Purse
Earrings / H Bracelet / DY Bracelet / DY Bracelet
Lipstick – Mac Velvet Teddy
Sunday, April 2nd, also happens to be Autism Awareness day. Since it falls on a weekend though, my office is all celebrating it today. It's also casual day, so this mixed denim outfit is making a second appearance, since this skirt is office appropriate in length! Bah Bham, casual and work wear. Are you going to be wearing blue in support for Autism? 1 in 45 children aged 3 to 17 are diagnosed with autism, and its hard to target the cause. I work for a company that supports adults and children with disabilities, so this is a cause near and dear to my heart.
FINANCIAL TIP
SAVING MONEY BY SHOPPING AT NORDSTROM RACK!!
Everyone knows that Nordstrom rack is the more affordable sister of Nordstrom. It's already very affordable to find great items, and luxurious brands there. However, I have a few extra tips for ways to save more when shopping at Nordstrom Rack.
You can find more than just items that came from Nordstrom. A lot of items are purchased just to be sold at the rack, so you can find items that are not just last season passed down from the big sis. Look for high end brands like Kate Spade, Calvin Klein, Michael Kors, and much more.
The clear the rack sale happens several times a year and this is when you will get an extra 25% off already reduced items!! Here in Winter Park I was told we have one coming up next month. As soon as I know the date, I will let you all know.
Have you ever gotten an item for $0.01 cent when out shopping at a department store?? Well, at Nordstrom Rack this happens more often than you think. My friend just got a necklace there during the Rack opening for just a penny. We were both in shock!
You don't have to get a Nordstrom credit card to save money. You can earn Nordstrom bucks by signing up for Nordstrom rewards and earn extra rewards and discounts by getting a Nordstrom debit card. This way you aren't spending money you don't have, and can stick to your budget.
If you can't find an item in your size, then there is a good chance you can have it ordered online and shipped to you. Also, if you download the Nordstrom Rack app, then you can scan the item in the store and find out whether its online for purchase and in your size.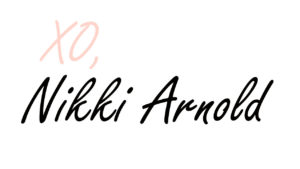 SHOP THE POST:

PIN IT