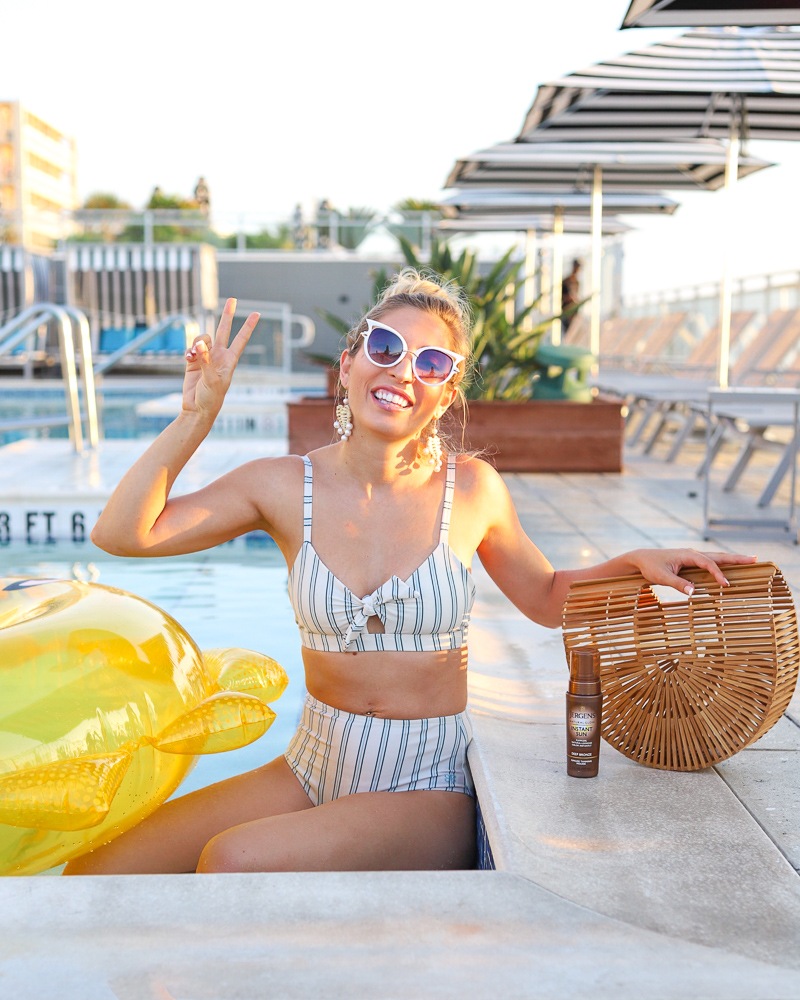 "This post has been sponsored by Jergens Skincare. All thoughts and opinions are my own." 
Do you ever wonder which self tanner products really work? Or how to get that sun kissed glow without laying out in the sun? I have spent so much time wanting perfectly bronze skin without getting sun damage, so I had to find THE best at home tanner. I have been using Jergens Natural Glow Instant Sun Mousse for a couple years now and I love how easy it is to use and the streak-free bronze it gives my skin. Today I wanted to share my tips and tricks for how I get the perfect natural glow at home with Jergens.
PRODUCTS NEEDED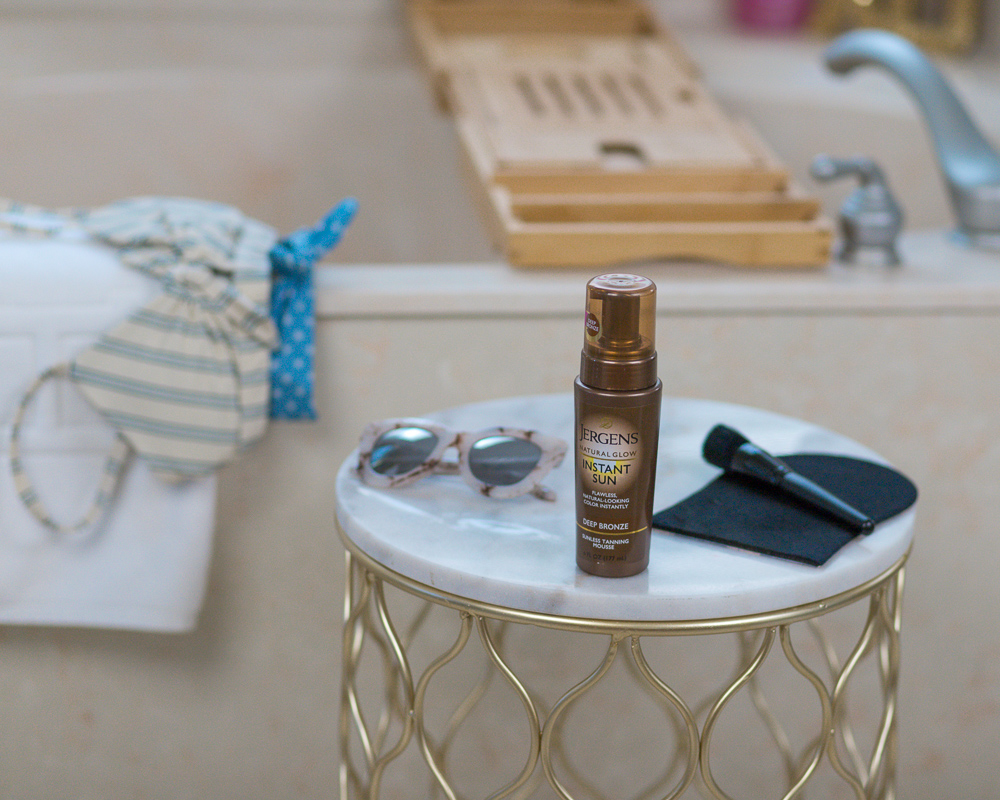 Tanning Mitt
Jergens Natural Glow Daily Moisturizer
Fluffy Kabuki Brush
TIPS & TRICKS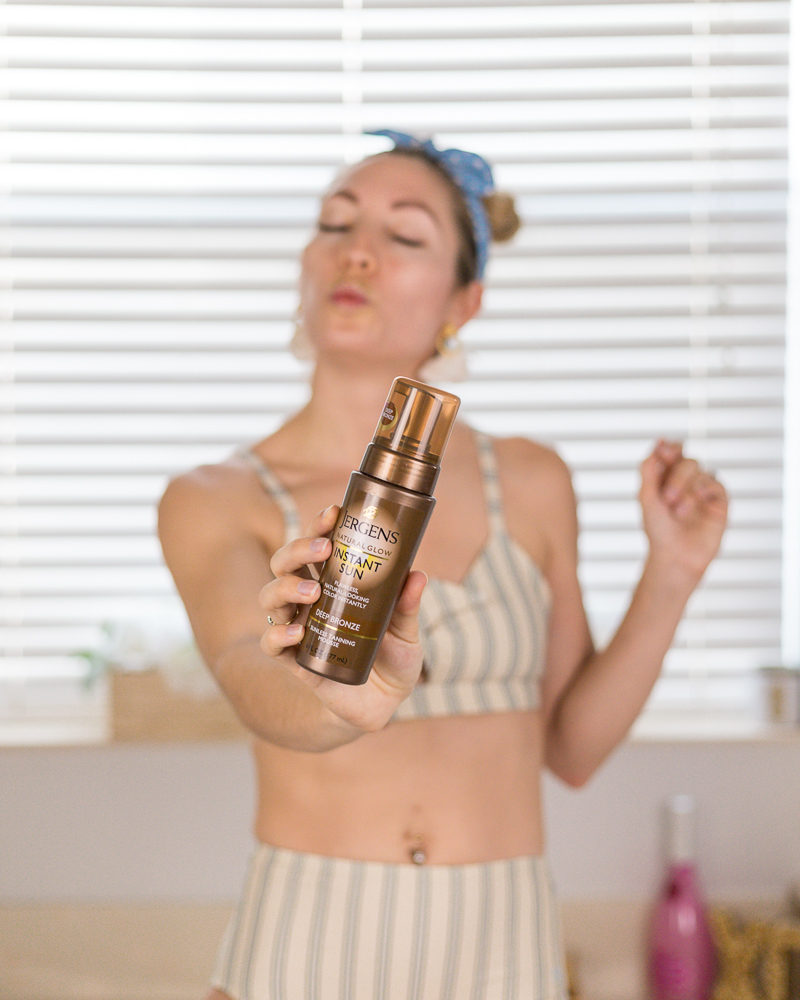 First step is to exfoliate (without oil) and shave the day before tanning, also no lotion. This is VERY important so it goes on smoothly and doesn't flake! If you need your nails done, get them done BEFORE self-tanning so the salon doesn't scrub off your tan. Next, make sure your hands, feet, knees, ankles, and elbows (any very dry spots) are very moisturized leading up to tanning so they don't look patchy!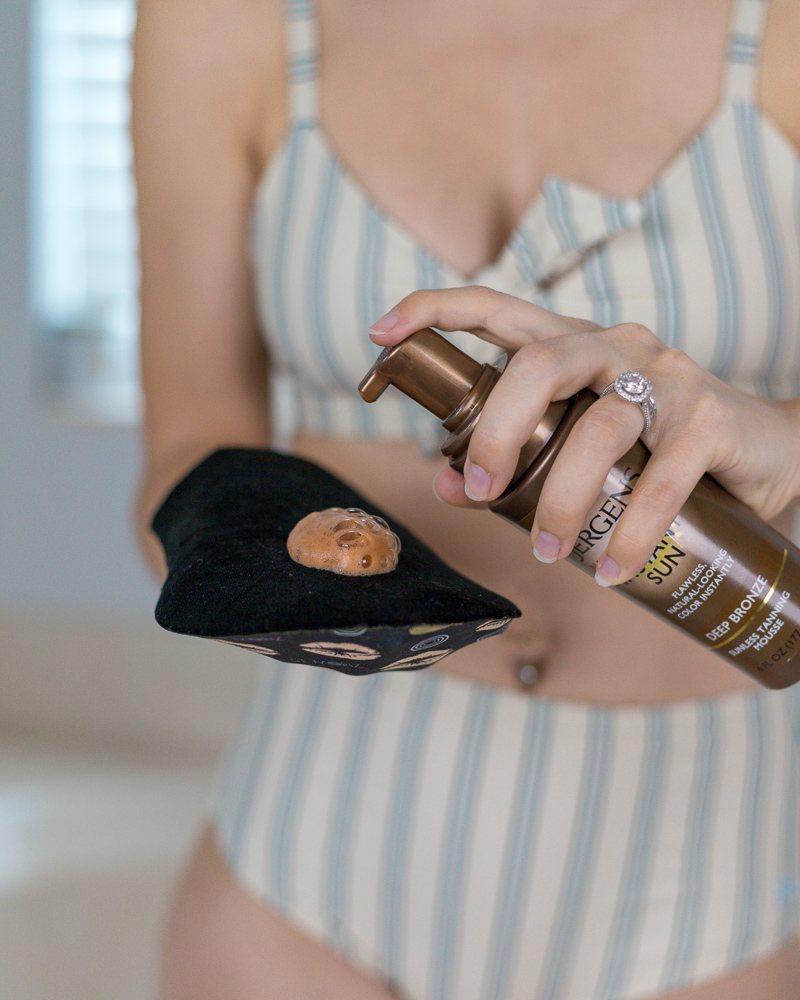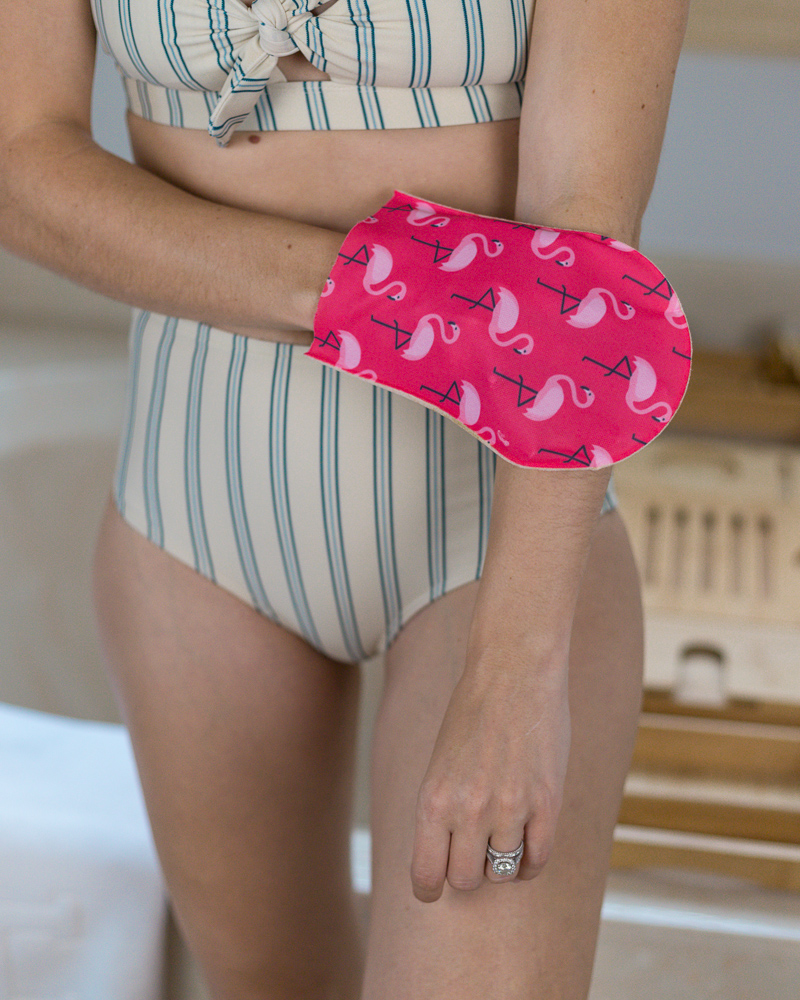 Make sure the tanning mitt you choose has a leak proof barrier so that you don't get brown palms. Apply your favorite tanner with this in smooth sweeping motions to help you blend the product out. Begin tanning from your ankles and work upwards. Make sure you double check that you have covered all areas and blended the product in order to avoid streaks. With the Jergen's tanner being a mousse it's pretty easy to get it streak-free, which is why I love this formula so much.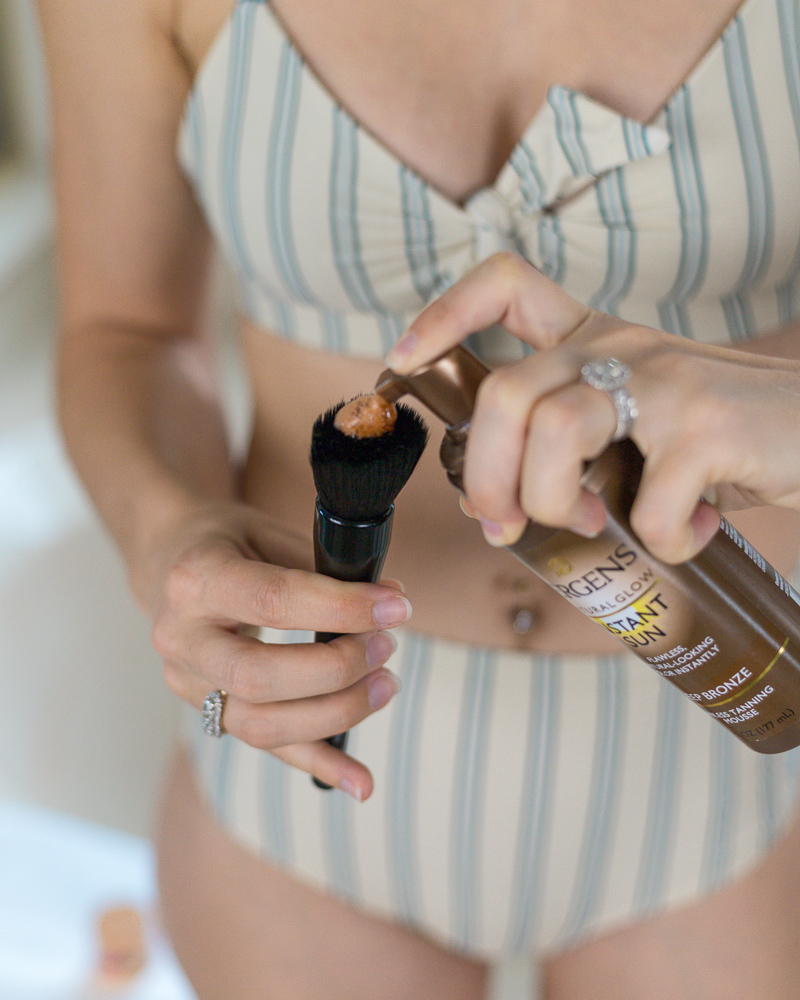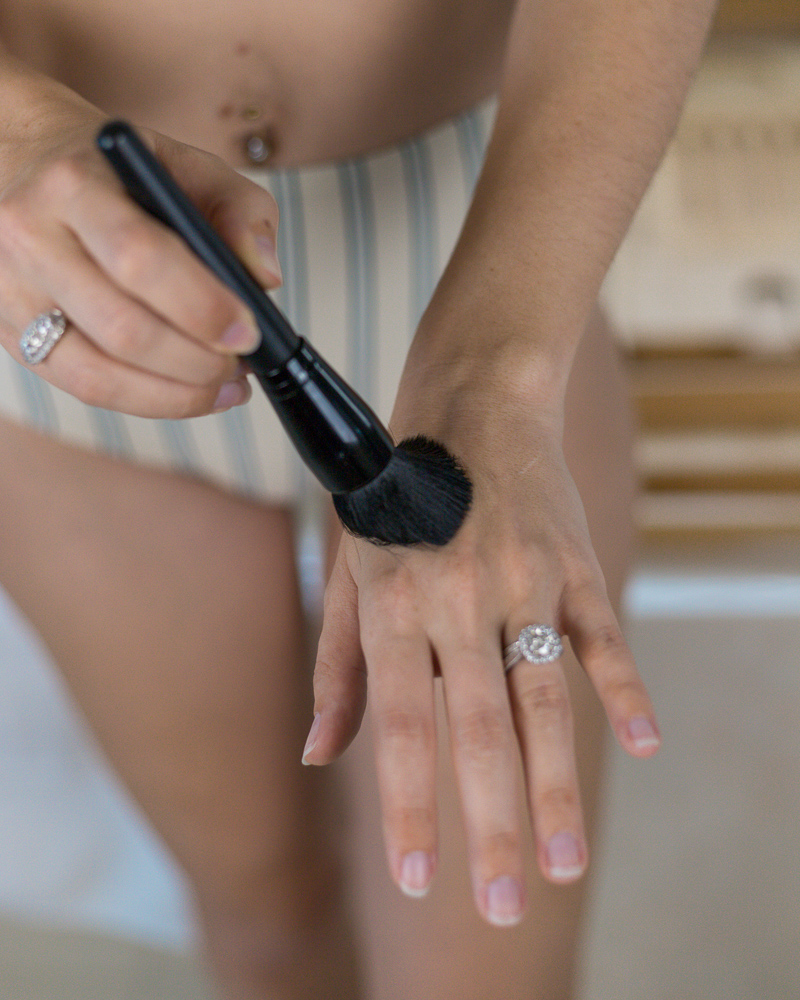 Do NOT apply a lot of product on top of your hands and feet. Tan the rest of your body first and then put a small pump of lotion and a small pump of the Jergens Natural Glow Instant Sun on the Kabuki brush and lightly brush it evenly onto your hands and feet. You don't need much since these areas soak up the tanner the most. Oh almost forgot as I realized this halfway through tanning…remove your jewelry that way you don't get tanner on it, or get tan lines. Also, keep a makeup wipe to the side while you apply your self-tanner. Lightly wipe off your palms and feet after application.
Try not to sweat, get wet, or wear any tight clothing until your tan has fully developed. It will give you an instant tan before you wash your skin, which is great if you don't want to wait, but I like to let mine fully develop over night. I have a black look t-shirt dress that I wear after tanning so that I don't get the product on anything and it does dry very quickly, just in 60 seconds. Shower in the morning to remove the excess tanner and your good to go!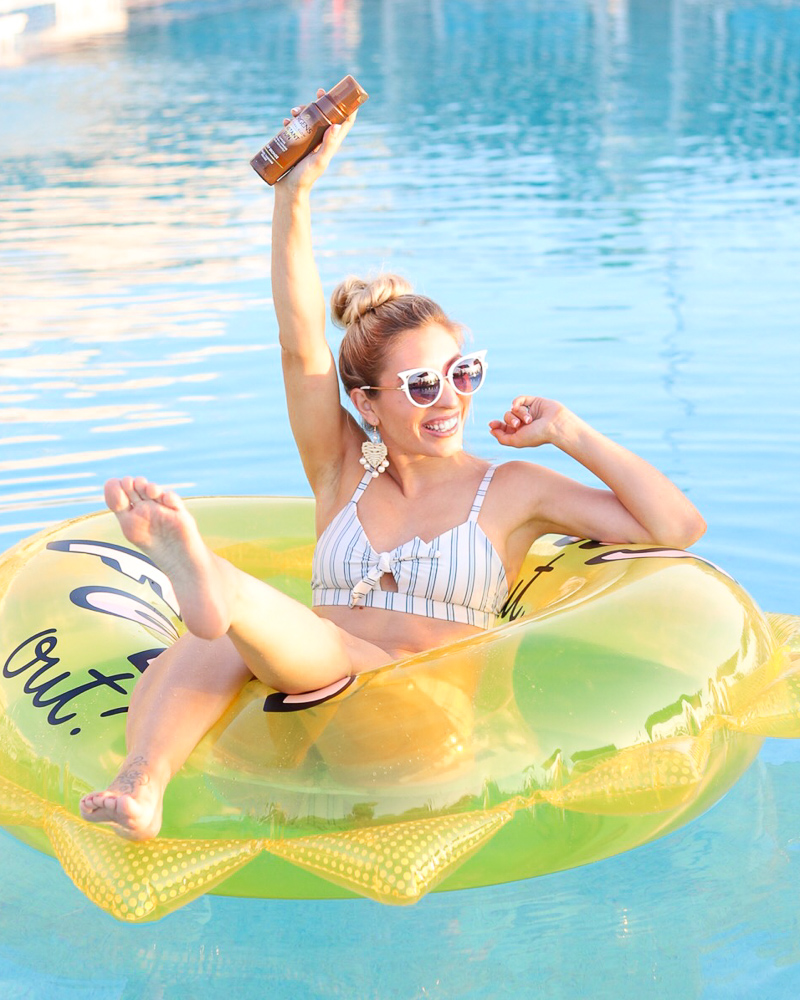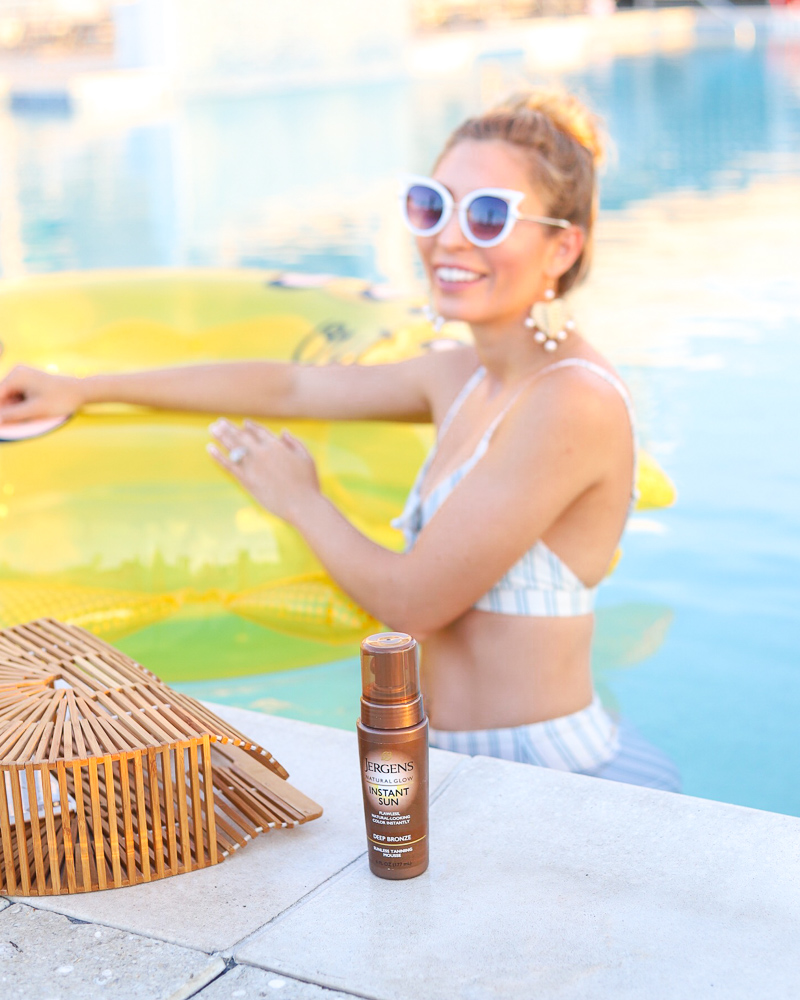 I hope these tips help you to achieve the perfect tan this summer. Also Jergens Natural Glow Instant Sun comes in two different shades to fit your needs, Deep Bronze and Light Bronze. It's so easy to snag on Prime from Amazon for about a 1/3 of the price of most at home tanners.
Xoxo, Nikki
**Photography by Lil Rae of Sun Photography