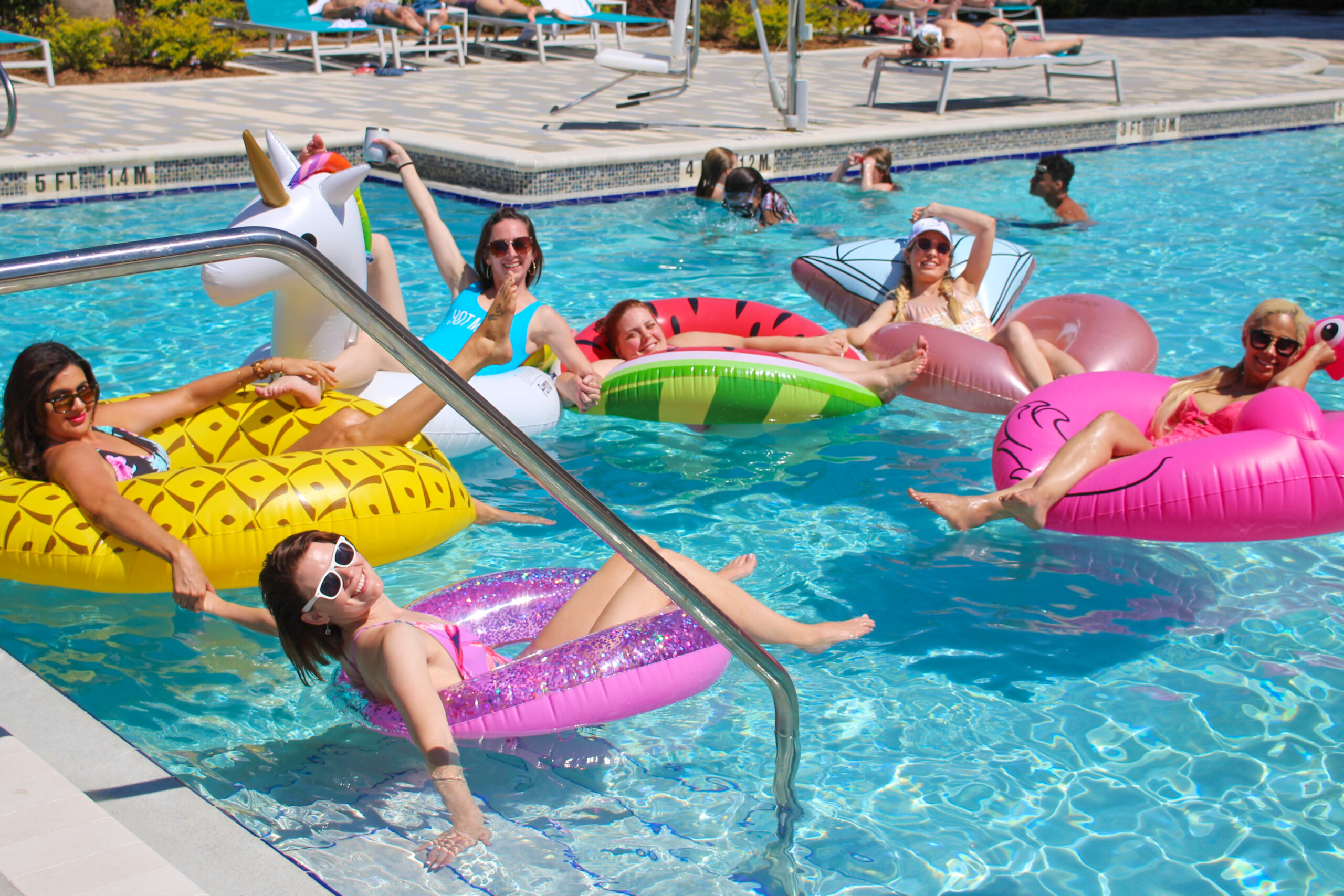 Happy Sunday everyone!! I hope everyone has been having a great weekend so far…anyone celebrate May the 4th be with you, or Cinco de Mayo? I went out with some girlfriends last night for tacos and margaritas woot woot!! Any-who, last weekend was my Bachelorette Party and we decided to take it back to basics, keep it in town, and within a budget that most people could truly afford! With wedding season in full swing, I wanted to share with you all, how you too can throw a budget bachelorette summer bash! It really doesn't need to be something over the top, like a trip to Cabo! You can easily plan something in your own town with the right help and a good plan! So lets dive right in!!
THE VENUE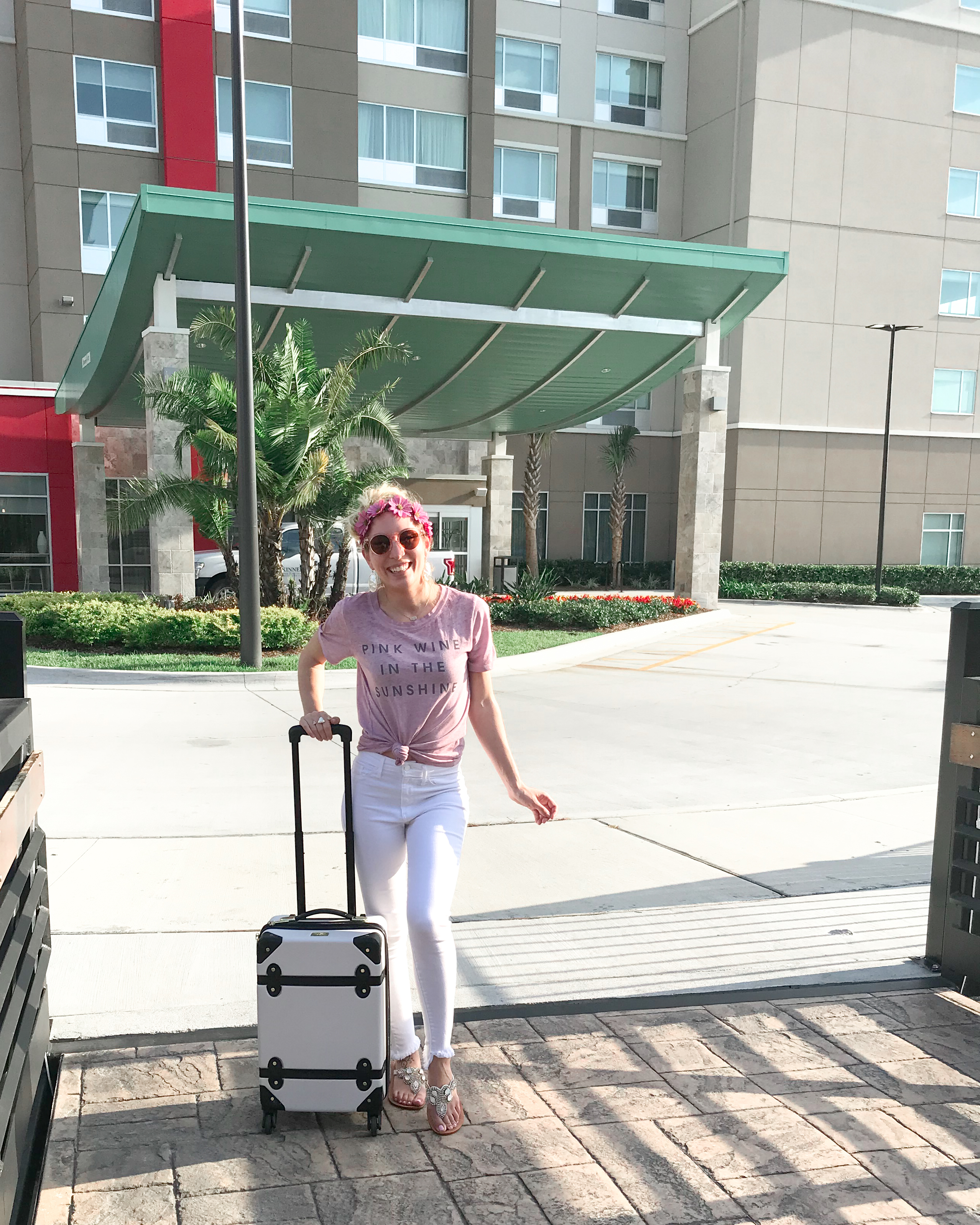 We stayed at a local hotel, The Holiday Inn Express & Suites Orlando at Seaworld, for this Stay-cation/Bachelorette Bash! This was a hotel that I had worked with in the past and for us staying there, they comped my room as the Bachelorette and gave a discounted rate for the rest of the girls! So one suggestion I have is ask around at hotels near you to see if they will give you a group rate, or a media rate in exchange for a review and some kind of coverage while you are staying there!
I absolutely love the Holiday Inn Express & Suites though because not only is it a very nice and clean hotel, but it's super affordable! The rooms are huge as well, esp for what you are paying! If you go to the Ritz you would pay 4x the price for a room a quarter of the size. We had a room with a King bedroom and an entire separate living area which had a pull out couch for two more people to sleep. The bathroom was very big, so there was plenty of room for the 4 of us to get ready in. The hotel staff was so sweet and had decorated our room with Bride Tribe necklaces, photo props, and all kinds of goodies to decorate and make our drinks look fancy shmancy!!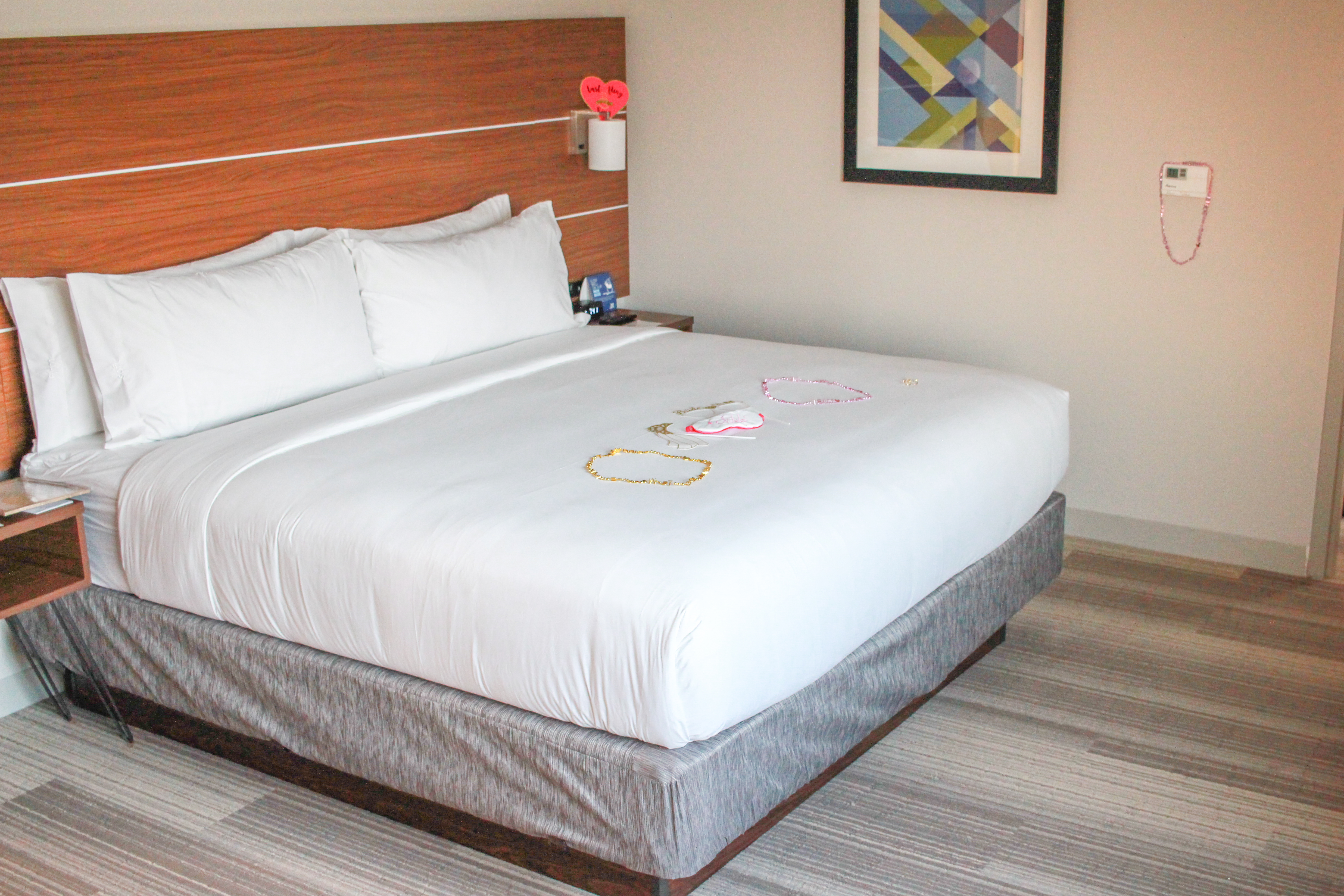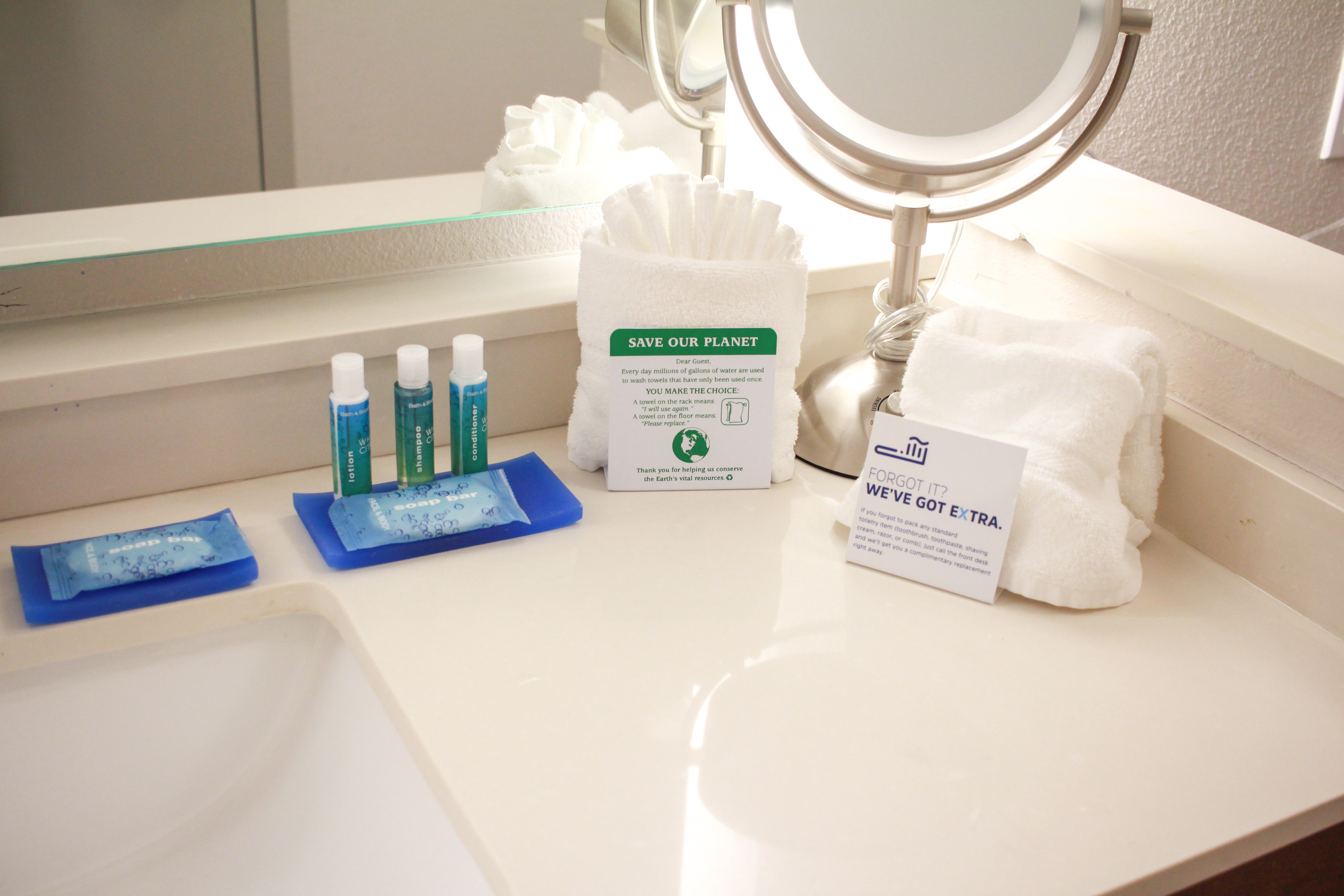 The hotel has an amazing FREE breakfast which includes a 3D pancake maker and Cinnabons!! We definitely loaded up on food both mornings we were there! The hotel staff was so sweet and reserved us a table because we asked nicely!! They are so accommodating when you just smile and say please!! You know how the old saying goes, you attract more flies with honey. Well, I can tell you that if you just ask, and ask nicely that this hotel will go above and beyond for you!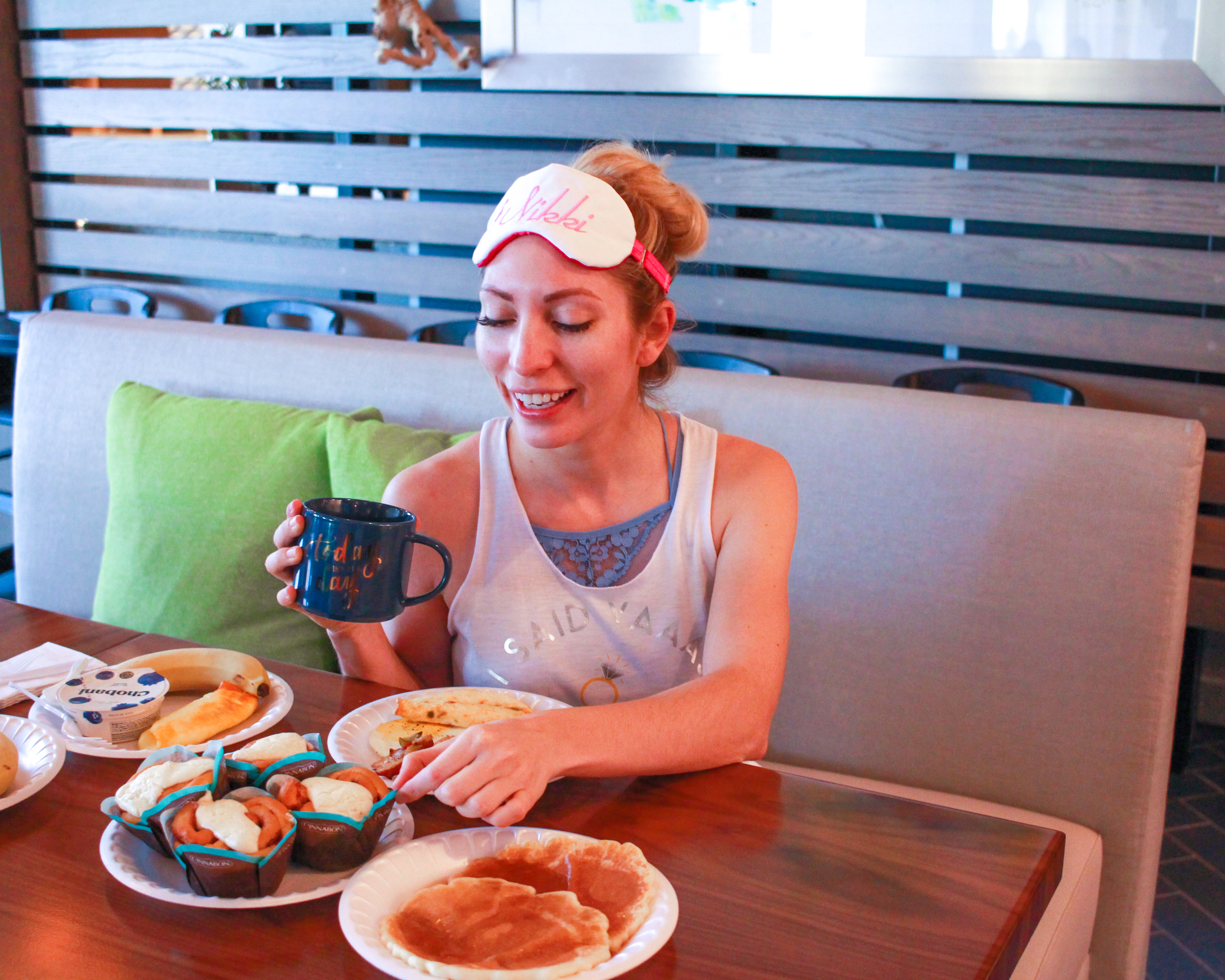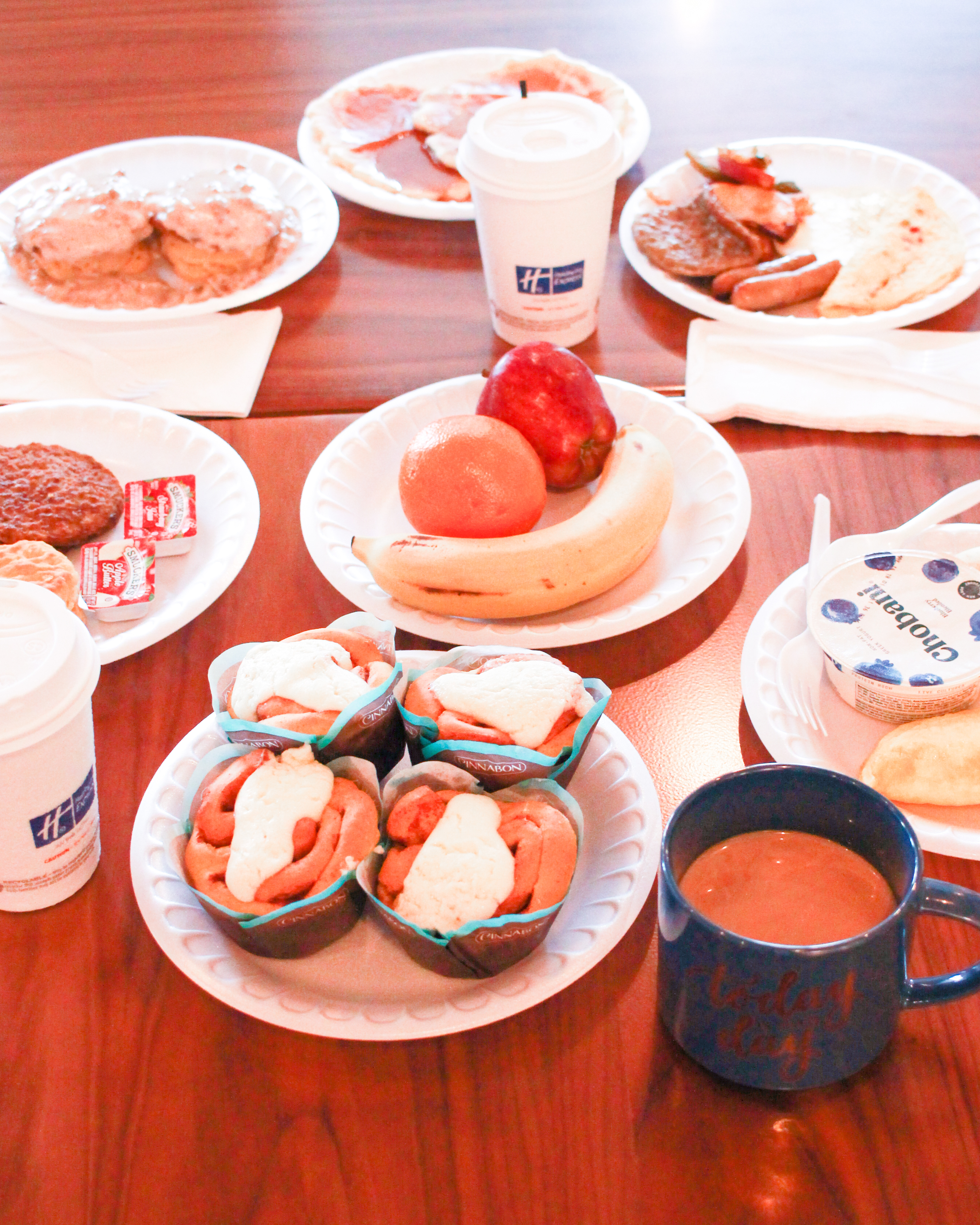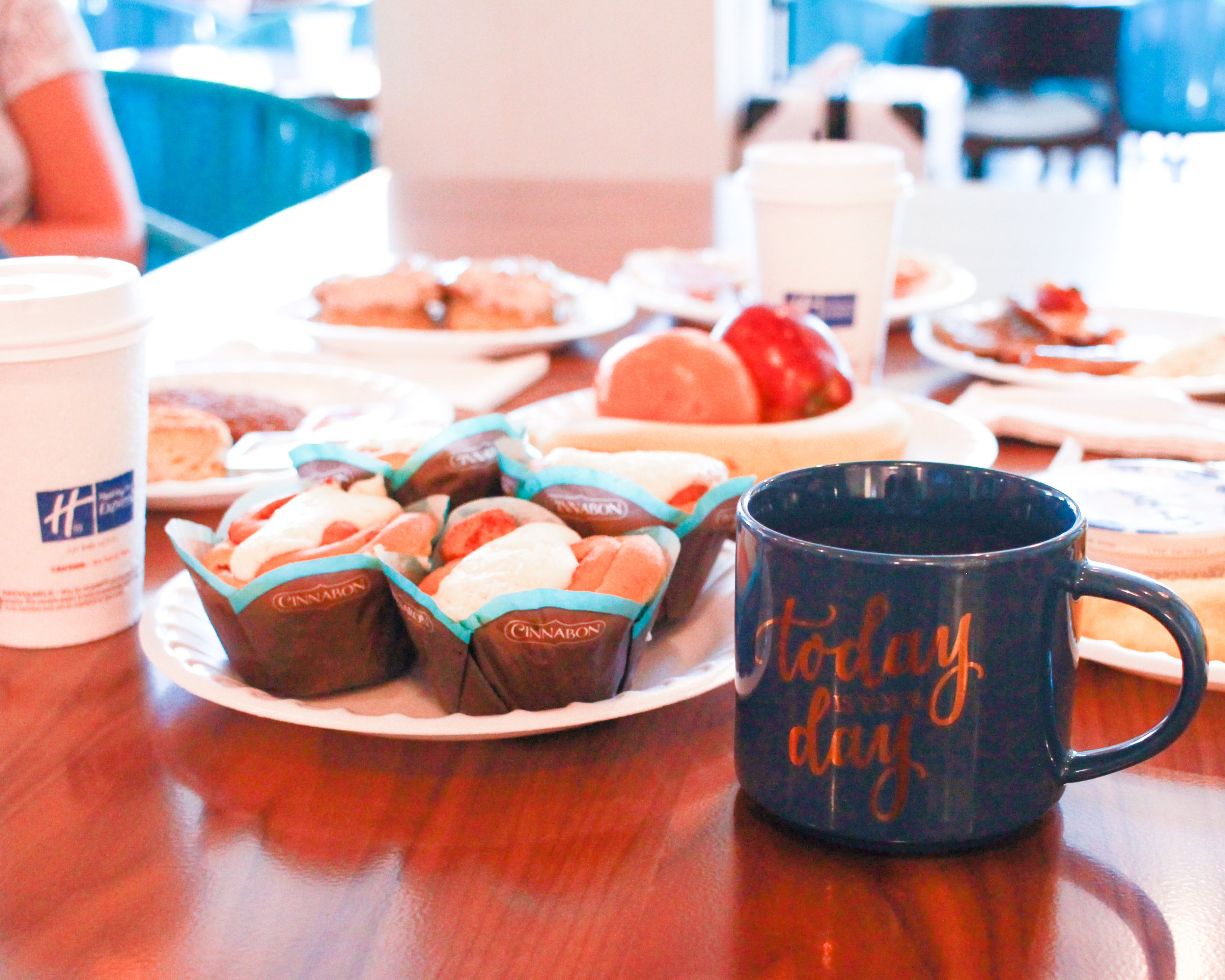 The Holiday Inn Express & Suites has an amazing pool, which is where we did our daytime Bachelorette festivities. There are plenty of cute loungers, the pool is well maintained and they even let us reserve a whole section since we had a large party! Since we asked ahead, they even allowed us to have our floats in the pool!! It was an amazing day and I wish I could throw a pool party there every weekend!!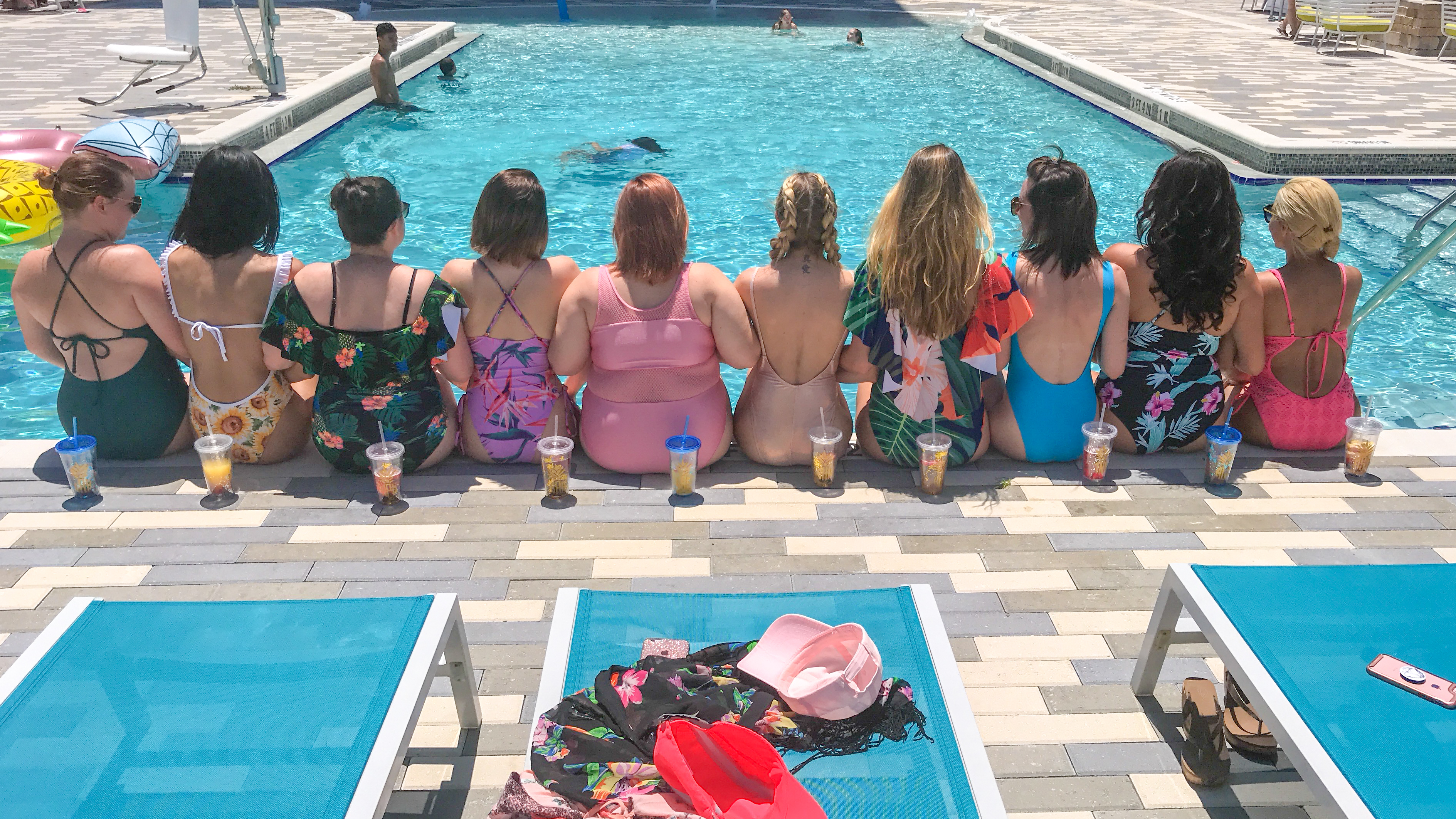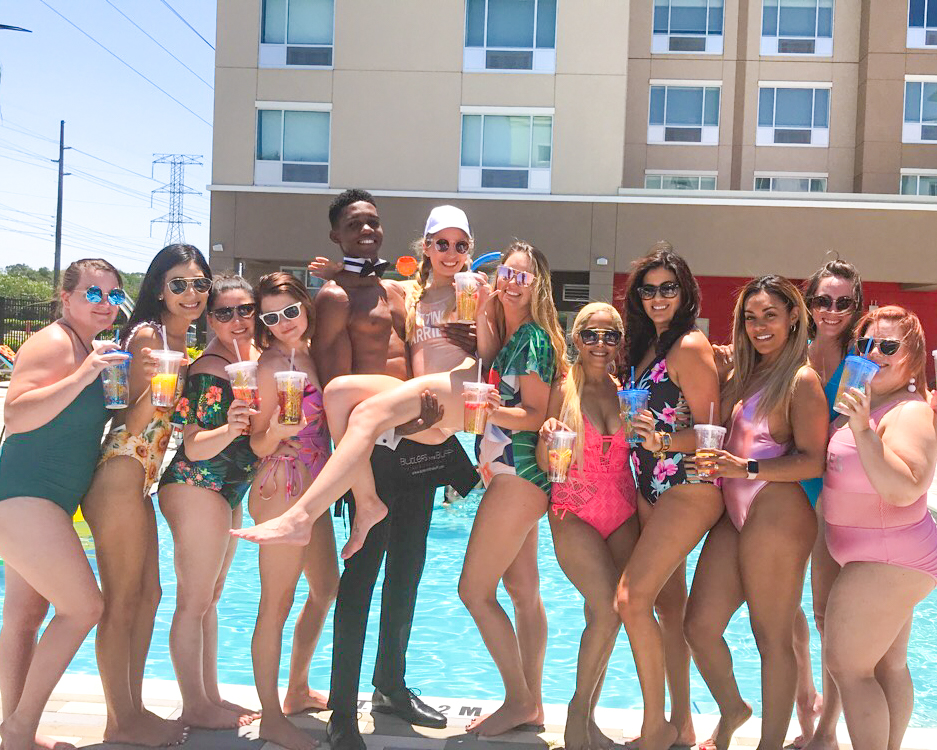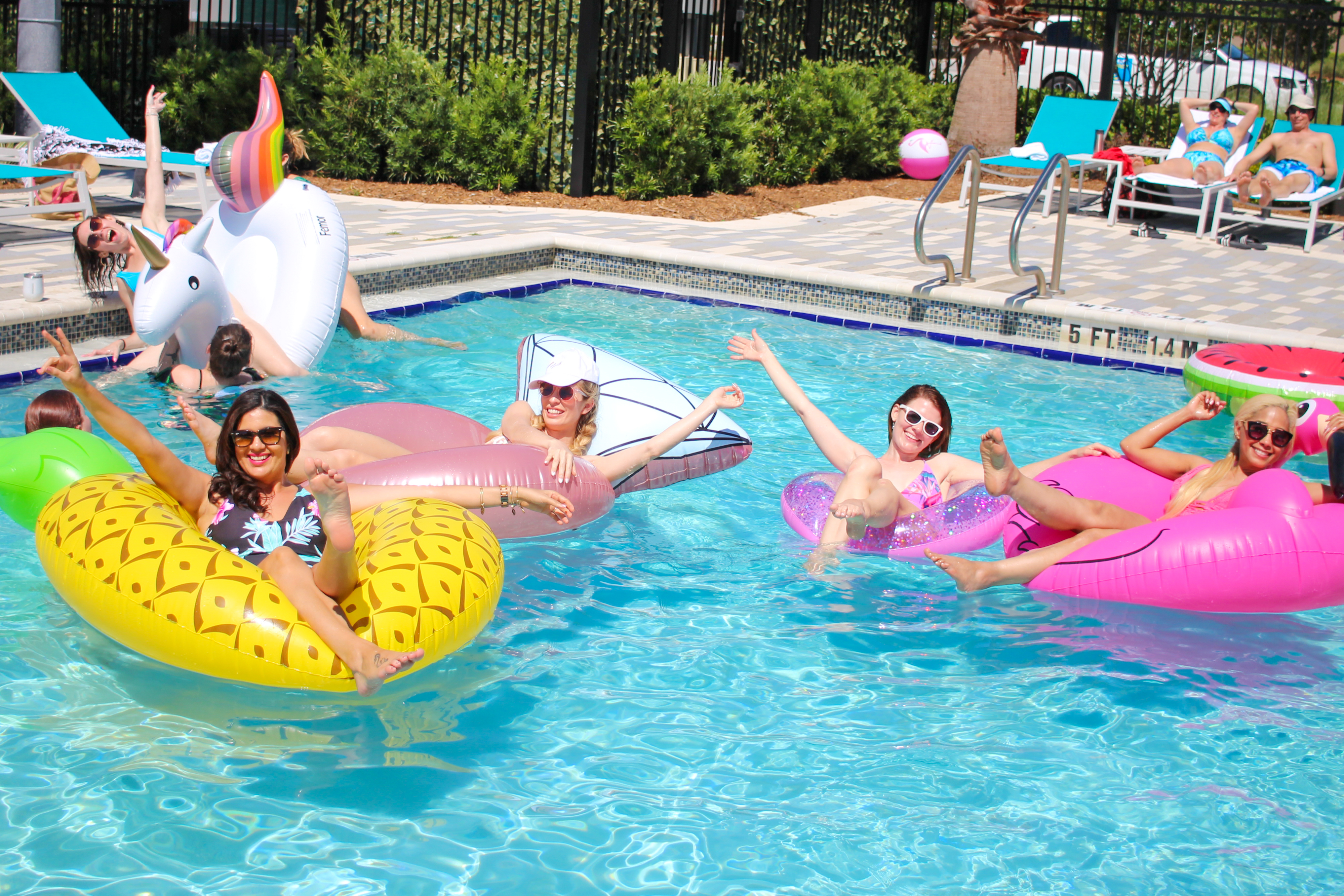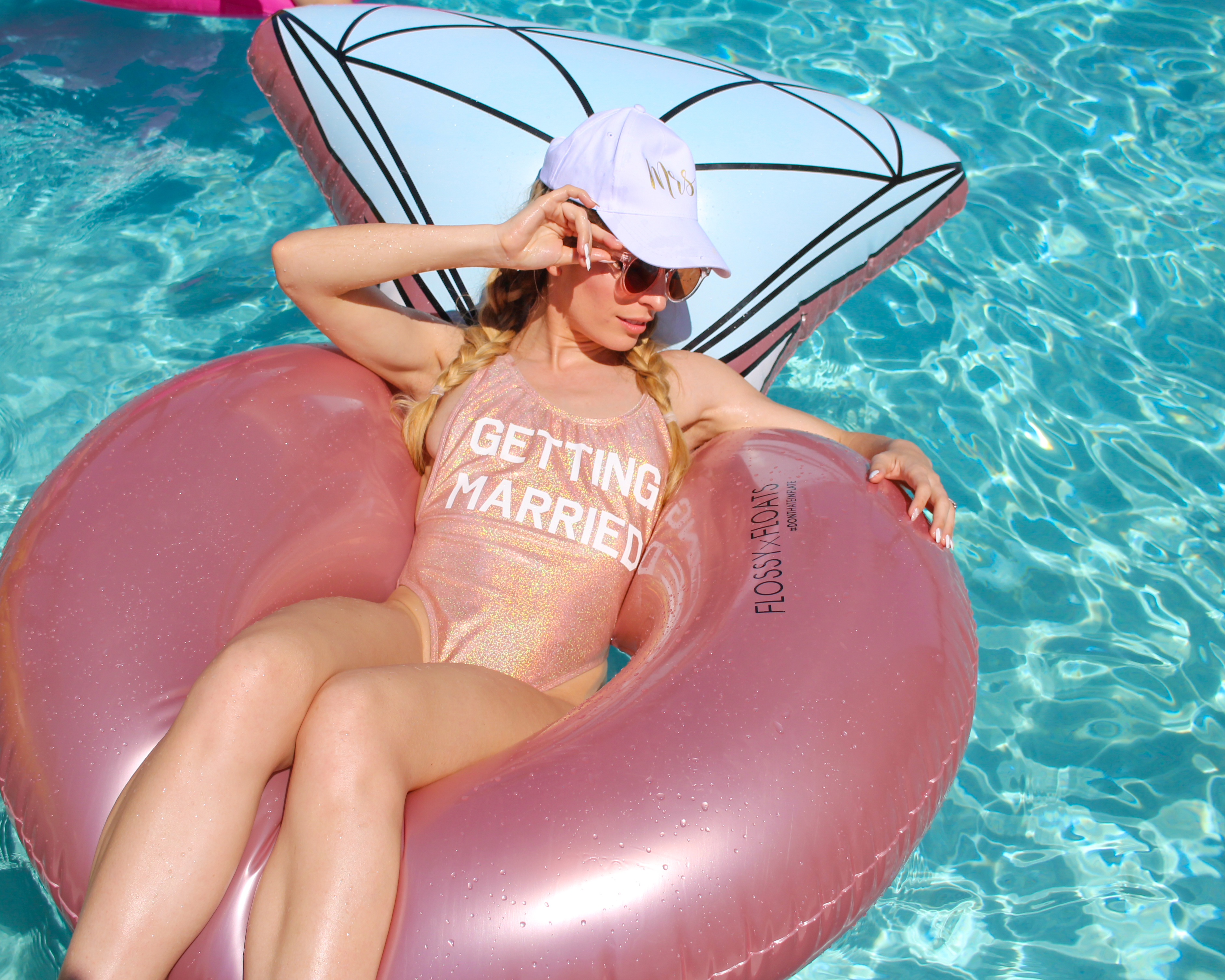 Swimsuit: Dippin Daisy
During our time at the pool, we had hired a Butler for 3 hours from Butlers in the Buff to come out and pamper us. I definitely think he was one of the best budgeted activities. Not only did we not have to worry about refilling our drinks, but he helped take some of our photos, and he blew up all the floats for us. Anything we didn't want to do ourselves, we just had him do haha.
THE DECOR
So if you know me well, or even a little haha, then you know my fave things are flamingos and pineapples!! Well, let me tell you that my cousin went all out on the decor!! Thank's to my girlfriend Rae, we got some amazing photos of what my cousin Brittany created and put together!! She purchased most everything from the Dollar Tree and the dollar section at Target, plus a few things she found on Amazon. Now I have more flamingo/pineapple things than I know what to do with!! Yay!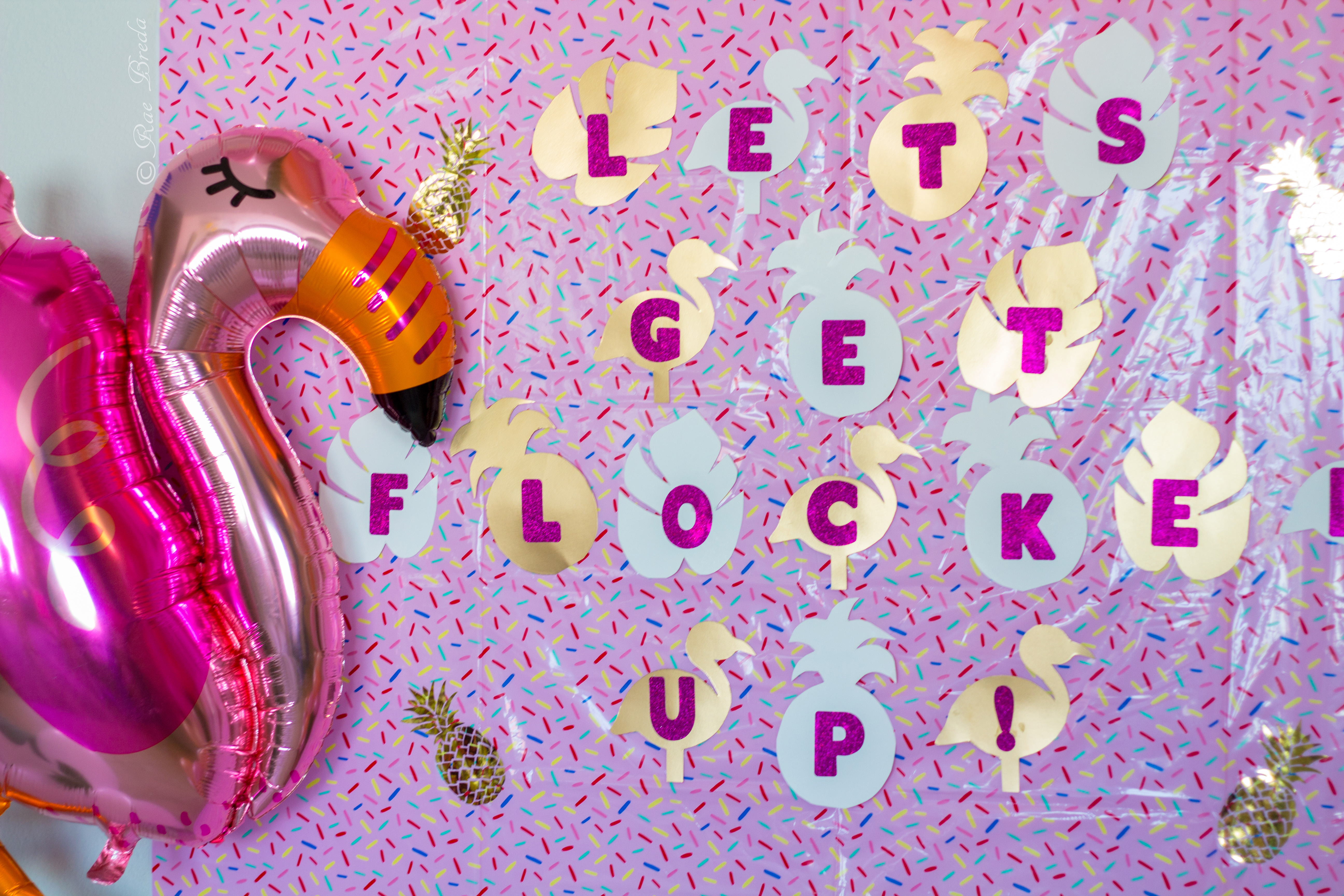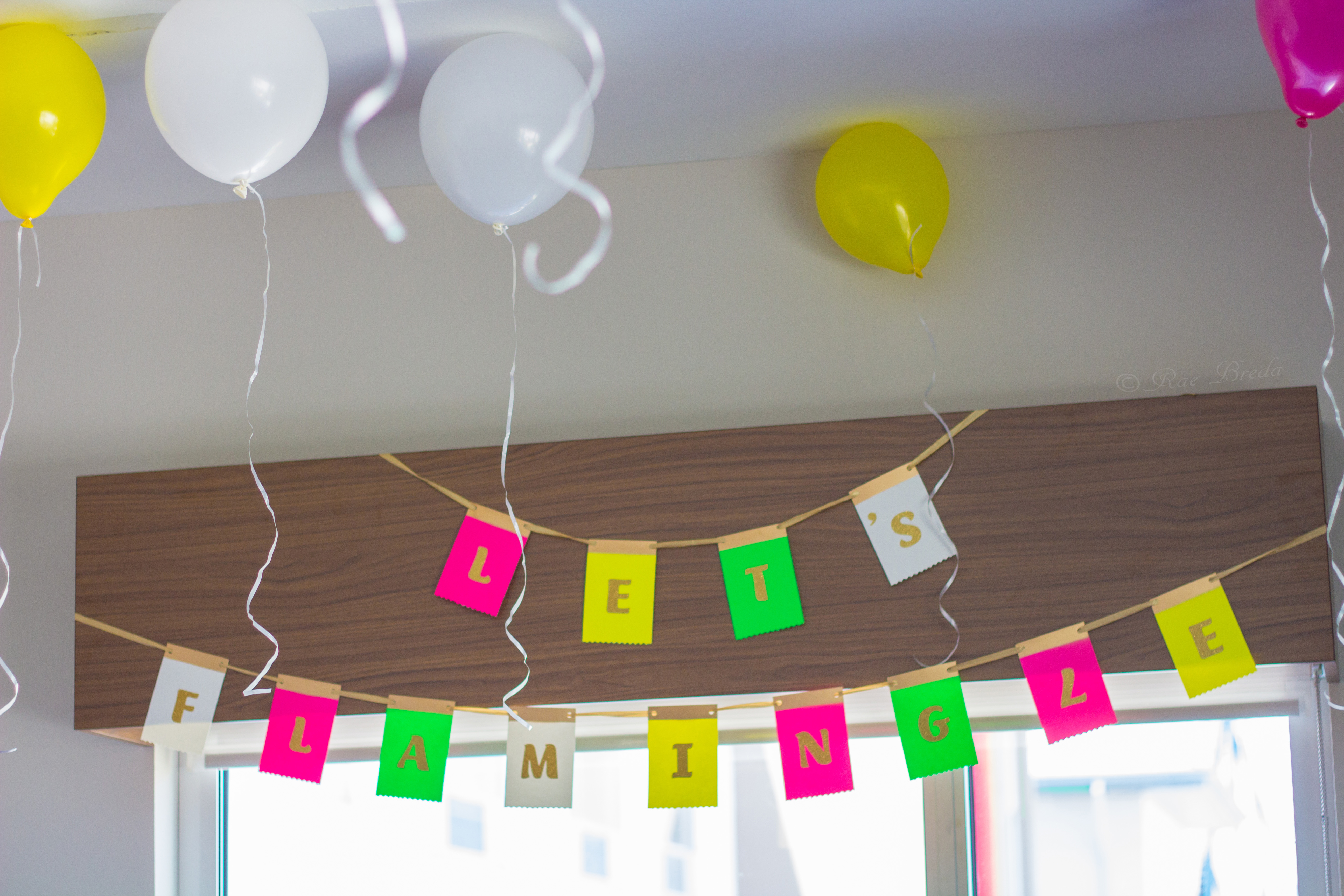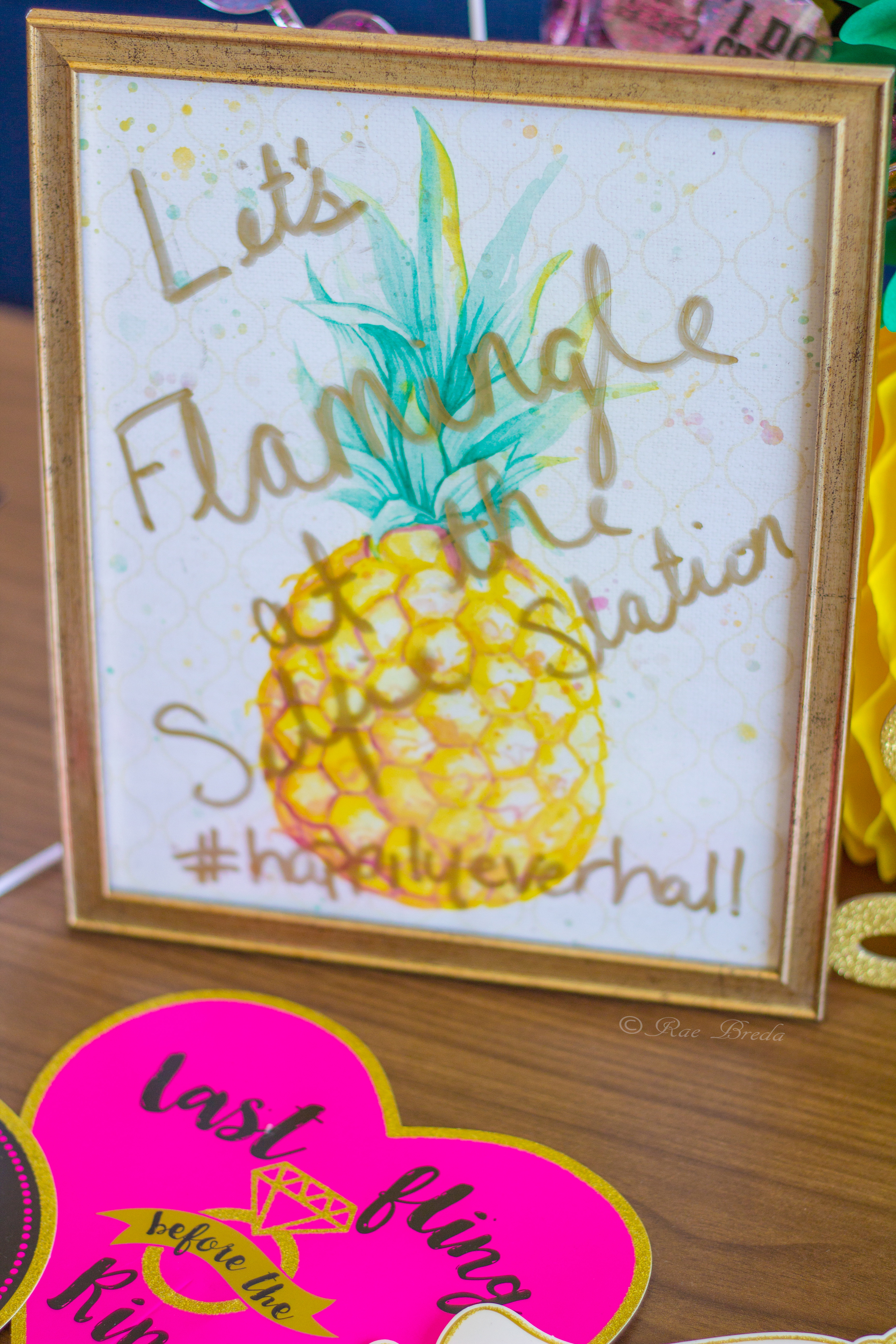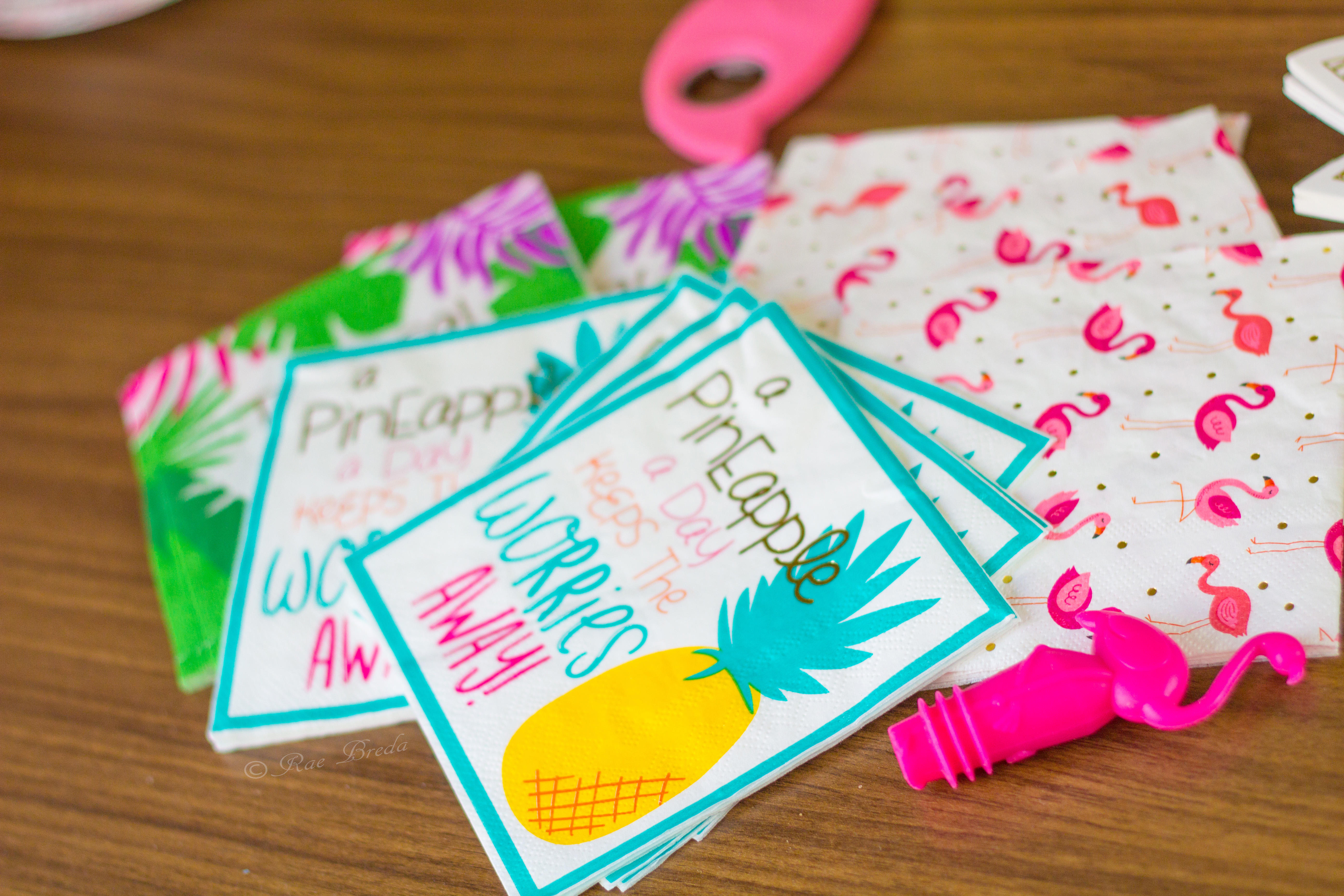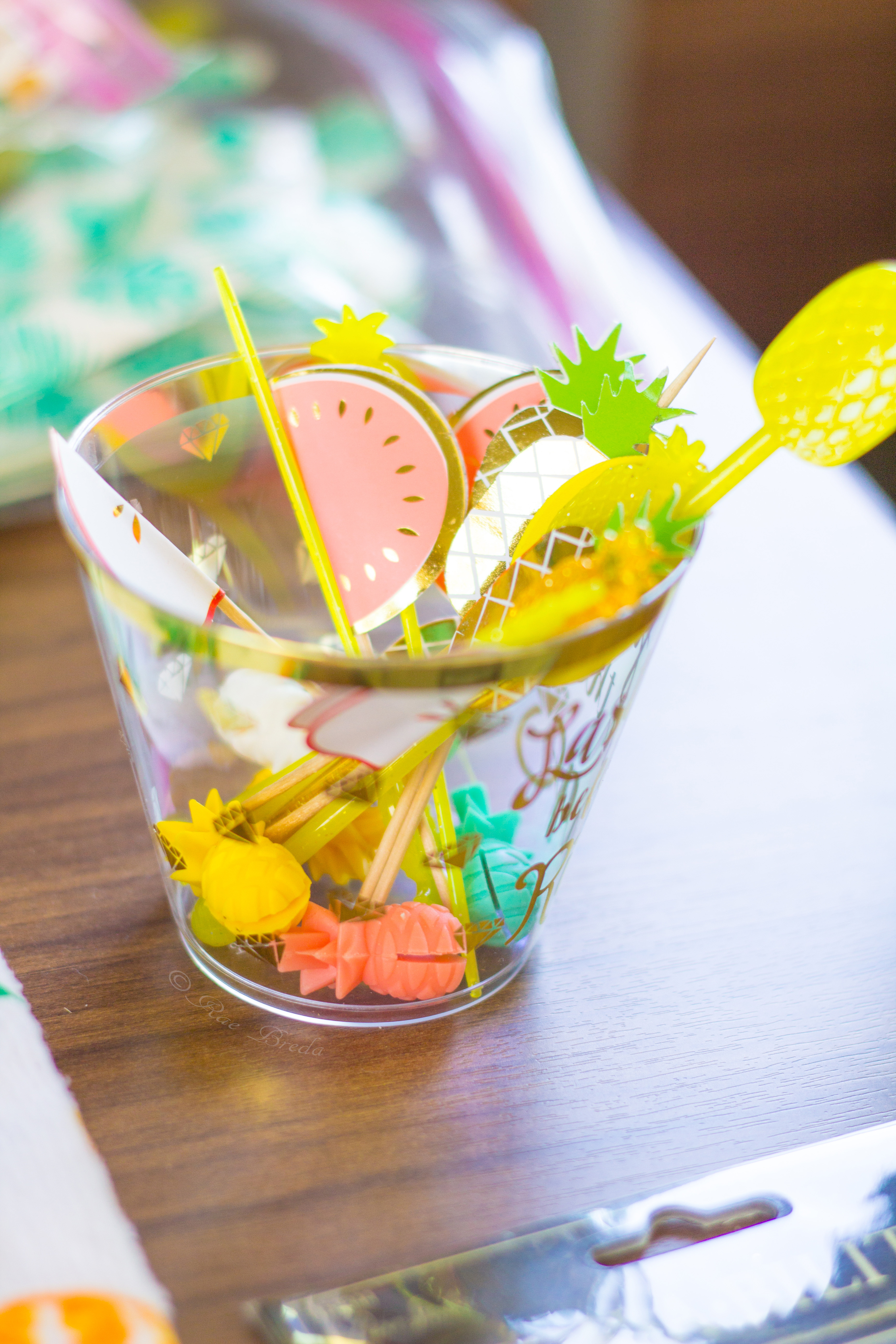 THE FOOD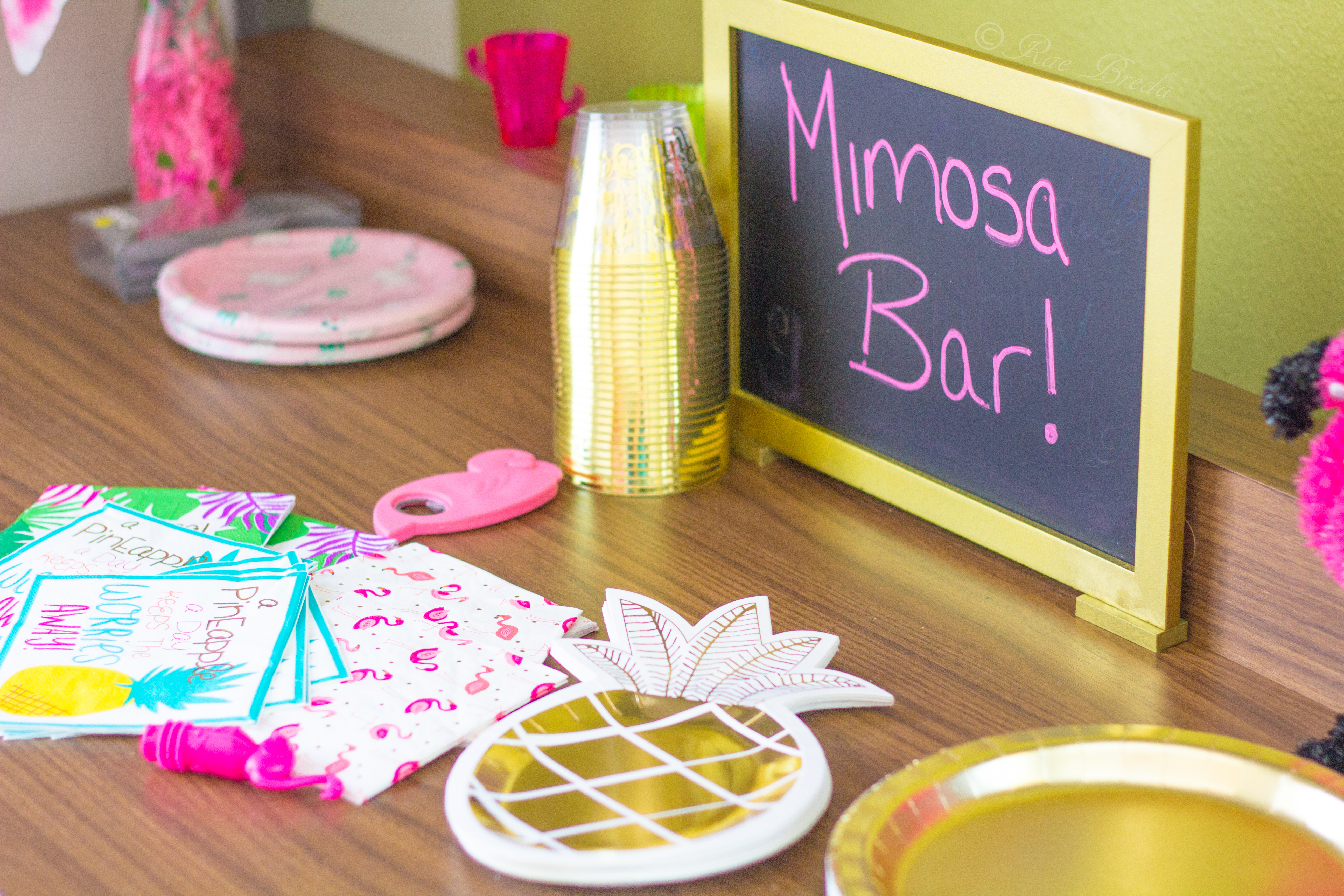 We decided to make all the food ourselves for the daytime by the pool, so we headed off to Publix with a list and purchased everything for the platters, sandwiches, and mimosa bar!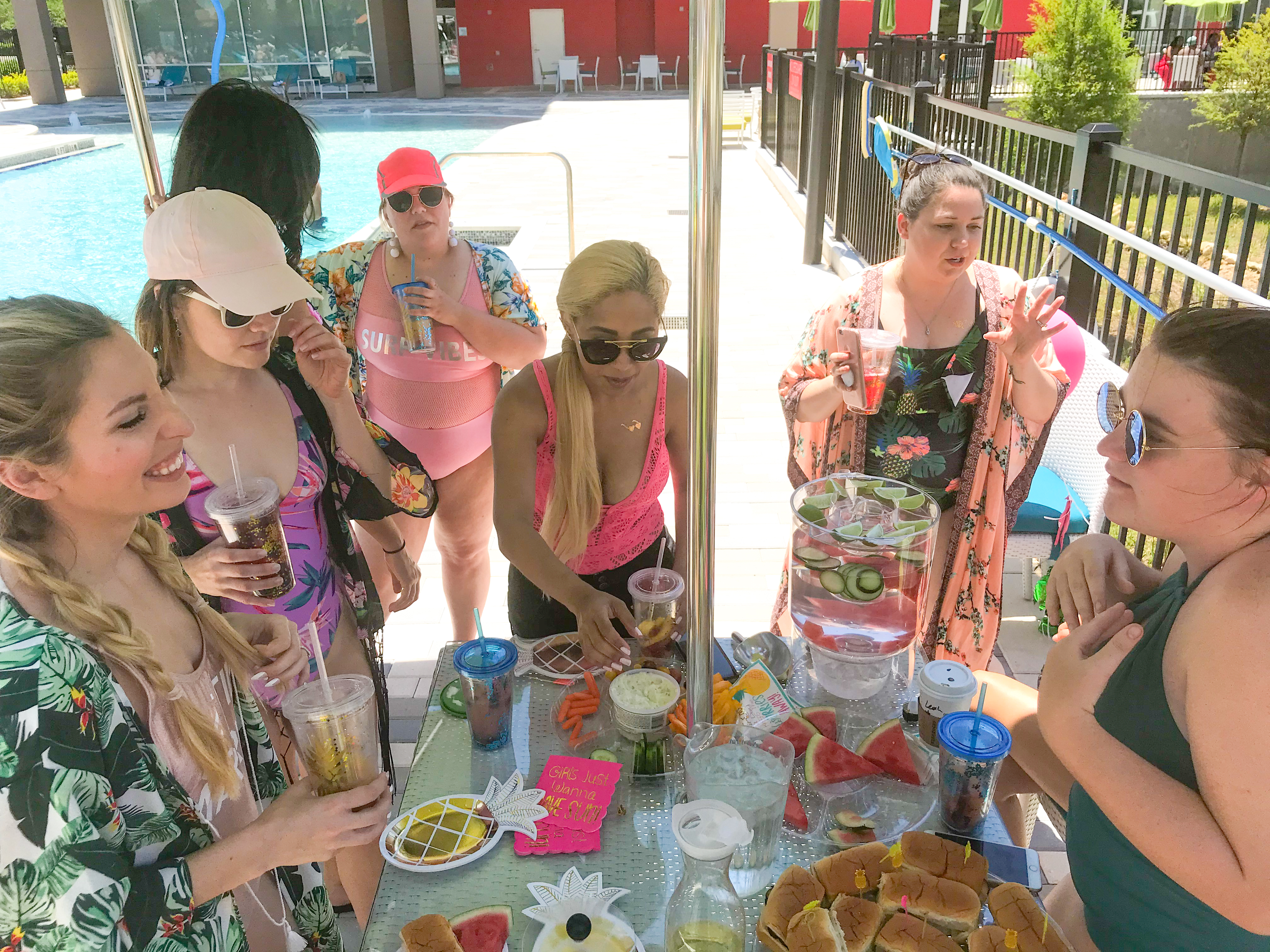 We purchased one bottle of champagne per girl for the mimosa bar. We chose Andre since it's the most affordable and came out to $5 per girl. We then picked three different kinds of juices and three different kinds of fruit for people to add to their mimosa. It was a great refreshing cocktail for by the pool. We also made sure to have a big drink dispenser of water which we flavored with watermelon and cucumber.
We decided to do a vegetable platter with cucumber, peppers, tomatoes, and carrots, with ranch of course. We also had small slices of watermelon for the girls to munch on. As the main dish, or staple item we made 4 different types of deli sandwiches on sweet Hawaiian mini sub rolls. These were great finger foods. We also had some white cheddar popcorn, plus chips, salsa, and guac for some extra filler finger foods. My girlfriend Alex made sure there was a penis cake as well hahah!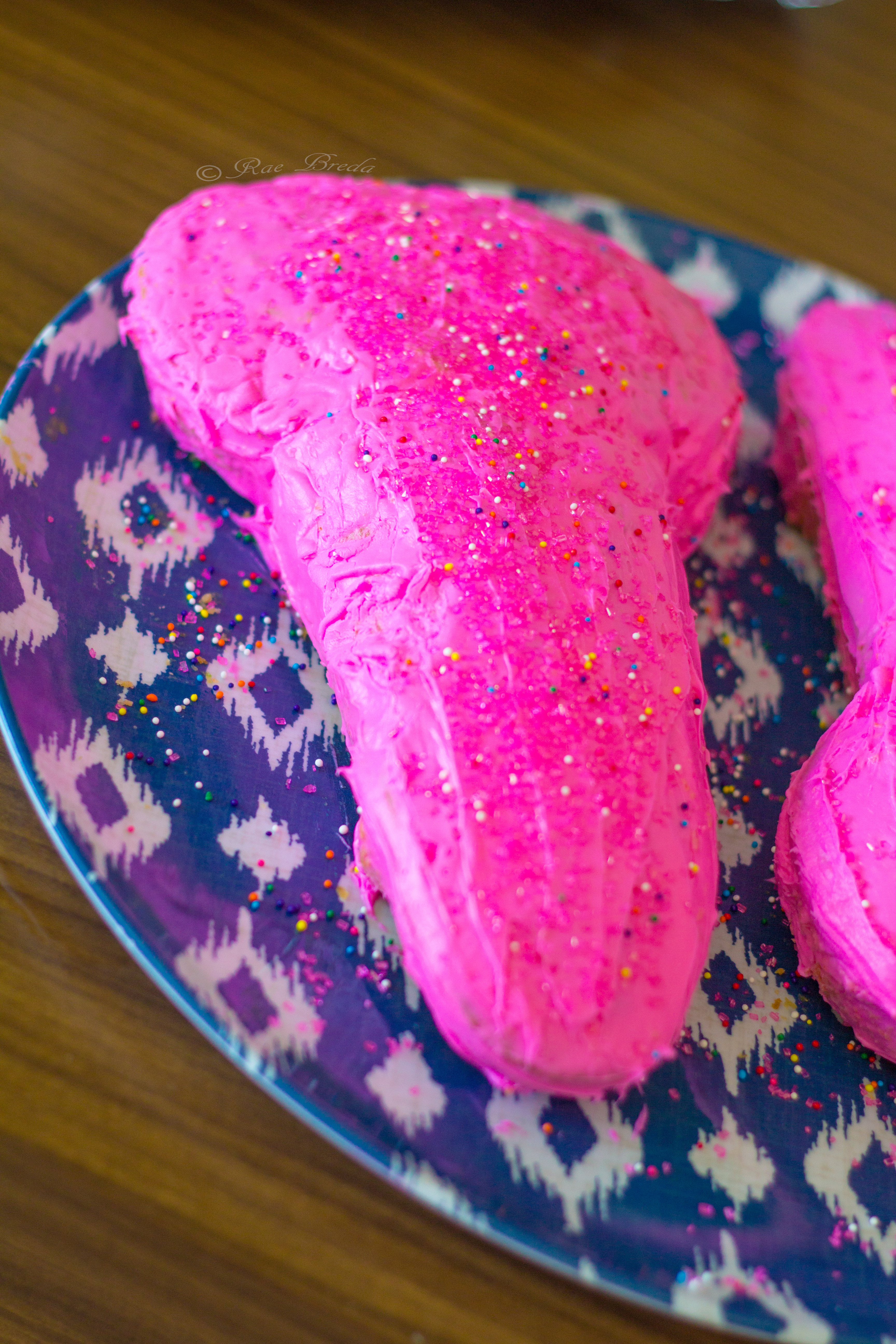 Towards the end of the day as we were getting ready to go out for the evening, we ordered in a few boxes of pizza from Papa John's since they had the best deal! This way we had more time to get ready and didn't spend a ton of money on dinner out! During this time one of my girlfriends had a Pure Romance lady come which was pretty entertaining.
GOODY BAGS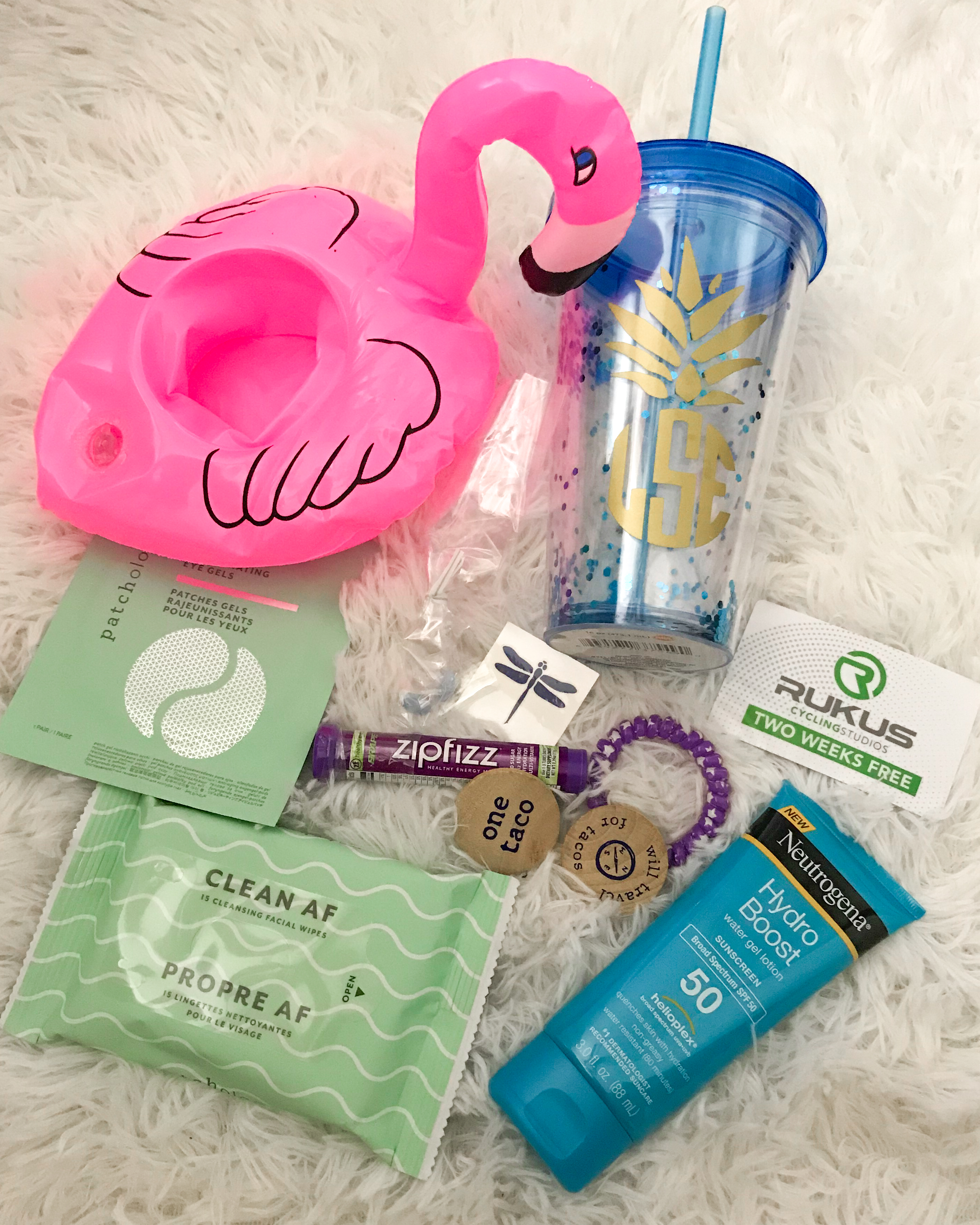 I wanted to give the girls something that was personalized to them, items that they would actually use, and something to go along with our summer pineapple pool party theme. Therefore, I settled on that the main item would be a personalized tumbler for the pool. Through a friend I found a local lady named Kayla who made the monograms for the cups!! She ships all over ya'll so check out KPI Designs. Neutrogena was amazing and they sent full size hydro boost sunscreen for all the girls! Then Patchology sent facial wipes and under eye gels as well. Bartaco gave free taco coins to everyone, which was a blessing in disguise since Cinco de Mayo was this weekend!! Rukus Cycling gave out cards for 2 weeks of free rides. Plus, I also added in Advil for hangovers, hair ties, Zip Fizz, and an inflatable flamingo drink float. These were so fun for me to plan and put together!
EVENING OUT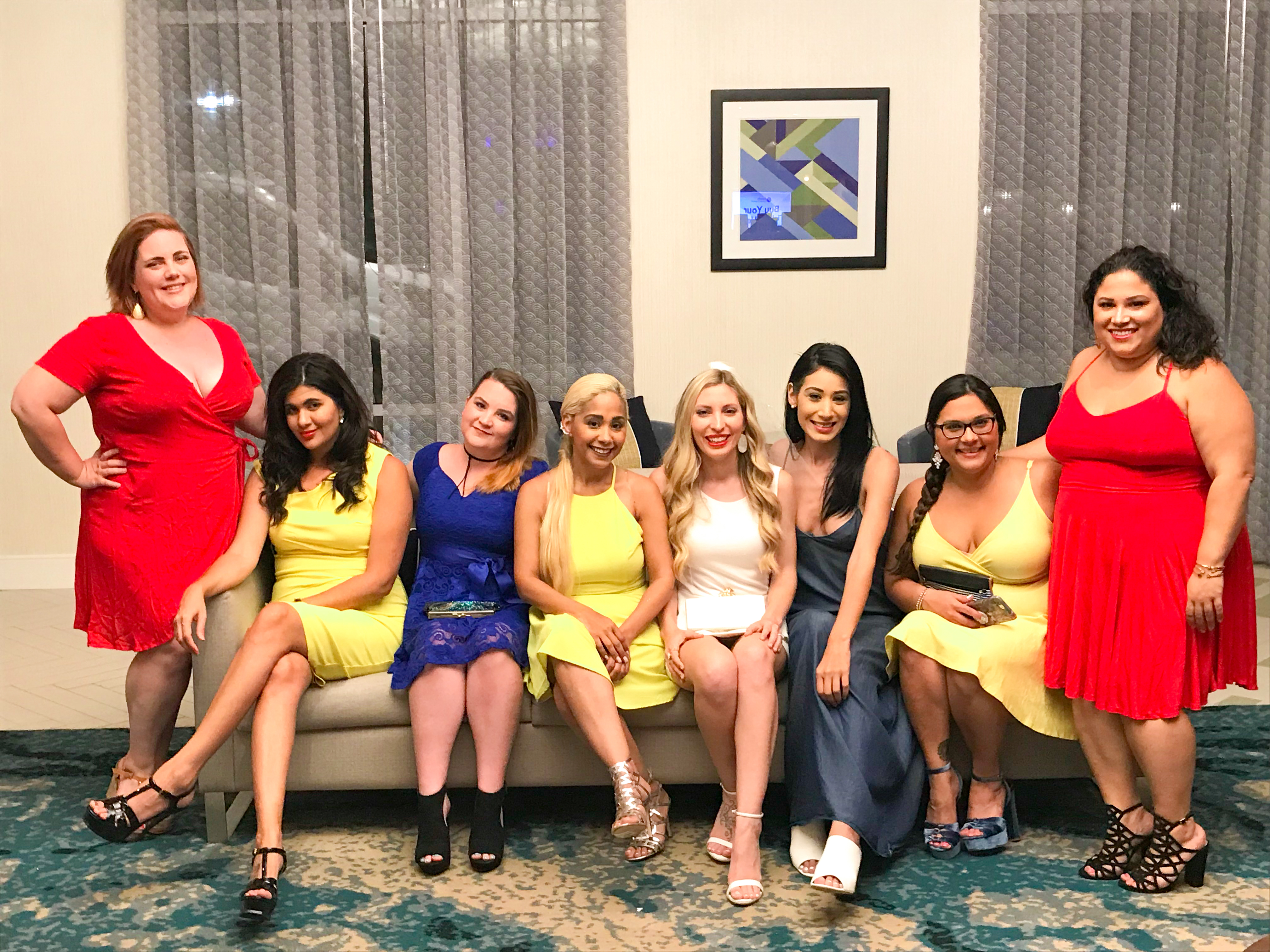 We decided to go out after dinner time and just go somewhere that would be lively and have dancing. Since we had a large party of over 10 people, we thought it would be best to do VIP because we would have an area to sit, plus it was more affordable to split the cost of a bottle than to do individual drinks. The club we decided to go to is an Orlando hot spot called Mango's Tropical Cafe. They are more known for their dinner and show, which I had attended in the past. However, when I found out that after 10pm they turn into a dance club, I just knew it would be the perfect spot for a Bachelorette party! They were so sweet to us as well and gave us free decorations for our table and a delicious picada platter to try out! All the mixers your could want come with your bottle that you purchase, so we ordered Titos Vodka plus a few juices and some coke.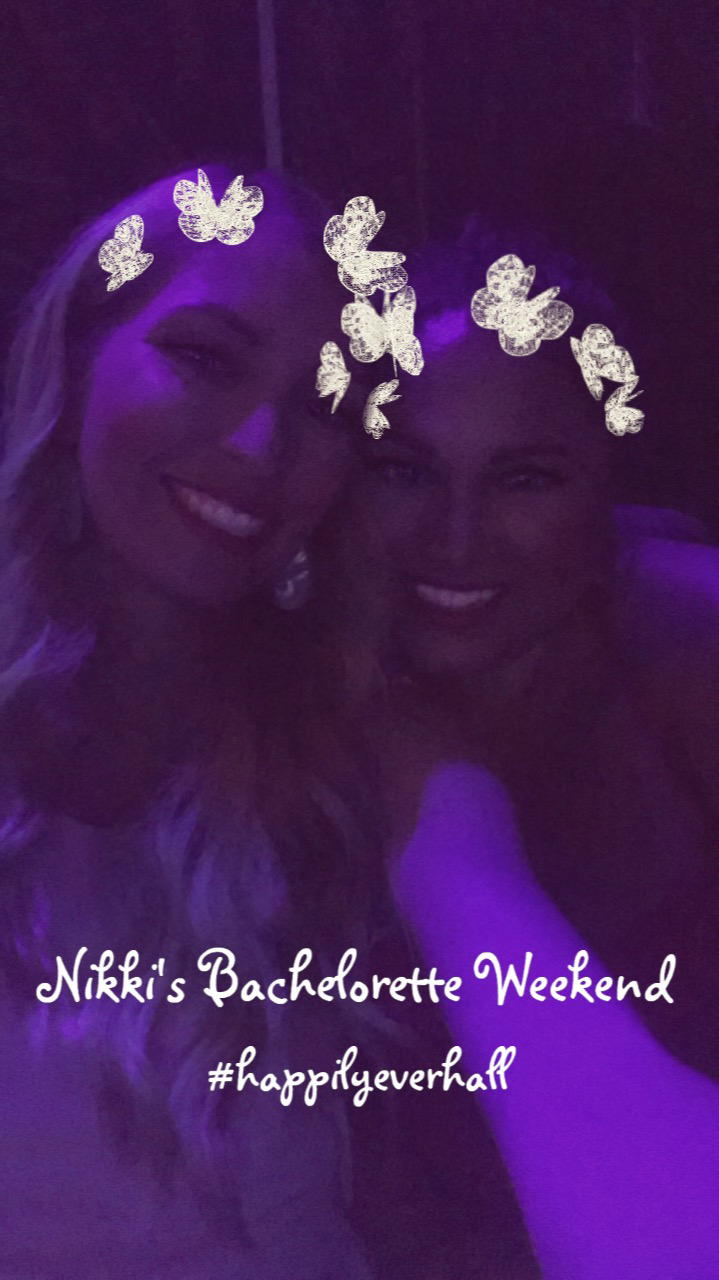 I suggest talking to different night clubs, or restaurants in your area and speak with the managers. Tell them about your party size and see what they can offer you as a group. A lot of times with Bachelorette parties they know they are going to make money off a large party, so they throw in some things for free. Or, they know guys will want to be spending money buying the ladies drinks, so they will comp some items just to have more women present at the venue!
We also did not drive since we were all drinking and did not want to have to designate one girl as the DD. So the hotel was a great resource for hiring a vehicle large enough to transport all of us together. They worked out a flat rate round trip deal which broke down to only $5 per girl, which was great! This was cheaper than dealing with waiting on an Uber, since often they get busy at 2 am, or there is a surcharge.
BUDGET BREAKDOWN
The entire weekend per girl came out to less than $150! Here is what our weekend came down to per girl for all of the different activities!
Hotel: $30.50
Food/Alcohol: $15
Butler 3 hrs: $33
Pizza: $7
Transportation: $5
Night Club: $36
All in all this was the best Bachelorette weekend I could ask for!! Great friends are what really made the weekend what it was and made me feel so special. In the end it's not about what you are doing, but who you are spending your time with in order to have an amazing event, so make sure you only invite the ladies that you know will get along and will go with the flow! These babes made any twist and turn of the weekend go in a positive direction, which is how we ended the weekend with hugs and smiles on our faces. I am so incredibly thankful for each and every one of them!
What did you do for your Bachelorette Bash, or if you haven't had one yet, what would you want to do? Will you be planning yours, or will your girlfriends? I'd love to hear any fun stories as well!!
SHOP THE POST: