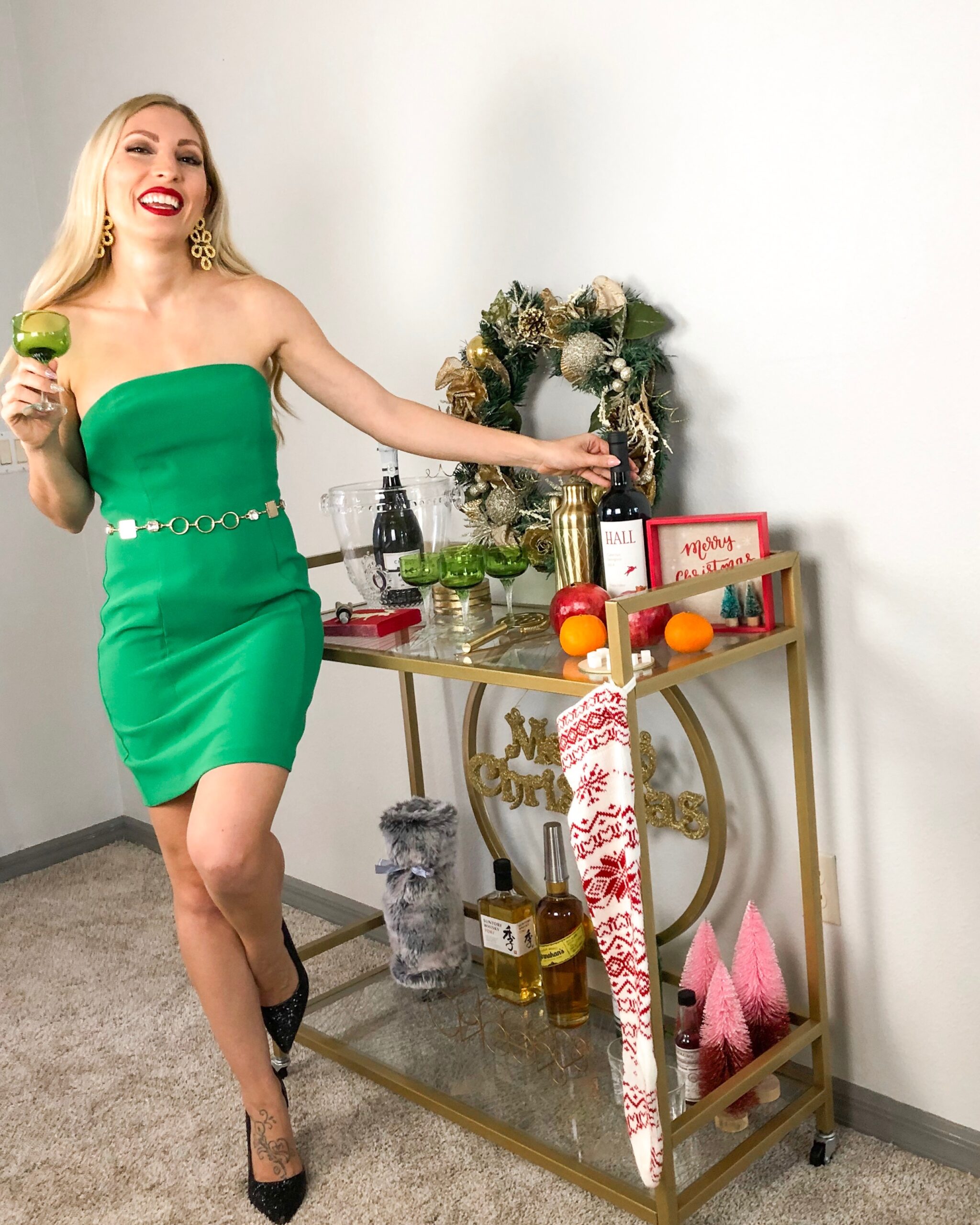 One of the best pieces of furniture that my husband invested in for me, has been a bar cart. He surprised me for my birthday last year and got me exactly the one I had requested to match our coffee table. It has wheels and moves easily from room to room because sometimes I use it for photo shoots, as an extra portable table, or as a mini buffet. It's a great transitional piece, which is always worth the investment! Also mine was only about $150, so very affordable in my opinion. Styling a bar cart doesn't require too much effort, just the beverages you'll be serving, glasses to accompany, a few bar accessories, and a bit of added decor for color. Last month I shared my tips for styling your dining room table! And today I'm sharing how I styled my holiday bar cart for entertaining!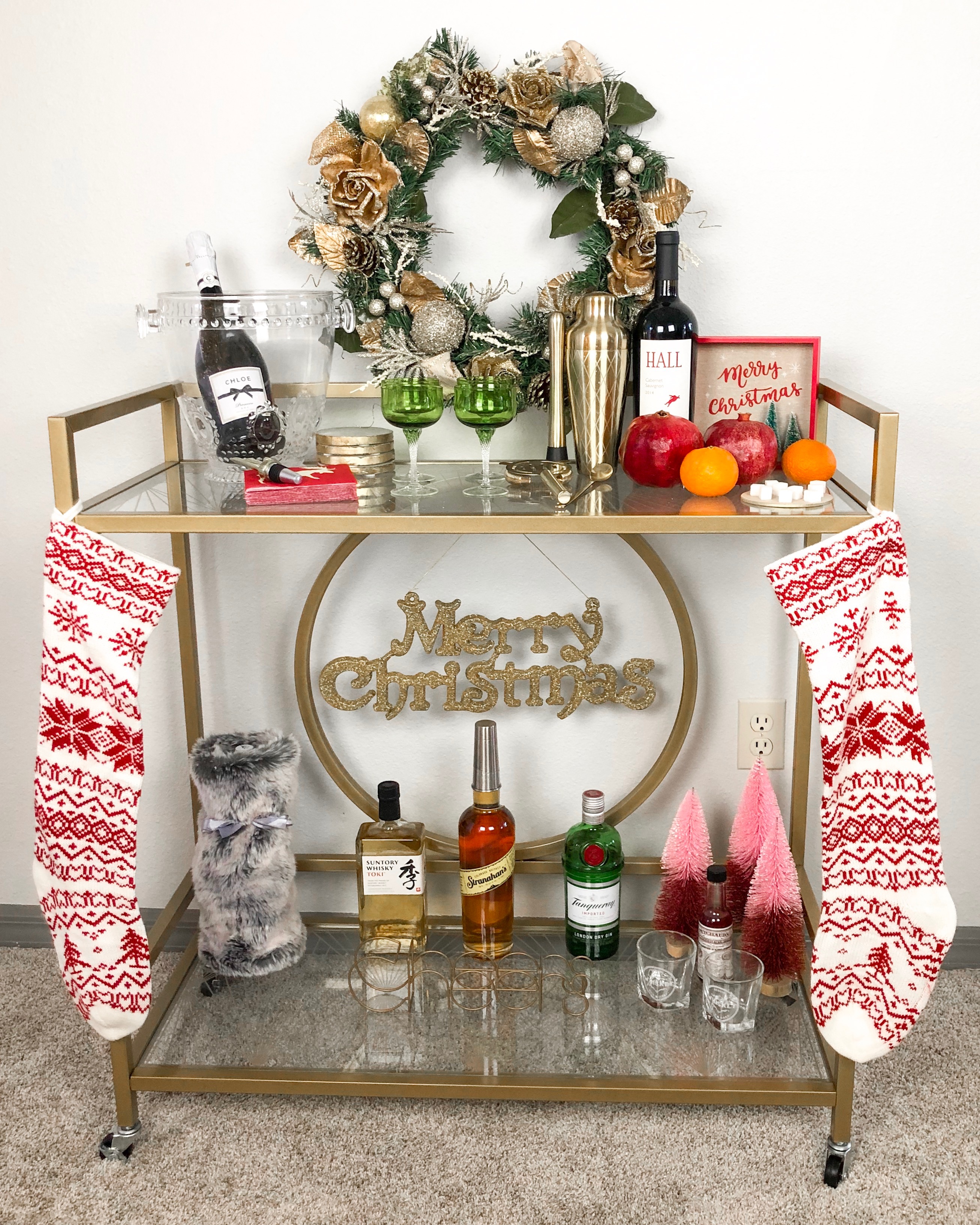 We don't do a lot of cocktails at our house, especially when we're entertaining smaller groups. But the three things we always enjoys are whiskey, red wine, and bubbles. Whatever you're serving, make it convenient for guests to be able to serve themselves. One of my favorite tips is to make guests feel at home.
For the holiday decor, I started with my old gold Christmas wreath, simply leaning up against the wall, since it's temporary. I purchased new ones this year for the front door since we now have a double front door.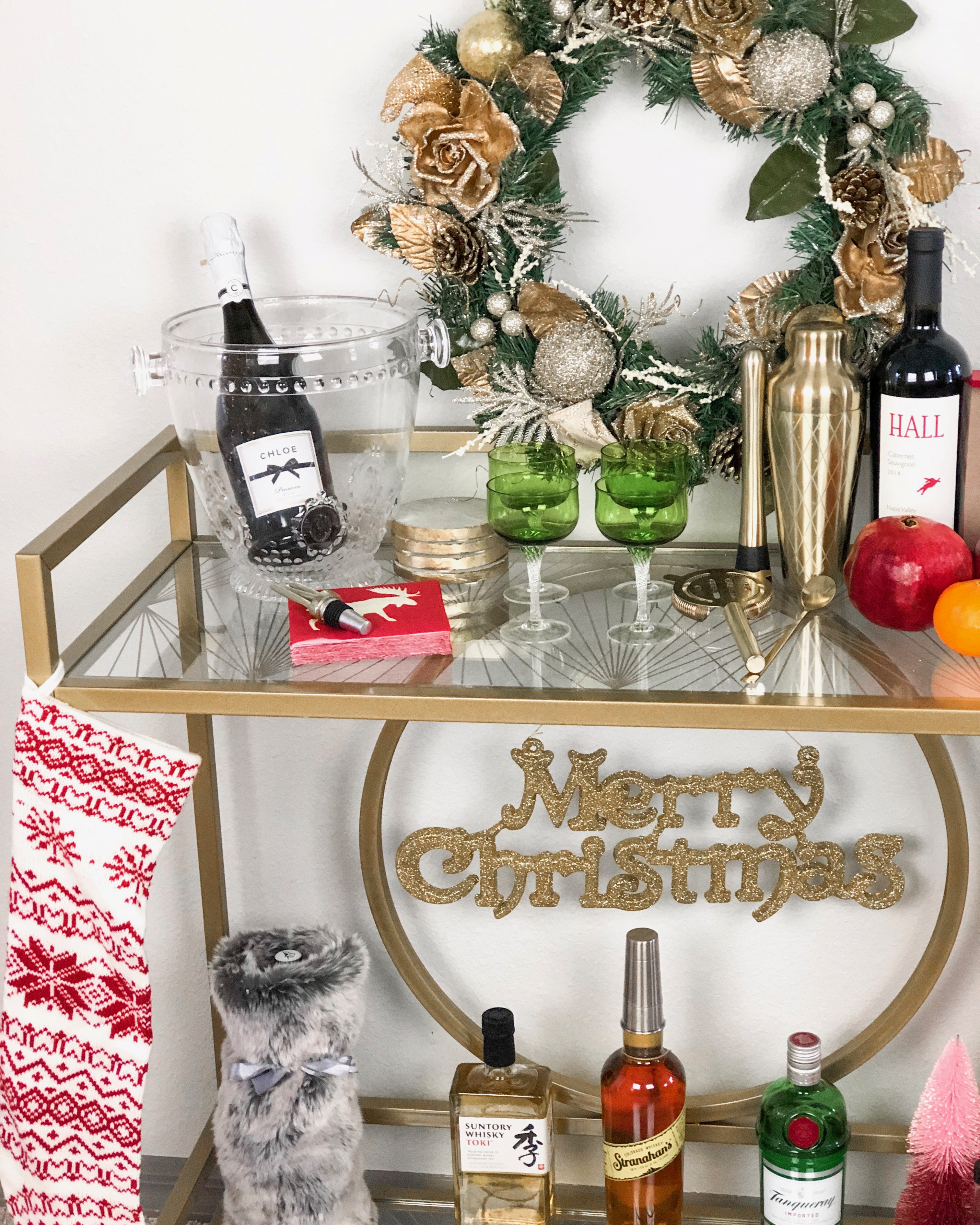 Next I added wine, bubbles in a chiller, & some of my vintage champagne glasses, which are green!! For the lower level of the cart, I always place the drinks we use a bit less, I know they'll just have a few pours, where as with wine, we will be replacing bottles more often. I try to always include something fresh for decor and garnish. For Christmas, I've added pomegranates for the beautiful red color and your glass of champagne, plus oranges for those Old Fashioned lovers!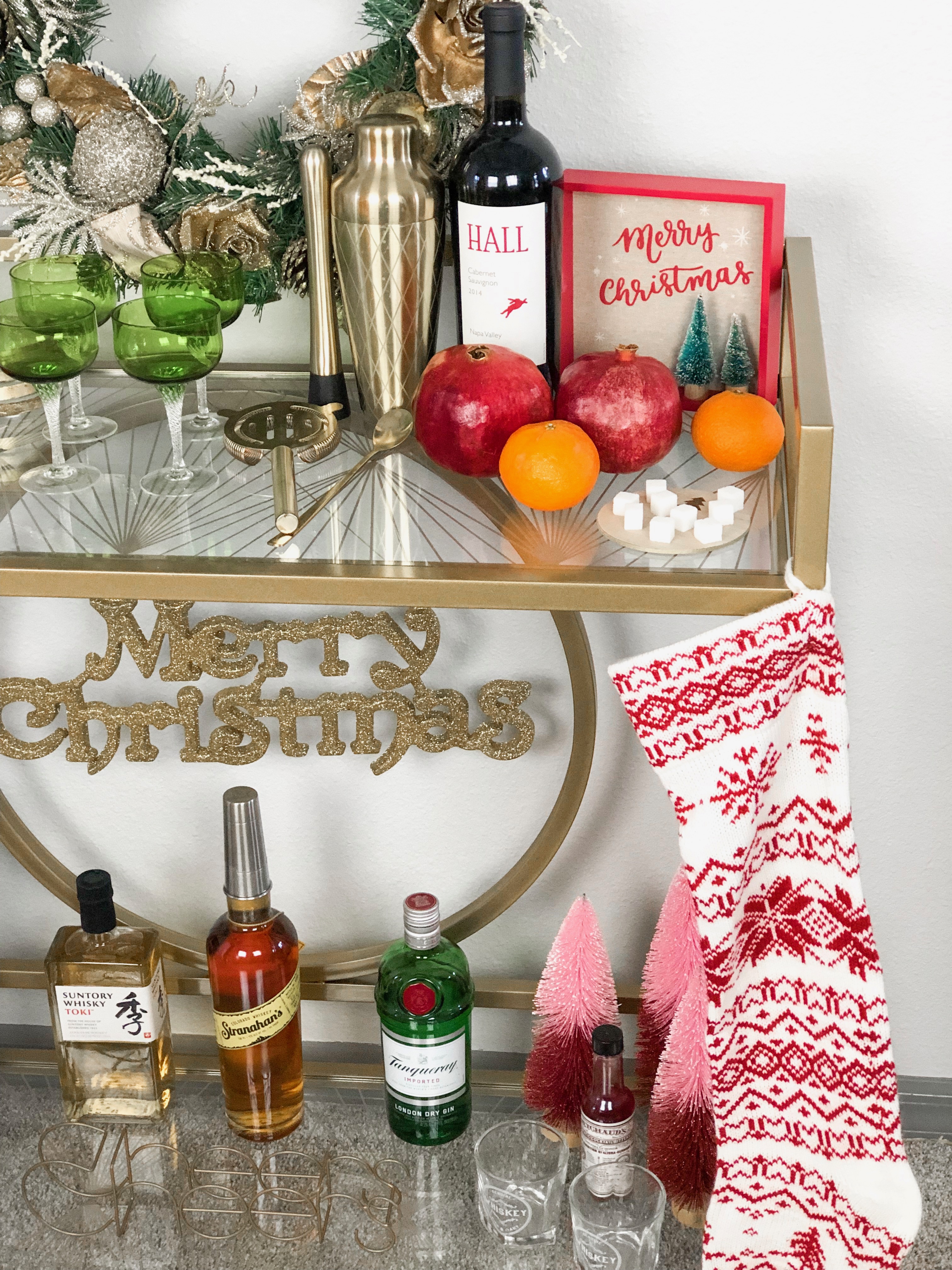 5 QUICK TIPS FOR STYLING YOUR HOLIDAY BAR CART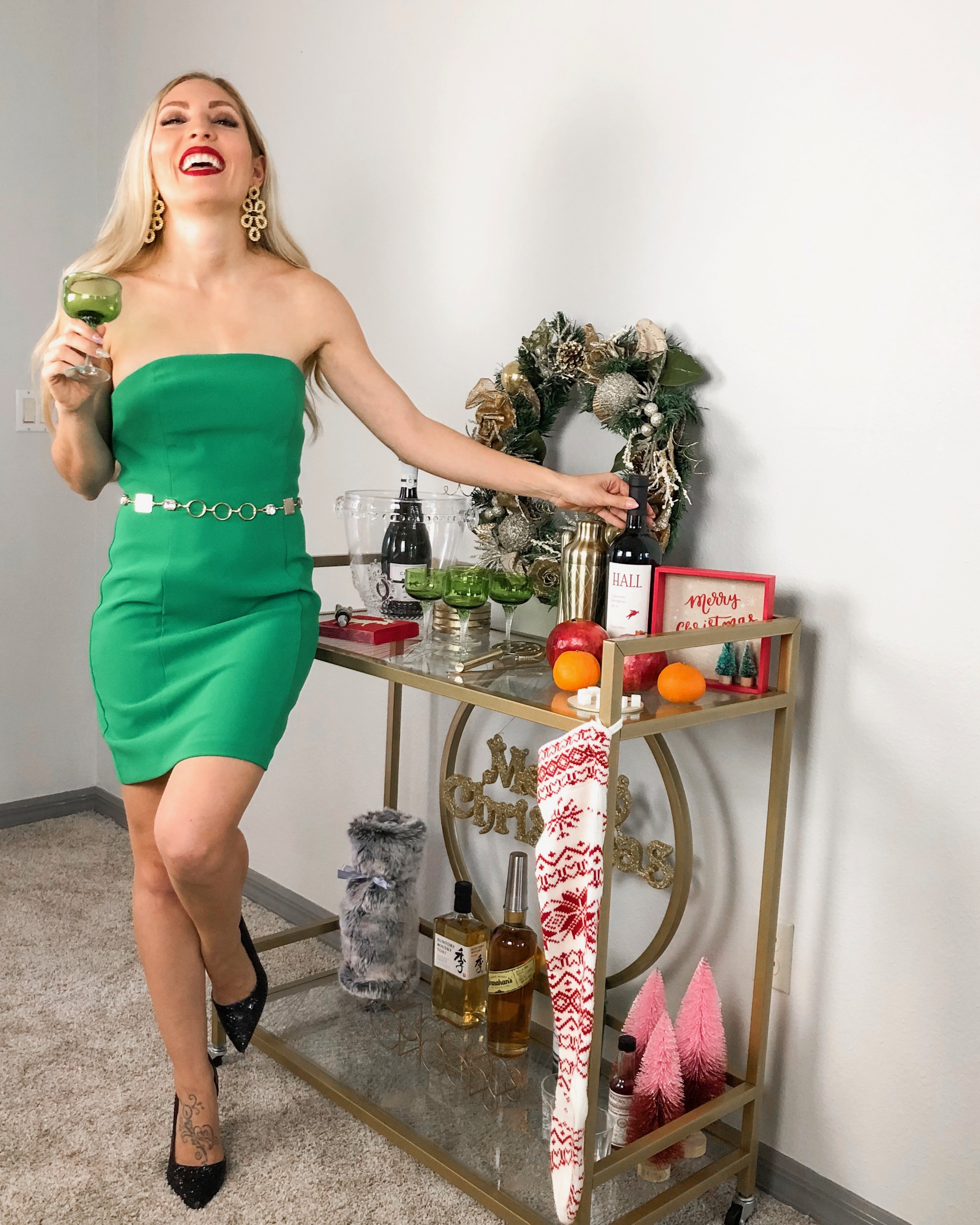 1. If you aren't a drinker, no biggie. Use your favorite sparkling cider, water, or non-alcoholic beverage of your choice. Pick something pretty to go with whatever your theme is.
2. Use some leveling. Whether you are taking some coffee table books to stack, different heights of bottles, or glassware, give some dimension to the bar cart.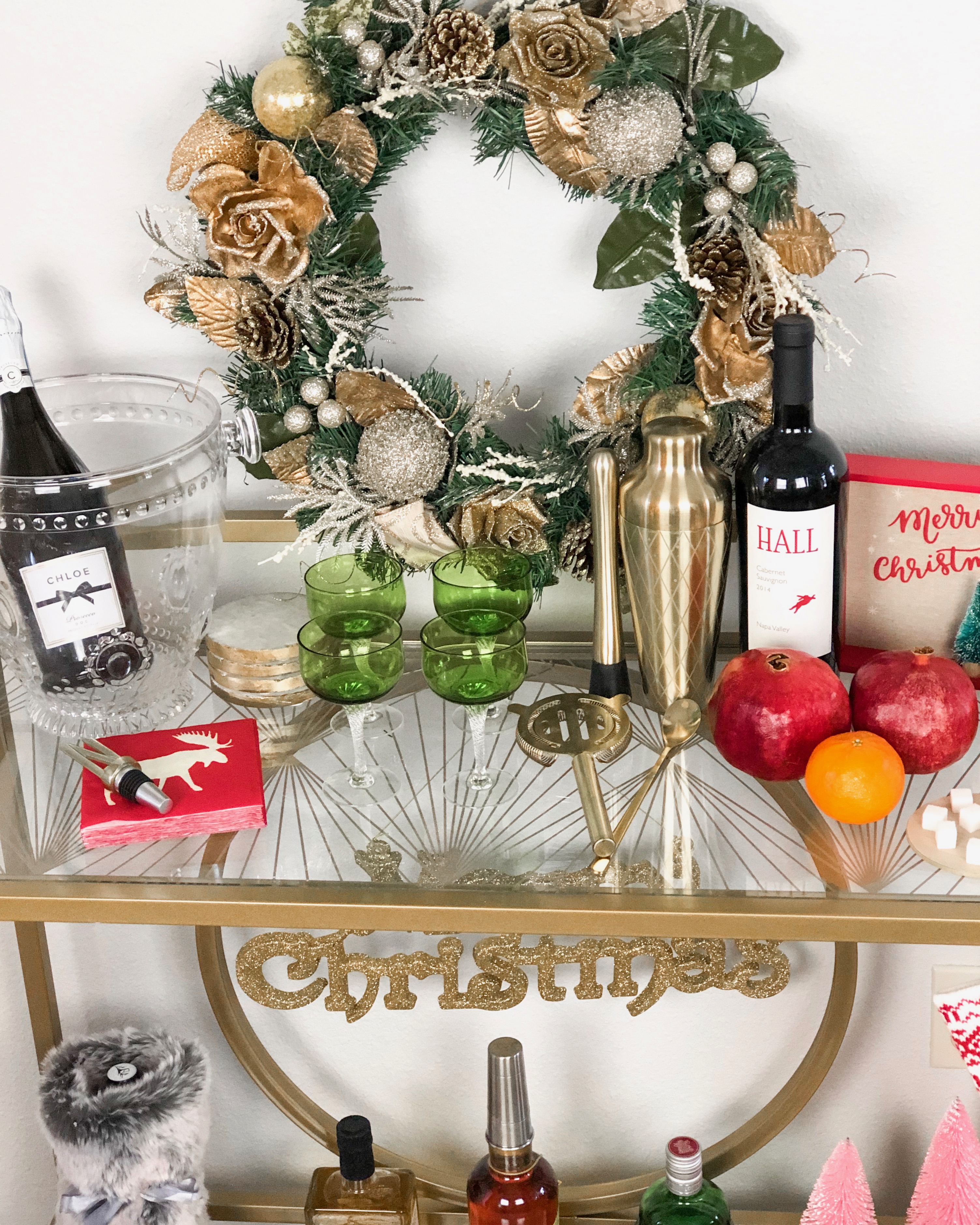 3. Keep it simple stupid! Not calling you stupid haha, but this is a saying I always heard growing up. No need to use everything you own, just a few items that way it's not over cluttered.
5. Sparkle all the way! I didn't add any lights because I totally spaced and forgot to pick up some fairy lights, but little twinkle lights give such a magical touch. You can find them for very affordable prices all over! I've seen them sold at Target, Walmart, and Amazon.
Do you guys have any tips on how you decorate your bar cart, or bar area? Let me know in the comments if you think there's anything I missed!!
SHOP THE POST:

Xo, Nikki